The Ferrari Thrustmaster formula wheel for Thrustmaster wheels is good for the money. You must keep in mind that this wheel accessory is reasonably priced. There are a few faux pas, such as defective materials in a few spots and subpar buttons.
A unique F1 racing wheel rim called the Thrustmaster Ferrari F1 Wheel Add-On goes with the company's T500, T300, and TX racing wheel series. This wheel is legally licensed, and a full-size replica of the Formula 1 Ferrari 2011 racing wheel solidifies its reputation as a collectible and practical appeal, which I shall go into great depth about today.
Let's examine the Thrustmaster Ferrari F1 Wheel review in further detail and evaluate its position in the market. The Thrustmaster SF1000 wheel impresses you with its value, accuracy, and manufacturing right out of the box.
What is the Best Thrustmaster Steering Wheel?
There are few customization options when used with an Xbox. There are about as many programmable options as on an Xbox controller. However, due to the arrangement, pairing your DRS or other buttons gives you a more individualized experience.
The Ferrari F1 Wheel from Thrustmaster is a fantastic addition to the Formula 1 racing simulator. It gives off a realistic vibe and lets you maneuver your car precisely. Anyone trying to keep the Thrustmaster Ferrari F1 Wheel Add On in its box will find it quite tempting because it packs both useful and plentiful features.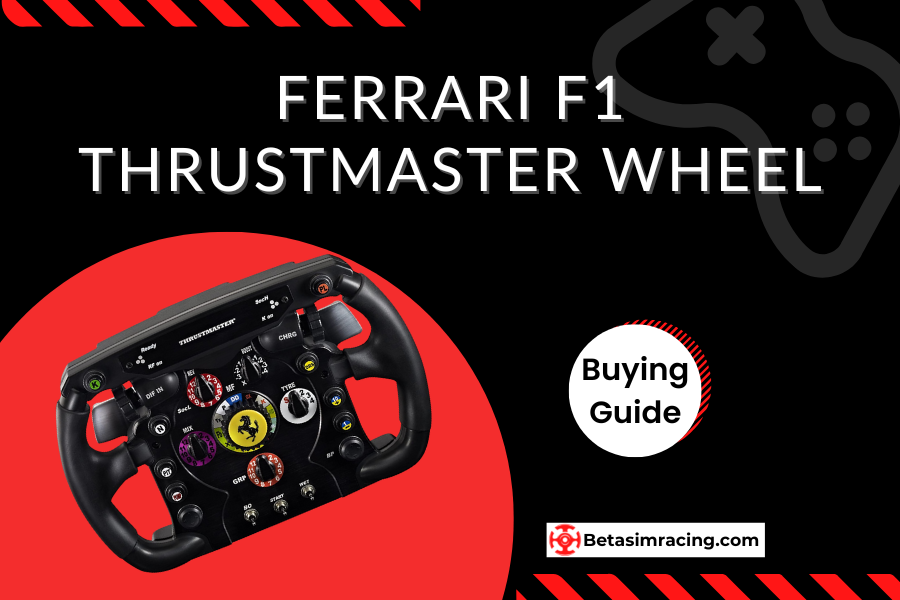 It operates the steering wheel and simulates a real race car. The PC and console versions of the game support the usage of this wheel. You will learn everything there is to know about this realistic racing wheel from this Thrustmaster Ferrari f1 wheel Add on Review.
Thrustmaster Ferrari F1 Wheel Add on Review
It was not simple, and I'll go into more detail about the Thrustmaster setup of SF1000. Let's see the Thrustmaster Ferrari racing wheel instructions and factors to get good information.
Thrustmaster Ferrari F1 Wheel with Base and Pedals
On the SF1000, you may switch out a set of Thrustmaster T-Chrono paddles if you want to delve deeper into the bank. What is the Thrustmaster SF1000 release date? The Thrustmaster SF1000 Edition Wheel Add-on is now available in APAC regions, and on August 26, 2021, it will be available globally. They can be switched out with four small screws, offering a lighter touch and a snappier shift feels without sacrificing incredible high quality.
Details on Screen
The quantity of data that might display on the wheel is astounding. A clear 4.3-inch display contains about 69 information, like tyre wear, lap count, racing position, lap time, and gear selection.
There are three standard information displays, each with additional display choices. The rotary dials on either side of the Ferrari dials center of the wheel must switch these. There are 15 LEDs indicating engine speed and marshal flags at the top of the wheel, right in your line of sight. These provide the nicest shift feel I've seen on a SIM wheel since they are bright and clear.
Complete Guide: How To Fix PS4 Overheating Issues?
Thrustmaster Wheels Versatility
Since they have specialized uses, Formula One racing wheels are noticeably less adaptable than GT wheels. You'll enjoy that this Thrustmaster F1 wheel features their fast-release system, so you can quickly switch your racing wheel arrangement if you don't plan to play F1 games and sims exclusively.
Design Philosophy
A full-size copy of the Ferrari racing wheel from the 2011 season can find on this Thrustmaster steering wheel identical to Fernando Alonso's Ferrari 150 Italia design. This wheel might not be for you if the thought of possessing a full-sized Ferrari F1 wheel doesn't make you feel a little bit excited inside. This wheel add-on is cool to us as devoted Formula 1 fans.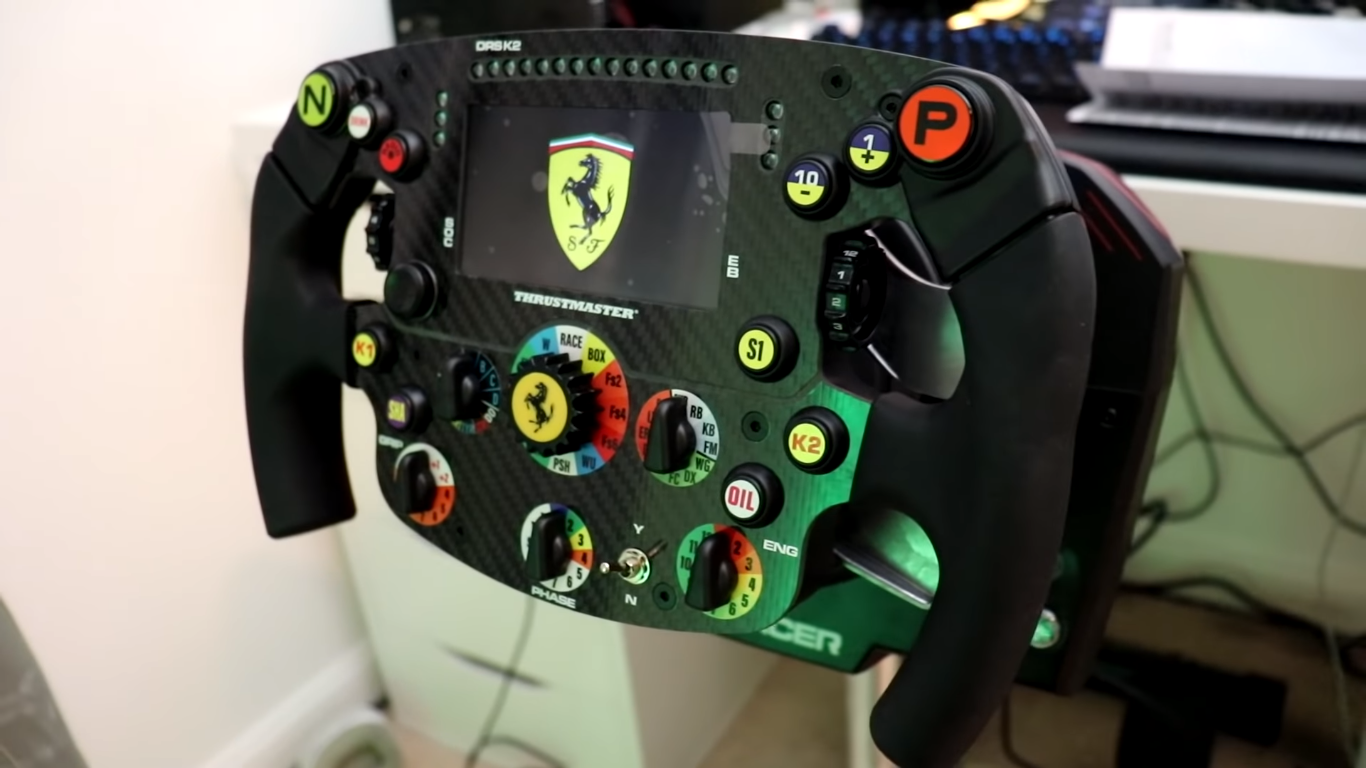 The long-standing collaboration between Thrustmaster and Ferrari has made the iconic Ferrari design possible. It provides a wheel with many more buttons and choices for Thrustmaster sim racers. It significantly improves over typical Thrustmaster wheels, which often simply have the standard gamepad buttons.
In-Game F1 Steering Wheel Performance
You must put in a little effort before using this Ferrari F1 wheel rim. The quick-release system on the back of your present wheel rim must unscrew. When your current wheel separates from the base, turn the release mechanism.
Simply affix your Ferrari F1 rim, then carry the same procedure backward to secure the new rim. You will then be ready to leave. It isn't a particularly quick-release system. But it serves its purpose.
You'll be ready to play your favorite game after you've finished the required firmware updates. The finest vehicles for this sort of wheel rim are GT or formula cars. Since you shouldn't be removing your hands off the Rim when playing games with a significant steering lock, you shouldn't truly utilize it. It's just not made for that kind of racing.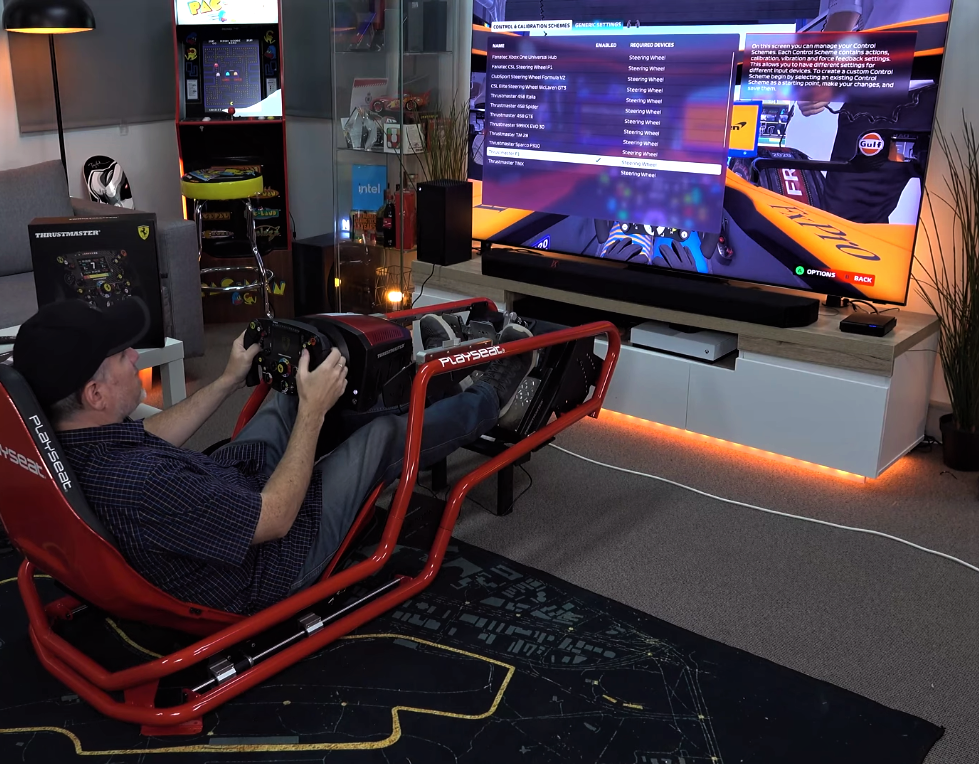 The push/pull paddle shifters were a lovely touch that you liked. These let you shift gears with just one hand, which is useful in some circumstances. Although it takes some time, I think it's a good addition.
This wheel rim has undergone extensive testing over many years of sim racing. Furthermore, it has spent most of its time playing Assetto Corsa Competizione and F1 video games. The steering lock is often low and has many customizable buttons, so it is perfect for these games.
Thrustmaster F1 Wheel Compatibility Options
This Thrustmaster F1 wheel must adjust to the demands of all racing games across all platforms, including Xbox One, PS4, PC, and the new-gen systems since it is good to work with a wide range of wheelbases.
8 dual detent push buttons, three metal switches with three positions, wheel re-centering, two high-pressure 8-directional D-pads, two F1 paddle shifters, and even two encoder rotary knobs are included on the steering wheel to accommodate.
Build Excellence
This wheel is good for attractive, high-quality materials, typical of Thrustmaster goods and as one could anticipate from anything bearing the Ferrari F1 trademark.
The grips construct a strong and sticky rubber that feels gripping and long-lasting in hand. The wheel of metal, including the facing, has a superior-looking scratched-brushed finish. This wheel weighs more than 12 pounds, which may be the biggest indication that you're dealing with sturdy materials.
Licensing Authenticity
Unless the source material or intellectual property is respected, licensing and reproduction don't mean anything. Thankfully, Thrustmaster kept their pledge to make a full-sized copy of Ferrari's 150th Italia racing wheel from 2011.
The wheel of Fernando Alonso and Felipe Massa in the 2011 Formula One Championship is not a 1:1 copy, so keep that in mind. The main differences between the Thrustmaster product and the original product are the addition of D-pads, the removal of the LED display, and the replacement of carbon fiber with metal on the face.
Nevertheless, these modifications enable the wheel to strike a balance between meticulous attention to detail and cost-cutting measures, as is demonstrated by the fact that inert replicas of the real wheel can purchase for $2,245. This price is significantly higher than their product's $179 MSRP Thrustmaster charges!
Although I wouldn't go so far as to label this Thrustmaster product an heirloom or expensive collector's item, Ferrari lovers would undoubtedly value having it as a piece of their memorabilia collection.
Setting & Benefits: Fanatec Podium DD1 vs DD2
What's the Track Feel Like with the Ferrari F1 Wheel?
The Thrustmaster Ferrari F1 Wheel review is incomplete without their tracks. This race wheel's ergonomics are excellent; considering the wheel for actual F1 drivers, that shouldn't be a surprise.
The wheel in your hand has a perfect form and is the ideal size. When employing a T500 wheel base provides excellent control and positive force feedback. With this rim, the wheel performs well, and the force feedback is audible. Compared to the standard T500 rim, I couldn't tell if there was any difference in the quality or strength of the force feedback. So overall, good.
The grips themselves feel nice, but as I only tested them while wearing gloves, I can't be sure how they will feel when used bareback for a prolonged period. The rubber doesn't feel particularly good in your hands, and I imagine it would become slick or sticky if your hands sweat a little.
Wearing racing gloves is a solution. However, I know that not everyone finds them comfortable. It's excellent that the grips are thick because it makes it possible to grab the wheel firmly. The sim racers with larger hands could find them a tad on the thin side, though, I can think.
What is an F1 Style Steering Wheel for a Car?
An F1-style steering wheel manages hundreds of different components, which demands significant processing power.
What Sort of Base Will the Do SF1000 Require?
The following bases are compatible with the Formula Wheel Add-On Ferrari SF1000 Edition: TS-PC, T-GT, TS-XW Servo Base, TX Racing Wheel Servo Base, and T300 Racing Wheel Servo Base.
Is SF1000 Compatible with T248?
Displays for SF1000 Edition are now entirely compatible.