One of the sports video games that offer an exceptional level of racing simulation is Assetto Corsa Competizione, an automobile racing simulator. Assetto Corsa Competizione players cannot physically operate the simulator's wheel and pedals. Either the controller regularly disconnects, or the wheels and pedals suddenly stop being detected.
If you're having the same problem at your end, completely follow this troubleshooting procedure to fix it for your device. The Assetto Corsa Competizione wheel not working pc issue is one that many players are experiencing. Let's explore the information about Assetto Corsa Competizione wheel not working pc.
Fix the Assetto Corsa Competizione Wheel Not Working on Pc
If your Assetto Corsa not working, there are a few potential solutions listed below that might be helpful for you if Assetto Corsa not detecting the wheel. So, let's get started with the Assetto Corsa wheel setup without wasting more time.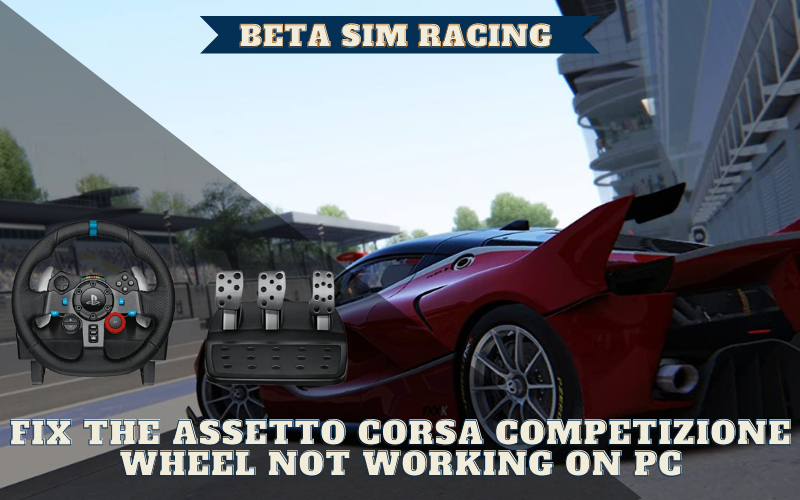 1) Modify Your Keyboard Input Method
The Assetto Corsa Competizione game settings automatically change to the keyboard input option. It's a bit unexpected to hear that; it could occasionally happen because of a connectivity issue with the keyboard and controller.
There is no big deal. Check the in-game options menu to see if the keyboard input option is selected or not. Change the option to the controller if the keyboard chooses.
2) Try Assigning Controller Inputs Manually
It's also advisable to manually designate the steering, throttle, brake, and clutch inputs on the gaming device's wheels and pedal controllers. A few affected players found this approach to be of great assistance.
3) Attempt Setting Up the Logitech G HUB Software
Installing the Logitech G Hub software on the PC, you should also check for the Assetto Corsa pedals not working or not functioning. Only users with Logitech pedals and steering wheels advise utilizing this technique. All the Logitech G series devices can be optimized and customized using the free, official Logitech G HUB software that can solve the Assetto Corsa Competizione Xbox wheel not working problem.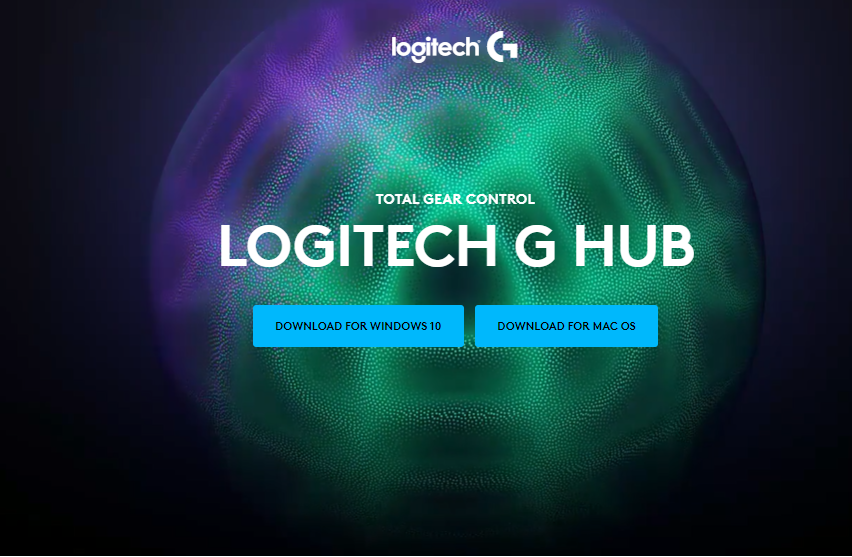 Click here to access the official Logitech G Hub Software Download Page. Download the most recent version for Mac or Windows.
To finish the installation procedure, execute the installer file and adhere to the on-screen directions.
After installation, right-click the file and choose "Run as administrator." When User Account Control appears, select Yes.
The Logitech G series steering Assetto Corsa wheels and pedals controller controls can be modified, updated with software, or adjusted.
4) Recalibrate the Controller for the Steering Wheels and Pedals
Recalibrating the pedals and steering wheel controller is also recommended in case Assetto Corsa not launching to check whether the gaming device recognizes the controller or not:
Do not connect your sim controller at this time if it is already detached.
The Assetto Corsa Competizione game may play by connecting and using a regular gamepad controller.
Open a practice session, click Drive, and then choose Start to enter the menu.
Now simply switch off the gamepad controller to disconnect it. It can then be unplugged.
Utilize a USB cable to connect your racing pedals and wheels controller to the PC or gaming console.
Your racing controller will then automatically calibrate after that.
You should notice the message "Controller unplugged" on the screen when the wheels and pedals controller has finished auto-calibrating itself.
To headstart and head out the message, press the A button on the controller.
5) Assetto Corsa Competizione Update
If Assetto Corsa Competizione hasn't received an update in a while, follow the instructions below to check for updates and install the most recent patch. How to do it:
Activate the Steam client. Visit the library. In the left pane, select Assetto Corsa Competizione.
It will automatically look for the most recent update. Make sure you click Update if there is an update available.
The update installation process could take some time. After finishing, be sure to shut down the Steam client.
Restart your computer to implement the changes and start the game once more.
Assetto Corsa G29 Settings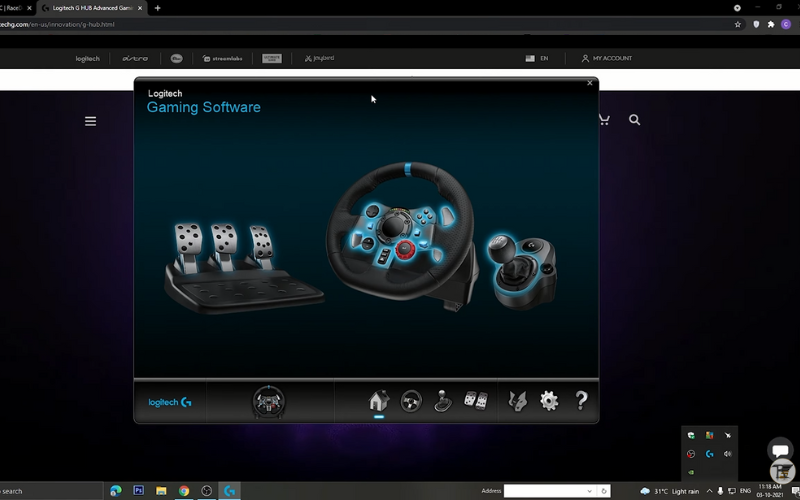 If you are facing G29/G923 not working with Assetto Corsa, you can start adjusting the in-game parameters for the most realistic and productive FFB experience after setting up our Logitech.
To achieve it, go to options and then take the following path:
Wheel/ Custom —> Advanced —> Force Feedback
Now let's go over all the settings related to the G29/G920 that I've discovered to work best with Assetto Corsa.
1)  Assetto Corsa FFB Settings G29
Keep your settings at these points:
Gain= 65%
Filter=0%
Minimum force = 0%
Kerb effects 70%
Road effects 100%
Slip effects = 0%
ABS affects = 0%
Enhanced Understeer effect= Unchecked
Half FFB update rate = Unchecked
2)  Steering & Pedal settings
Keep your steering & pedal settings at these points:
Gamma= 1.00
Filter = 1.00
Speed sensitivity = 0.00
Brake gamma 2.40
Solution for Assetto Corsa G29 Not Working
To solve the problem of the Assetto Corsa not working, users must consider numerous conditions because a hardware or software bug may have caused this issue. Therefore, considering all the options, the following strategies can be useful in getting around this issue.
1) Verify Connectivity
You must first determine whether the power cords are connected correctly or not. And make sure the connected wires properly allow current to flow through them. The multimeter can be used to check the current flowing through the cables. Make sure there are no loose ends as well.
2) Plug-in Cords
Try reconnecting the power sources for the steering wheel and pedals. Your computer would be able to update the resources needed to function properly with Logitech controllers once you take this action.
Unplug the computer and power source from the steering wheel. After that, repeat the process with the pedals and give them some time to rest. Connect your computer's pedal and steering wheel again.
Methods For Resolving Assetto Corsa Steering Wheel Issues
Despite being one of the most well-known games available, there have been multiple reports of Assetto Corsa failing to recognize or detect sim-racing steering wheels. Check out these simple remedies for an Assetto Corsa steering wheel that isn't working if that's the case.
Configure Game Settings:

You may find that nothing is recognized when you try to play Assetto Corsa after successfully connecting your sim-racing wheel. You will have to assign each action in this scenario manually. Simply pressing the upload button is insufficient. Your wheel ought to prepare once you have manually set each action. Once you've finished, always plug your sim-racing steering wheel into the same USB port to avoid going through the process again.
Attempt A Forced Reboot: If the Steam Controller Configuration option is not the cause of the issue, you should try plugging and disconnecting your wheel. It requires a restart and resolves any short-term software issues that may prevent it from functioning on Assetto Corsa. Sometimes updating wheel drivers can also solve this problem.
Fix it if Assetto Corsa Car won't Move
Try modifying the dynamic track parameters in the server.cfg file if the server's cars won't move. How do you Fix Cars And Track Moving Problem?
The following options ought to function:
[DYNAMIC_TRACK]
SESSION_START=95
RANDOMNESS=2
SESSION_TRANSFER=90
LAP_GAIN=10
After making the above-mentioned changes, please restart the server and check to see if the cars move as intended.
Why Won't Assetto Corsa Launch?
You need to open the Vredist folder inside the Commonredist folder in your Assetto the Corsa folder. Make sure all the visual C++ files must install once you get there. After that, everything ought to function.
Why is My Wheel Not Functioning on Assetto Corsa Xbox?
Attempt disconnecting and replugging it from the console. A few repetitions of this seem to eliminate any bugs. While connecting your wheel, ensure your controller pad must turn off. After your wheel functions properly, you can reconnect your controller so that you can utilize headphones and other devices.
Does Assetto Corsa Have Ongoing Support?
Yes, Assetto Corsa will eventually become outdated. Still, for the time being, given how much new content is being created and shared by the community, it is safe to claim that Assetto Corsa is still enjoyable to play and will continue to be for a very long time.