Simulator games are so common because they frequently attempt to replicate the driving experience as closely as possible. Simulator racing platforms use very realistic physics engines to accomplish this.
Sim racing is a genre of simulator game that imitates real-world racing in an online environment. These simulators aim to replicate the experience of driving a real race car on a real racetrack as closely as possible. In contrast to arcade racers, simulators focus more on factors impacting a vehicle's behavior. This article will explain the sim racing setup 2023.
A racing simulator cockpit gives you the impression that you're tearing down the track, a significant upgrade over a short wheel and pedal configuration. Let's get in-depth through the sim racing setup guide.
What is F1 Sim Racing Setup?
Sim racing setup guides with the f1 sim racing setup, you may quickly and conveniently take care of your demands. Making the right decision for your demands and avoiding missed deadlines is the f1 sim racing setup.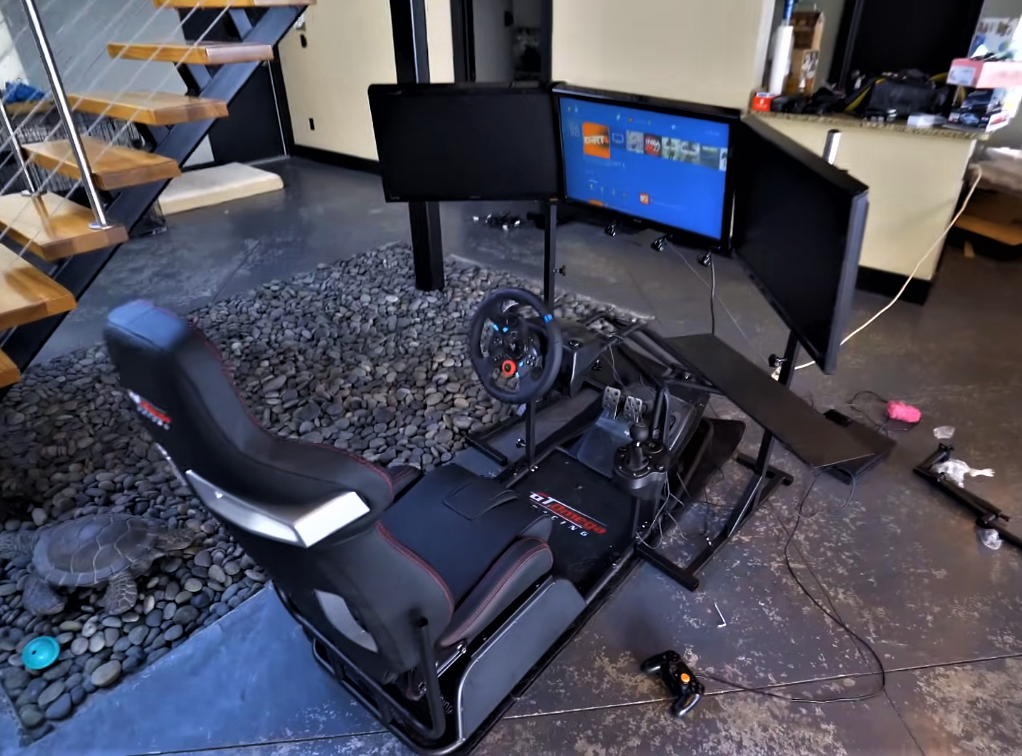 Unfortunately, given this product's vast array of options, you can have difficulty locating the f1 sim racing configuration on the market. I obtained the most well-liked models to limit them and identify the best F1 sim racing setup for you. I researched price, features, and durability tests. To achieve the f1 sim racing setup, I even looked at additional features and characteristics.
What is the Best Beginner Sim Racing Setup?
There are some go-to sim racing configurations where newbies just can't go wrong, but ultimately what you buy depends on what game(s) you want to play and how much money you want to spend.
The Logitech G29/G920 is the ideal sim racing setup for beginners because of its great build quality and compatibility with PS4 (G29), PC (G29 and G920), or Xbox One G920). Instead of the plastic pedals with lower-quality wheels, the pedal set with the wheel also has metal pedals. With this arrangement, you can almost feel every aspect of the race thanks to the twin motor force feedback.
Best Sim Racing Setup
You must spend money on top-notch driving sim setup equipment to get the full simulation experience. These tools are easily available in the US, the UK, Australia, and other parts of the world. The most expensive part of the sim racing setup is this they are professional sim racing setups. The price varies depending on how believable you want your setup to appear.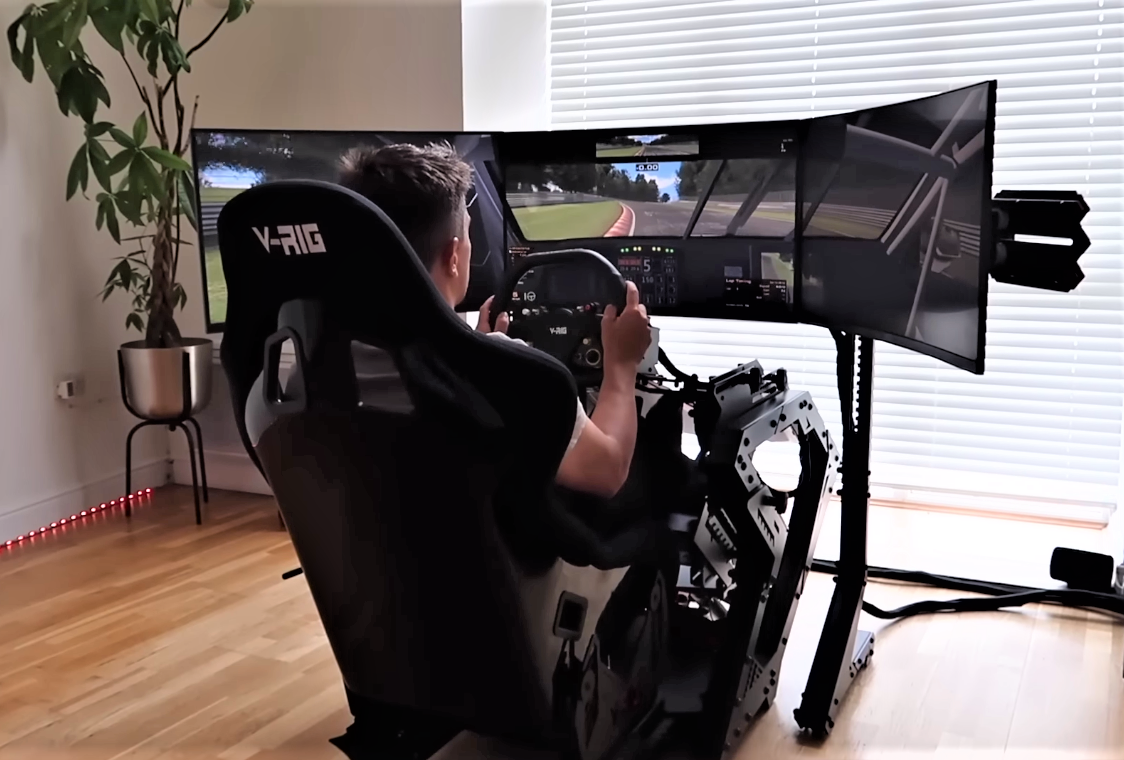 Race Simulator Cockpit: What is a sim racing cockpit? In a racing simulator or video game, the cockpit supports your steering wheel and pedals in an ergonomic position. A good setup also includes a seat that connects you to the wheel and pedals in a driving position like a real car with enhanced stability for force feedback. It can be as simple as a wheel stand in front of your sofa.
This element takes your setup to the next level of professionalism. Sim racing cockpit plans, for instance, consist of a racing seat and supports and brackets for the wheel, monitor, and other accessories. Your sim racing equipment is faster than the chassis of the cockpit. There are numerous producers and two different production processes. The best cockpits must make of aluminium profiles, but custom aluminium tube layouts are also common.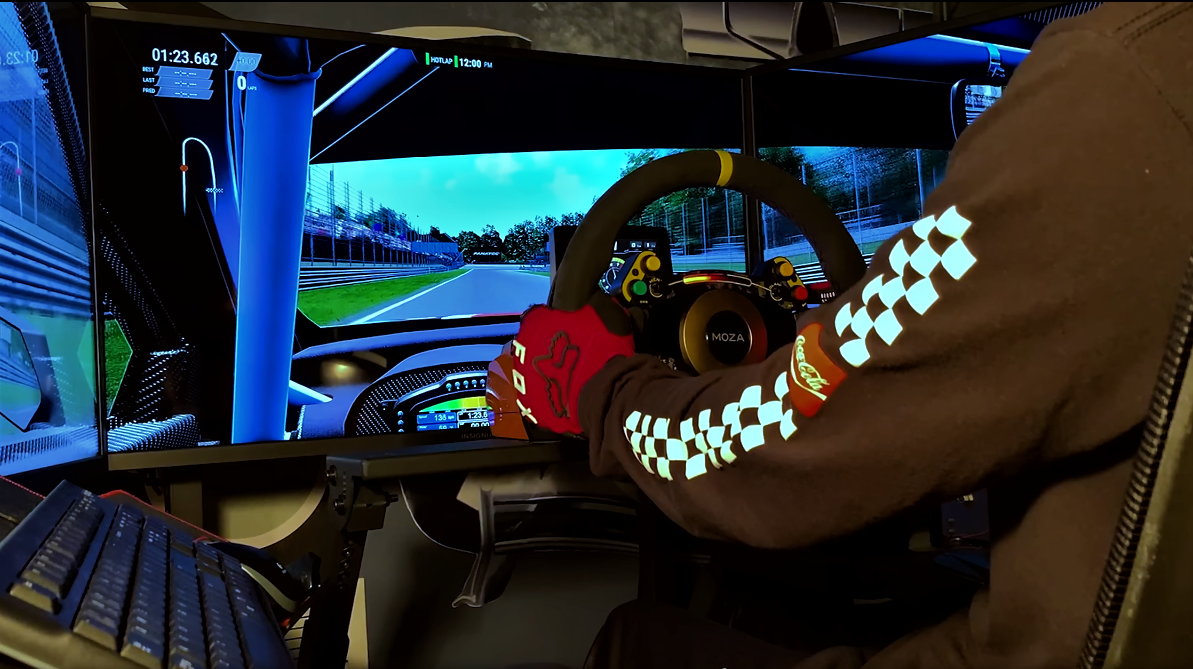 Gaming Environment: You will first need a platform on which to install the simulation game. Choose a high-end PC if you decide to use one. High-end setups are made expertly by a few Australian custom PC makers. Since simulator racing games require a lot of resources, frame dips and other issues can drastically reduce your racing experience
Gaming Display:

You can see the road via your automobile's windshield in a real race. You may view the course on your monitor during a simulation race. It suggests that to achieve the highest level of realism, a game display the size of a windshield must require. Because of this, fans of simulator racing frequently choose multiple monitor setups and curved displays.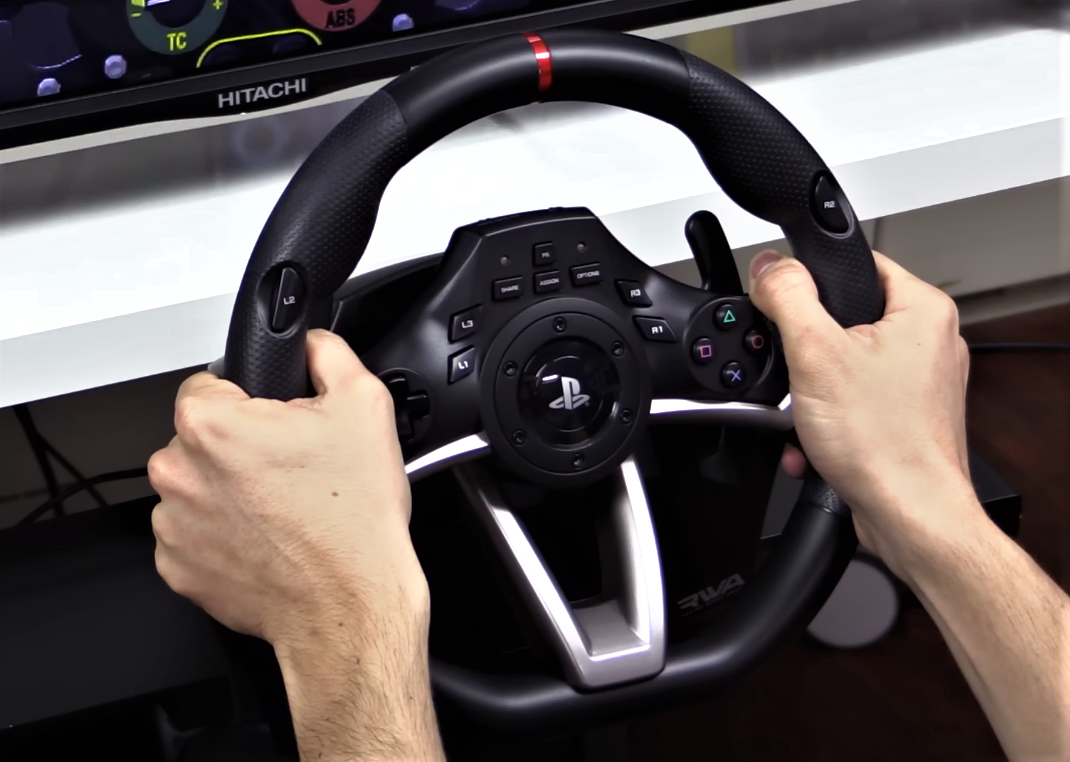 Steering Wheel:

You convert your gaming setup into a sim racing configuration in this step. Numerous wheel varieties offer at varying price points. In a real car, the wheel tries to return to neutral when you throttle. It is what the motors in simulated racing wheels perform. Depending on your wheel, this input may be highly realistic, subpar, or nonexistent.
Pedals: Pedals are the next required element of sim racing equipment. You can get a clutch less pair of pedals (throttle and brake pedals) or a set with the gas, brake, and clutch pedals, depending on the racing discipline you decide to enter. To suit your requirements, you may also buy each pedal separately.
Peripherals:

Your setup can expand with more instruments. For instance, you can buy an H-pattern shift stick if you are unhappy with the paddle shifters that come with your wheels. Alternatively, if drifting is your thing, you should get a handbrake.
How To Get into Sim Racing?
Let's suppose for a moment that you have developed an interest in sim racing and have resolved to devote yourself to participating in competitive online racing. You want to commit and dive in fully, but you also don't want to go over budget. You might be looking for a younger family member and want to outfit them with a significant piece of gear that will allow them to compete.
Develop Practical Skills
Sim racing is a great activity to get into for any number of reasons. It's cheaper and far safer than the real thing, and it's just as competitive. Additionally, there is a ton of opportunity to use the new talents you gain in the simulator during assembly, technical setup, and actual racing in the outside world.
Social Interaction
Sim racing is a social activity, and numerous tiny communities on Discord are typically quite welcoming and supportive. I also value how much my driving and technical skills have advanced, particularly in gaming PCs.
Minimal Drawbacks in Comparison to Motorsport
So, starting in sim racing has a lot of advantages and very few disadvantages. But I also need to talk about minimal drawbacks. Sim racing takes time to master properly; you must be willing to set aside a significant amount of time in the beginning, to adjust to your new environment and learn how to use all the sim equipment and software. You should plan to set aside somewhere between €2000 and €5000 to begin started if you want to do things well but at a fair price.
Affordable High-End Sim Racing Equipment
Even though you're on a tight budget, you don't want to have to settle since you want the greatest equipment you can afford. Where seeking sound guidance comes in is for that! You are getting the appropriate advice on what equipment to purchase is one of the biggest challenges when starting in sim racing.
There are several YouTube channels where you can get advice and see reviews of websites. Although you should always use caution, you should be certain that the information you're receiving is not unduly slanted in favor of the affiliate receiving the largest commission from the channel, given the proliferation of affiliate programs in this sector.
Sim Racing Suspension Setup Guide
Currently, there are many different vehicle setup possibilities available in simulators. Before reviewing the results of these modifications, I have outlined each form of regulation in the racing simulator car setup guide: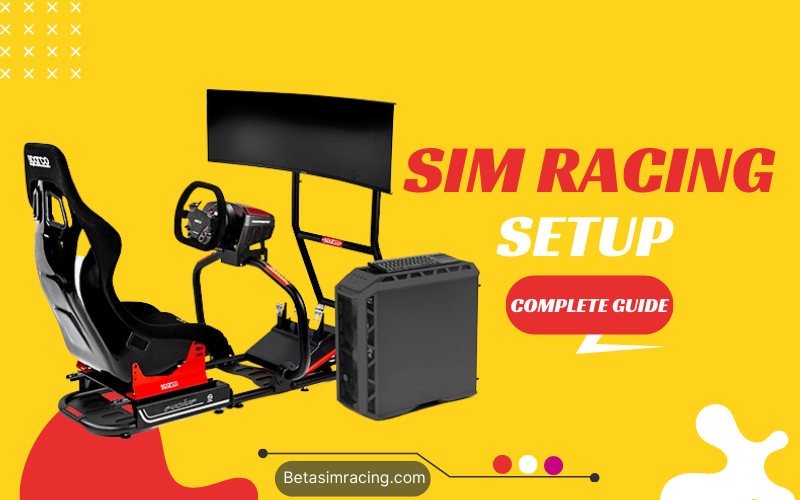 Suspension Geometry
There are three main parts in the sim racing suspension geometry:
Camber: When you look at the car from the front, the camber is the angle at which the tyres are inclined about the vertical. A negative (-) camber is a wheel's top tilting toward the car's center. Positive (+) camber use when the top of the wheel tilts toward the outside of the vehicle. The wheel has no tilt if it is upright. The most typical setting on a race or track car is negative camber.

Toe:

When looking at the car above, the toe is the angle at which the wheels must incline. When the wheel front points toward the vehicle's center, it views from above, known as toeing in or positive (+) toeing. When the front of the wheel faces outward from a top view, this is known as toe-out or negative toe (-). Each car needs a unique adjustment to the toe of the front and rear wheels, which can do in various methods.
Caster: A more complicated adjustment than toe or camber, caster angle saw on the front wheels. From a side view, a line can trace down to the ground along the biggest dimension of the shock for a vehicle with MacPherson-type suspension geometry.
The caster angle is the angle that this line creates with the vertical. In quadrilateral suspension, a line can be drawn through the attachments of the top and lower triangles to the wheel hub from the side.
The caster angle is the angle that this line forms with the vertical. Positive caster (+) denotes a line that slopes toward the car's rear. A negative caster is when the line slopes towards the front of the vehicle (-). The caster angle is positive in most automobiles.
What is a Cheap Racing Simulator Setup?
Conquer Racing Simulator Cockpit is one of the cheap racing simulator setups.
Do I Need a Shifter for Sim Racing?
Although a shifter is not necessary for sim racing, it can enhance the immersion and boost your overall racing experience. A correct sim racing shifter can be quite helpful in rally games and other sim racers where you drive a car that often has an H-pattern or sequential shifter.
Can Sim Racing Be a Career?
Sim racers can earn anywhere from a few thousand dollars to hundreds of thousands of dollars annually, but their pay relies on several variables, including the game they play. They are competent in how people behave.