Our gaming agency has passionate people who love using the latest gaming equipment. They are excited to use Logitech products. When it was time to test the Logitech G Pro racing wheel, I had many teams to do the task. However, I assigned the task to my most experienced team.
What is Logitech's Newest Wheel?
Logitech g pro racing wheel review says that G Pro is the newest wheel launched in 2022 for high-end gaming. My team members tested Logitech G Pro Racing Wheel and gave us its detailed review. This article will show a complete guide about its features and how to use it efficiently. It reviews the most professional gamers and enthusiasts who did a great job.
Logitech series of forced feedback wheels like G25, G27, G920, and more have been a sim racing staple for a decade. Now the pro version is in the same race. Logitech G Pro racing wheel comes with a direct drive.
Logitech G Pro Steering Wheel Specifications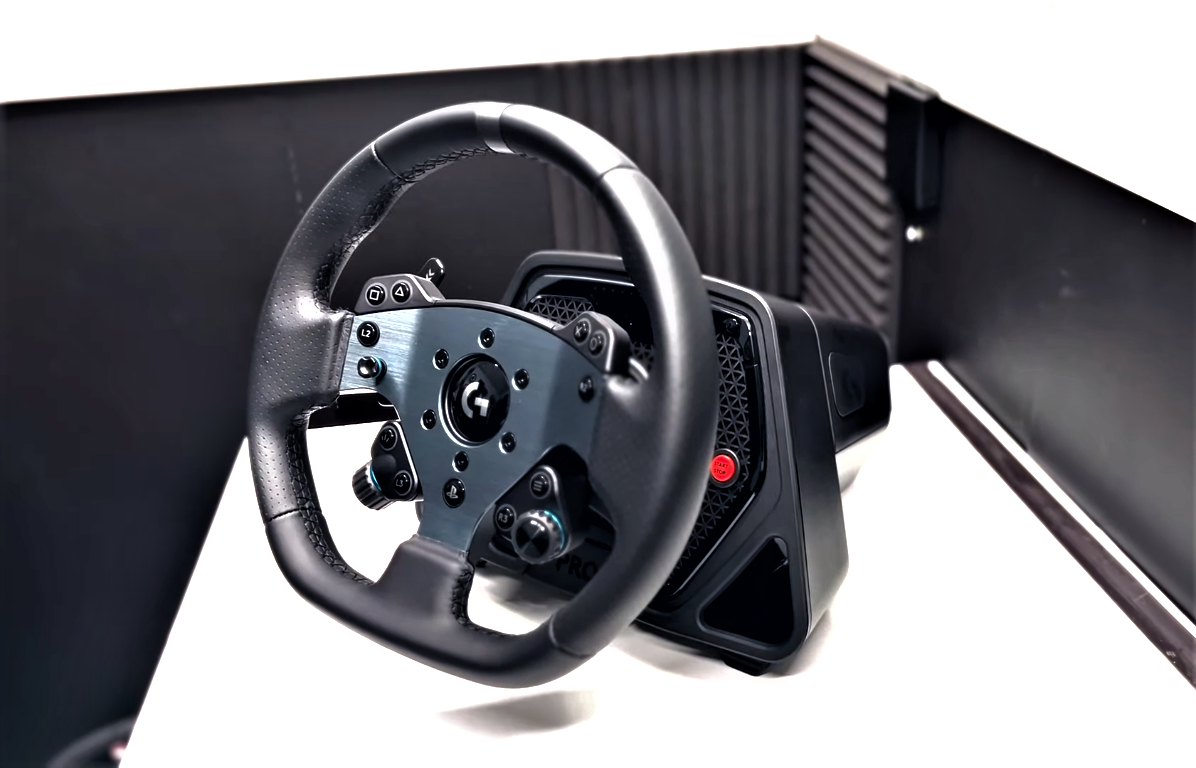 | Specifications | Tested Value |
| --- | --- |
| Torque | 11Nm |
| Shifters | Magnetic |
| Paddles | Analogue dual clutch |
| Hall Effect Sensor | 16 bit |
| Degree of Rotation | 1080 |
| Special Features | Quick release, internal cooling fans, OLED |
Before writing this Logitech G Pro wheel and pedals review. I have spent several days experimenting with this racing wheel. When I move the wheel in my hands, it feels like interpolating signals and creating a more damp and smoother effect without jerkiness through the wheel.
 On my PC, I can fine-tune the effects related to the wheel either in games or depending on the wheelbase. There is a set menu that allows making adjustments as per our choice. You must balance the force around 6 to 8 Nm. This will make it more realistic and authentic.
Gran Turismo 7 on PlayStation and a set of Assetto Corsa competitions on PlayStation and XBOX are both outstanding with Logitech g Pro Racing Wheel. This steering wheel makes a perfect balance of the car in racing games. It is easy to catch the slides and lift off oversteer things like in GT sports. 
The Logitech G Pro pedals are excellent racing pedals with load cell brakes for consistent performance. The pedals are customizable due to different capable springs. They have a modular design with perfect configuration.
Logitech G Pro Racing Wheel
The wheel is made up of lightweight material. It is leather bound and stitched. The wheel has an Aluminum brushed faceplate in the middle where some buttons are present. The button placement is different from the previous version, G923. There is D-pad and a little Joystick, with the face buttons at the top of the wheel. There is a Plus minus button and another jog wheel with Share and Options buttons.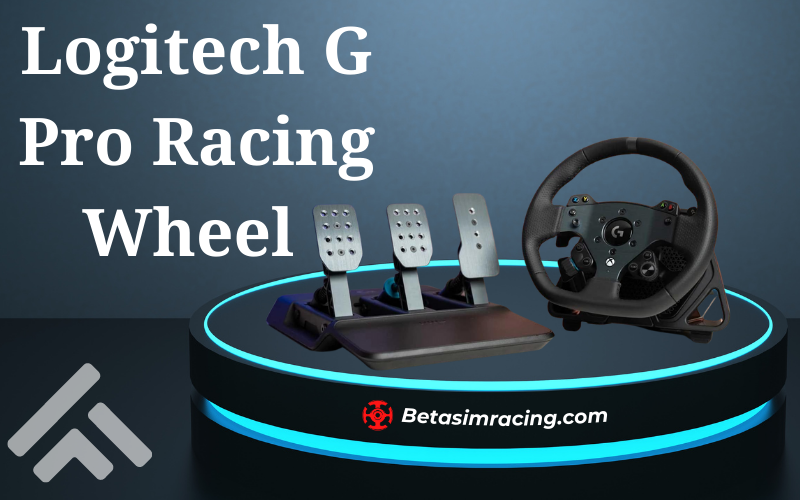 The buttons are nice and clicky. Under the wheel center, there are spring-loaded Pogo pins. The joystick on the wheel can navigate the menu. The two rotary encoders are active on the bottom left and the other on the right hand. They can make quick adjustments with an easy-to-use function on the wheel.
Logitech G Pro Steering Wheelbase
The wheelbase is made with mechanical plastic cogs that are much strong. It is an entry-level and low-budget wheelbase. It handles a direct drive 11Nm force wheel with a quick-release function. It is a very smooth and non-resistant but solid wheel.
The wheelbase has a thick steel plate underneath. The motor is bolted there, so every force is done due to the solid steel. The wheelbase has copper contacts and floating spun. There are small vents at the front of the wheelbase for airflow.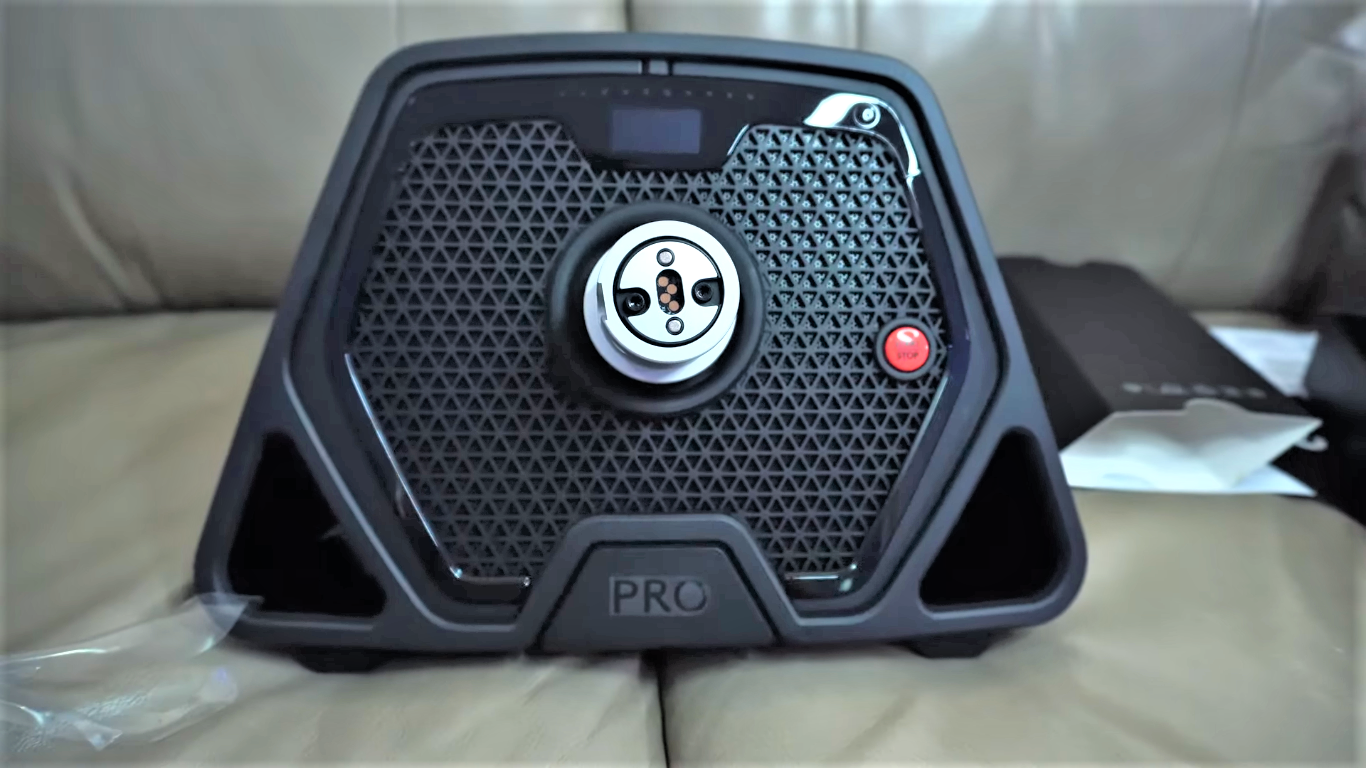 The motor releases its heat through these vents. The wheelbase has tiny fans, and they are loud when working. A mesh on the front of the wheelbase has dust filters. There is a desk mount that can grip the wheelbase firmly. It can be bolted onto the desk.
The back of the wheelbase has an I/O panel with USB Type A that can attach pedals to the base. There are 3 USB sockets. You can connect the G502 mouse and G713 keyboard with the wheelbase. 
Logitech G Pro Racing Wheel Assembly
Logitech G Pro Racing Wheel comes in a big box. When you open it, you will find some paper kinds of stuff for publicity and also instructions. The wheelbase and wheel are nicely wrapped to protect the material. There are some cables and 300 Watts power brick with a mounting clamp.
Installing on Desk
To install the wheel on the desk, follow the steps.
Mount the wheel on the shaft of the wheelbase and push. 
The centerpiece of Wheelbase plate comes out. You need to undo 2 screws from there.
Attach it with the clamp properly.
Now mount the clamp on the desk and tighten it.
Connect the cables and enjoy racing.
Installing on Sim Rig
It would help if you found the holes in the wheelbase.
These board holes have a 15mm depth.
The washers are required to ensure the perfect fit.
Use the spacer to cover up the clamp hole.
Now you can use the Logitech G Pro wheel on your racing rig.
Start Your Racing Game
To Use the wheel, you must set it in the perfect direction with your shoulders.
It would help if you pressed a Red button on the right side of the wheelbase.
You will see a little OLED display asking you for XBOX or PC.
You can create customized profiles for individual games and vehicles.
You can set strength, Trueforce audio, Force feedback filters, dampeners, angle, brake force, paddle modes, clutch bite, and RPM modes.   
Logitech G Pro Wheel and Wheelbase Performance
Logitech g pro racing wheel review says that both are connected with compliance with Pogo pins. There is no metal fatigue or mechanical failure. They both act like a cushion nicely touch each other. The wheelbase is 1080 degrees with force feedback. It has a mechanical force stop.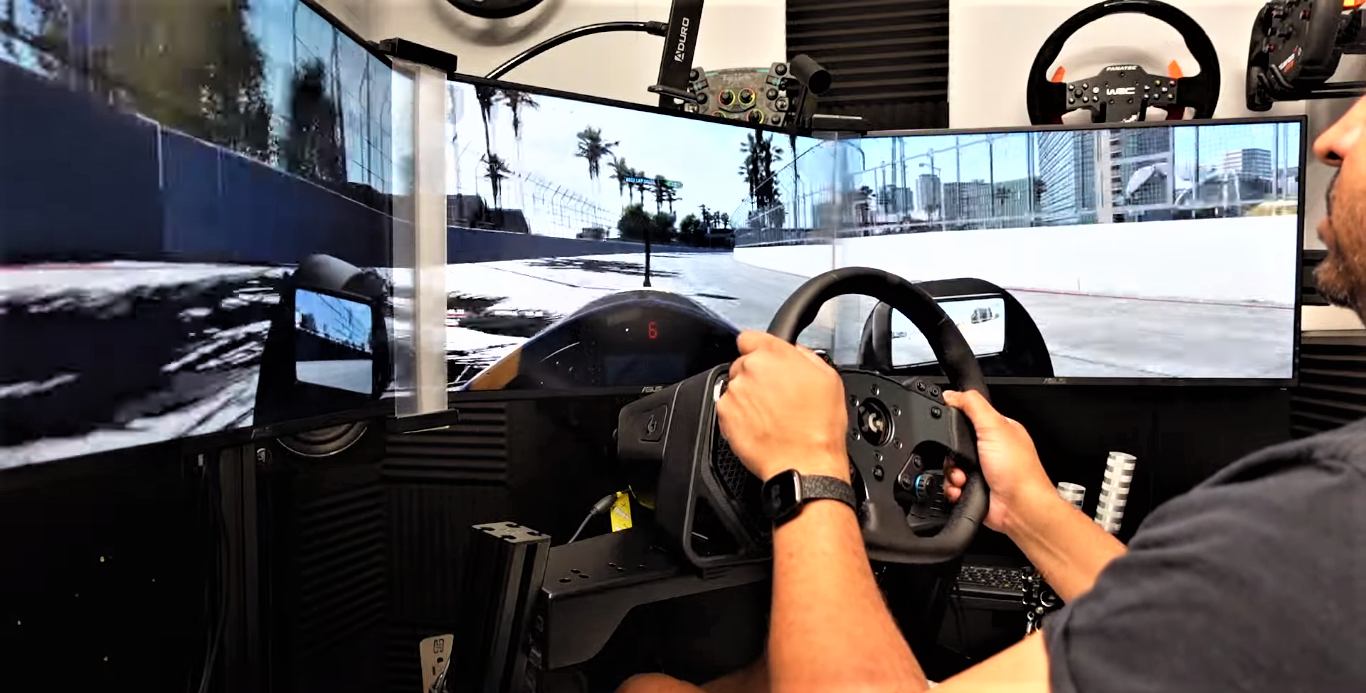 Most racing games like Dirt Rally 2 need adjustment of rotation of the wheel. Some car games need 360 degrees of wheel rotation. The older cars turn at 900 or possibly 1080 degrees. It is not a limitation but a comparison with other Direct drive wheels that can spin around. The magnetic fields make it smoother in movement.
Logitech G Pro Racing Wheel Shifter
The paddle shifters are magnetic in operation. They sound fantastic and are easy to use. There is an analog double dual clutch paddle, which can also be configured according to the needs. You can use it as a dual-clutch mode or use one as a handbrake. You can also map these to accelerate and brake if you do not use pedals. The shaft is made with solid Aluminum.
Logitech G Pro Pedals
The pedals are also upgraded with new features, which is why they are called Pro. they are made for professional use. There is a clutch pedal in the box. They are removable, adjustable, and have smoother pedals.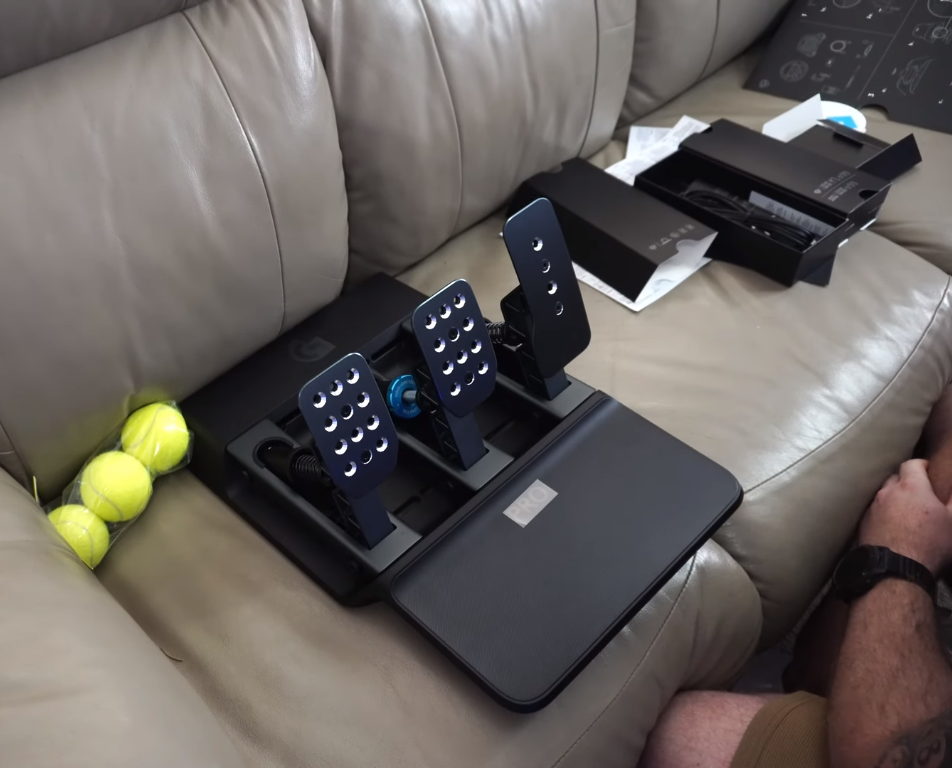 There are two hex screws on the bottom of the pedals. There are two channels in three sections at the bottom of the pedals. You can loosen them and slide the pedals around to reposition them. According to your rig, you can mount them inverted too.  
Compatibility with PlayStation and XBOX
The wheel's base determines compatibility depending on your console. It wouldn't work on a PC if you have an Xbox base and try to use a PlayStation wheel. If you had a PlayStation base and tried to use an Xbox wheel, it would be compatible with your PC. PlayStation compatibility comes from a security chip inside the base, and XBOX compatibility comes from a security chip inside the wheel.
Logitech G Pro Racing Wheel Price
The Logitech G Pro wheel with wheelbase is available for $999 on the official site. Logitech Pro pedals cost $350. You can buy a complete package for $1350, which is good for professional gaming.
Benefits
Accurate force feedback technology with 11Nm force
Real pro sim racing experience with direct drive
Precise, intuitive, and customizable design
Magnetic gear shift and dual-clutch pedals
Integrated game setting and LED display for customization
Easy mount with quick release
Drawback
An ample wheelbase can give uncomfortable driving positions.
Is Logitech G Pro Wireless?
Logitech G Pro mouse is wireless and comfortable to use. It is a good tool for playing video games. Due to its wireless connectivity, you can easily keep it in your travel bag.
Is Logitech better or Thrustmaster?
Logitech is better than Thurstmaster in build quality and performance. Logitech wheel is most comfortable with soft leather and good stitching. However, it is more expensive than Thrustmaster.
What is the safest steering method?
It would be best if you held the steering wheel firmly while playing.
Use both of your hands to balance the force on the wheel.
Only turn the wheel by holding the outer rim.
What can be included in Logitech G Pro Gaming Rig?
Logitech G Pro gaming rig can be built with a G Pro wheel and pedals. You can use a G Pro mouse and headset. This gaming rig may be expensive, but it benefits professional gamers when they take part in racing competitions.