In contrast to PlayStation systems, the Xbox One's malfunctions are often difficult to diagnose. For instance, it could be challenging to identify the cause of your Xbox One won't switch on. But frequently, it's a hardware issue, like the power supply. One of the most popular video game systems ever is the Xbox One. But since the console is 8 years old, things can go wrong.
When issues develop, you must rule them out first. It is so that it differs from the PlayStation, which displays an Xbox one light flashing on its front that indicates what it requires, such as the Blue Light of Death. If the Xbox one won't turn on, it could not be giving off any evidence of life other than sporadic beeps. It might also turn off by itself, though.
Why My Xbox Series X Won't Turn On?
Why is my Xbox One not working? When an Xbox Series X or Series S won't turn on, a hardware issue, faulty software or firmware, or a power problem is likely to blame.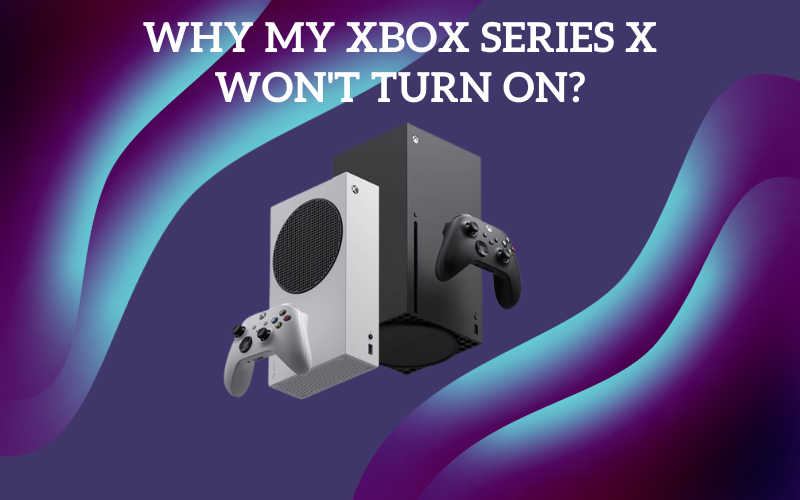 The power supply, power button, and other internal components can experience hardware issues that are better left to the experts. Most other problems, such as those involving power, software, and firmware, may be resolved by you on your own.
Power problems typically occur outside your Xbox console and are frequently resolved by swapping outlets or power strips. Although they can be more sophisticated, software and firmware issues are typically brought on by incomplete updates or damaged data.
7Easy Steps: How Do You Fix A Dead Xbox One?
Here are the methods of how an Xbox can be fixed.
1) Verify That the Device Has Enough Ventilation
Poor ventilation may be to blame if your Xbox One abruptly shuts down while you're playing and won't start again. If you believe that to be the case, take the following actions to correct it:
Remove any tangible items from the area around the gaming console.
Place it where the vents on the casing can easily suck in the fresh air.
Clean the console's ducting using a dry cloth or compressed air if they're unclean.
2) Review the Console's Configurations
Check to see if it is in sleep mode and if there are no ventilation problems. The Xbox may have been configured by you or another person to act this way each time you switch it off.
To fix it, do these things:
Access Settings.
Choosing Power & Start-Up.
If appropriate, switch the Instant-On option to Energy Saving.
If necessary, check the Auto-Shutdown and deactivate it.
3) Verify That the Controller is Operational
If you previously attempted to power on the system by pushing the Xbox button on the controller, follow these instructions now:
Press the power button on the console.
Replace the controller's batteries when the step above is accomplished.
Use the controller to try turning the gadget on.
Use a USB cord to connect the controller to the console if step 3 fails.
If step 4 doesn't work, swap out the controller.
4) Verify the Power Outlet
Many contemporary power strips are equipped with fuses that trip whenever power surges exceed the normal level. It helps guard against serious harm to the electronic device.
You can investigate whether this is the issue by carrying out the following steps:
Verify the functionality of the other devices plugged into the power strip.
Utilize a different outlet on the strip.
Replace the outlet on the strip if it is broken.
5) Verify the Console Settings
I advise examining your console settings to see if you can't turn on your Xbox. You won't have problems depending on your Xbox in the future if you do this. By pushing the "Xbox" button on your controller, you can access the settings on your Xbox. Your Xbox's settings may occasionally make it impossible for the system to turn on properly.
Check your power settings. It is important that the Instant-On setting be disabled. In some cases, keeping Instant-on enabled can make it more difficult for your Xbox to turn on, but it can also help your Xbox start up much faster.
Therefore, I advise turning off this setting. Instead, you can activate the Energy Saving option. Check the Auto-Shutdown setting in addition. You should switch it off if it's on. You won't be able to examine your console settings and use this approach to fix your Xbox, though, if your Xbox won't power on at all.
6) Xbox One Vent
You must vent your Xbox to prevent overheating. Check to see if anything is blocking the Xbox's venting. Air cannot exit your Xbox if the vent is covered. It will become overheated as a result and stop working.
Remove any obstructions to your Xbox by clearing them away. After a short cooling period, try turning your Xbox back on. Try turning on your Xbox using the Power button once it has cooled down.
7) Contact Xbox Support
You can contact Xbox customer service if none of the above fixes are effective.
How to Reset Your Xbox One?
How do you fix a dead Xbox One? An Xbox One that beeps but won't switch on can be set most easily and frequently by performing a soft reset, power cycle, or a combination of the two. To delete your console of all stored power, be careful to soft reset your console first.
1) Soft Reset
Try performing a soft reset to discharge accumulated power from the console's internal components. You won't need to re-download or re-install anything because this won't affect your saved games or applications.
Your Xbox One can be soft reset by:
Removing the power cord from the wall outlet and unplugging the console.
Pause for 15 seconds. When the console is unplugged, briefly press the power button. Any more power that has been stored in the capacitors of the console will be released by this procedure.
Reconnect the console's power cord to the outlet.
Check if your problem has been resolved by turning the device back on by pressing the power button.
2) Power Cycle
If a power cycle is required after a soft reset has failed, do so immediately. Again, this process won't impact your games or other programs.
To restart your Xbox One:
Press and hold the power button for 10 seconds with your Xbox off.
Eventually, the power brick's indicator light will flicker from orange to white.
Your Xbox has entered standby mode once the indicator light turns steady orange.
Once your Xbox is powered on and out of standby mode, press the power button again.
How To Fix Xbox One Not Turning on Power Brick Orange?
Microsoft allows you to reset your power supply, which can solve any issues you may have with the console's power brick.
To re-energize the power source:
Disconnect the console's power cord and the cable that connects to the wall outlet.
10 seconds, please. Because it provides the power supply time to reboot, this is crucial.
Reconnect the power cable to the wall outlet, but don't yet connect the console's power.
Verify the LED light is turned on.
If it is on, connect the console's power cable and turn it on. Continue to the following step if the console doesn't turn on.
Your power supply must be replaced if it is off.
If the orange light doesn't turn white after you reset the power supply, you might want to think about buying a new power supply.
How To Power Xbox One Without Brick?
How do I know if my Xbox one power supply is broken? Microsoft no longer produces the original Xbox One or its power supply; hence they do not market new power bricks. Your Xbox one power supply fix may need to reset if your original Xbox One console isn't getting power.
Remove the power wires from the power source, wall outlet, and gaming console.
10 seconds, please.
Reconnect the power cord firmly to the power supply and the outlet. The power unit should not yet plug into the console.
The power supply's LED light should examine. Depending on whether the LED light is flashing, blinking, or either
Does Xbox One Have Internal Fuse?
A fuse is included in the Xbox power supply to safeguard your console from power spikes and high voltage. There is no way to replace this fuse.
Why Won't My Xbox One Controller Turn On?
Check your Xbox One controller's batteries and batteries if they won't switch on. Try updating the Xbox One controller firmware and connecting the controller via USB if you still have issues. The cable can be damaged or worn out.
How Can I Correct the Xbox One Controller's Drift?
Replace the sensor springs after cleaning, replacing, or repairing the thumbstick pad to correct the Xbox One controller drift. Perhaps the complete thumbstick device needs to be changed.
Can GameStop Fix My Xbox One?
Yes! Send your video game consoles to GameStop by mail, and they will fix them for a fee.
How Do I Force To Start my Xbox One?
How do you fix a dead Xbox One? An Xbox One that beeps but won't switch on can be set most easily and frequently by performing a soft reset, power cycle, or a combination of the two. To delete your console of all stored power, be careful to soft reset your console first.