If you are looking for a hybrid system to drive your game with classy style in luxurious feeling, Thrustmaster T248 racing wheel is for you. At the end of 2020, there was a hype for Thrustmaster T248 release date in response to Logitech G932 for entry-level to mid-level racing wheel experience for beginners and professionals. This gadget is a little more costly because of the addition of luxurious features compared to its sibling.
In General, when you are talking about the wheel, then in this price bracket, the material is medium to average in quality. The wheel is light in weight because of materials used in plastic, cushioned foam, and synthetic leather. Buttons of this wheel locate well, and their numbers are sufficient to handle multi-tasks.
You can also see an LCD panel on the top side of the wheel which has a touchscreen and is ready to connect you by clicking on it with your real gaming life, where you can compete with your competitors with the best feel.
Thrustmaster T248 Specs
| Brand | Thrustmaster |
| --- | --- |
| Compatibility | PC, PlayStation 4 & 5 |
| Connected through | USB |
| Buttons | 25 |
| Programmable Option | Yes |
In the Box
When you get your box from an online store, there is an excitement level, and Thrustmaster can hold up your excitement level and never let you down with your selection. You get a beautiful box with good packaging material to avoid damaging your wheel.
You can get a pedal set, cord, power brick, USB-A, and USB-C cable in the box. USB Type C cable is good for the user who wants responsive peripherals. You have four levels of rigidity to work on it.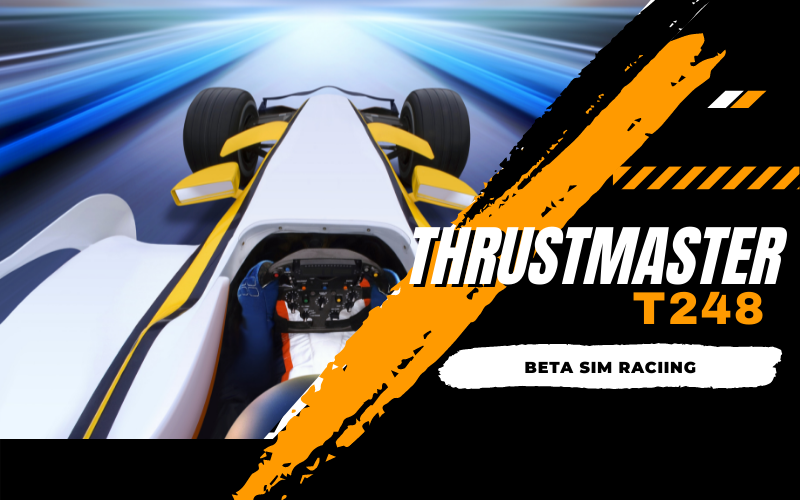 Features You Needed in Thrustmaster Wheel
When the new steering wheel and classy pedal become a partner, this T248 racing wheel can compete with its sibling T300RS with their Logitech's G923. Competing the T300RS is not easy because people love it because of the best support in the entry-level wheel for racing games. But now the world is advancing, so you can choose the advanced and luxurious features to choose from.
If you are wondering for the best wheel that supports and is fully compatible with your PC, Laptop, and PlayStation 4 & 5, then T248 by Thrustmaster is the end of your searches because of the all-in-one features that you want. There is an excellent option of switching between two different types of configuration in the wheel.
Hybrid Drive Force Feedback System:
A hybrid drive force feedback on the Thrustmaster T248 steering wheel gives you better control over the wheel and your in-game mobility. With a hybrid drive system, you get the best of both worlds: gear and belt-driven feedback, both of which you'll find in other similar-priced wheels.
According to Thrustmaster, the hybrid drive feedback technology provides up to 70% greater power than prior versions like the Thrustmaster T150 and its competitors, representing a significant improvement in performance and precision.
The precision of a hybrid drive wheel will never be the same as a conventional mode drive wheel, but that's to anticipate. There are various in-game feedback options like oversteer, understeer, and racing surface changes that may immediately feel in the wheel and your hands.
Thrustmaster T248 Digital Display:
The digital display built into the Thrustmaster T248 steering wheel is one of the most notable new features. Several options are available right here, such as the rotation of the steering wheel, force feedback level, and PC VS PlayStation mode. As a bonus, the digital display can be used as an interactive racing dashboard, displaying various data.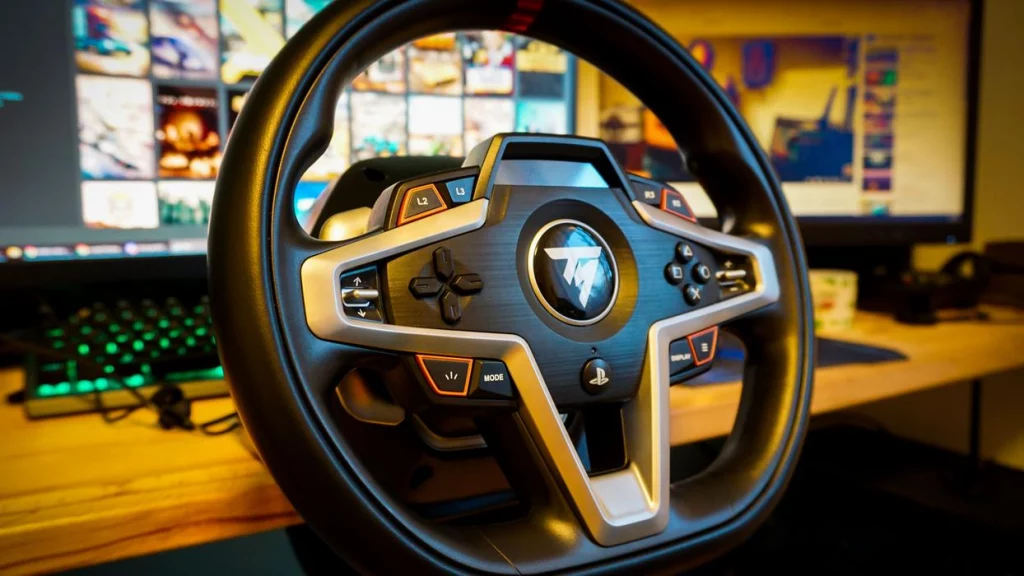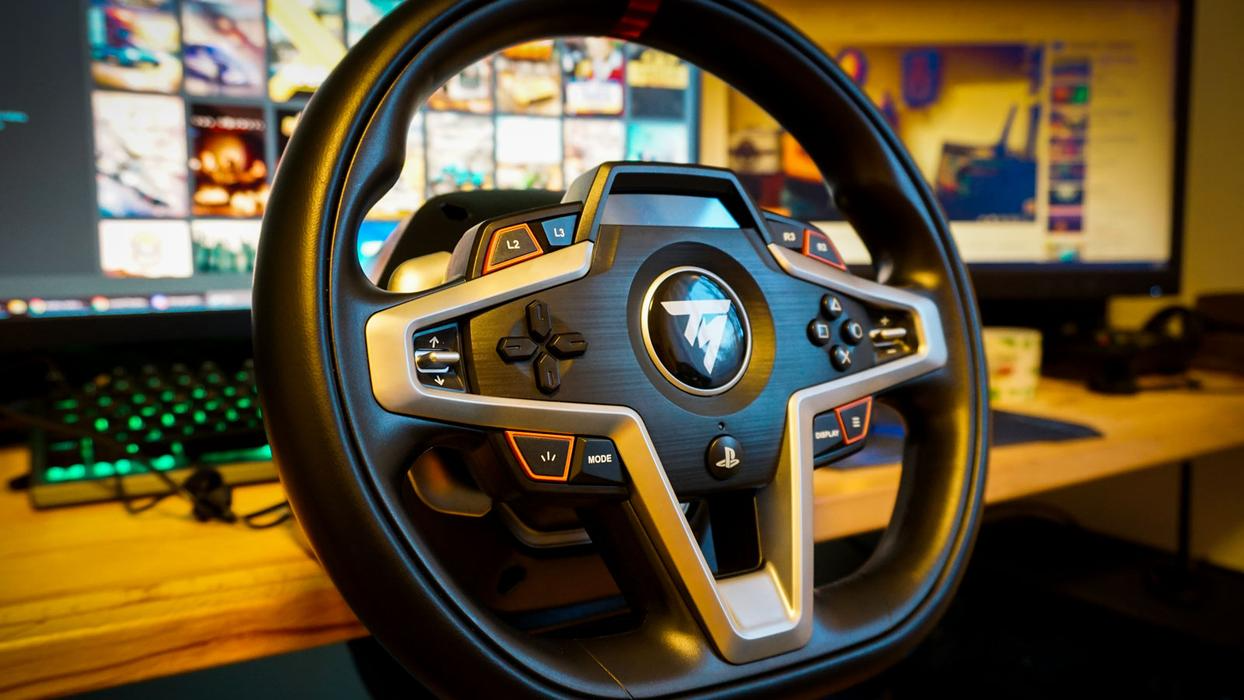 The racing display has various options for displaying information such as your former and best lap time, gear selection, rpm limiter, and many more. It's an excellent addition, and Thrustmaster T248 PS4 did a good job of integrating and making this digital display accessible, with several options inside the steering wheel.
There is only one drawback to using race data: looking at it while driving. Your eye line may not position with the display unit based on your cockpit setup. Therefore, you won't be able to utilize all of the display's capabilities. You can use the race display whatever you like because it isn't Thrustmaster's fault.
Compatible Devices:
Dirt 5 (PlayStation and PC)
F1 2020 & 2021 (PlayStation and PC)
Automobilista (PC)
Euro Truck Sim 2 (PC)
Race Room (PC)
iRacing (PC)
WRC 10 (PC and PlayStation)
Pedals and Its Configuration:
Thrustmaster states that their new magnetic pedals T3PM are 20% extra stable than the T3PA they replace in the Thrustmaster T248. Because of the increased stability, the T3PA's weight has gone up by 20%, and it does seem like a well-made product.
It is true that how stable users find a pair of pedals depends on how they use them, and because mine is on a stand, the extra 20 % was neither right nor left. You'll note the pedals' bigger, all-metal heads, which are rather comfortable to operate, especially when changing quickly.
There are four alternative pressure levels and angles for the T3PM brake pedal, depending on the wheel layout. Because not everyone has a real cockpit or race seat, or even a real chair, Thrustmaster designed this for use in your gaming setup. Because my chair is made of solid oak and doesn't budge when I sit in it, and it wasn't designed with sim-racing into the mind, the ability to alter the brake pedal's angle has proven to be rather handy.
If there is one complaint about the brake pedal, it is that it is incredibly stiff. This wheel takes some time to get used to, but it's remarkably durable for a wheel of this size once you do. Although the newest brake pedal has twice as much resistance as the T3PA (200kg), Thrustmaster says that it feels very much like the braking in a genuine racing vehicle, whether in GT3 or F1.
A black brake spring comes included in the Thrustmaster T248 package to use in place of the default silver brake spring to increase breaking resistance. However, it recommends that you experiment with the duo springs and the brake pedal padded positions to discover the best for your setup.
A lovely pattern adorns the base of this racing gaming wheel which helps keep your feet firmly in place while playing games. The base also features slots for both wiring and cable management so you can hide away unsightly cords out of sight beneath the chair, tangle-free! There are five points where you can attach this gaming chair to various rigs.
Gear Paddles and Buttons:
The magnetic gear paddles, another excellent new feature for the T248, are another nice addition. However, some people may find the new magnetic paddle actuation, which replaces the micro switches found in earlier wheels, a nuisance. Changing gears require more force than with other PC racing wheels. There's no doubt about that, and the noise that occurs due to your gear shifts is, well, loud.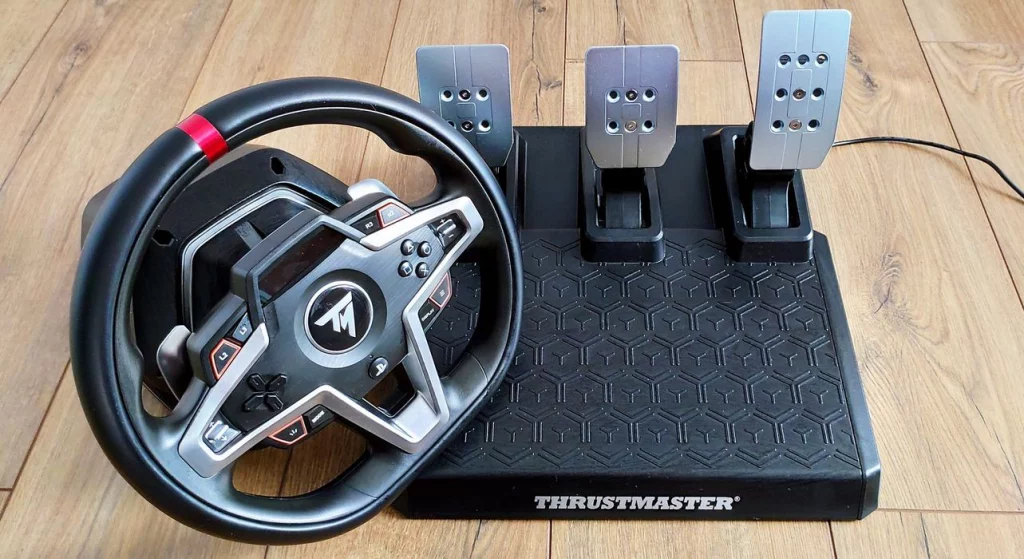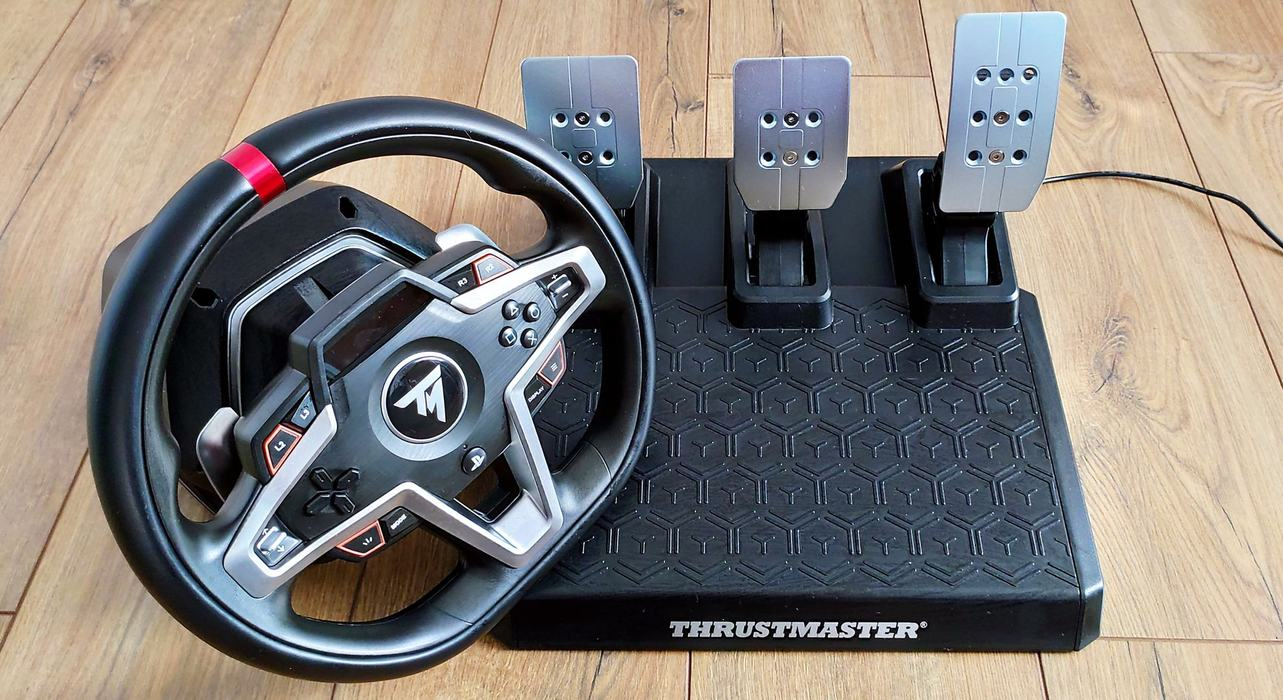 You won't notice it if you're playing with headphones on. In contrast, if you live in a regular sized house without a dedicated racing rig room, or even if you do, others who live nearby will hear the click clacking of the paddles every time you shift up and down. The gear paddles are virtually an afterthought on a wheel that performs well in many other game elements.
Style and Comfort:
It's important for your racing wheel to feel as natural as possible. Thus Thrustmaster went with a leather lining with a cushioned, foam filled interior instead of the usual rubber. Curious about how that interacts with heat in this case. Hot hands are common for sim racers and casual racer wheel customers alike, especially when playing for extended periods.
When using a rubber wheel, heat will build up and create irritation, sweaty gritty skin, and even blisters on your hands in extreme circumstances. The inclusion of leather inside eliminates these problems and makes the product much more pleasant to use for extended periods. If you wear gloves, you'll notice that your hands will get heated, but the newer lining doesn't make things worse.
The majority of the gaming wheel is black molded acrylic, except the leather rim. However, this does not imply that it is of poor quality; on the contrary, it exudes quality. This racing wheel looks great overall; however, it does not exude "quality" like you would expect it to after spending money on something that price as a premium. Logitech's G293 wheel, on either hand, is made entirely of leather and steel, and it easily wins the beauty contest compared to the T248.
Another concern is where to put the handbrake, as you'll be pressing a button if you don't have a specialized attachment. Handling the wheel and the handbrake at the same time can be a real challenge. In games that don't need the third pedal or enable you to utilize an automatic transmission, you could assign the handbrake towards the clutch, but this won't work for everyone.
Thrustmaster T248 Review (Personal Experience)
Thrustmaster T248 pedalboard comes with three pedals. After taking a moment to admire the Thrustmaster T248's design, we got right to work. Once we had our driving stance nailed down, we donned our gloves, as well as the obligatory headphones, and headed out onto the circuit.
To hear even the slightest loss of both the rear or a small indication of understeer, we first tried F1 2021 as our first video game. Because of this, we immediately increased the steering control action to the maximum setting to feel the tire grip on the road and each curb's thickness. Using F1 2021's default settings, we got a very good vibe.
There is a distinct variation in downforce between high and low speeds without impairing the car's handling in slower turns.
Our ability to precisely configure a corner's entry and exit, as well as our mastery of traction and oversteer, is unquestionably impressive. Because of this, there are no jitters (common in lower-end steering wheels) when we temporarily lose our feeling of traction on the tarmac.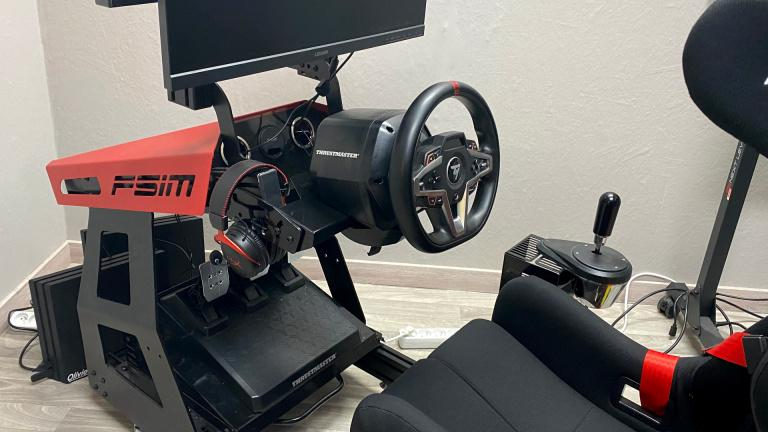 We couldn't resist playing a simulation game like Kunos Simulations' Assetto Corsa Competizione, which makes use of the steering wheel's advanced features. The physics engine and realism are clearly in the spotlight here, which allowed us to appreciate the advantages of the wheel fully.
When playing Assetto Corsa Competition on Thrustmaster T248 PS5, the belt and gears inside the body provide both fantastic steering force feedback and a clear sense of where you are in relation to the rest of the field.
The experience that this peripheral component has given us is truly superb, especially in terms of precision and the appropriate excursion length. While we're at it, here's a piece of advice on how to set it up: if you're having trouble finding the correct brake setup, try putting it on the clutch pedal for a more forgiving but less realistic experience.
Related Post: Thrustmaster T300rs Review
Experience with PlayStation 4, 5 and PC:
Connecting the steering wheel to a PlayStation 4, 5, or a PC does not affect the experience or input it provides. The Thrustmaster T248 Xbox convenient display lets you select the gaming machine you'll be using, and the wheel automatically adjusts to the appropriate button and control layout.
We wanted to test the gadget with as many driving styles and physics engines as possible; thus, we used a wide range of automobile titles. Its performance remained smooth and precise on all platforms. Thrustmaster T248 PC experience remained one of the top-notch that we got from testing many similar products.
Benefits:
Superior, robust force feedback
Precise hybrid powertrain
Built to a high standard, including the wheels and the pedals
Digital display that can customize
Drawbacks:
Magnetic gear paddles make a lot of noise
Some individuals will find the brake pedal to be excessively stiff