The Thrustmaster TX vs TMX wheelsets is the only options for their Xbox One and Xbox Series X/S wheels. I believe that the TX's superior build quality and smoother operation warrant the higher asking price, even though the TMX is a good option for casual racing fans or those on a tight budget.
Choosing the right steering wheel for your Xbox One or PC is difficult. There are several things to consider, including cost, effectiveness, immersion, etc. There's a strong probability that if you're reading this, you already know that the TMX costs more than $100 less than the Thrustmaster TX price.
Although both wheels are excellent in that they work with the Xbox One and PC, offer precise force feedback, vibrate, have wheel rotation angles that can be changed from 270 to 900 degrees, and come complete with a wheel rim, a motor, and a pair of pedals.
By the end of the article, you will be fully aware of the differences between various wheels, enabling you to choose the one that is best for you. Let's explore the difference between the Thrustmaster Tx racing wheel vs Tmx models.
Difference Between Thrustmaster TMX and TX
For Xbox gamers who occasionally play racing games and don't want to spend a lot of money on specialized hardware, the Thrustmaster TMX is a good entry-level wheelset. There is the TX wheel for more dedicated sim racing lovers with a larger budget or who just want a better product.
Is Thrustmaster Tmx good? The Thrustmaster TMX, with its two-pedal package, is an excellent place to start if you have never raced with a sim racing wheel before. You can purchase this racing wheel with pedals for under $200 and start racing immediately.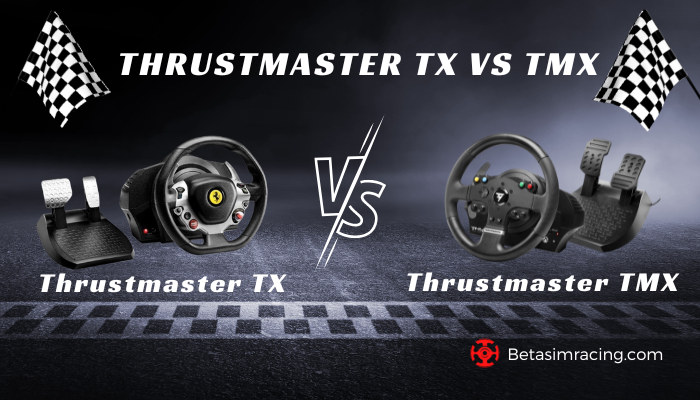 Although the TMX costs roughly half as much, the TX is unquestionably superior in terms of versatility, quality of construction, and power. Let's see the difference between Leather Thrustmaster TX Edition. With the TX Racing Wheel Leather Edition, gamers can fully immerse themselves in the world of auto racing and develop their abilities to perform better.
The TX is substantially more expensive, but the numerous enhancements and better build quality make up for it. Let's see the Thrustmaster TX Leather Edition. The TX is significantly more costly, but the numerous enhancements and better build quality make up for it.
Thrustmaster TX vs TMX Technology
A metal ball-bearing axle with a combined belt-pulley and gearing system is installed within the TMX to increase durability. Compared to helical gearing used in wheels like the Logitech G920, this technology provides smooth force feedback and is much quieter.
Although using brushes by the servo motor lowers the efficiency of the power output, it also explains why this model is so reasonably priced. At 12-bit resolution, the wheel's responsiveness with the motor delivers good precision. On a scale of 1 to 10, the force feedback strength is roughly a 7.
Due to its frictionless, dual-belt-optimized drive system, the TX is even quieter. Additionally, it has a brushless motor, which enhances performance and takes less work from the engine to get maximum output.
Along with having a contactless magnetic sensor, it also has H.E.A.R.T. HallEffect AccuRate Technology, which results in precision that won't deteriorate over time due to friction. 16-bit resolution controls the responsiveness of the wheel. On a scale of 1 to 10, the force feedback strength is roughly 8.5.
Thrustmaster TX vs TMX Motor
Thrustmaster makes great products despite the fluffy language frequently conceals actual technical expertise in other cases. They have an unmatched ability with technobabble, and their marketing copy can read like a sci-fi novel.
However, the motor located in the center of the wheelbase, which is the lifeblood of a racing wheel, is quite different for each model. The TX is among the best Xbox wheels available in terms of input resolution and forces feedback strength thanks to its dual-belt brushless motor, which is smooth and power-efficient.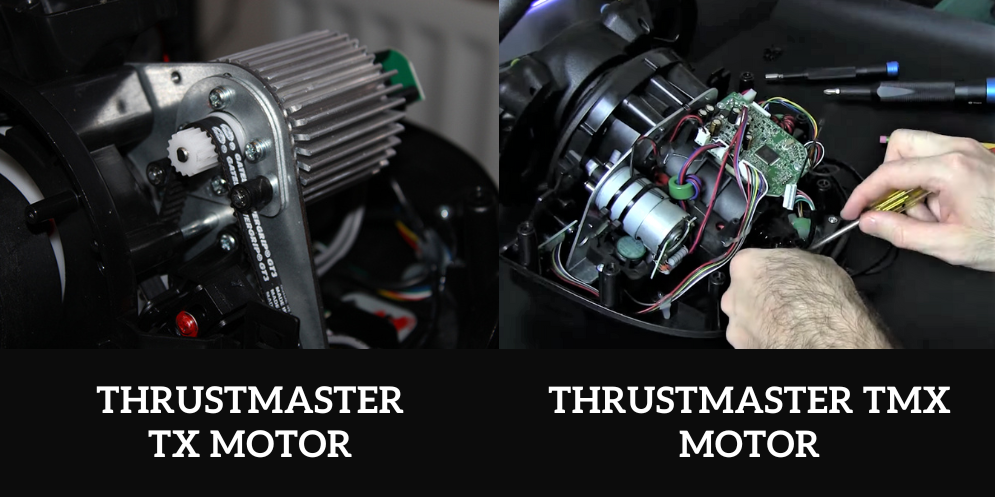 The brushed motor in the TMX has a mixed belt-pulley and gear configuration, making it less powerful and efficient but quiet and smooth. It is impressive, given the TMX's low price point, but it is not on par with the TX.
Thrustmaster TX vs TMX Rim
The grips on both wheels are largely plastic with textured rubber and have metal-cored rims. The TMX core's metal frame also serves as its face, in contrast to the TX wheel's plastic center. Although neither wheel feels particularly heavy or realistic when standing still, the TMX wheel appears cleaner and more professional.
However, neither wheel rim will be much of an issue once you start playing and become engrossed in your preferred racing game. In the end, neither rim is particularly noteworthy or problematic. Still, the TX rim's position can improve because it can replace with a variety of excellent rims offered by Thrustmaster, while TMX owners are limited to the stock option.
It's also important to note that the TX is available in a special Leather Edition that includes a leather-wrapped wheel. However, this edition is far more expensive than the original model and is difficult to locate online.
Thrustmaster TX vs TMX Pedals
These wheel sets come with a pair of Thrustmaster Tmx pedals, each of which faces may change into one of three different positions. The TX sports a pair of metal plates that add some weight and a slightly more upscale feel despite the pedals' body and most of its components being plastic. The only significant difference is the TX's broader, more stable brake pedal.
Sincere to say, both pedal sets are at most functional. I strongly advise serious racing fans to purchase one of Thrustmaster's improved pedal sets, including the T3PA and T3PA Pro, which are better built and include clutch pedals for significantly more immersive experiences. They should also consider purchasing a Thrustmaster Tmx shifter like the TH8A for their new wheel.
The T3PA pedal set includes in the TX as mentioned Leather Edition, but I'd be remiss if I didn't also remind my readers that this wheel has grown to be both rare and pricey.
Thrustmaster TX vs TMX Mounting
The mounting choices are where these two wheels differ the most, with TMX having a table clamp, whereas TX, like most sim racing wheels, is designed to be installed wherever you desire. More than anything else, this contrast reveals more about the target market for these two items. The TMX is good for casual users who would not purchase other dedicated hardware for sims and would simply mount their new wheel on a table.
In contrast to the TX, which is designed for hard-core racing enthusiasts and is ready to install on a wheel stand, specialized racing chair, table, or wherever else you may like. While there is nothing inherently wrong with this strategy, it is crucial to understand what you are getting into before investing in a new racing wheel.
How To Install Thrustmaster TX Drivers?
It's just plug-and-play to connect your Thrustmaster wheel to your Xbox One or PlayStation 4. It is not typically the case on the PC, but you can change some game settings to make your setup feel better. Your PC will require a few drivers, just like many other external input devices, and it's a good idea to ensure the wheel's firmware is also current.
Here are the steps of Thrustmaster Tmx drivers' installation and Tx drivers also:
Visit the Thrustmaster support page to get both.
Choose your wheel.
You can download Thrustmaster drivers and firmware together in one.exe file by scrolling down to the driver's section.
After downloading, install it on your Windows machine.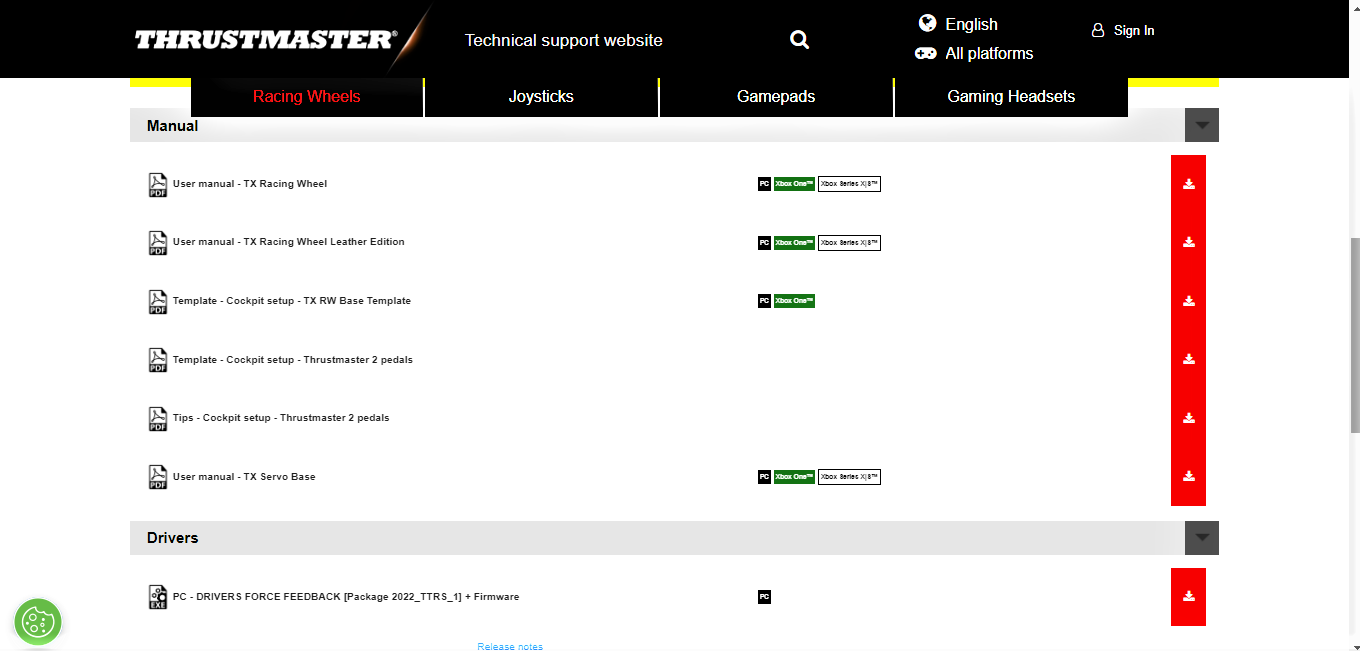 There's a good chance your racing games won't even recognize the wheel if the drivers do not install.
Is The Thrustmaster TMX Worth It?
Force feedback strength is sufficient on the Thrustmaster TMX. In comparison to many racing wheels, it is weak. But the Thrustmaster Tmx force feedback is a good strength for a beginner racing wheel.
Is the TX Worth the Extra Money?
I think it's worthwhile but remember that I'm a big lover of racing video games. The TMX is a fantastic option and a fantastic value for the money if you're a casual racer looking for a decent starting-level wheel that will allow for a few upgrades. The TX is the way to go if you consider yourself more serious about racing, have an interest in upgrading your rim, wish to mount your wheel to a cockpit, and want a more powerful and effective wheelbase motor.
Which Pedals Are Compatible with the Thrustmaster TX Servo Base?
All USB pedal sets are available on the market, and the Thrustmaster 3-pedal pedal sets T3PA and T3PA-PRO – Thrustmaster 3 Pedals Add-on is compatible with Xbox One. And PC games support multi-USB capabilities.
Is Thrustmaster TMX Suitable for Formula 1?
F1 22 plays excellently with a wheel if it sets up properly. The Thrustmaster TMX and T150's standard force feedback is decent, but it makes the wheel too light and is very forceful with the vibration effects.
What is the Thrustmaster TMX's Turning Radius?
With a maximum rotational speed of 2.5, the wheel offers unmatched control at every turn. The TMX's wide range of rotation angles (from 270° to 900°) enables all virtual drivers to be as exact as possible during every race.