If you take your sim racing seriously and want no excuse to come your way, you need to shape your mindset by wearing a world-class pair of sim racing gloves. These gloves are the best addition to answer your calls and needs. Usually, sweaty hands do not get a solid grip over the wheel, and you have to face frequent catastrophic slips. So, to avoid such irritation and suffering, I formulated this article.
This article will tell you about the 5 best sim racing gloves, which are pre tried and tested, and I used each of them myself before adding them to the list. An excellent pair of sim racing gloves adds precision and exactitude to your gaming sessions and immensely enhances your taste in racing games. So, let's not roam around and make your time worth spending by taking a look at the table of content below.
Top 5 Best Budget Sim Racing Gloves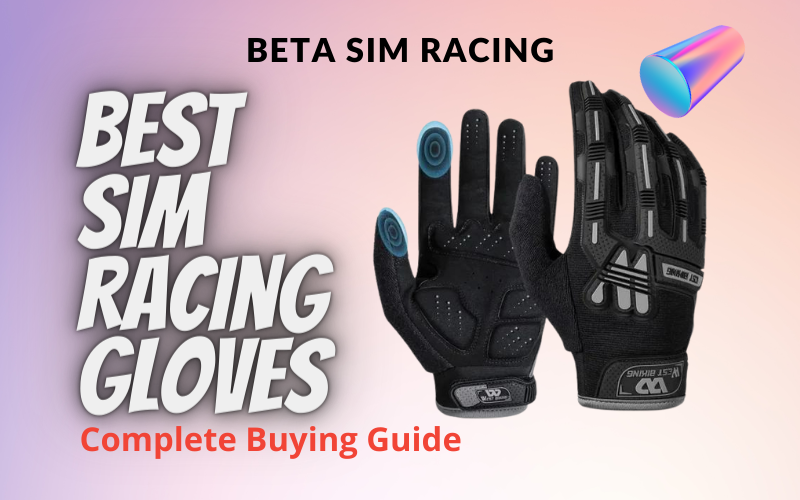 Everyone wants to get on top, but very few know the way forward. If you are looking for some sim racing solutions to answer your slippery hand issues and to get rid of the sweaty smell in your gaming room, a good pair of sim racing gloves can make it up to your needs and wants to the fullest. This article has come up with the five finest and cheapest sim racing gloves to help you with your purchase decision. Let's take a look at the first pair below.
1) Sparco Meca 3 Mechanics 002093 Best Budget Sim Racing Gloves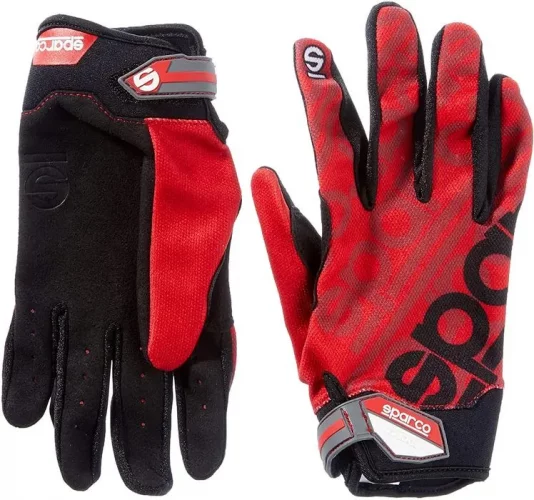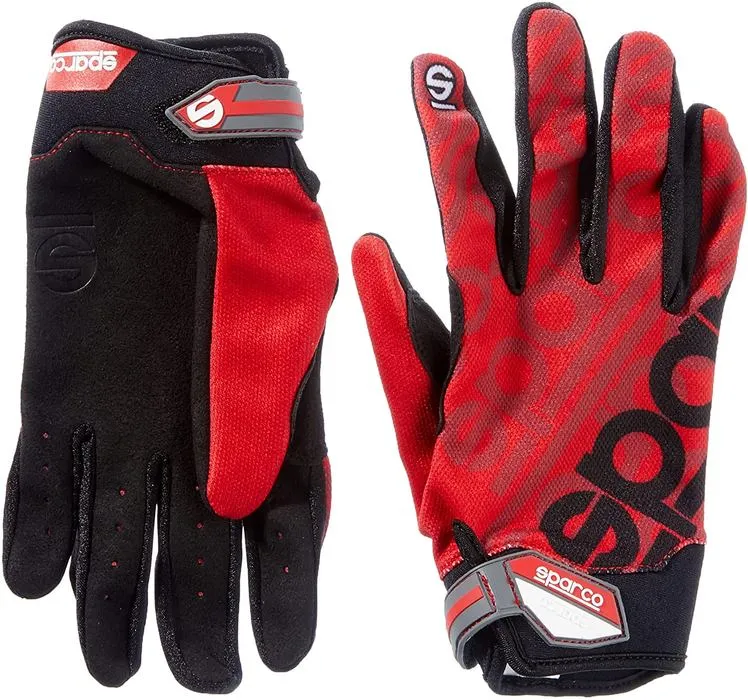 | | |
| --- | --- |
| Size | All sizes |
| Color | Red |
| Material | Faux leather |
| Closure type | Hook and loop |
| Weight | 1.41 ounces |
The Sparco Meca 3 Mechanics 002093 are the best budget sim racing gloves with various traits such as scuff-resistant fabric, synthetic leather material for durability, and a soft grip for your hands. Moreover, the body of these gloves is entirely breathable, and you feel super comfortable while playing racing games.
Scuff Resistant Fabric
It has the ability to first-hand scratches and other pressures you throw at it. You'll find it fully resistant against scuff and scratches to the max. When I used these sim racing gloves for the first time, I felt so good and comfortable using them for long hours without even having a snag for a second. The fabric is so soft, but durability has gone something noticeable.
Synthetic Leather Material for Durability
Synthetic leather material adds value to the durability factor the most. There is no harmful factor that can play devastation with the durability of the gloves. So if you are looking for sim racing gloves that go a long way ahead for years to come, you are good to consider purchasing these super best gloves fearlessly.
Soft Grip for Hands
Without having a soft grip for your hands, no pair of gloves can become the best sim racing gloves. You can choose the size that fits your hands well, and if you get something lousy, you can tighten them up yourself a bit. There the grip of these sim racing gloves is so secure and controlled. And it means a world for the sim racers who struggle a lot with fitting gloves issues.
However, to take your gaming setup on top, you need to buy an excellent sim racing seat for the ultimate comfort. To win one, you can read the sim racing seats.
Breathable with Tight Fit
It comes with a breathable and tight fit that goes a long way ahead with you. It attracts your eyes make you feel having a luxurious experience wearing them. When I first interacted with these best sim racing gloves, I found them very soft. If the sizing requirements are not as your hands need, don't worry, you may alter the settings to get it in perfect shape.
PROS:
Super soft material
Best for varying sizes of hands
Multi colors add beauty to the product
Add value to your gameplay enormously
CONS:
Exterior needs to be a bit improvements
Purchase Decision
Taking one out of so many options is never easy. So, make your purchase decision easy by taking a deep look at the points explained above. However, you should test all these features before placing a final purchase order, wear them well, and move your fingers to hold something like wheels to get the right idea. So, you are super safe to invest in these sim racing gloves, and you won't have to pay enormous sums at all.
2) Alpinestars F-Lite Custom Sim Racing Gloves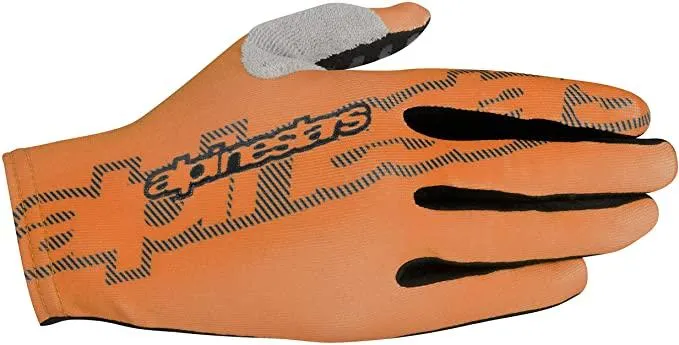 | | |
| --- | --- |
| Washable | Yes |
| Material | 100% Fibers |
| Color | Orange |
| Design | Printed |
| Size | Multiple |
The Alpinestars F-Lite custom sim racing gloves have a perforated palm fit and a comfortable grip. It finishes lightweight formation, an improved grip better than ever before, and is ideal stiff to deal with sweaty hands. When I used them for the first time, I found them the most excellent sim racing gloves within a low budget.
Lightweight Formation
These driving gloves racing are the real deal to get the real fun out of your gaming sessions. It authenticates the performance and doesn't waste your time. Lightweight formation makes your hands go with the wheel's flow without having any trouble. If you use it for long sessions, it can create a good match with your hands.
Improved Grip Better than Ever Before
If you look at the previous models of the same product, you'll find this newest one the nicest one. It comes with great comfort and an improved grip. So I hope if you give a chance to this super pick, you will find them the best race car driver gloves. It makes you feel like driving a real car with all the comfort you need and crave.
Ideal Stuff to Deal with Sweaty Hands
These are the best driving gloves for sweaty hands, and their breathable stuff doesn't allow watery substances to play havoc with your gameplay. It has a great bunch of features with top leading touches you miss on other globes within the same price range.
Super Comfortable Grip
The most alluring factor about these iracing gloves is the super comfortable grip. Your hands do not feel awful, and no rashes and cuts will be there on your hands using it for long hours. You can control the wheel with your palm, and these gloves add precision and accuracy to the control. However, to enjoy the ultimate control of racing games, you need to buy a comprehensive button box. If you need one, let's read the sim racing button boxes.
Benefits:
Soft material for comfortable use
High-quality stuff for durability
Lightweight formation
User friendly price
Drawback:
Finger spacing needs extra improvement touches
Purchase Decision
If you are looking for the most delicate sim racing gloves within a low budget, you reach the right place to win one. It gives almost all the great traits with no major flaw. I used it to give it a try only; I have used it for years now. So I celebrate having it in my gaming room; I hope you'll have a blast as well.
3) Sparco 002094 Nrrs10 Sim Racing Gloves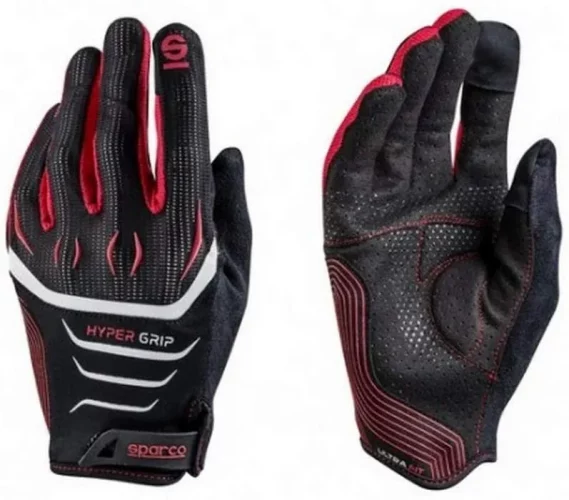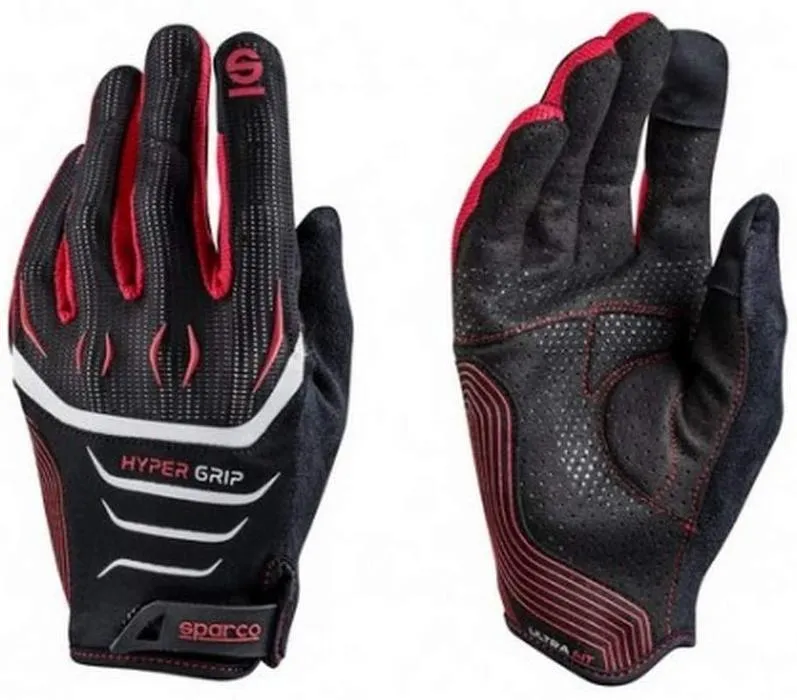 | | |
| --- | --- |
| Color | Black and red |
| Material | Microfiber |
| Package Length | 2.5 cm |
| Weight | 2.82 ounces |
| Finger holes | 5mm |
The Sparco 002094 Nrrs10 Sparco Sim Racing Gloves are the genuine contributors to sim racing. You can get various features such as different sizes, super breathable holes for fingers, and adjustable fit for long sessions. Moreover, it is made up of very soft and feathery material. Let's find out the details about these sim racing gloves below.
Available in All Sizes
You can have these Sparco sim racing gloves in various sizes and multi-colors. The exterior is full of attractive colors and the company name. It adds real fun to your gaming setup and creates an environment of professional gaming around. If you are looking for genuineness and realism in your sim racing, this product can make it up with your desires to the max.
Super Breathable Holes for Fingers
The super breathable holes on the first fingers are so relaxing. It adds more precision and accuracy for the grip, and I found them the best driving gloves for sweaty hands. There is no prominent flaw that can make you avoid this beautiful pick. All other fingers got a cover all around, and the two got holes for the ultimate comfort and anti-slip grip on the racing wheel.
Adjustable Fit for Long Sessions
It comes with an adjustable fit formula that gives you freedom of customization. When you need the best auto racing gloves, they can answer all your unheard queries well. The material of its making is stretchable and causes no bite to your hands. However, to take your gaming on top, the best rudder pedals can help you immensely, and to win one, you can read the best flight sim rudder pedals.
Lightweight Formation with Striking Design
The lightweight formation with a striking design attracts the eyes from far away. And when you get it into your gaming setup, it adds authenticity and verismo to overall performance.
I found these light sim racing gloves are the best, and you get no obvious excuse to avoid this exclusively desirable pair of gloves. It gives you the best return of your price, and the precision with the thrill creates magic in your gaming room.
Advantages:
Super economical for all levels of users
Durable formation material
The best companion for your hands
Fully foldable and lightweight
Disadvantage:
Packaging is not up to the mark
Purchase Decision
If you genuinely need the sim racing gloves with high-quality material and soft grip, you can consider purchasing it undoubtedly. It is soft for your skin and doesn't cause rashes, scratches, or inflammations. So, feel free to rely on this much unbiased review, and I hope you'll acknowledge the words you read here once your hands have interaction with these gloves. Above all, it is super price friendly.
4) MTB BMX MX ATV Best Sim Racing Gloves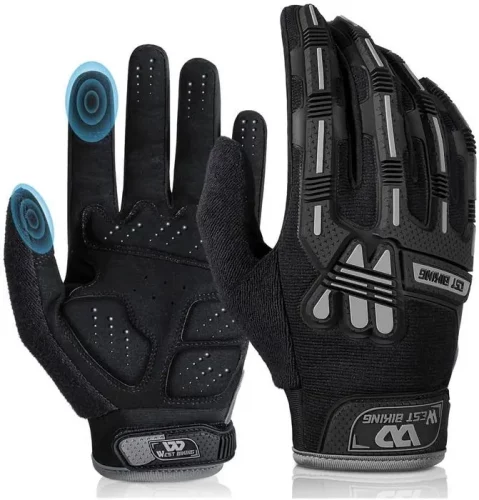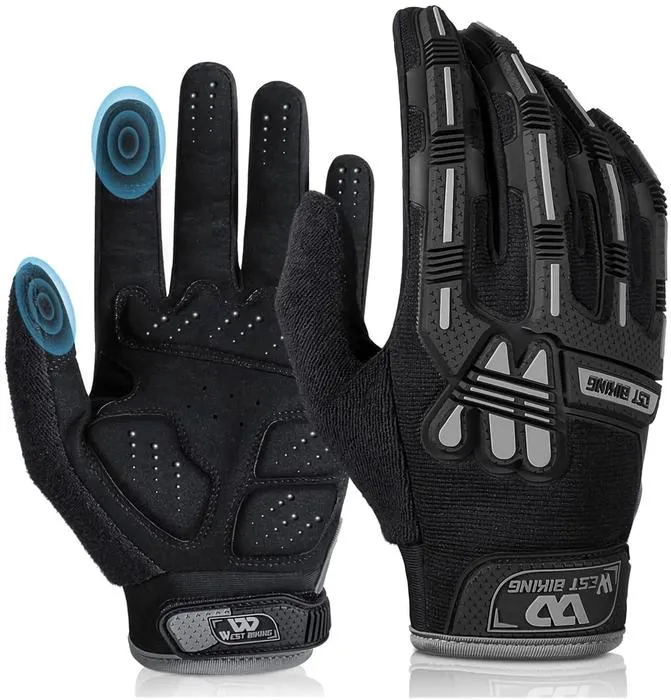 | | |
| --- | --- |
| Color | Black |
| Closure type | Hook and loop |
| Material | Polyester, Silicon |
| Size | Multiple |
| Length | 10.43 inches |
The MTB BMX MX ATV is the best sim racing glove with an anti-slip grip, 100% ultra-premium quality fabric, and breathable and comfortable formation. It takes your gaming taste up and leaves no stone unturned in fulfilling your needs. In addition, it has the most delicate touches with improved design and classic printing outside.
Non-Slip Grip
Finding an anti-slip grip in light sim racing gloves is not children's play. It takes a complete flagged understanding of the type of fabrics used in gloves and your gameplay style. However, this super best product has all to give you the best cover. It provides your hands with the ultimate protection and contributes to the whole performance of the steering wheel during the gameplay.
Ultra-Premium Quality Fabric
Its fabric is extraordinarily impressive. The polyester and silicon material takes the durability to the top, and the feel of that softness makes your gaming time the best. If you are looking for the best sim racing gloves 2023, you can consider this phenomenal pair of gloves without having a second thought. However, if you want to learn about drifting games to get a new touch, you can read the article.
Breathable and Comfortable
Its material is fully breathable and comfortable for your hands. When your hands get a fair amount of air from the outer environment, it is suitable for your hands and a fresh feeling during the gameplay. These are some of the most delicate custom sim racing gloves with all the significant features you crave in any beautiful and handy pair of gloves.
Best to Endure Sweaty Hands
It has a solid formation to withstand sweaty hands and all the awry elements. Whether your hands are not thoroughly dried, their inner stuff can absorb the watery elements in a way that you will not feel wet. These are probably the most excellent sim racing gloves 2023 within a low budget. All you have to do is to spend no more than 100 bucks.
PROS:
Very economical pricing
Bets for beginners
Super comfortable stuff
Boost your gameplay for long sessions
CONS:
Reliable but not a luxury product
Purchase Decision
Making a purchase decision always creates confusion, but if the product is up to the mark and fulfills your needs to the fullest, you feel butterflies in your stomach. So, if you need a reliable pair of sim racing gloves with no significant drawback, you are super good to think of this pick. So, let's not waste your time and money and invest in a recommended one. And I hope if you give it a try, you'll be happy more than ever before.
5) OMP KS-3 Cheap Sim Racing gloves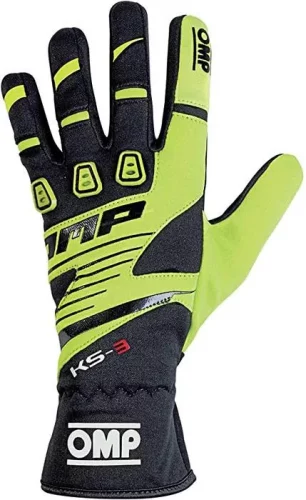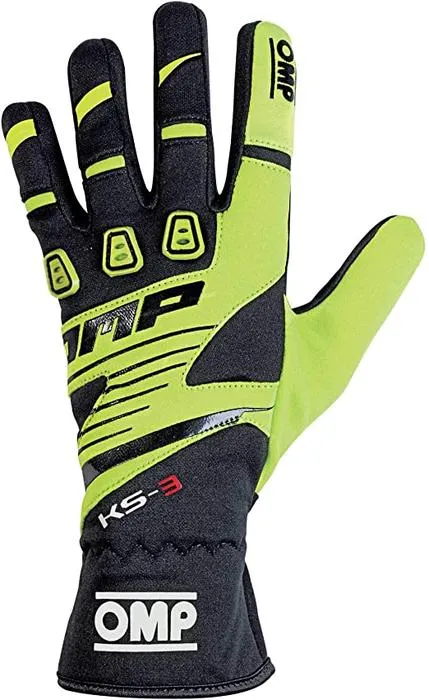 | | |
| --- | --- |
| Color | Multi |
| Material | Microfiber |
| Size | Multiple sizes |
| Rubber pads | Yes |
| Breathable Stuff | 100% |
The OMP Cheap Sim Racing gloves are the real deal to crack in the first instance. It submits super soft stuff, a comfortable and lightweight formation for the flawless flow of the wheel. It diminishes the fatigue you face during the gameplay, and the striking design with multi colors adorns your gaming room with its eternal beauty. So, to know in-depth about these sim racing gloves, let's come down.
Super Soft Stuff
The soft material is the critical element that takes the game on. You have the most acceptable choice to make when you need the cheap sim racing gloves with lasting softness inside. I have been using these gloves myself and didn't find any wrong with them. The spacing of fingers is good enough, and the exterior has the power to withstand dirt and dust particles.
Comfortable with Durability
These best budget sim racing gloves are super comfortable and durable. No matter what pressure you throw on them, they can survive easily in any severe matter. The high-quality material extends the life of gloves for years to come. Moreover, the budgetary liens are limited, and you get to save a lot of money by having these gloves.
Lightweight and Breathable for Long Sessions
Lightweight tools are always better than heavier ones. These racing gloves for sim racing are super lightweight and breathable for hands. Keep your hands safe and secure. Moreover, the airflow allows your hands to move faster and help you handle the wheel enough.
Striking Design with Multi Colors
Striking designs with multi colors is my fascination. So, if you are looking for the best budget sim racing gloves with multi sizes, customization options, and multi-colors, you can give a try to this product undoubtedly. However, a great racing monitor is another powerful tool to illuminate your gaming room.
Benefits:
Lightweight and stunning design
Remarkable durability
Good for all types of users
Available in different sizes and colors
Drawback:
Finishing needs a few advanced touches
Purchase Decision
If you are in dire need of taking your racing game to the next level, and if you want the precision me fatigue free wheel handling, you can go for these sim racing gloves. Above all, it takes a small sum to have it, and give the best return on your price.
Buying Guide for the Best Sim Racing Gloves 2023
I have been playing racing games for decades and wore so many gloves, all of we're not good, but some of them were amazing. The best five picks I have ever used, I added above. And now, in this section, I'll tell you the secret of winning the best sim racing gloves. My findings, learning, and conclusions are in the 7 points below. Let's read them out one after the other.
Comfortable Fabric
If you are looking for the most excellent sim racing gloves, the first thing that you should prioritize is the comfortable fabric used inside out. It would be better not to ignore the quality of material at any cost. Microfiber I, polyester, and silicon are the primary materials that are most popular and prominent.
Durable Formation
The durable formation depends on the quality of the material. So, if you want your gloves to be with you for years to come, you should invest most of your budget in the quality of the material. So, it is how you can ensure the durability and reliability of the racing sessions.
Good to Deal with Sweaty Hands
It is inevitable to find something that boosts your hand's flow, which helps you reduce your fatigue for the handling of the racing wheel. Sweaty hands can play havoc on your gameplay, and to avoid such a terrible issue, you should buy sim racing gloves that can withstand watery substances well enough.
Soft Grip with Ideal Fit
Soft grip and ideal fit are every gamer's wish. So, never invest in gloves that do not submit customization options. An excellent pair of gloves tells your hands that they got the best companion if they are. So, never undermine the call of your hands when you try wearing gloves before ordering a pair of gloves.
Weight and Reliability
Lightweight is a topline feature of sim leaving gloves. If you want to achieve the max success in your gaming and take up the gameplay to the next level, always go for lightweight formation. On the other hand, reliability has no substitute. It keeps your mind in a state of peace and delivers you the max performance. So, to attain the max kick out of your sim racing gloves, keep the durability factor in mind while buying them.
Purchase Price
Price plays a vital role in deciding on a product. And when it comes to finding the best sim racing gloves, you need to spend around 50 bucks only. However, if you want a luxury experience, you need to lift the budget to 100 dollars. But, keep in mind, the return these gloves will give you is way more worth it.
Why do people wear gloves in sim racing?
First of all, the primary job of sim racing gloves is to reduce the fatigue in your hands. Moreover, it helps your hands have a solid grip on the wheel and adds precision to your gameplay. The high-quality sim racing gloves protect your hands from rashes and dirty elements in the outer environment. Overall, a premium quality pair of gloves takes your satisfaction and comfort level on top.
Should you wear gloves for sim racing?
Yes, if you are a sim racer and love to play racing games for long sessions, your hands need assistance. It would help if you got your hands on a reliable partner to protect them from harmful elements. Moreover, sim racing gloves add extra power to the wheel's grip, and you get to enjoy fearless gameplay.
What to look for in racing gloves?
There are multiple things that you should look into racing gloves, such as proper length, a good size for the perfect fit, wrist closure options, and above all, high-quality fabric from inside out. If you manage to gather all these things in one go, you can surely win a luxury pair of gloves with no major flaw. All you need to invest is around 50 to 100 bucks to win a super reliable hand partner.