No doubt the Logitech G29 and G920 are amazing products by the brand and are popular racing wheels among gaming players. Both racing wheels are driving force and and available in the marketplace and on some online platforms.
We can use Logitech G29 on PlayStation and G920 on PC and Xbox One. The quality of both wheels is very good. Logitech g29 vs g920 have several features in them for the comfort of players.
Both wheels have amazing features that give the next-level gaming experience and looks similar to the user. But the experts can identify the key differences in both products. Both have some differences in their specifications. Here in this article from Logitech G920 vs G29, you can get a closer look at those key differences.
What are the differences between Logitech G29 and G920?
Both Logitech G29 and G920 are amazing and demanding wheels for racing games. Both work with PC. The only difference is that G29 is compatible with PS4/PS3. At the same time, G920 is compatible with Xbox One.
Does the Logitech G920 work on PC? 
Logitech G920 is the most amazing racing wheel in the marketplace. It is beautifully designed and has several features. Yes, Logitech G920 work on PC. It is the Logitech steering wheel Xbox one version. At the same time, the Logitech g29 steering wheel PS4 version is also compatible with PC but not for Xbox one.
Which is better G920 or G29?
Logitech dual motor feedback driving force G29 gaming racing wheel has comparatively more features in it as compared to Logitech G920. There are some additional buttons available in G29 and some nobs. The product is beautifully designed and popular among players. So, G29 is far better than G920. 
Does the Logitech G29 feel realistic?
Yes, using Logitech driving force G29 gives you a feel of a real car. Holding the wheel's steering is like having the real steering of the vehicle beneath your palms. So, if you are new to racing games or want to enjoy your experience with racing games using wheels, it is the best racing wheel ever.
Do you need software for Logitech G29?
Logitech G29 is an amazing wheel out there. It has some improvements from its previous version, G27. The wheel needs software to run. Logitech G HUB and Logitech Gaming Software are available software that this Logitech G29 Xbox can use.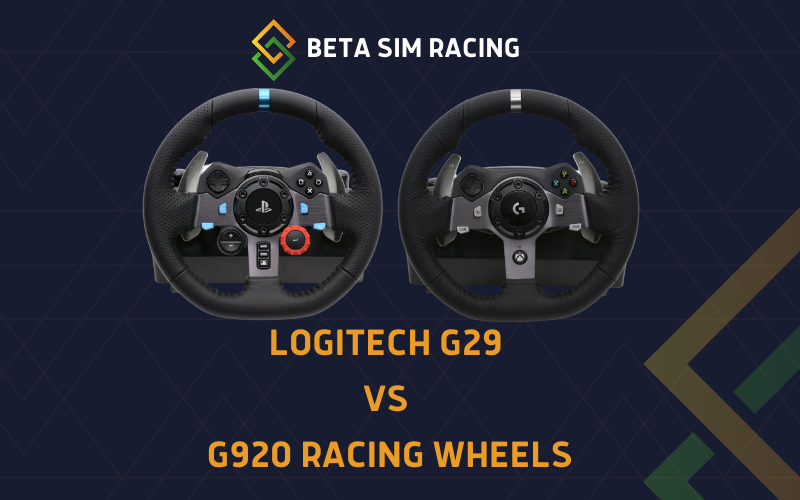 Logitech G29 Driving Force Racing Wheel
The Logitech G29 is the popular racing wheel and has been on the top list for the last five years. The most significant and exciting thing about this wheel is that it is pocket friendly. It has been the number one choice of the players for a very long time due to its amazing features and high quality at such a reasonable price. It stays on the top of the list as a budget-friendly and consumer-friendly racing wheel. Here we will see that is it still popular in the gaming world or not? Let's discuss its features in detail.
Logitech G29 Design and Features:
Logitech G29 gaming wheel looks like real steering due to its perfect design and look. The wheel's diameter is 27cm, and the frame is made of metal. The finishing is done with leather. The leather finishing is to give a feel of real steering.
Other racing wheels are coated with rubber instead of leather, making them more amazing and unique. G29 is pretty much the same as the previous Logitech G27. It gives almost the same feel as G27 and is a bit harder than other cheap wheels that you have been using until now.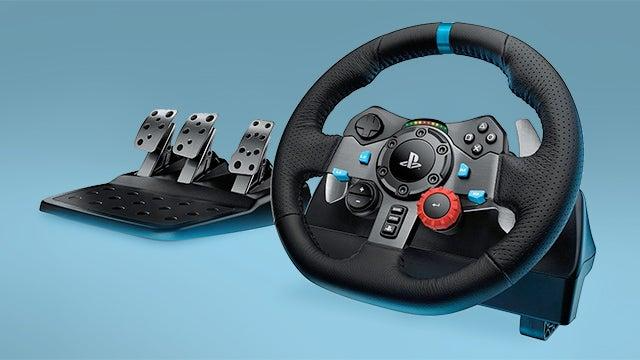 Logitech has all the features and buttons for PS4 and PS3 without any extra controller to control them. The three pedalboards are hooked up with the racing wheel instead of the PS4, identifying the wheel. And you can instantly use it with other games like DriveClub and Project Cars.
The only issue in the G29 is the presence of a small switch on the top of the wheel. This wheel is to toggle between the PS3 and PS4 mods. The PS4 requires an extra chip for security purposes, while the older versions of the Logitech could not provide these securities chips to PS4.
Logitech G29 Driving Force Pedalboard:
No bonus bling to the pedalboard is the reason for our recommendation towards Logitech G29. The Pedalboards are of good quality, so there is no extra need of securing the pedalboards as in the previous models. The pedalboard contains a clutch, accelerator, and brake.
Each of these three has a different tension level and style. The big difference is the brake. It is modified to give you more control over your wheel. The brake provides more tension and adds a touch of reality to the game.
Logitech G29 Driving Force Performance & Force Feedback:
Apart from the attractive buttons and beautiful pedals, the amazing feature of the Logitech G29 is the LED displays. This LED display is at the center of the wheel, which shows that you need to change the fear. Racing-style pedals can do the gear shifting on each side of the wheel. The pedals are made up of metal. The wheel can turn about 900- degrees.  
Logitech G29 has good force feedback. The strong force can cause muscle ache in 30 to 40 minutes. It shows that the wheel has a powerful motor that performs excellently in playing games. If you didn't use powerful force feedback in the past, you would love this Logitech G29. It will give you more control over the vehicle while playing the game.
The Wheels like this Logitech G29 makes the games more engaging and wonderful, especially after a hectic day when you want to relax by playing different games. Let's look at the pros and cons of this amazing Logitech G29 wheel.
Benefits:
Strong Force Feedback
Leather finishing on Wheels
Compatible with PlayStation 4
Drawback:
Not compatible with Xbox One
If you're truly into your racing games, you ought to at minimum figure out how to evaluate a power feedback wheel. Also, for PS4 gamers, since both Project Cars and Driveclub are out, there's sufficient substance to devour to legitimize it as well. Is this the best PS4 wheel? Currently, there are no ideal choices and only a couple of excellent ones. The Logitech G29 sits among them, with a decent calfskin upholstered haggle of PS4 explicit controls. However, notwithstanding, it is very boisterous, and its power criticism, while strong, isn't as smooth inclination as the belt-driven contest from Thrustmaster and Fanatec (we've not gotten an opportunity to utilize those broadly).

Best Recommended Product
Logitech G920 Driving Force Steering Wheel Review
Suppose you want a decent and good racing wheel to enhance your gaming experience. Logitech G920 is the best choice. The wheel is compatible with PS4, PS3, and PC. Due to its compatibility with PC, the wheel is popular among players. The wheel may seem a bit expensive compared to other wheels available in the market.
The professional players don't look for the price. They search for the best features and comfortable wheel to make their games more enjoyable. Here in the below lines, you will know what you will be getting with this wheel on purchase.
Logitech G920 Steering Performance:
The wheel's steering can rotate up to 900 degrees and is very comfortable. It gives the feel like you are driving your car and holding your vehicle's steering in your hands. Steering's movement is very smooth, which provide you with comfort while playing the game.
The push and pull forces you exert on steering while you knock on other vehicles feel like you are controlling your genuine car. Everything is superb; just the button's position is not that perfect. But it's all about the way you use the handbrake. Adding an actual handbrake would be appreciated, but the Logitech G920 didn't have it.
Logitech G920 Gear Performance:
The pedal shifters are modestly caused and to feel truly pleasant under your fingers if you've progressed to the point of choosing manual gears. Play any game where you want serious guiding developments, like Dirt Rally, Gravel or WRC 18, and you'll observe that you regularly need to switch gear when you've forgotten about where the switches are.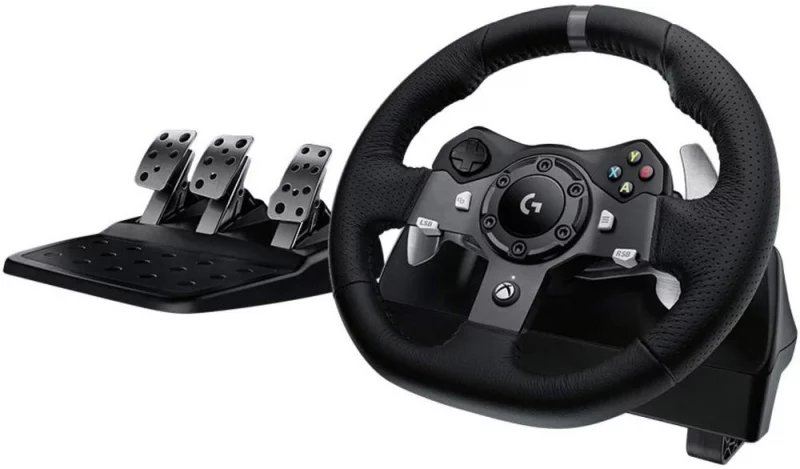 It can bring about you scrabbling for the nearest button your fingers can find, then, at that point, upshifting as opposed to downshifting because the wheel is topsy turvy. Indeed, you presumably should know what direction up the wheel is at any one time. However, it's a lot more difficult G920 wheel diameter than one might expect when you're in a 4-wheel slide.
Some G290 units transport with the gearstick connector, which is brilliant, offering a 6-speed 'H' format for manual gears. Combined with the grip pedal, that implies you can truly drive your virtual vehicle, choosing the suitable stuff for any second.
Missing third and going into first may make you resemble a knob, yet figuring out how to utilize a stick shift is one of driving's most remunerating tries, so try it out.
Logitech G920 Pedal Performance:
Fortunately, you get three pleasantly constructed pedals stuffed in with the unit, which implies speed increase, slowing down, grasp control is all under your feet, and contribution moderate control.
That means you can tenderly fire up your motor at the startline to stay away from wheelspin. Press the brakes like an eggshell to keep away from a lock-up, or even find the gnawing point of the grip is obvious Sims like Assetto Corsa.
The brake pedal has shown to be famously firm for some clients. The brake pedal is just too difficult to even consider drawing in, requiring a ridiculous load of power to get the brakes to apply at 100%. The guilty party has all the earmarks of being a piece of elastic intended to give legitimate opposition.
However, it's essentially excessively thick. At the same time, you can assume control over issues and void your guarantee by dismantling the pedals, managing or eliminating the elastic or, in any event, redesigning it with an outsider spring that is a ton of problem when it ought to be extraordinary straight out of the crate.
It gives the idea that a few units are superior to others; some say you can wear it in or mount the pedal and become acclimated to it. However, we say it isn't adequate. So be cautioned.
Only one out of every odd game permits you to remap the brake pedal to the grip pedal; ensure you test yours completely on schedule to return it, assuming it's not usable. Not every person has an issue, so that you may be fortunate.
Benefits:
Dual-Motor Force Feedback
Good Force Feedback
Drawback:
Imperfect button placement
Logitech G920 steering wheel review is a great controlling wheel that legitimizes its weighty sticker price, with praiseworthy power input, exquisite ergonomic plan, solid form quality and wonderful potential for development. But at the same time, it's undermined by unacceptable pedals and a button design that doesn't make each game simple to play. On the off chance that you're an arcade hustling fan who needs an extraordinary wheel, this is a solid decision. Yet, for genuine sim drivers, maybe the following stage up a Fanatec model would be more worth your time and energy.

Best Recommended Product
Logitech G29 Vs G920 Comparing the Driving Force Racing Wheels
In reality, the Logitech G29 and G920 are among the most amazing gaming racing wheels accessible for the PS and Xbox One distinctly. First of all, they have excellent form. They likewise boast a couple of strong highlights that can take the entire gaming experience to a whole other level.
From the outset, the logitech g920 vs g29 two appear to be comparative no matter how you look at it, except for their similarity. The story is not completed yet; there are several things left. 
1) Logitech G29 vs Logitech Driving Force G920 Specs
The G29 has a greater number of features than the G920. The two highlight corridor impact controlling sensors, double engine power criticism, and overheat shield. In any case, the G29 enjoys the upper hand over the G920 due to its extra handle and change buttons.
It even has RPM LEDs for sure, which prove to be useful because they'll let you know when you should move up. From that point, all the other things are essentially something very similar. They can rotate up to 900 degrees. You can hope for something else or less a parallel execution out of it is possible that one, as well.
2) G920 vs G29 Compatibility
Both gaming controlling wheels will deal with the PC. At this point, the difference between both the wonderful wheels becomes clear. Both the wheels are compatible with PC while G29 can work with PlayStation 3 and 4, and the Logitech G920 work with the Xbox One and XS.
Logitech G920 vs G29 Compatibility against Quality:
It's about similarity and quality in Logitech g920 vs g29. Assuming the Logitech G290 is compatible with Xbox One so without any doubt, it would be the best choice for those who want the wheel for Xbox One. At the same time, the G29 is just viable with the PlayStation 4 and PC.
In any case, that isn't to say the Logitech G920 is an awful wheel — truth be told, with regards to standard usefulness, the two wheels are indistinguishably awesome. Plus, indistinguishable in a ton of ways also.
They're both made from similar materials and have a hand-sewed calfskin guiding wheel with a phenomenal 900-degree pivot. They're both around a similar size and are tough and agreeable to utilize. It's likewise conceivable for both to add embellishments like foot pedals to tidy up your arrangement.
3) Design Difference Between G29 and G920
Logitech G29 vs G920, both have a magnificent form quality. The two have a hand-sewed calfskin cover for the guiding wheel with spokes made from anodized aluminum. What's more, the shifter oars and pedal appearances have brushed tempered steel. The focal point is they're working with premium materials.
Notwithstanding, there are a few differentiations on this front. Logitech G29 has a logo of PlayStation on its wheels. At the same time, G920 has a symbol of Logitech. It's likewise less conspicuous, and therefore, it's ostensibly a touch classier.
Difference between Logitech G920 vs G29 Specification Table:
| Specs | Logitech G920 | Logitech G29 |
| --- | --- | --- |
| Compatibility | Xbox One, PC | PlayStation 4, PC |
| Materials | Steel, Aluminum, Leather, Nylon, Thermoplastic | Steel, Aluminum, Leather, Nylon, Thermoplastic |
| Rotation | 900 Degrees | 900 Degrees |
| Features | Dual-motor force feedback, hall-effect steering sensor, overheat safeguard | Dual-motor force feedback, hall-effect steering sensor, overheat safeguard, RPM lights, adjustment buttons, and knob |
Nonetheless, the G920 loses this fight in the more modest subtleties. The G29 wheel has a modest bunch of elements that the G920 needs. This rundown incorporates cycles per minute (RPM) lights that show when the player should change into another gear.
Likewise, you'll get in addition to/short fastens and a control handle that helps the player make little inside acclimations to their vehicle. When you pair that with the way that the G29 is essentially more affordable, it's not difficult to see why it's the better wheel.
Then, at that point, there's the superficial presentation. We don't feel that the radiant red and blue accents of the G29 look incredible, yet that may be interesting to you. The G920 is sleeker and more moderate, making it look cleaner generally.
However, are the G920's better feel worth losing highlights and paying more? Except if you use Xbox One, the appearance is the main explanation you'd need a G920 over its better cousin.
Logitech G29 vs G920 for PC
When I got my Logitech G920, the only difference I could find was the looks and the price. The main difference is console compatibility. Each only works with one console, but both work with PC. I actually think the logitech G29 looks better overall, but had to go with the G920.
Both have the same pedals and work with the same gear lever. Also make sure you have the Logitech G pedals installed on your gaming seat. They are very grippy and the brake has a weird rubber mount that tries to mimic a real pedal but kind of sucks.
Comparison Factors on Logitech G29 VS G920
A range of racing wheels logitech g29 vs g920 with remarkable features is accessible in the marketplace. Some are modest, and some of them are costlier. It doesn't make any difference what sum you pay; every wheel offers a similar fundamental encounter.
Here are some significant hints to remember before purchasing dashing wheels.
Difference between G920 and G29 Rotation: 
Rotation is one of the main factors that assumes a significant part in upgrading your game insight . The great wheel's rotation level needs to run someplace from 180 to 1080. Thinking that you purchase a modest dashing wheel logitech g920 vs g29 gives you a not as much rotation scope of genuine vehicles. Buying costly wheels gives you a similar encounter to an actual car.
Wheel Size: 
Most games commit a major error when they purchase dashing wheels. Continuously recall 13 creeps in width is an ordinary size of a haggle gamer need this size. It is an agreeable size and great for your hustling game. Assuming you are contemplating purchasing another wheel for your game, you want to buy an agreeable one.
Alongside Pedals: 
Without pedals, there is nothing to do with the games. Pedal to the wheel is practically essential. Producer organizations offer a bunch of pedals alongside wheels. Most popular brands offer metal pedals on their wheels.
Clutch: 
Clutch is the main piece of each vehicle, and you can't envision your game without it. It renders you with an extremely practical match. Assuming that you don't have a grasp, wheels can, in any case, move and depend on the pedals. It makes your driving seriously testing and add a ton to the reenactment experience.
Guarantee: 
Final thing you want to consider is the guarantee. Guarantee is significant, and it functions as a guarantee for the nature of the item. It delivers the producer's obligation to fix or supplant the thing if there should arise an occurrence of any default. In this way, consistently check the guarantee when you purchase anything.
In this way, these are some significant things you want to consider when contemplating the new dashing wheels. It isn't the case hard to see these. It is the case that a few reels are costly, yet remember they mimic your gaming experience.
Both the above-discussed wheels, Logitech G29 and G920, are amazing. There are not many differences. The only difference is one is compatible with Xbox One and the other is with PS4 and PS3. Truly, if you utilize a PlayStation 4 or a PC, then, at that point, the Logitech G29 is effectively the wheel you should purchase. Besides looks, it's impartially better compared to the Logitech G920. Be that as it may, don't feel awful assuming you're on an Xbox One. Despite certain highlights, the Logitech G920 is an awesome racing wheel regulator that won't let you down. It simply has very few elements that eager dashing game fans may appreciate. It also has powerful force feedback and strong pedals.

Product Suggestion