Zombies are well-known enemies, symbolizing society's mistakes in a scary way. They're perfect for action movies and exciting shooting games because they're slow and mindlessly eat flesh. Their decaying looks can be both scary and funny, making them popular in video games. Zombie games have carved their own unique genre in the gaming world, making a lasting impact over the years.
When you're battling hordes of the undead, exploring post-apocalyptic landscapes, or unraveling the mysteries of the zombie-infested world, the genre continues to deliver thrilling adventures that keep players hooked.
Are there any good zombie games on PS4? There are numerous Zombie games on PS4. Each game offers its own unique take on the zombie genre, providing hours of exciting gameplay and undead-filled adventures. This article will guide you about the best Zombie games for PS4.
12 Best Zombie Games PS4 2023
Here is the long list of the best Zombie games PS4 2023.
The Last of Us Remastered
The House of the Dead
Zombi
Zombie Army 4: Dead War
Dead Rising 2
Call Of Duty: World at War
Dead Space
Minecraft
This list goes on with many latest Zombie games for PS4 however, here we will show you some best Zombie games for multiplayer, some for kids, some open-world games, etc.
3 Best Zombie Games on PS4
Here are some of the best zombie games available on PlayStation 4:
1) The Last of Us Remastered
The Last of Us Remastered is an exceptional game available for the PlayStation 4 (PS4) that seamlessly blends action, survival, and emotional storytelling. Set in a post-apocalyptic world ravaged by a fungal infection, you follow the gripping journey of Joel, a hardened survivor, and Ellie, a young girl with a unique immunity.
As Joel, you'll navigate perilous environments, scavenge for resources, and engage in intense combat against infected creatures and hostile factions. With its immersive gameplay, strategic combat, and compelling narrative, The Last of Us Remastered delivers an unforgettable gaming experience.
What sets The Last of Us Remastered apart is its masterful storytelling and character development. The game delivers a poignant and emotionally charged narrative, delving into themes of love, loss, and the complexities of humanity.
As players embark on Joel and Ellie's journey, their relationship unfolds, forging a profound connection between the player and the characters. The evolving dynamics between Joel and Ellie add depth and resonance to the game's storyline, creating a truly immersive and engaging experience that resonates long after the credits roll.
The Remastered edition for the PS4 elevates the game with enhanced graphics, refined gameplay mechanics, and bundled DLC content. Immerse yourself in stunning visuals that bring the post-apocalyptic world to life with meticulous detail.
The meticulously crafted sound design further enhances the immersive experience, enveloping players in the chilling atmosphere of the game. Prepare to be captivated by the striking visual and auditory presentation of this remastered masterpiece.
Experience the unmissable journey of The Last of Us Remastered, a game that seamlessly blends captivating storytelling with gripping gameplay. Immerse yourself in an emotional rollercoaster that will keep you hooked from beginning to end. Prepare to be enthralled by a game that sets the standard for immersive narrative and unforgettable gameplay.
2) Resident Evil Games
Enter the realm of survival horror with the acclaimed Resident Evil series, now available on the PlayStation 4 (PS4). Immerse yourself in the heart-pounding gameplay, explore atmospheric environments, and unravel gripping narratives.
Experience the iconic Resident Evil series on the PS4, where you'll find a range of thrilling gameplay styles and captivating storylines. Whether you prefer the intense first-person horror of Resident Evil 7: Biohazard or the nostalgic remakes of classics like Resident Evil 2 and Resident Evil 3, there's something for every fan of survival horror.
Resident Evil games typically involve you navigating through haunted mansions, laboratories, and other eerie locations while encountering hordes of zombies and other bio-organic creatures. The gameplay focuses on survival, resource management, puzzle-solving, and intense combat. You must strategize your actions, conserve ammunition, and solve environmental puzzles to progress through the game.
The Resident Evil games on PS4 have been optimized to harness the full potential of the console, providing players with enhanced graphics, refined gameplay mechanics, and bonus content. Immerse yourself in stunning visuals that bring the intricate and atmospheric environments to life.
With meticulous attention to audio design and spine-chilling sound effects, the PS4 versions deliver a truly immersive and suspenseful experience, ensuring that every step you take in the terrifying world of Resident Evil will keep you on the edge of your seat.
The series also features memorable characters, each with their own unique story and motivations. The Resident Evil games offer engaging narratives that keep you invested in the unfolding mysteries and dangers. The games available on the PS4 provide hours of thrilling and intense gameplay.
Immerse yourself in the heart-pounding world of survival horror with the Resident Evil games on PS4. Brace yourself for a thrilling combination of intense action, nerve-wracking suspense, and immersive exploration that will keep you captivated from the first moment to the gripping finale.
Gather your courage, steel your nerves, and embark on an unforgettable journey through the dark and treacherous world of Resident Evil on the PS4. Get ready to confront unimaginable horrors and test your skills in the ultimate battle for survival.
3) Dying Light
Dying Light 2, the highly anticipated sequel to the acclaimed Dying Light, is set to redefine the zombie survival genre on the PS4. Step into a haunting post-apocalyptic world where the infected roam freely, posing constant threats.
As a survivor, you must navigate treacherous environments, make tough choices that impact the fate of the world, and engage in intense combat against both the infected and rival factions. With its expanded and immersive open-world, Dying Light 2 promises a gripping narrative and adrenaline-fueled gameplay that will keep you on the edge of your seat.
Prepare for an unforgettable adventure in Dying Light 2 on the PS4. Set in the fictional city of Villedor, the game offers a vast and dynamic environment, where you can freely explore and navigate the urban landscape.
Prepare to immerse yourself in the expansive and dynamic world of Dying Light 2 on the PS4. Set in a city ravaged by a zombie outbreak, the game introduces a unique gameplay element where your choices shape the destiny of the city and its inhabitants.
As you navigate through diverse regions controlled by various factions, your actions will have far-reaching consequences, altering the balance of power and determining the city's ultimate fate. Whether you choose to align with certain factions or forge your path as a lone survivor, Dying Light 2 offers a thrilling and immersive experience that puts your decision-making skills to the test.
The gameplay of Dying Light 2 combines intense first-person combat with parkour and traversal mechanics, allowing players to navigate the city with agility and fluidity. Engaging in thrilling and fast-paced combat encounters, you must use a variety of weapons and skills to fend off the infected and hostile human factions. The day and night cycle adds another layer of challenge, as the infected become more aggressive and dangerous after sunset.
One of the standout features of Dying Light 2 is its emphasis on player choice and consequence. The decisions you make throughout the game not only affect the storyline but also shape the city and its inhabitants. Your choices can lead to branching paths, multiple endings, and different outcomes for the factions and characters you encounter. This adds a layer of replay-ability and gives players a sense of agency in the game's world.
The graphics and visuals of Dying Light 2 showcase a detailed and immersive world, with stunning environments and realistic lighting effects. The game's dynamic weather system further enhances the atmosphere, creating a sense of realism and unpredictability.
Multiplayer also plays a significant role in Dying Light 2, allowing players to team up with friends or other online players in cooperative play. Together, you can tackle challenging missions, explore the city, and survive the dangers of the infected world.
Dying Light 2 for the PS4 promises to deliver a thrilling and immersive zombie survival experience. With its expansive open-world, dynamic gameplay, impactful choices, and cooperative multiplayer, the game offers an exciting blend of action, exploration, and player-driven storytelling.
3 Best Zombie Games for Kids
Kids are drawn to the thrilling and captivating world of zombie games for several reasons. The suspenseful atmosphere, eerie environments, and adrenaline-pumping action create an exciting and immersive experience that keeps them engaged. Zombies themselves, with their slow yet relentless pursuit, serve as formidable adversaries, offering a sense of challenge and accomplishment when defeated.
Survive in a divided city overrun by zombies and warring factions. Strategize, scavenge, and fight your way through intense combat. Join forces with friends in multiplayer for even more excitement. Uncover the secrets of this post-apocalyptic world.
Zombie games allow kids to explore their imaginations, face fears in a safe and controlled environment, and experience a unique blend of excitement, adventure, and survival. Check out these Zombie games for kids on PS4.
1) Plants vs. Zombies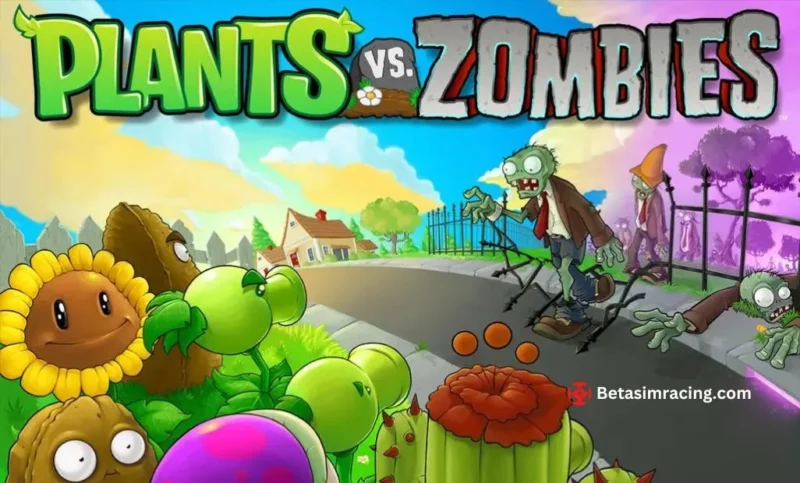 A charming and humorous tower defense game where players strategically plant different types of plants to defend their homes from waves of quirky zombies.
2) Minecraft
Minecraft offers various zombie-themed gameplay modes and modifications. In Survival Mode, players can encounter zombies while exploring and building in the blocky world, while Adventure Maps and custom game modes can provide zombie-themed challenges.
3) Zombie Panic in Wonderland
This colorful and lighthearted action game features cute characters battling hordes of zombies using a variety of weapons. It offers simple gameplay mechanics and is suitable for younger players. These games provide a more kid-friendly approach to the zombie genre, focusing on fun and light-hearted gameplay while minimizing violence and intense themes.
3 Best PS4 Multiplayer Zombie Games
Multiplayer zombie games provide an exhilarating and cooperative gaming experience that brings friends and players together in the face of a common enemy. These games allow players to team up, strategize, and survive against hordes of undead creatures.
Engage in heart-pounding multiplayer zombie games that bring friends together in the fight for survival. Collaborate, strategize, and fend off relentless hordes of undead as you explore post-apocalyptic landscapes, fortify bases, and embark on thrilling missions.
With teamwork and communication at the core, these games deliver an immersive experience filled with intense gameplay and cooperative challenges. Get ready to bond with friends and experience the thrill of surviving the zombie apocalypse in action-packed multiplayer zombie games.
Here are some of the best multiplayer zombie games available on PlayStation 4:
1) World War Z
World War Z is a thrilling multiplayer zombie game that immerses players in a global zombie apocalypse. Brace yourself for intense action and heart-pounding encounters as you fight against hordes of undead.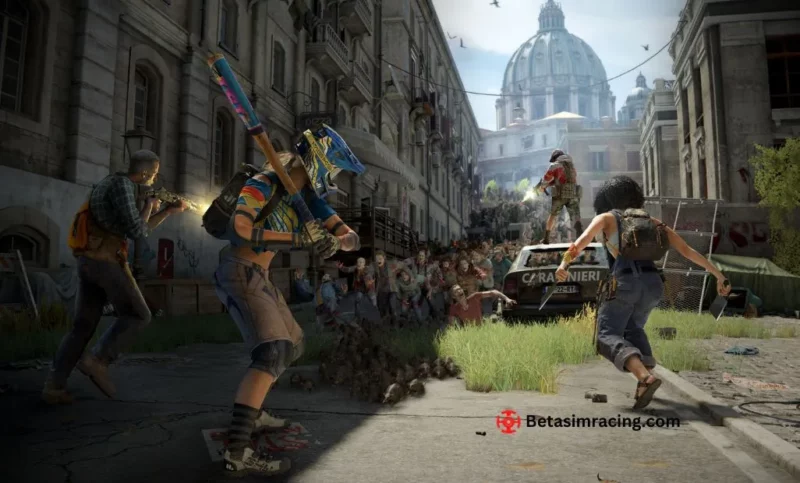 Join forces with friends and strategize to survive in this high-stakes battle for humanity's survival. With adrenaline-fueled gameplay and immersive cooperative experiences, World War Z delivers an unforgettable multiplayer adventure for zombie enthusiasts.
In World War Z, teamwork is essential as players join forces to fend off the relentless zombie hordes. Cooperate with friends and use an arsenal of weapons, traps, and defenses to withstand the undead onslaught.
Engage in thrilling missions set in iconic global locations, each presenting unique challenges and immersive gameplay. From the chaos of urban environments to the claustrophobic corridors of infested buildings, World War Z delivers non-stop excitement and challenging gameplay. With its intense cooperative action, cinematic visuals, and a wide range of customization options, World War Z is a must-play for fans of intense multiplayer zombie games.
2) Zombie Army Trilogy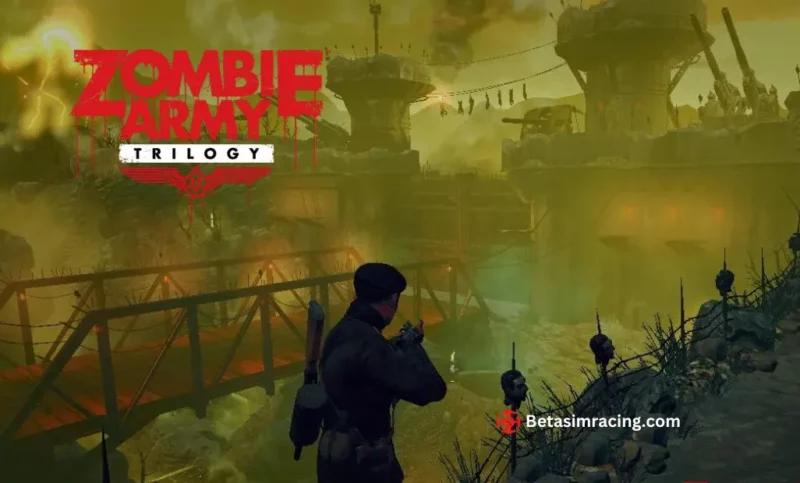 It is a multiplayer zombie game set in an alternate World War II era. Join forces with other players to battle relentless Nazi zombies in haunting locations. With cooperative gameplay, intense gunplay, and various game modes, it offers hours of thrilling and satisfying zombie-slaying action. Face the terrifying might of Hitler's undead army in this immersive multiplayer experience.
3) Killing Floor 2
Killing Floor 2 is a multiplayer zombie shooter game that pits players against hordes of terrifying specimens unleashed by a failed experiment. Team up with friends or join forces with other players online to fight waves of increasingly challenging enemies.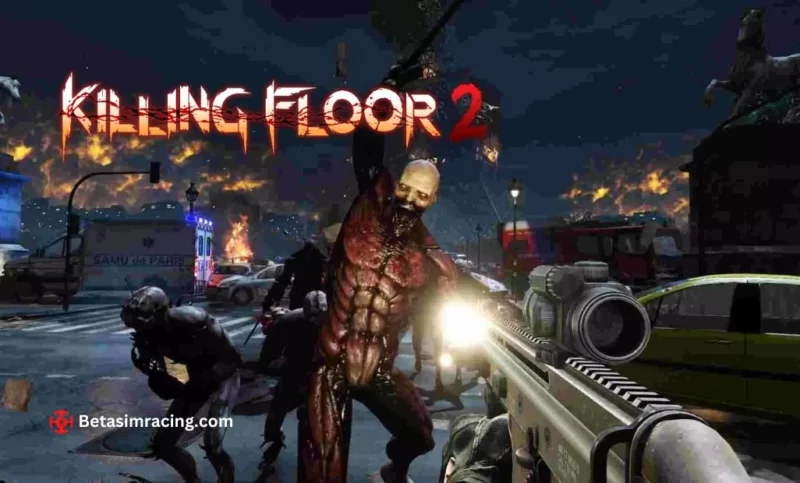 With a vast arsenal of weapons, unique classes to choose from, and intense gameplay, Killing Floor 2 delivers non-stop action and satisfying zombie-slaying mayhem.
2 Best PS4 Open World Zombie Games
These games provide immersive open-world experiences with a focus on survival, intense combat, and engaging narratives, making them top choices for fans of the zombie genre. Two of the best open-world zombie games available on PlayStation 4 are:
1) Days Gone
Among the top open-world zombie games on PS4, Days Gone stands out as an immersive and thrilling experience. Step into a post-apocalyptic world as Deacon St. John, a bounty hunter and survivor, facing hordes of ravenous infected creatures known as Freakers.
Explore a vast and dynamic open world, filled with dangerous encounters, strategic combat, and compelling narrative. With its stunning visuals, intense gameplay, and captivating storyline, Days Gone is a must-play for fans of the genre looking for an unforgettable adventure.
With a vast open world to explore, dynamic weather conditions, and intense combat encounters, Days Gone delivers a gripping narrative, compelling characters, and a sense of constant danger.
2) State of Decay 2
This deserves mention as a compelling open-world zombie survival game. Players manage a group of survivors, building and fortifying a base, scavenging for resources, and making tough decisions to ensure their group's survival.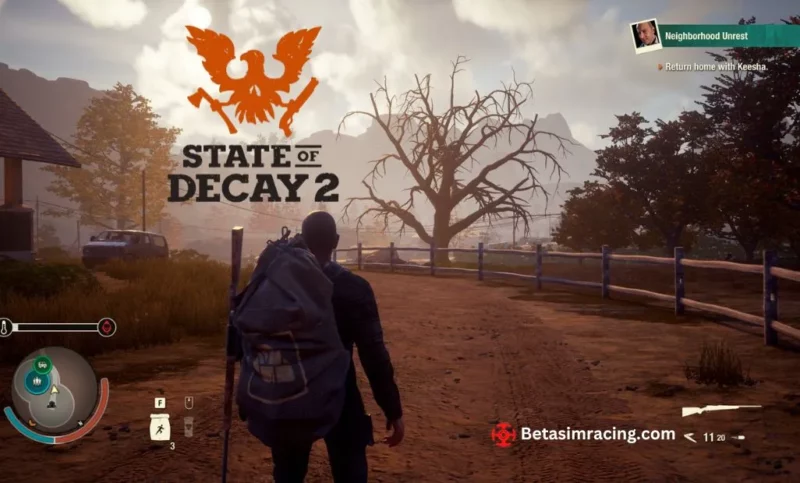 The game offers a dynamic open world where player choices impact the story and the relationships between characters. With its emphasis on survival mechanics, base-building, and engaging gameplay loop, State of Decay 2 provides an immersive and challenging zombie apocalypse experience.
2 Best PS4 Split Screen Zombie Games
These games provide enjoyable split-screen experiences, allowing you to team up with a friend or family member to take on the zombie apocalypse together. Two of the best split-screen zombie games available on PlayStation 4 are:
1) Call of Duty: Black Ops III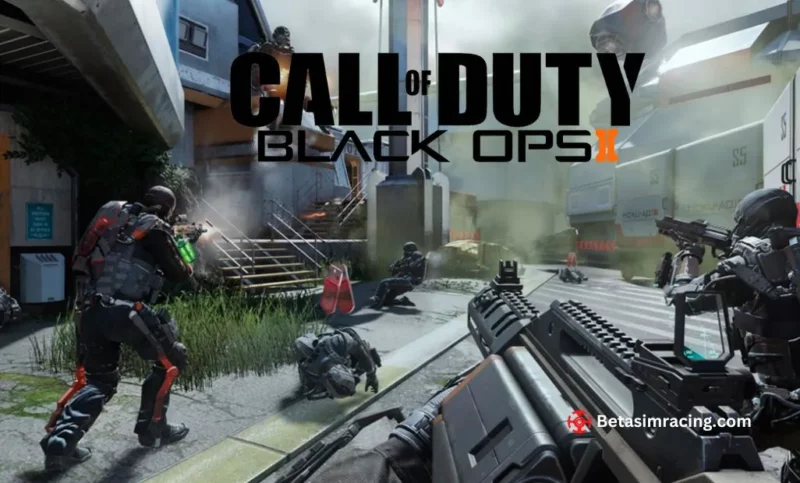 This installment of the popular Call of Duty series offers a thrilling split-screen cooperative mode where players can team up to fight against waves of zombies across various maps. With a wide range of weapons and intense action, it provides hours of entertaining zombie-slaying fun.
2) Resident Evil 6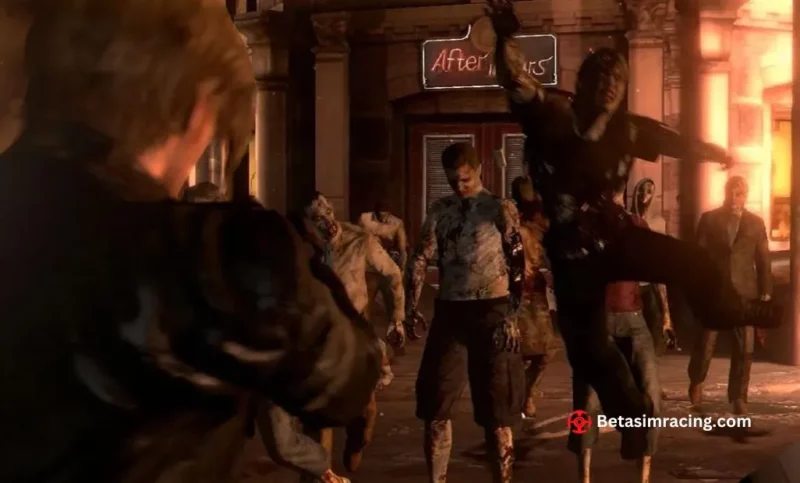 Featuring a split-screen cooperative mode, Resident Evil 6 allows players to join forces as iconic characters to battle against hordes of zombies and other creatures. The game offers a mix of action and horror elements, with multiple campaigns and intense encounters to keep players engaged.
What game has the strongest zombies?
One of the games known for having strong and formidable zombies is Resident Evil 2 Remake. The game features relentless and resilient zombies that require careful strategy and precision to defeat, providing a challenging and intense experience for players.
Is there a zombie game like GTA?
The state of Decay 2 offers an open-world setting with a focus on survival in a zombie-infested world, allowing players to scavenge, build bases, and engage in combat against the undead. It provides a similar sandbox experience to GTA but with a post-apocalyptic zombie theme.
What is the most realistic zombie?
The Infected from The Last of Us series is considered some of the most realistic zombies in gaming, featuring detailed animations, realistic behavior, and terrifyingly human-like appearances. Their design and portrayal make them highly immersive and chilling enemies to encounter in the game's post-apocalyptic world.
Which COD has better zombies?
Opinions on the best Call of Duty zombies game vary, but Call of Duty: Black Ops III is praised for its extensive map selection and storyline, while Call of Duty: Black Ops Cold War introduces new gameplay mechanics and a fresh narrative, making both titles stand out in the franchise.