Everyone seeks the best gaming setup to spend their quality time with. Sometimes, it is not the game that gets you the real fun, but the gaming setup that adds flavors to the recipe makes it more fascinating and thrilling. An excellent steering wheel can do this job for you the most.
The Logitech G920 is an advanced form of Logitech G29 compatible with PS3, PS4, PC. You can connect it with multiple hardware platforms and enjoy the racing turns in a realistic manner. In this article, I will give you the most unbiased Logitech G920 Racing Wheel review to help you know this excellent device in a better way.
I'll try to keep things simple and cover all the aspects queries related to the Logitech G920 steering wheel with shifter and pedal. Finally, I'll sum up this Logitech G920 review the way it clarified all your ambiguities and opacity related to the device. So, before we head towards overall steering performance, let's take a look at the table of contents. 
Table of Content:
Logitech G920 Driving Force Racing Wheel
| Specifications | Values |
| --- | --- |
| Material | Aluminum, steel, glass, filled nylon |
| Pedal | 3 sets |
| Motor force | Dual |
| Compatibility | PC, Xbox One |
| Rotation of Wheel | 900 degrees |
| Color | Black |
| Weight | 4.96 pounds |
| Length | 10.24 inches |
| Operating System | MS Windows |
| Pedal Depth | 311 mm |
The Logitech G920 has an extraordinary steering wheel that allows you to rotate it up to 900 degrees, making you feel like you are driving a real car. It gets all the major controls under your palm; your fingers become the master of your gaming fate. In addition, it comes with a mod-tier force feedback motor, making the rotation smooth and steady. 
Whenever you pull the accelerator and knock into other cars in the race, it takes you to the real world of car racing. However, the biggest thing I like the most about the Logitech g920 steering wheel is its smooth and steady progression.
All you need to buy with care, ensure that you get all the accessories in the box along, and install its drivers with the compatible devices, and which are those, I'll clarify in the next section below.  The purpose behind writing this handy Logitech G920 steering wheel review 2022 is to educate you and to help you buy the most acceptable steering wheel to play racing games full of euphoria and joy.
The Logitech G920 Wheel with shifters can do a magical job, and its ergonomic design causes temptation to try it. And now we'll look at the hardware options that you can connect with Logitech G920, which one is the best out of all others, and more.
Logitech G920 and its Compatibility Options
There is no hard and fast rule to divide g29 and g920. These two are the same, having the same features, specs, and outlines. The only difference these two share is the compatibility options. The Logitech G29 is the best PS3 and PS4, while the G920 is an ideal instrument for Xbox one and PC.
On the other hand, g29 is also PC compatible, so you can enjoy them both on PC without having any disparity.
1) Logitech G920 with PC
The Logitech g920 is a great gaming device that enhances your taste of racing and introduces you to the real turns on tracks that make you feel the soul of racing and speed.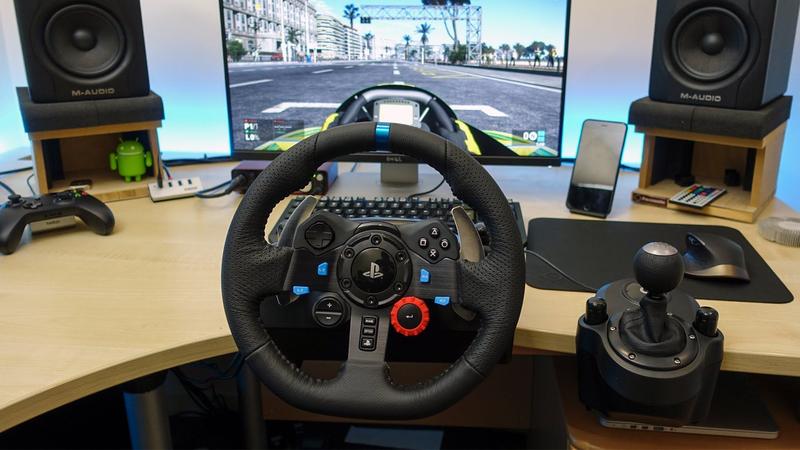 In addition, the Logitech G920 steering wheel is fully compatible with PC, and you can rotate it up 900 degrees, which is simply commendable. However, if you want to learn about some other options, you can read the iracing setups.
2) Logitech G920 with PS4
Regarding compatibility with ps4, as I said above, G920 and G29 are almost the same. So, you can connect the G29 model with ps4 and enjoy your gameplay to the max. So, feel free to go for G920; these are the most popular and outstanding racing wheels globally, and racers love them immensely. 
3) Logitech G920 with Xbox One
The Logitech g920 is fully compatible with Xbox One and Xbox Series X. You can use it with these hardware platforms and have all the technical details you have on a PC. When I used it for the first time on my Xbox One, It amazed me by the smooth flow of the wheel, its more comprehensive rotation options, and super force feedback motors that support the steering wheel in giving the real kick for racing.
So, if you own an Xbox One, Xbox Series X, or a PC, you are good to go for this very authentic and factual product. It has all you need to take your gaming setup to new heights and make you feel the true love for racing in reality. 
Logitech G920 Steering Wheel Performance with Drivers, Pedal and Shifter
In this section, we'll look at the various ingredients that Logitech G920 offers you to use. It comes with the steering wheel, adapter, pedal, and gear system. These are the essential components to get you a full-fledged controlled and enthusiastic gameplay. So, let's grab the G920 steering wheel to know it in detail.
1) Logitech G920 Steering Performance
It is the critical component in the device that produces the ultimate joy. It allows you to rotate the wheel up to 900 degrees and is the biggest reason to make you believe and feel like you are driving a real car, sitting inside, surfing on the road, having crazy turns and twists. However, a fascinating thing about the g920 wheel is its snag-free flow of movement.
On the other hand, the B-button that allows you to pull the handbrake is ineffective and causes a bit of distraction while focusing on driving. So it is not an ideal situation for enjoying fear-free driving but gets you another brake setup that works along with the clutch and provides you safe and secure racing.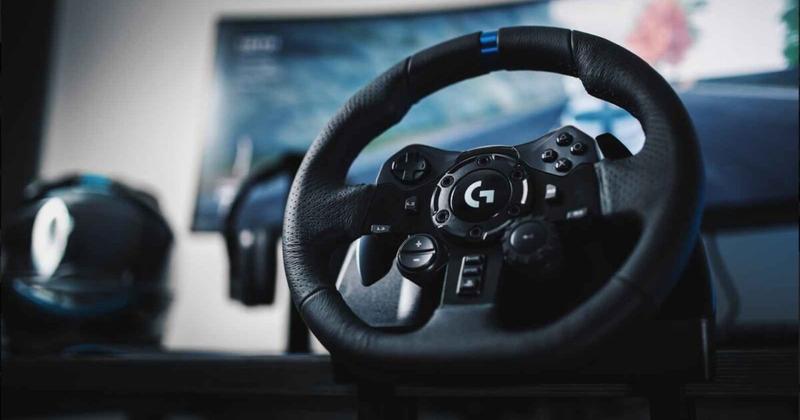 It gives you some other buttons that help you control different functions, and you do not have to look down on your feet for them. You can manage side mirrors, indicator lights, horns, speed customization, and other driving mechanics.
And if you use it on PC, Xbox One, or Xbox Series X, it comes with all the minor and significant flickers to add value to your gameplay, and you'll not find any gap to fill it after having it in your gaming room.
Moreover, the Logitech G920 adapter transmits the right amount of power to prevent potential threats due to shortage or intensification of power. It delivers the power through electric Logitech g920 cables. A complete cord system helps you get the power in the right amount. However, if you want to explore some f1 game setups, you can read the f1 2021 game setups.
2) Logitech G920 Pedal Performance
Ah, my favorite section comes in; it's the pedal unit. It's so great to know that the Logitech G920 driving force racing wheel offers three pedals together that are superb in building, reliable, and strong enough to withstand all the pressure and weight you put on it.
Pedal performance mainly depends on the material of its making and its ergonomics. The three pedals allow you to control the brakes, clutch, and acceleration by using your feet. It's a matter of feet movement, and the primary operations of racing are under your control. Of course, you need to be careful while using these pedals; if you are using a brake pedal, you need to push it like an eggshell; it will avoid any potential lock-up that can eradicate your gameplay.
On the other hand, while using the clutch and accelerator, keep the movements gentle and treat them with a kind touch. Or else, it may squeeze the engine, and you will have to face a new problem. Keep the accelerator in control, put your one foot permanently on it, and try to solely manage the other two pedals with the second foot.
If you look at the honest reviews around, you'll get to know that the brakes get stiff, and the brake pedal needs improvement. The rubber applied on it causes serious trouble, and you can remove it and replace it as you feel comfortable while using it. But, you don't need to face this issue in all the Logitech g920 gaming setups. You can avoid it by testing the wheels and pedals before making the final purchase call.
3) Logitech G920 Gear Performance
Here comes the last but not least, the Logitech G920 driving force steering wheel gear that is the top line component to deliver you the enchanted and blissful racing vibes. There is a separate component that you get along with the starting wheel, and it allows you to enjoy the feel of previous manual racing cars.
It gives you all the controls under your palm, and you need to use it frequently in the games where you drive the car off-road or need to take fast turns. If you want to play WRC 18, Dirt Valley, Gravel, and other side games, the Logitech G920 gear can do the best for you.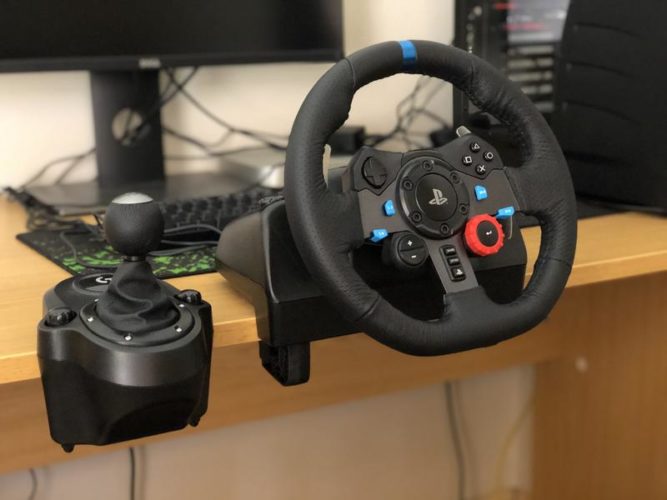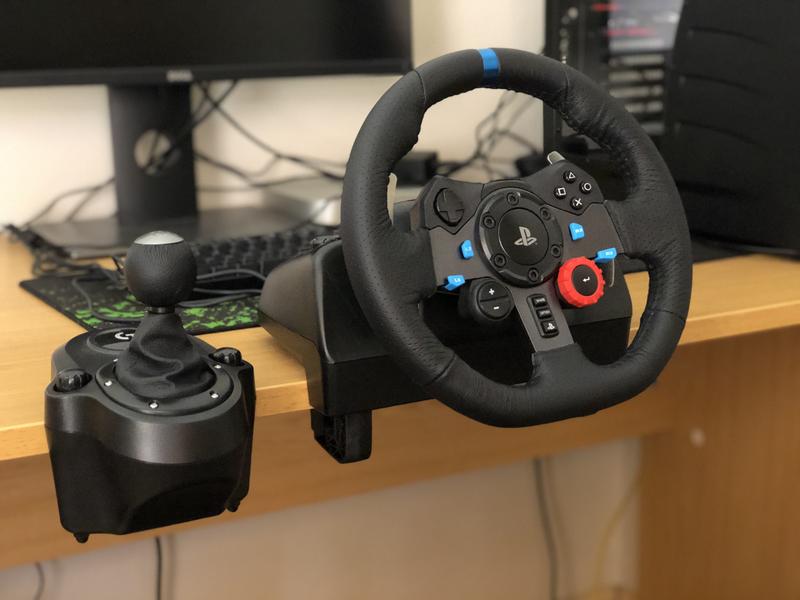 I hope you are getting the idea why I wrote this Logitech G920 driving force racing wheel review, and I am sure it will make you realize it is worth reading reviews to win the most acceptable steering wheel with a shifter, gear, and a pedal unit. 
Moreover, the Logitech G 920 drivers help you connect with the hardware, mainly PC and Xbox One. Once you are done with the installations, you are ready to rock in a racing competition with your fellow racers.
Some Logitech G920 Setups offer gear stick adaptors that are amazing for manual gears. And it genuinely makes you feel driving your virtual car as you are driving the real one. If you manage the Logitech G920 desk mount and fix it well enough to withstand pressures and weights, you will find that the Logitech G 920 is unbeatable.  
Why Buy Logitech G920?
If you want to justify the purchase decision for this excellent steering wheel, you have so many reasons to back your decision. First, it gives you an ergonomic design with a smooth rotation of the wheel up to 900 degrees, a three-pedal unit, and quality expansion.
But, it has got some trouble with its button control, which is not so easy while playing specific games like Dirt Valley, Gravel, etc. If you want the wheel to be fit without a doubt, it has no match. Overall, it is an exceptional steering wheel with a tremendous assisting pedal, gear, and shifter.
Once you try it, you'll indeed find it a worth buying device for the hefty amount you pay to gain it. In addition, it gives you multiple compatibility options and allows you to play all the racing games equally well. 
Logitech G920 Tips for Purchasing
Before you make the final buying decision for the Logitech G920 steering wheel, you need to follow some Logitech G920 tips that I gathered to help you find the best playing setup. And I promise if you consider all these tips while making a decision, you will undoubtedly win the exact device you need.
So, let's take a look at the pro tips to buy the most acceptable Logitech G 920 steering wheel.
A smooth wheel with max rotation
A leather covering on the wheel for anti-slip grip
The wheel should contain all the major controls in the shape of buttons
A gear setup that is made up of solid stock aluminum and steel
A high-quality pedal unit consisting of three pedals
Each pedal and the base should be made up of higher quality stock to withstand pressures
Connectivity options are entirely convenient
You should always test the device before making the final call for purchase
Get the setup from sources that provide max warranty description
So, these are some tips that can fill the gaps, if there are any, and you'll undoubtedly win the steering wheel that will go a long way ahead with you. When I used this device for the first time, I was a bit confused, as many others do, but the experience I had was just inexplicable. I got my racing skills elated suddenly, and the overall fun factor and satisfaction was on the sky's height.
How do you find Logitech g920 on PS5?
Some brands offer racing wheels to work on a ps5 fully, but not Logitech g920. It provides compatibility options, including PC, Xbox One, and Xbox Series X. You can connect it to these devices to get the experience of gaming out of the world. So, it doesn't allow you to use the Logitech G920 on the ps5.
What is the Logitech g920 price?
The price of Logitech g920 varies, and it may go up or down because of the addition or deletion of other components that come along. But if you manage to invest $250 to $300, you can win the most acceptable Logitech g920 racing steering wheel. And it justifies the price entirely. So feel free to go for it if you need speed with a smooth wheel with the rotation.