If you are a pro racer, you must be aware of the superiority of the direct wheels over consumer models. These are best for fast turns, multiple track conditions, advanced mechanics, and more. It enhances your aim racing better than all other drives available in the market.
You must have so many unresolved queries in your mind, and I will help you answer all those through this article. It's never easy to find the best thing that submits everything with perfection, but it is not impossible at the same time. If you follow the footsteps of a seasoned professional or conduct thorough research, you may undoubtedly earn the best direct wheel for sim racing.
And in this article, the data you'll read is fully backed by both experience and research. So, let's start the show by looking at the table of contents. But before we head towards the table of contents, let's find out what is a direct drive wheel?
Products in Content:
What is A Direct Drive Wheel?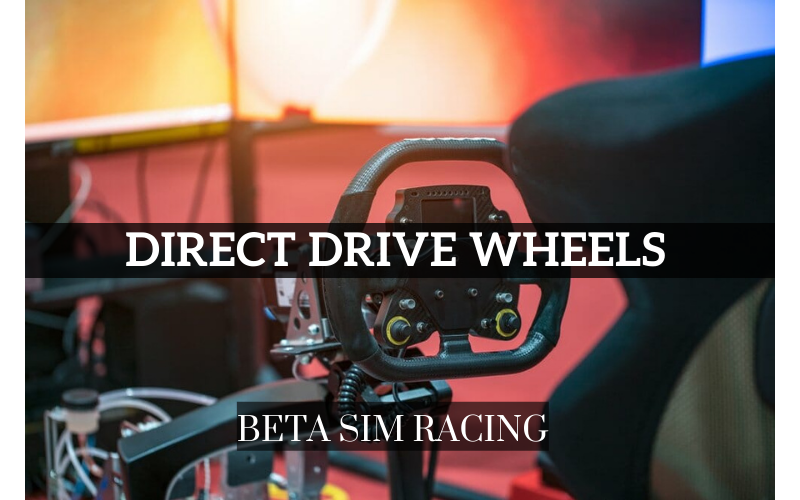 The motor's direct drive wheels are directly connected, allowing the racer to use the full force feedback for the highest speed, best position, and controlled settings. It gives you the highest power and speed control better than the rest of the driving wheels.
So, it was all about the initial introduction of the direct drive sim racing wheel, and now we'll head towards the best eight direct drive wheels.
Top 8 Direct Drive Racing Wheels in 2023
There are various direct drive wheels available in the market. I tried most of them, and some were great, some were medium, and the rest were futile. To help you avoid such a bad experience, I prepared this article containing the best direct drive wheels, specs, compatibility information, and more. So, let's grab the first direct wheel from the list. 
1) Fanatec CSL DD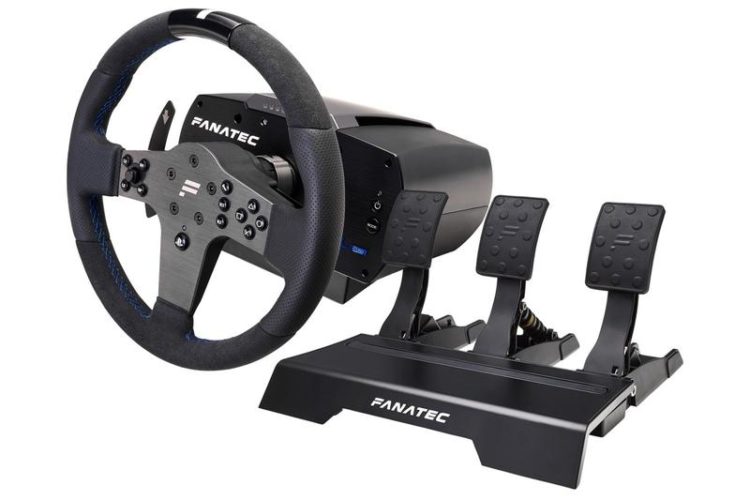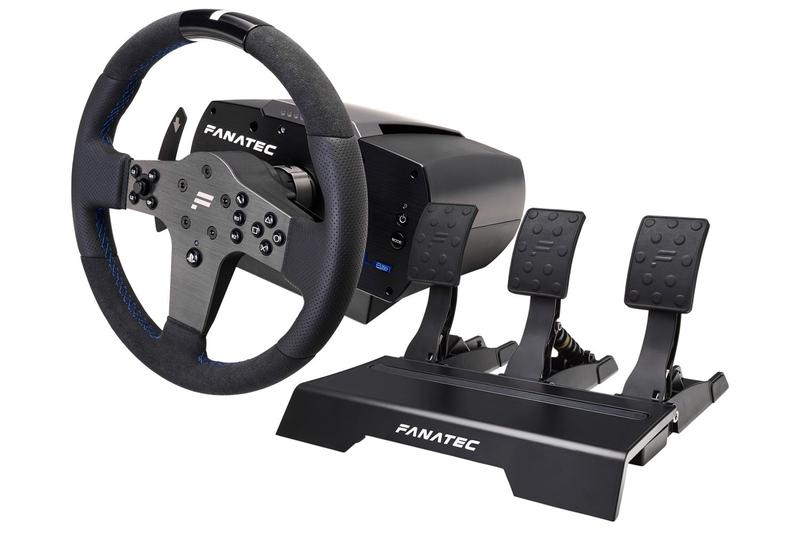 It is one of the best direct drive wheels in the market. It costs your pocket around 500 dollars and gives multiple compatibility options. You can play it with Thrustmaster and Logitech gaming setups.
Fanatec CSL DD is a phenomenal device that adds value to the game and gives a smoother touch to your wheel, getting you controlled turns with a natural feeling. When it comes to direct drive wheel Fanatec, the CSL DD is a top leading device.
Usually, racers spend around $1000, and after spending such huge budgets, they do not get something worth using. When I tried this super device for the first time, It amazed me thoroughly, and I found it the best starter wheelbase in the market.
2) Fanatec DD2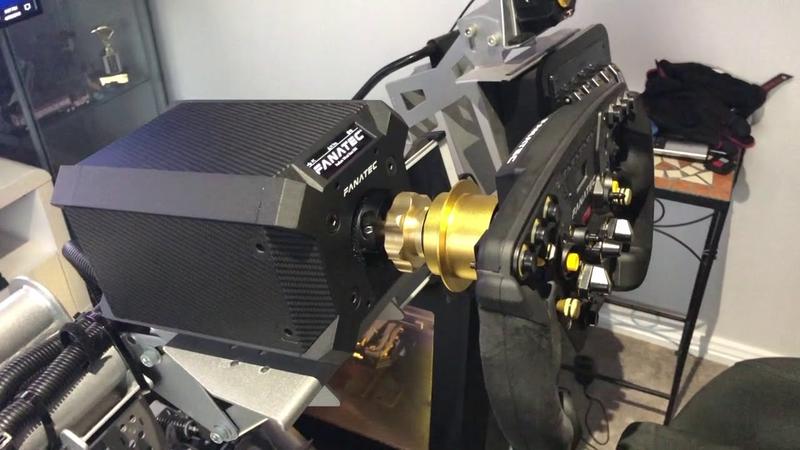 If you have come across a DD device, you will have a blast in your gaming room. When I used it for the first time, I became a fan of its smooth and flawless performance. If you are wondering about the direct drive wheel price, it may cost you around 500 to 600 bucks.
You get many leading edges over other wheels for having the best direct drive wheels like Fanatec DD2. It is super easy to install and has no complicated procedure to operate on your hardware.
It allows you to enjoy torque delivery throughout the torque range, and the drivers it comes with are so solid and flawless. If you have no idea about sim racing but won't make a good start, you get the best device for enjoying the quality product in the Fanatec DD2. 
3) Ricmotech Mini Mite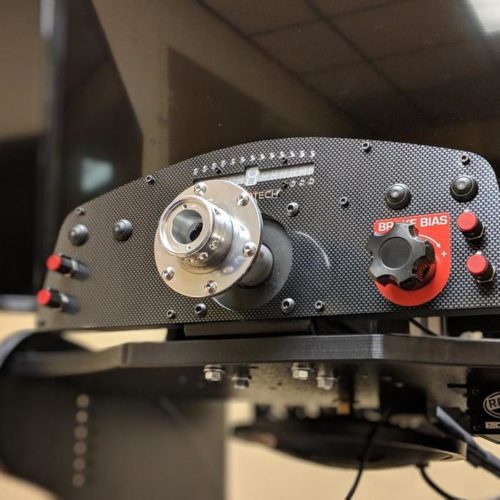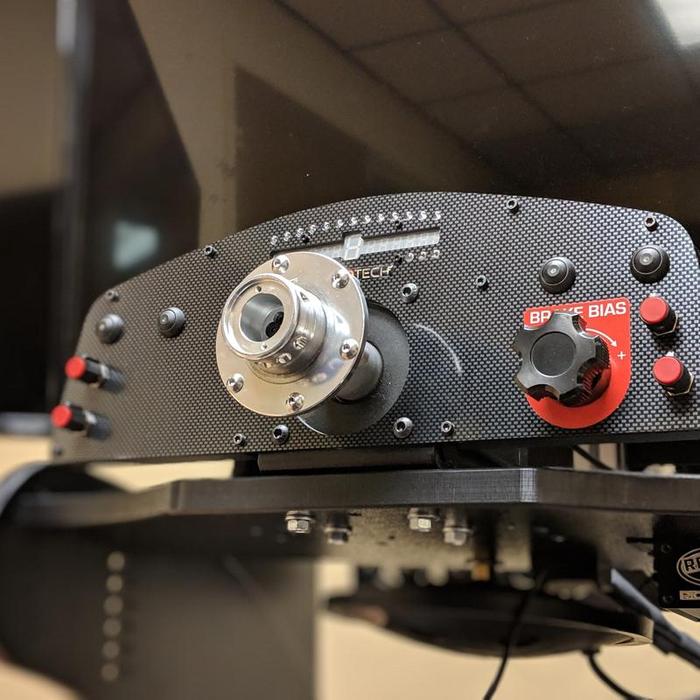 Ricmotech does not need any introduction; it is a big name in the sim racing world. Ricmotech gives you options to win the cheapest direct drive wheels with quality and precision when it comes to finding direct drive wheels.
You landed on the right review page to win one for yourself if you want affordable direct drive wheels. It has recently launched the Ricmotech mini mite with brilliant features built-in to use it with multiple hardware devices.
It can handle the 16Nm load, which gets it very close to the Fanatec DD2 in competition. It costs you around 1200 bucks for the complete kit, but when you use it for the very first time, you'll realize that the cost is entirely worth it. It may offer you rotation up to 6000 degrees, as it comes with 900 degrees by default. You can set it at any point you feel comfortable with.
4) Sim Experience AccuForce
The Sim Experience AccuForce is one of the most popular and most acceptable steering wheel setups with high frequency but low latency. It has got so many edges over other wheels in the market. Its previous models were incredible and did great business globally.
Right now, the Sim Experience AccuForce has another best shot played by the company for racing lovers.
If we look at the proving tag of this excellent aiding device, you will probably go into shock. It is super affordable, and you can buy it for only 699 dollars. There are so many offer options that can compete with this device, but it is one with the lowest pricing tag.  
5) Simagic Alpha Mini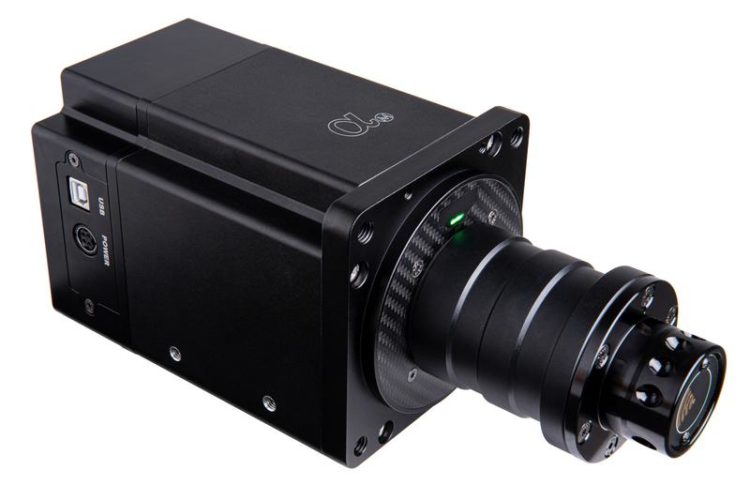 Here comes the Simagic Alpha Mini device to beat the CSL DD2. It has got so many leading edges over CSL DD2. It offers wireless connectivity that is not less than a blessing for a racer. You get rid of cords that cause disturbance during gameplay. It also gives you a servo motor to get the force feedback. 
The company claims that Simagic Alpha Mini has some refined touches to add value to your gaming setup. Its servo motor for force feedback is backed by Artificial Intelligence (AI). It helps those racers who love to play drift racing and want to build their career in drifting.
Moreover, it has the best features for Rally and drifting, so you need it for whatever purpose, it will perform equally well in either case. If you buy these direct drive wheels, you'll surely appreciate the words you read. 
6) Simplicity SW Series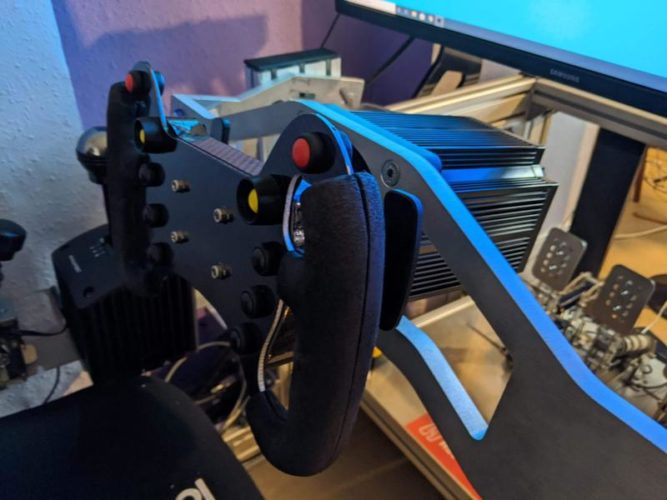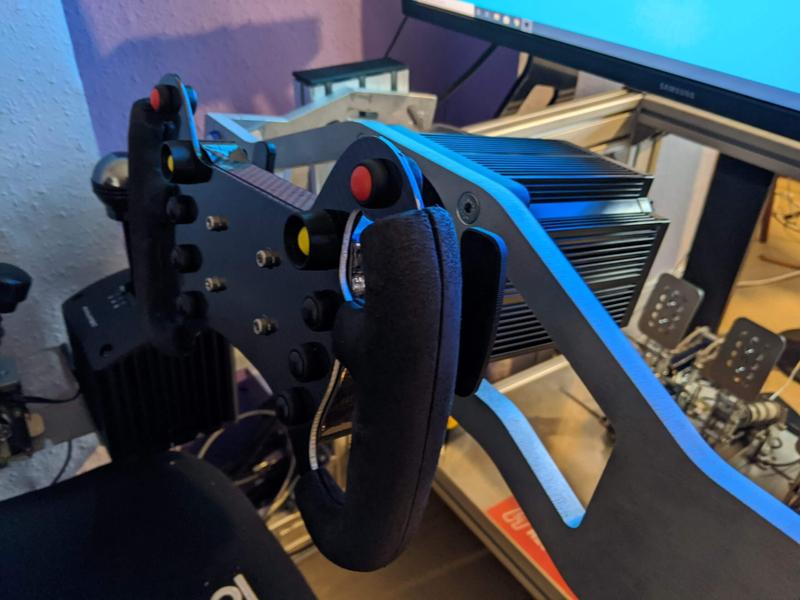 The Simplicity SW series has got a loyal fan following for its every release. Its latest model has brought some finest developments to give a considerable boost to your steering wheel, and it makes sure rotation is flawless up to some extent. Where we are talking about its merits, it has some demerits at the same time.
If you get any trouble in connectivity or during the gameplay, you have to grace any glitches; you might get no customer support at the moment. And I think it is a big turn-off. So, if you want complete peace of mind to be there, you may avoid this one, but overall, it's a great supporting device. 
7) Simucube 2 Sport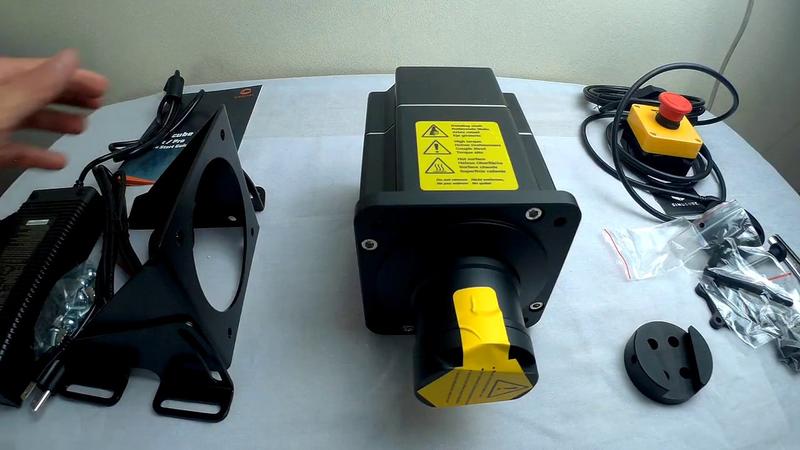 The Simucube 2 Sport is a significant addition by the company, and it has earned a lot of respect amongst racers globally. If you take a look at its send version, that is just inexplicably incredible. It may cost a bit higher to your pocket, but entirely worth it. If you are a pro racer or want to be one, you should consider it your next purchase. 
It may go beyond that because of its hefty price tag, which is $1200 when it comes to budget. But, as I backed the argument earlier, it is way better than many other wheels within the same pricing range.
These direct drive wheels come with a brushless motor option and a wireless connectivity option. Moreover, if you want more torque, you are good to go for this stable and beautiful pick by our experts. I used it myself, and it was a pretty good experience. 
8) AccuForce Pro V2
It is the best choice for those who are intermediate-level racers. Its performance is good enough to make you enjoy the gameplay to the max. It provides a great rotation of up to 4500 degrees, the biggest turn-on for this device. It has multiple power ranges to offer you and the best you can get out of it with the PC. 
It comes with so many colourful and handy traits, and the technical details it furnishes are pretty impressive for speed and pace. If you want to increase your love for speed and enhance your driving skills to the optimum level, you are safe to play with this device.
I can promise you won't regret your purchase decision for this medium-range driving wheel. And it has nothing to do with complications; buy it, plug it with your system, and you are ready to play your game without any delay. 
Direct Drive Wheels Parts List for PlayStation, Xbox, PC
There are so many things you need to look into a direct drive wheel before placing the final purchase order. In this section, I'll tell you about some most essential parts of excellent direct driver wheels; take a look at the points below.
1) Rotation up to 900 Degrees
Almost all wheels submit the rotation up 900 degrees, and you need to buy the direct drive wheel that matches the rotation. Getting the stimulated wheel rotation with the decision is an inevitable part to focus on.
2) High Precision
Precision has no substitute. You have to get it at any cost. The direct drive wheels I added above all are excellent in submitting accuracy in their respective performances. The flow of rotation, compatibility, connectivity and all other points should create a match that favors gaming setup and style.
3) Force Feedback
If you focus on gaining more tongue, it gets the higher force feedback force. It allows you to enjoy the anti-slip grip, and your wheel can deliver a higher peak than a normal one.
4) Building Quality
Building quality matters the most. You should invest your hundreds of dollars in a quality direct drive wheel. The more your wheel provides strength, the more you will get peace of mind during the gameplay. Most DD wheels are super rigid and can withstand all the pressures you put on them. 
Moreover, it would help to focus on direct drive bases and motors, as we touched on this subject above. If you create a comparison of direct drive sim racing wheels with other wheels available in the market, I hope you'll find every word of this article is near to reality and sensibility. 
Direct Drive Wheel for PlayStation 5
The Thrustmaster T248 is the latest model that is fully compatible with ps5. These direct drive wheels are super awesome, with a range of features built-in. There are some other direct drive wheels you can play with the ps5, but the one I mentioned above is unbeatable.
Direct Drive Wheel for Xbox
If you go up and look at the Fanatec Models I added in this article; they are super compatible with the PlayStation and Xbox series. You have to face no restrictions or snags while using Fanatec direct drive wheels on Xbox.
Direct Drive Wheel for PC Racing
There are free direct drive wheels compatible with game consoles, and most are compatible with PC. Usually, the Fanatec Company offers wheels for game consoles, and the rest are super good to use with a PC.
So, you can easily find pc compatible sim racing wheel base, which is a reliable direct drive wheel. So this is how do direct drive wheels work. These are super easier to use and better than the rest of the wheels available in the market.
Will a direct drive wheel make you faster?
The direct drive wheels are super good for torque, which means you don't need any gear or belt, and can manage the speed better. So yes, the direct drive wheels offer faster speed than the gear and belt-oriented ones. The direct drive wheel gives more power and string building to the device.
Why is a direct drive wheel better?
These are the most realistic and top-leading sim racing wheels for your gameplay. You have to face sporadic mechanical interference, and you get super involved in driving experiences while using it. The direct drive wheels are super strong and provide precision and smooth rotation.