The pedal sets are an essential part of sim racing. The gamer always prefers the best performance pedals. In sim racing, you need extreme control to win the game that provides you with the best pedal set; of course, the Fanatec Clubsport V3 pedal set offers the best.
There are two different types of pedal sets designed by Fanatec club sports. The v3 and v3 inverted sets. Both are highly compatible with Xbox, PlayStation, and PC. The Fanatec V3 pedal set has been in the market for the last year. It represents the best pedal offering in the Fanatec roaster. It is worthwhile to get the V3 pedals and create a review on them. I checked it for three months.
Fanatec Clubsport V3 Pedals Specs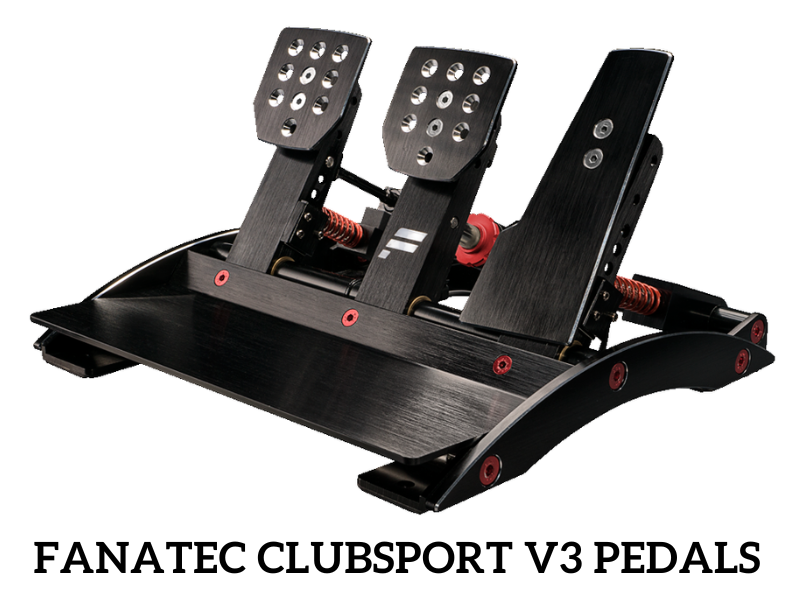 | Specifications | Tested Values |
| --- | --- |
| Platform | PC, PS4 Ready, XBox One Ready |
| Adjustable pedal angle | Yes |
| Color kit | Optional |
| Brake performance kit | Optional |
| Max bits of resolution | 12 (4096) on all axes |
| USB Connectivity | Direct |
| Adjustable brake stiffness and travel | Yes |
| Adjustable spring strength | Throttle |
| Sensors | Contactless magnetic, Loadcell |
| Pedal pads | Anodized aluminium, D-shaped |
| Vertically adjustable | Yes |
| Horizontally adjustable | Yes |
| Damper | Optional |
| Throttle vibration | Yes |
| ABS brake vibration | Yes |
| Degressive clutch | Yes |
| Clutch pedal | Yes |
| Adjustable brake sensitivity | Yes |
| Load cell brake | Yes |
| Main material | CNC machined Aluminium |
| Hard mount | Bottom |
Closer Look to Fanatec V3
If you take a closer look, you will find the Clubsport V3 pedal set very well assembled. It impresses with the fit finish and overall presentation. The pedal faces have a lovely pattern. The heel plate on the pedal plate is made of aluminum.
When you continue looking at the frame's side part, it is done nicely down the side with a contrasting red color and silver, revealing the aluminum around it. Those rather than holding the frame together and, of course, the radiuses arch.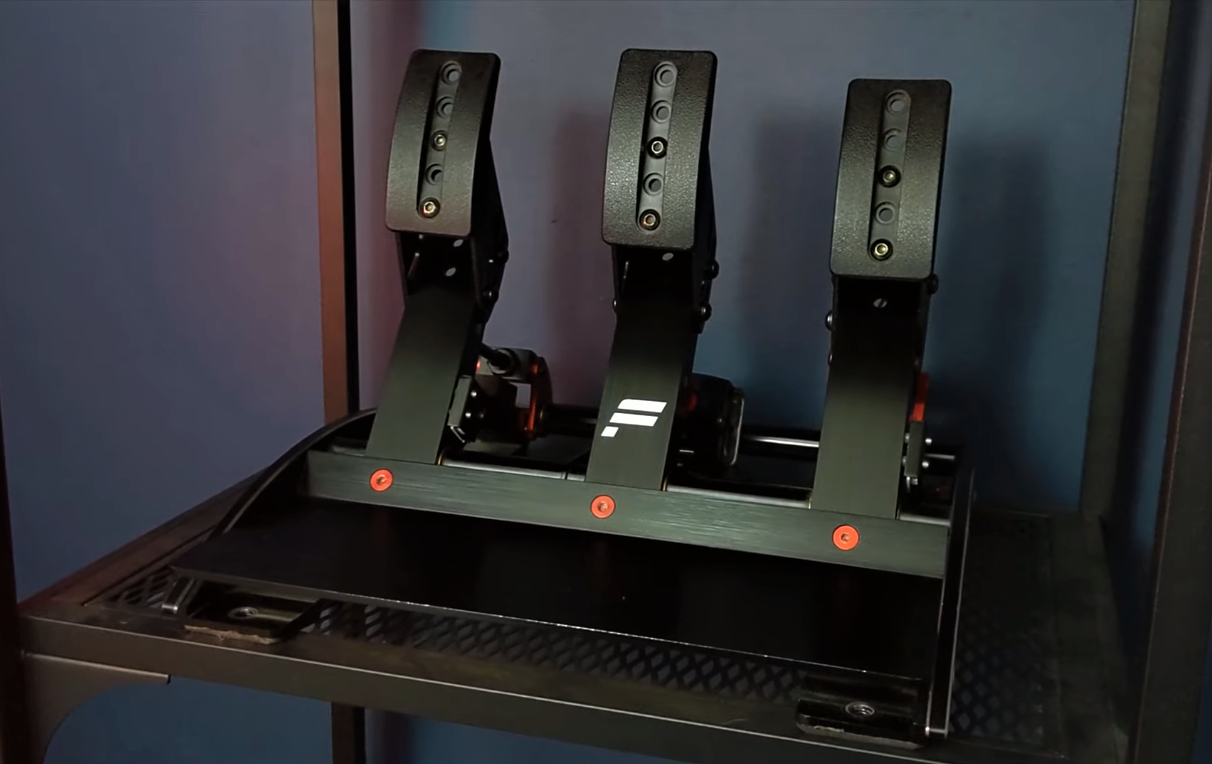 There is also a nice chambering revealing the aluminum very nicely. Same as if you see on the back some red for the clutch spring and brake. The incredible color design gives a unique look. If you turn it upside down and look, you will see the two metal bars that make these frame solid steel rods that provide extreme stability.
Durable Performance by Fanatec Clubsport V3 Pedals
The club sports V3 pedal sets made with all metal constructions made of fine CNC machine aluminum with a robust steel axis. It weighs about 15 pounds. The 90-kgs load cell is highly durable. You can apply firm pressure. This Fanatec set offers a very realistic feeling of the pressure-sensitive brake pedals.
It provides durability and performance and has sound engineering. The Fanatec V3 pedal sets are fully adjustable. There are hall effect sensors on the throttle and clutch pedals. They are at 12-bit resolution. The throttle comes with another stiffer spring and a clutch.
Read more: best 5k monitor
Throttle and Brake Pedal Performance
The throttle of V3 is super linear with a damper. The brake pedal has a story to tell. It has a stock format with a knob. This knob allows you to change how much the preload compresses the inside rubber. You can change the rubber with a brake performance kit. As for clutch actuation, it mimics clutch forks. It does not feel stiff. You can move them all together.
Vibration Motor
The pedal comes with a vibration motor. You can invert it quickly. When you have a tire slip on the throttle, you feel it on the vibration motor, when you lock the tires or when you have the ABS kicking continuing with the customized ability of the stock V3.
90 KG Load Cell
The 90 kgs load cell is highly durable. You can apply realistic and robust pressure and accurately control the brake with muscle tension, giving you the feeling of sitting in a real car. This Fanatec club sport v3 brake pedal has 90-kilo adjustable loads and 12-bit resolution.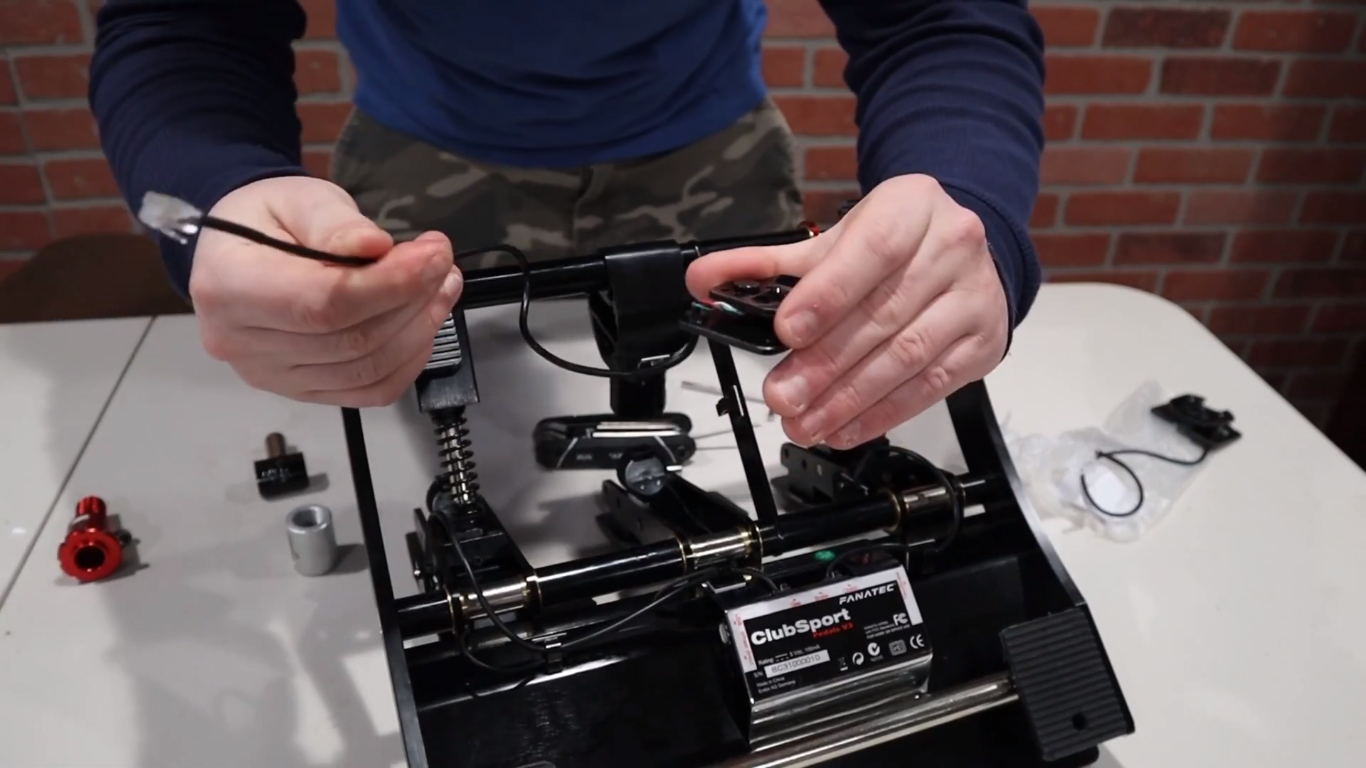 If you connect through the wheelbase, it will maintain the 12-bit. The pedals are adjustable in terms of the solid angles and preload. It has vibration motors, and both the throttle and brake can be connected to USB or throw the wheelbase, making it compatible with all current platforms.
D-Shape Padel Plate
With this extension, it has an extra set of D shape pedals that can be changed on the pivot point. With the D-shape pedal faces, quite a bit of adjustment can be made with these pedal faces. There is just a fanatic edition to the kit; It's fanatic going that extra, something that did not need to be done.
They are certainly some of the cheaper pedals on the market in terms of having a load cell, and at the same time, they go well above the beyond with the vibration motors with extra damping adjustment that you can make the extra spring.
Fanatec Clubsport V3 Setup with Software
We need to download the Fanatec Clubsport V3 drivers for the v3 pedals. The separate link for the 32-bit and 64-bit drivers is stable release and beta release. I am using the beta release, and I have zero issues. They are stable, and check them out after the installation.
It will give the Fanatec wheel property page with a double click that opens it up. Make sure you have a V3 pedal. Select the click properties as soon as it comes up for the first time. It's going to look exactly like this. The most important thing I can do is click enable manual mode. It is going to take out all the auto-calibration.
Let me show you why with the throttle. When you press it down, you should notice that it dips down a little further, and then its max throttle. We need to get rid of that little play so press it down just before it dips down.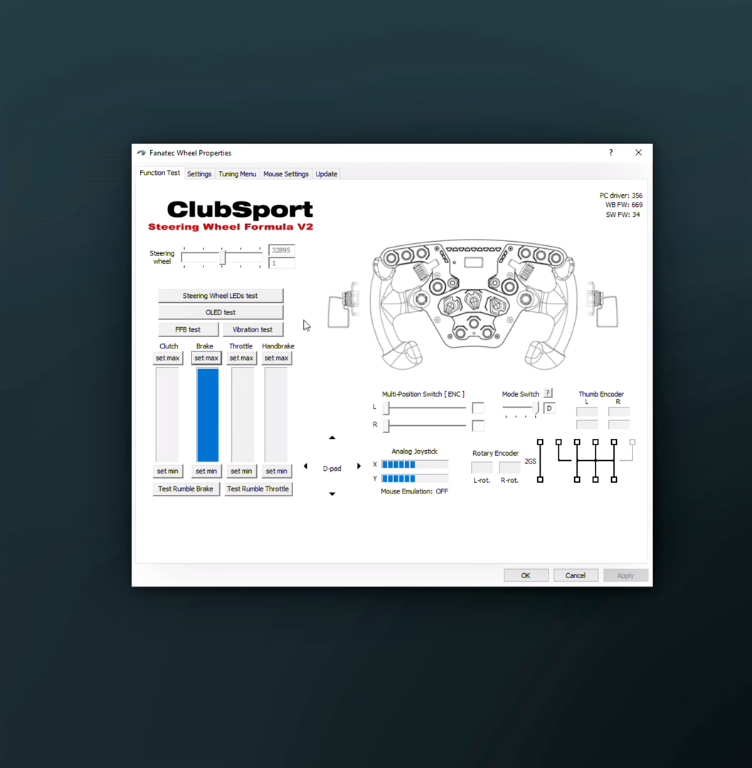 Click the set max button as soon as you do that, and do the same thing with the clutch. It's going to dial that little bit of play out. When you are driving around, you think you are at max throttle. You may be at only about 90-something percent throttle.
This will fix that issue by jumping into the brakes section. This is more subjective, but this is how I dial my brakes, so I press the button down until I reach the braking threshold. As soon as I reach the threshold, I press to where I would be locking up the brakes.
Clicking the set Max button as hard as I want to press to lock up the brakes, and I know where that is a little bit below my threshold braking, which feels comfortable. That is the way I set up my pedals. Let's jump in the sim racing and see how we get with the pedals.
Fanatec Clubsport V3 Pedal Performance Kit
Two optional accessories are currently available for the Fanatec Clubsport V3 pedal set brake performance kit and the damper kit. The Brake performance kit provides a more realistic brake pressure feeling in a real car.
The kit includes the following: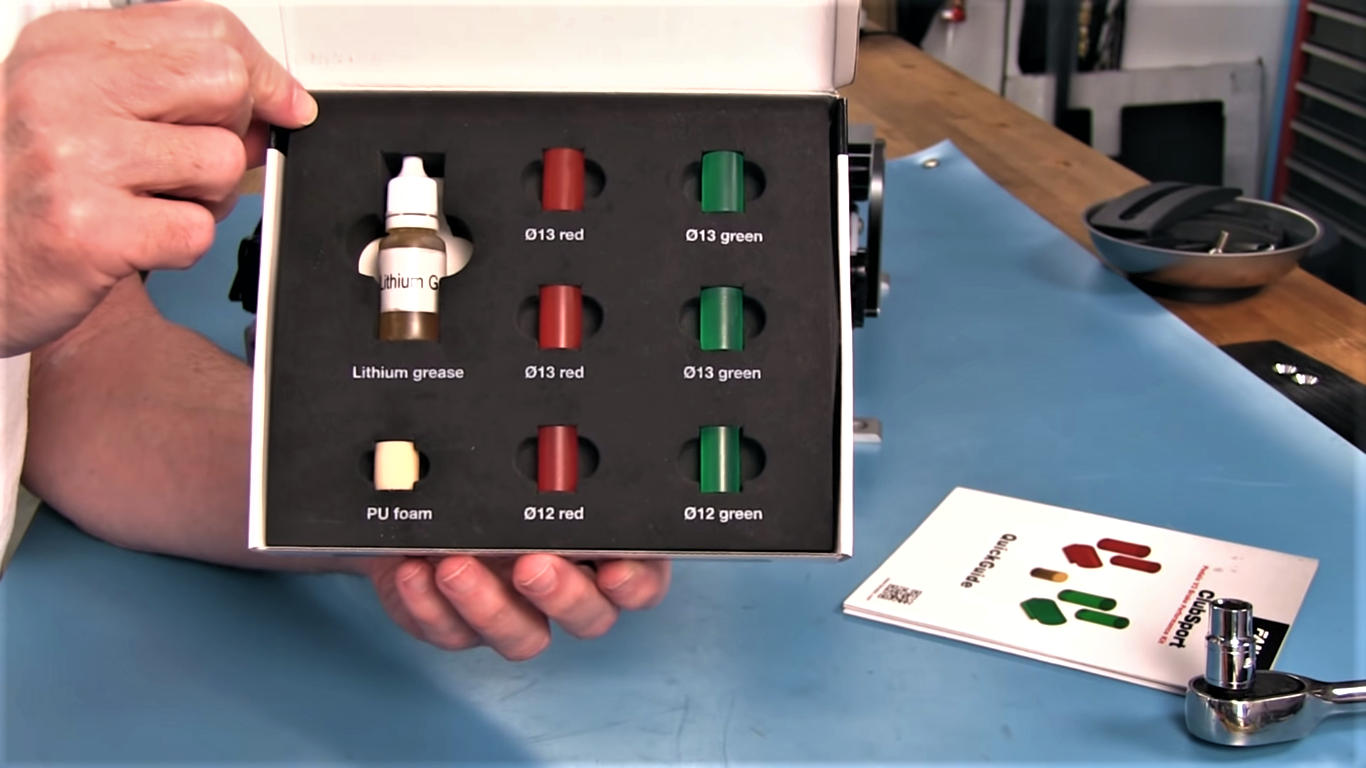 A quick guide installation Fanatec Clubsport V3 manual.
Polyurethane foam.
Six inserts with different stiffness ranges.
Various resistance and travel options use combinations of red and green elastic springs. The polyurethane foam is an optional component to set up a lighter start force when applying the brakes. Green or less thermal springs are the more complex material. There are two thicker ones, 30 mm in diameter, and thinner and softer once at a 12-mile diameter.
A chart is available that guides you through setting up various pedal combinations to feel soft, medium-hard, and very hard. The performance kit has probably the most beneficial. It is the cheaper of the two products, so we install that first. If we are still unhappy with how the pedal feels, we can install the damper kit.
Fanatec Clubsport V3 Brake Adjustment
The fanatic club sports pedal brake got stiff and needed adjustment. At the brake pedal, you will see a dark gray screw. With this screw, brake pedals are set preloaded or stiffed. You can set it within the lasered scale on the screw. The Upper white block has to be completely visible at any time, and the lower white block never has to be visible.
Fanatec Clubsport V3 Inverted
Fanatec Clubsport V3 inverted is very similar to V3 pedals, but they are turned upside down. They are more than just a standard set of V3 pedals. These come fully loaded with a damper kit pre-installed and a $70 upgrade over the standard V3 pedals. They are highly adjustable, and each pedal has its changes. You can make to dial them in.
How do you connect ClubSport V3 pedals to a PC?
The ClubSport Pedals V3 can be used on a PC by direct connection to a USB port or wheelbase connection. It is very easy to the USB ports.
Can you use Fanatec v3 pedals with the Logitech wheel?
It is the best-used Fanatec direct drive wheel with Fanatec V3 pedals. They are compatible but must show better performance with the Logitech wheel.
Do Fanatec v3 pedals work with PS5?
Yes, Fanatec V3 pedals work with PS5. The PlayStation security chip is always located inside the Wheel Base. Any Fanatec product connected to a PlayStation-licensed Wheel Base also becomes compatible.
How long is the Fanatec warranty?
Fanatec company offers a 2-year warranty with fast shipping worldwide. Fanatec is a German company that produces racing wheels, pedals, cockpit, and more sim racing types of equipment.