Players must unlock the Goliath, a huge race in Forza Horizon 5. It works great with the Forza Horizon 5 AFK XP Glitch, a method for rapidly getting a tonne of Credits and Wheelspins. If you want to grind up the Credits required to purchase high-end cars without having to invest countless hours in the game, having something in your trunk is essential.
There are several races in the Mexico Horizon Festival schedule, including the well-known Goliath race. Taking first place in a 55km race that involves a 10-minute cycle around the entire map will provide you with the Long Gone accomplishment. This article explains how to unlock the goliath in Forza Horizon 5.
What Does the Forza Horizon 5 Goliath Glitch Do?
With the Forza Horizon 5 goliath glitch patched, you may complete a very long race without having to sit down for the entire time and without any possibility of failing.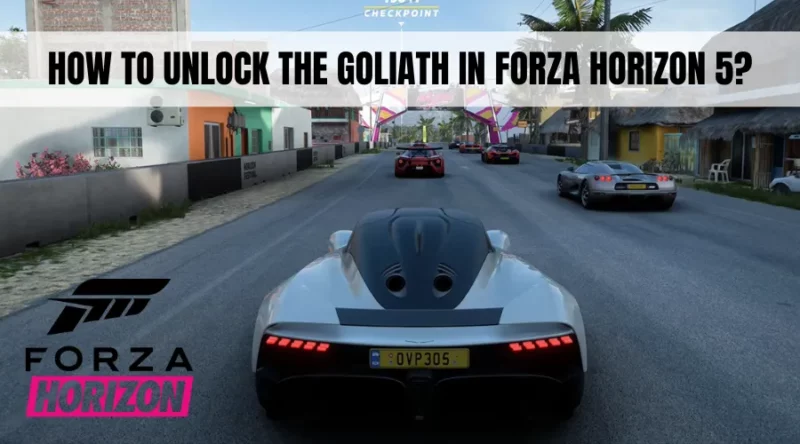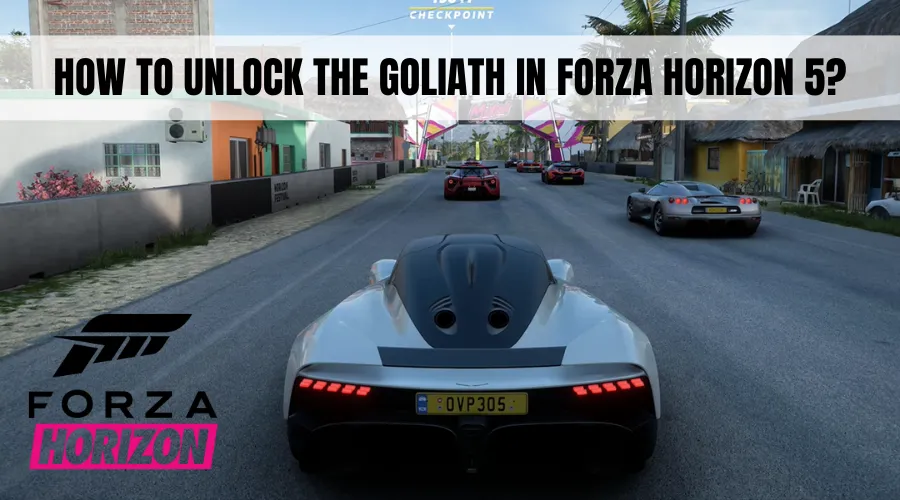 You can therefore drift away with millions of XP, moving up levels, and accumulating a tonne of skill points to upgrade other cars, depending on your patience. You'll also receive tons of wheelspins, a fantastic method to make hundreds of thousands of credits.
How To Get the Goliath in Forza Horizon 5?
The Goliath is present in the first festival you unlock, albeit they can take some time to unlock. It follows that obtaining one Unlock merely requires earning enough Accolade points. You must compete in four or five races or drive about collecting skill points.
1) Earn Accolade Points
You must complete a couple of little additional objectives from the Accolades menu before you can begin competing in the game's main race:
Access the Campaign menu.
Decide on World Map
Choosing View Accolades
You can complete these little chores to accrue Accolade points, which are necessary to gather Adventure Chapter points.
Related Article: forza horizon 5 solar panels
2) Earn Chapter Adventure Points
You should be able to receive 1x Adventure Chapter point when you have accumulated about 8,000 Accolade points. Before you may unlock the Goliath race, you must at least complete the first two Horizon Festival adventures, Welcome to Mexico and On a Wing and a Prayer.
Once you have unlocked another Adventure Chapter point, perform any lesser Accolade chores that suit your preferences. Then, proceed as follows:
Join the main stage of the Horizon Festival Mexico.
Decide on Festival Line Up.
Under the menu, you should see 1 Available Unlocks.
Choose the ultimate event, The Goliath, from the list.
Spend a chapter of your adventure point to confirm.
You can now begin competing in the Goliath event and go on a tour of Mexico. You'll need a good car to finish this race, so budget some credits.
Read More: forza motorsport 8 gameplay
What Are the FH5 Goliath Race Prizes/Payouts?
The following are the benefits of finishing the FH5 Goliath Race:
Accolades
XP for taking first place
Bonus perks XP
XP Skills
XP Clean Racing
Without Restraint
Achievements
Check out my list if you want to compete in this event in some of the quickest cars available. To find out which automobile will deliver the best outcomes for you, head to my guide to the best cars I mentioned below.
What is the Best Car to Do the Goliath in Forza Horizon 5?
I recommend the top five Forza Horizon 5 cars that are strong enough to complete the game's longest race without tiring. Here is the best car for goliath in Forza Horizon 5:
1) Aston Martin Vulcan AMR Pro
An all-inclusive Aston Martin racing package is the AMR Pro. The car is entirely track-ready thanks to its larger dive planes, improved rear wing, and greater steering. The car can easily move up to its top speed with a 6-speed transmission, finishing the Goliath in no time.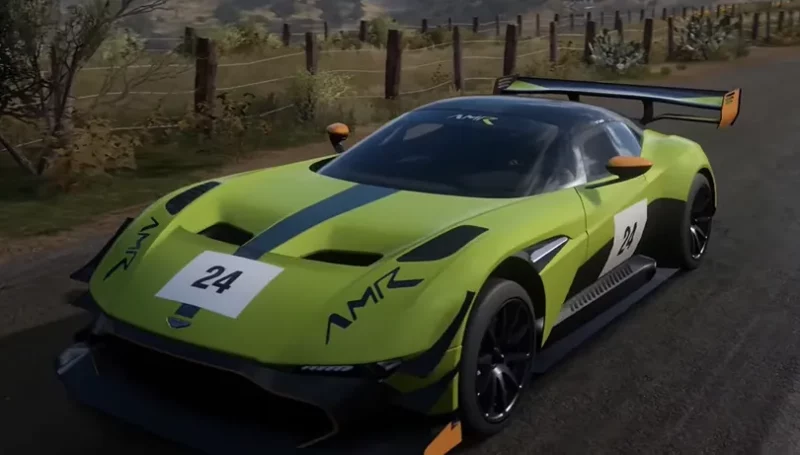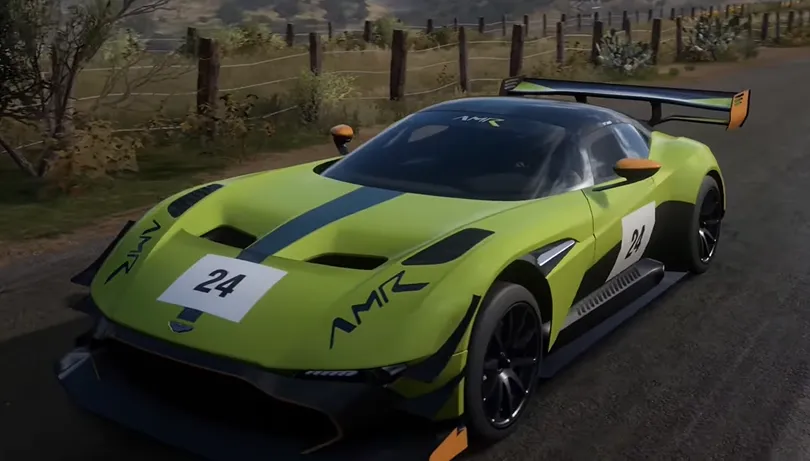 2) Mercedes AMG One
Forza Horizon 5's introduction included the electric sports car, which is perfect for the Goliath. Despite having the weakest launch rating of 3.2 sec, the car is a beast on the road until it hits its top speed.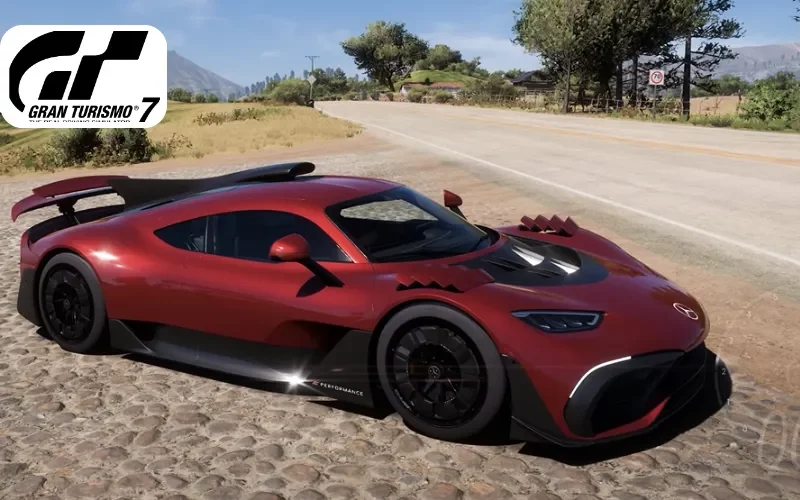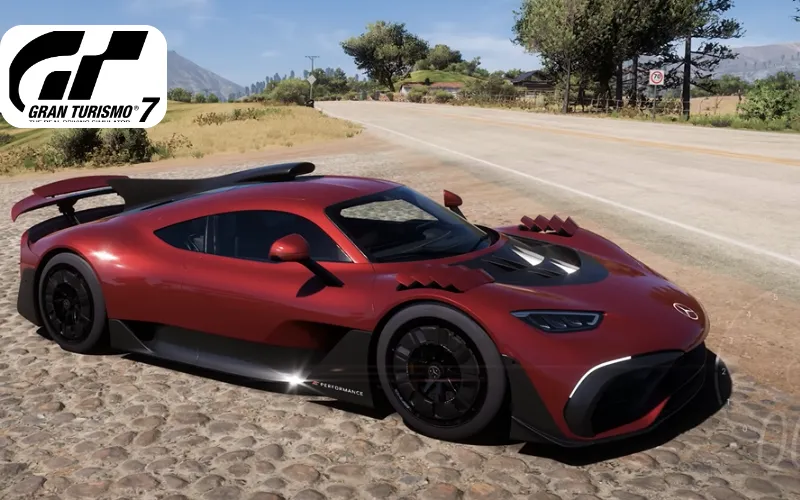 3) Ferrari 599XX Evolution
In Forza Horizon 5, the 2012 RWD (Rear Wheel Drive) performs admirably and is great for finishing the Goliath. With a top speed of 240 mph (386 kmph), the Ferrari 599XX E is ideal for open straight-road competitions like the Goliath.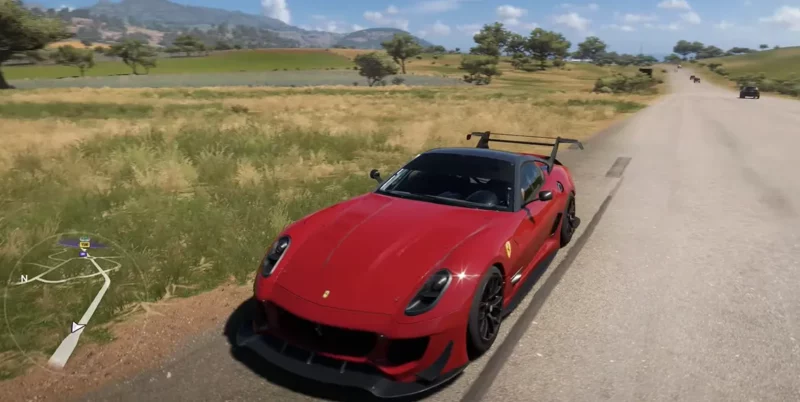 4) BMW X5M (Forza Edition)
One of the top-rated automobiles in Forza Horizon 5 is the BMW sports car. The automobile features excellent handling and high-speed braking to perform hairpin curves easily. The car's exclusivity to players who have access to the VIP Membership bundle is the main drawback, though.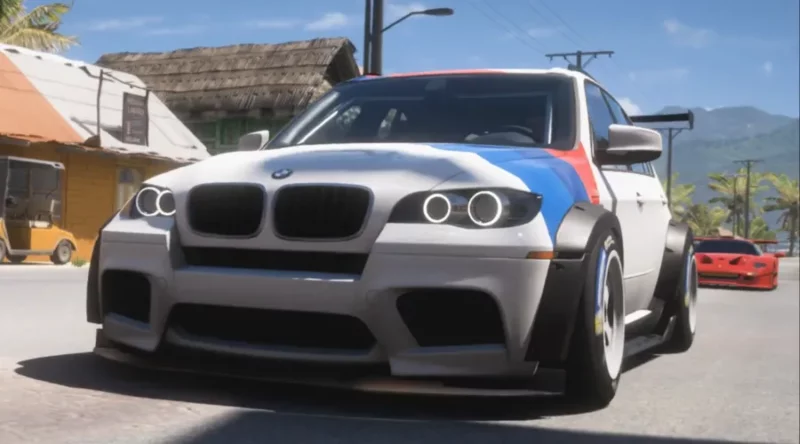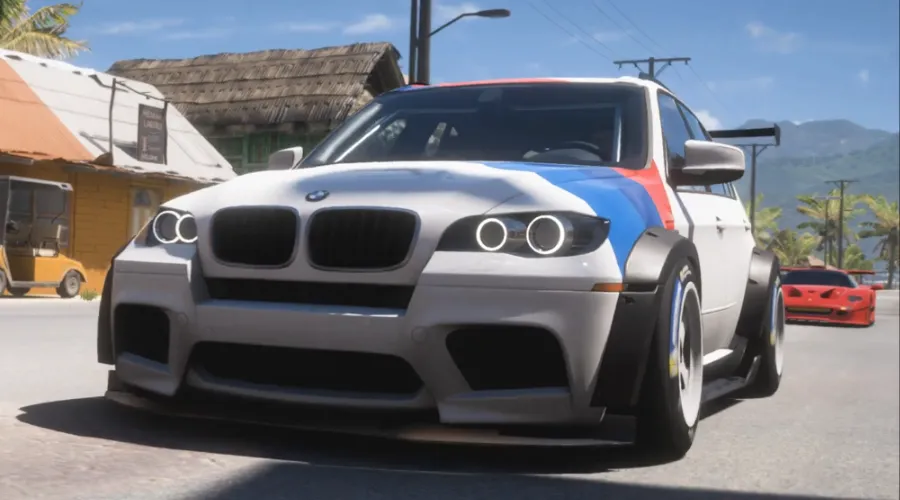 5) Lamboghini Sesto Elemento
In reality, the Sesto Elemento is an illegal supercar. However, it is undoubtedly allowed in Forza Horizon 5. The automobile is relatively light and flies across the roads in the Goliath thanks to its Carbon Fiber body.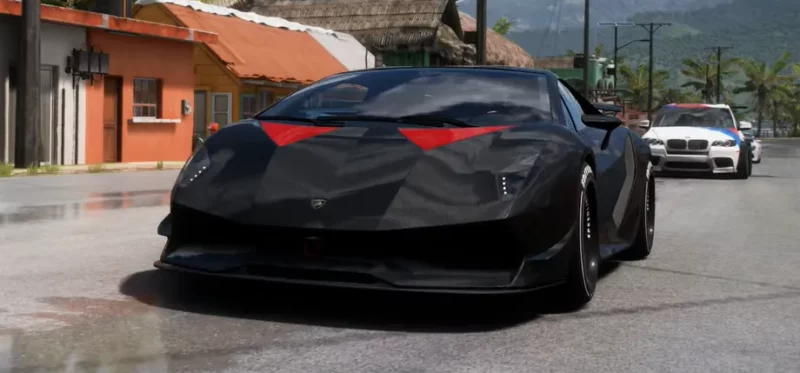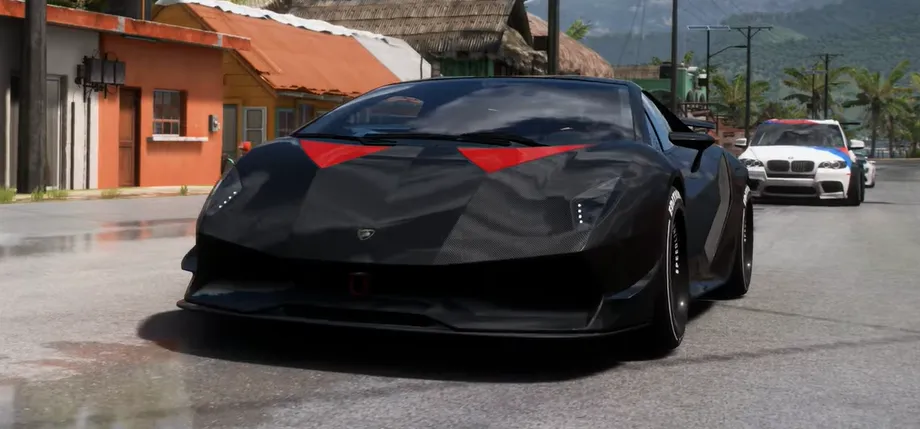 How To AFK The Goliath in Forza Horizon 5?
How to use the Forza Horizon 5 (FH5) Goliath Glitch for XP and Credits is given below:
Activate the Goliath race.
To create a waypoint, launch the FH5 map.
Get there and attend the event.
To begin setting up the event, press X.
Select Solo.
Press the LB button to hover over Eventlab in the following menu.
Then select Create Blueprint.
It will create a new event that you create.
You can select any car you like from the following menu.
Avoid choosing the fastest cars, such as pricey Lamborghinis, Bugattis, or Ferraris.
Choose a car that you believe will remain stable and maintain control.
Choose a car with all the Car Mastery choices unlocked.
Compared to choosing car masteries, this will provide you with more skill points and experience.
As a result, pick the class wisely.
Select Event Settings from the Eventlab menu at this time.
Drivatar Difficulty should change to Unbeatable.
Then disable or deactivate every Drivatar listed under Max Number of Drivatars.
You can do this to drive safely and earn more difficulty Credits.
Put 50 in the Number of Laps field.
Maintain Weather at Clear.
Offset Traffic.
Click Confirm now.
To replace Test Drive, select Publish now.
From the My Local Events option, load the race.
Difficulty Setting for The FH5 AFK Goliath Bug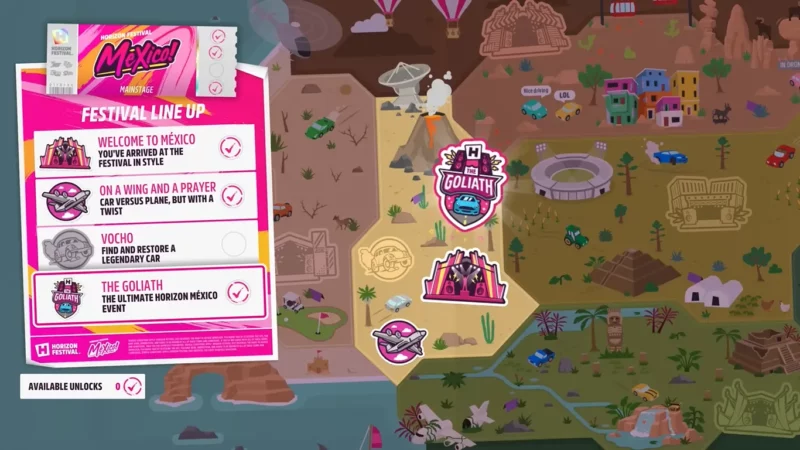 The recommended difficulty settings for Forza Horizon 5's AFK Goliath bug are as follows:
Click Difficulty & Settings.
Verify that Drivatar Difficulty must be set to unbeatable.
Put the brakes on Assisted.
Set Auto-Steering as the steering mode.
Turn on the traction control.
Turn on the stability control.
Shifting of gears must be automatic.
Change the driving line to Off now.
Just cosmetic damage and tyre wear should be allowed.
Go ahead and begin the race now.
The car will now be driven and operated automatically.
But you must consistently hold down the RT button.
You may do this by keeping a thick coin in between the RB and RT buttons.
Check More: best gaming motherboard under 100
Where is the Goliath in Forza Horizon 5?
The goliath Forza horizon 5 location can find east of your map on the Riviera Maya's beautiful dunes. If you want to save your racing prowess for the massive event ahead, drive on over or spend some credits on a Fast Travel. To begin the lengthy race, press X on an Xbox console or drive there using fast travel.
Go to Settings from the Campaign tab in the pause menu and choose Difficulty to ensure the Long Gone Achievement in Forza Horizon 5 is unlocked the first time. To save the modifications, set the Drivatar Difficulty to Tourist and press the Menu button on consoles.
The Long Gone Achievement should become available after winning the Goliath race in Forza Horizon 5 in around 10 minutes. So choose the quickest, easiest-to-drive car players own or purchase a nice car.
How Long is the Goliath in Forza Horizon 5?
In Forza Horizon 5, the Goliath is called the Ultimate Horizon Mexico event. It's difficult to disagree, given that it comprises a massive 55KM-sized circuit lap across the entire area. The Long Gone Achievement for winning the event is unlocked and takes about 10 minutes to complete.
Does The Forza Goliath Glitch Still Work?
Yes, the Goliath glitch is still functional in 2022 and is one of the most often-used glitches in Forza Horizon 5. It enables you to win a race that is virtually impossible to lose and earn an absurd amount of money or credits.
What is the Goliath Forza Horizon 5 Record?
After spending several hours researching online forums, Reddit, and YouTube, I finally feel confident claiming to have the fastest time ever around the Goliath (8:21.2).
Is Forza 5 Modding Prohibited?
An instant permanent suspension or a longer suspension may impose for extreme offenses, such as modding, soliciting, harassment, or flagrant imagery in liveries and vinyl groups.
Why is Forza 5 Stop Working?
Your PSU must replace if it just shuts down while you are playing FH5. If an overheating or power issue occurs, PCs shut down to prevent damage. A game issue might result in a restart and a blue screen but not a total shutdown.
Why Are Older Forza Games Removed from Listings?
Due to expiration licenses, prior Forza games would take down from digital marketplaces around the time of their 4th anniversary.