The GT World Challenge series, run by the SRO Motorsports Group, has an official video game, Assetto Corsa Competizione. The primary championship is only open to GT3 vehicles, but support series cars like GT4, TCX, and GTC are also allowed.
Their respective models include single-make series like the Porsche 911 GT3 Cup, Lamborghini Super Trofeo, and Ferrari Challenge. Assetto Corsa has so many races and championships every day you won't be bored for a long time, thanks to all these automobiles.
Each of these acc cars lists is distinctive, making it difficult to master some of them. So, will your favorite GT vehicle be included?
What is Assetto Corsa Competizione?
The Blancpain Endurance Series is the official video game of the GT World Challenge motorsport competition that takes place in real life. It replicates only the tracks and vehicles used in the GT World Challenge racing series.
It was also developed by Kunos Simulazioni and released for PC users on May 29, 2019, for PS4 and Xbox One in June 2020, and for the PS5 and Xbox Series XS on March 22, 2023.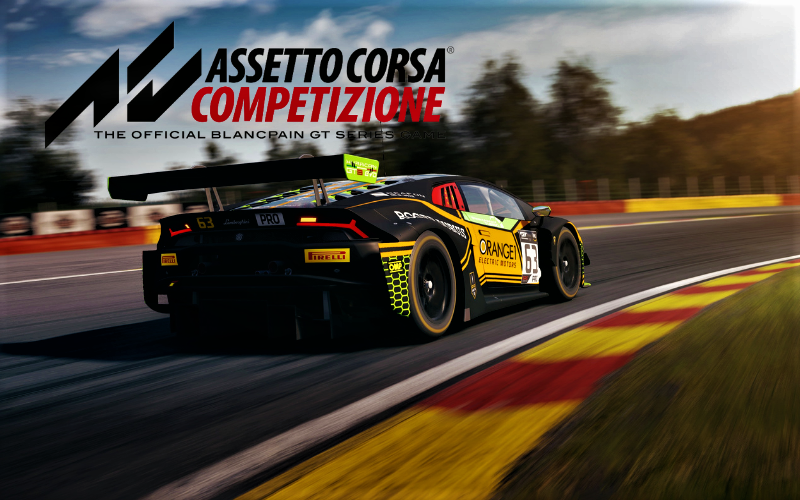 Best VR Headset for Assetto Corsa Sim Racing
Every season has vehicles that update with their corresponding official liveries, and additional cars, like the BMW M4, have also been included.
You begin with Competizione in the Lamborghini Young Driver Program for a test event at Monza. Still, as you advance from here and join a GTWC squad, the path onward is largely linear as you compete in various championships. The good news is that you can race in online multiplayer on both if you enjoy it. On a PC, creating your server is more difficult than simply joining one.
Assetto Corsa will frequently include drifting and Nordschleife track day-style servers. In contrast, Competizione will be full of private team testing and public races in addition to the typical abundance of private league racing events available on both Assetto Corsa.
How Many Cars Does Assetto Corsa Competizione Have?
In Assetto Corsa Competizione, including all model variations and EVO versions. What do GT3 vehicles do? The Fédération Internationale de l'Automobile (FIA) enforces stringent rules that govern GT3 automobiles based on mass-produced road-going supercars and sportscars (FIA).
Are there F1 cars in ACC? The game focuses on GT racing, so instead of driving Formula 1 cars, you'll be competing in sports car competitions. Therefore, ACC only allows you to race GT3 and GT4 vehicles as opposed to the many more vehicles available on Assetto Corsa.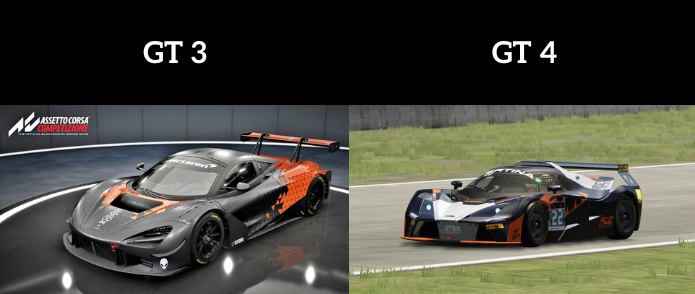 The regulations allow for various engine configurations, though only those found in the manufacturer's road-car lineup. However, rear-wheel drive and comparable power-to-weight ratios are required, and the FIA and SRO Group's strict Balance of Performance (BoP) calculation strictly enforces these requirements.
Many aerodynamic grips are present in GT3 cars, typically weighing 500–600 bhp and weighing 1200–1300 kg. Direct purchases of vehicles from manufacturers can make for about £500k each.
With standard driving aids like Traction Control (TC) and Anti-Lock Brakes (ABS), GT3 cars are suitable for both novice and experienced drivers. GT3 racing car variations for vehicles like the McLaren 720S, Bentley Continental, Porsche 911, and Ferrari 488, among others.
Read Here: VR Racing Games for PS4 & PC
GT3 Cars in Assetto Corsa Competizione
Here is the Assetto Corsa GT3 cars list for 2023: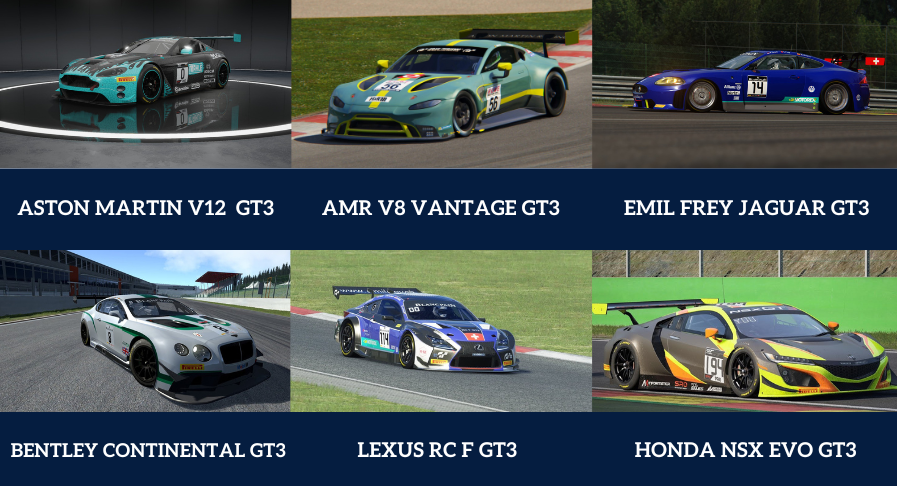 Aston Martin V12 VantageGT3
AMR V8 Vantage GT3
Audi R8 LMS GT3
Audi R8 LMS EVO GT3
Audi R8 LMS EVO II GT3
Bentley Continental GT3 2015
Bentley Continental GT3 2018
BMW M6 GT3
BMW M4 GT3
Emil Frey Jaguar G3
Ferrari 488 GT3
Ferrari 488 EVO GT3
Honda NSX GT3
Honda NSX Evo GT3
Lamborghini Huracán GT3
Lamborghini Huracán Evo GT3
Lexus RC F GT3
McLaren 650S GT3
McLaren 720S GT3
Mercedes AMG GT3
Mercedes AMG EVO GT3
Nissan GTR NISMO GT3 2015
Nissan GTR NISMO GT3 2018
Porsche 911 GT3R
Porsche 911 II GT3R
Reiter Engineering R-EX GT3
Info: Triple Monitor Wall Mount Review
What Do GT4 Cars Do?
Like GT3 vehicles, GT4 vehicles can base on versions of road-going supercars or sports cars. However, they are far less powerful and aerodynamically efficient. Because they are designed only for novice drivers, these vehicles are less expensive to purchase and maintain than their GT3 counterparts.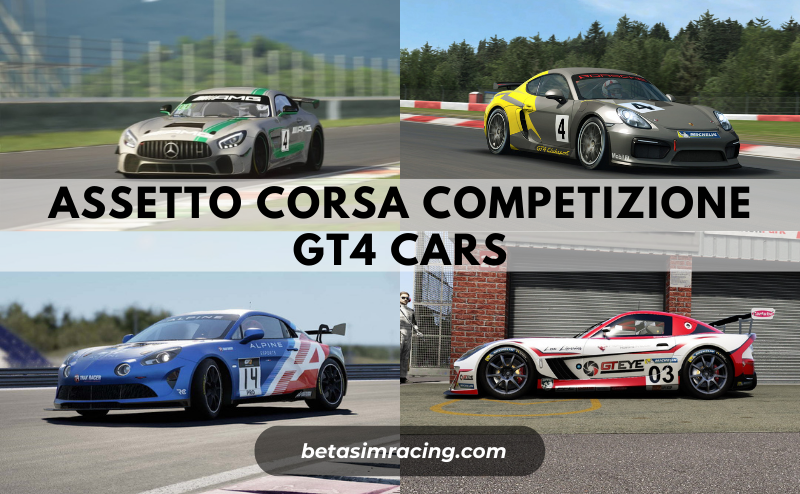 Numerous vehicles, like the Alpine A110, Ginetta G55, Mercedes AMG, and Porsche Cayman, have GT4 racetrack versions. Like GT3s, GT4s come standard with TC and ABS bound by stringent BoP regulations to assure performance parity.
Assetto Corsa Competizione GT4 Cars List
Alpine A110
AMR V8 VANTAGE
Audi R8 LMS
BMW M4
Chevrolet Camaro R
Ginetta G55
KTM X-BOW
Maserati Granturismo MC
McLaren 570S
Mercedes AMG
Porsche 718 Cayman GT4 Clubsport
How Do TCX Cars Work?
The TC America championship, which supports GTWC America, uses the TCX class of vehicle. Compared to GT3 or GT4, the TCX cars are often slower and less expensive to buy and operate.
These cars gear toward novice drivers because of their reduced power and cost. In contrast to GT3 and GT4, TC America frequently runs hot-hatch and less potent sports cars, while the TCX division dominates BMW's M2 CS Racing vehicle.
Ultimate Guide: What Does Single Use Restricted PS5 Mean
The only TCX vehicle currently accessible in ACC is the BMW M2 CS Racing. Here is the TCX assetto corsa PS4 car: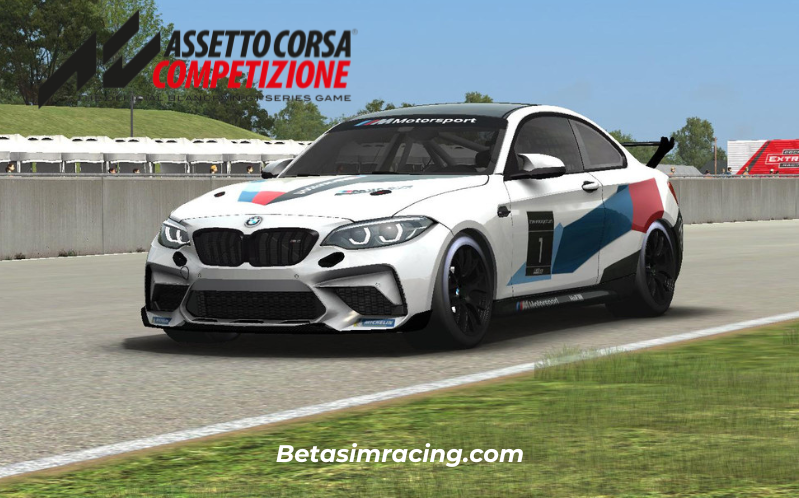 How Do GTC Cars Work?
In Assetto Corsa Competizione, the Lamborghini Huracán Super Trofeo, Porsche 911 GT3 CUP, and Ferrari 488 Challenge are examples of single-make series vehicles in the GTC category. For usage only online, ACC groups all these vehicles into a single, well-balanced class. However, when used offline, they each have their distinct class.
Guide: What is a Good Idle GPU Temperature for PC?
The Porsche 911 GT3 Cup vehicles belong to the ACC's CUP class, the Lamborghini Huracán Super Trofeo cars to their ST class, and the Ferrari 488 Challenge Evo its CHL class.
GTC Cars List In Assetto Corsa Competizione
Lamborghini Huracán Super Trofeo
Lamborghini Huracán Super Trofeo EVO2
Porsche 911 II GT3 Cup
Porsche 911 GT3 Cup (992)
Ferrari 488 Challenge Evo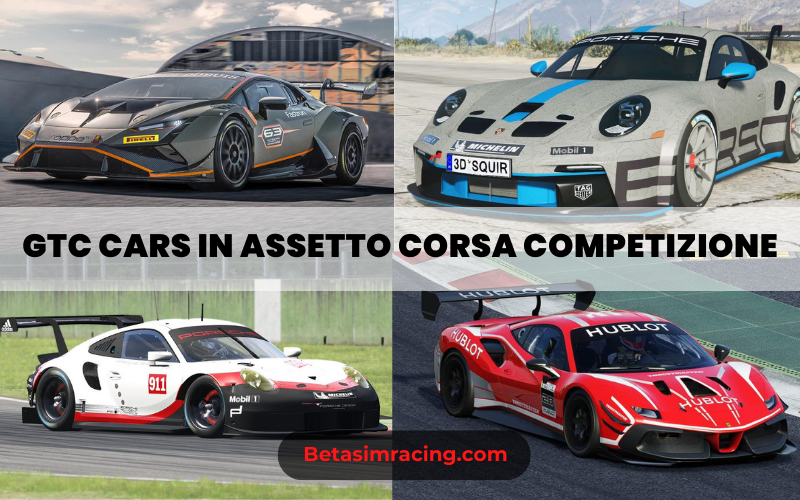 Assetto Corsa Competizione Track List
There are 11 tracks in Assetto Corsa Competizione, excluding DLC packs. These are the actual tracks used in the Blancpain GT Series and GT World Challenge Europe from 2019 to 2023. There are 22 circuits in Assetto Corsa Competizione and its DLC material, with more conceivably coming in future DLC.
GT World Challange Europe Tracks for Competition in Asseto Corsa
Barcelona
Brands Hatch
Hungaroring
Misano
Monza
Nürburgring
Paul Ricard
Silverstone
Spa-Francorchamps
Zandvoort
Zolder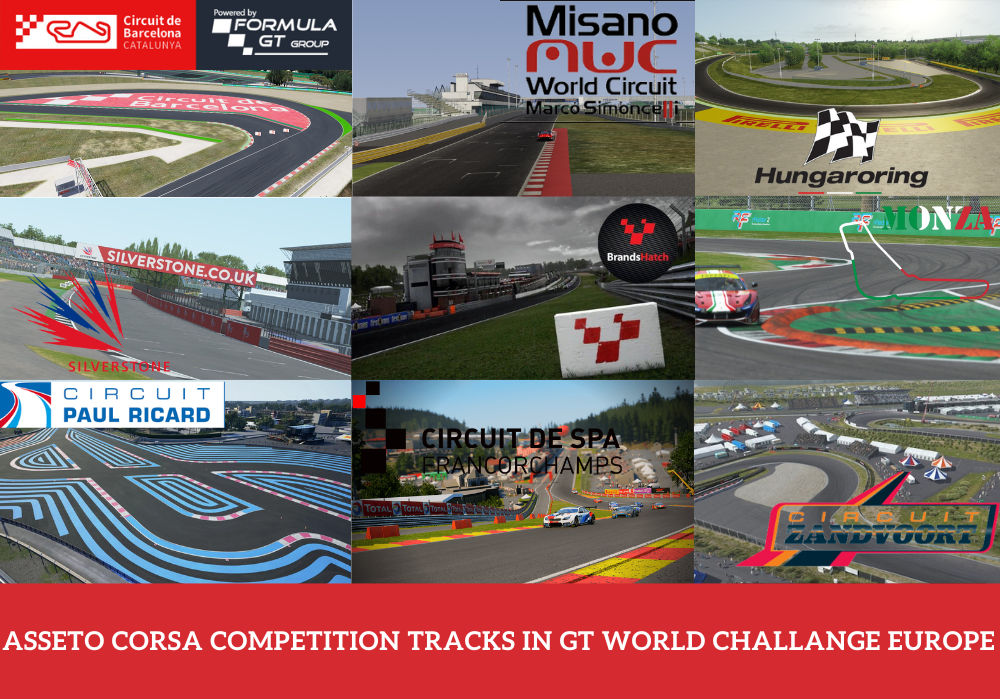 What Tracks Are in the British GT Pack DLC?
Snetterton
Oulton Park
Donington Park
The International GT Pack DLC Included Track
Kyalami Grand Prix Circuit
Suzuka Circuit
Weathertech Raceway Laguna Seca
Mount Panorama Circuit
What is the American Track Pack DLC Comes with Tracks?
Watkins Glen
Circuit of the Americas (COTA)
Indianapolis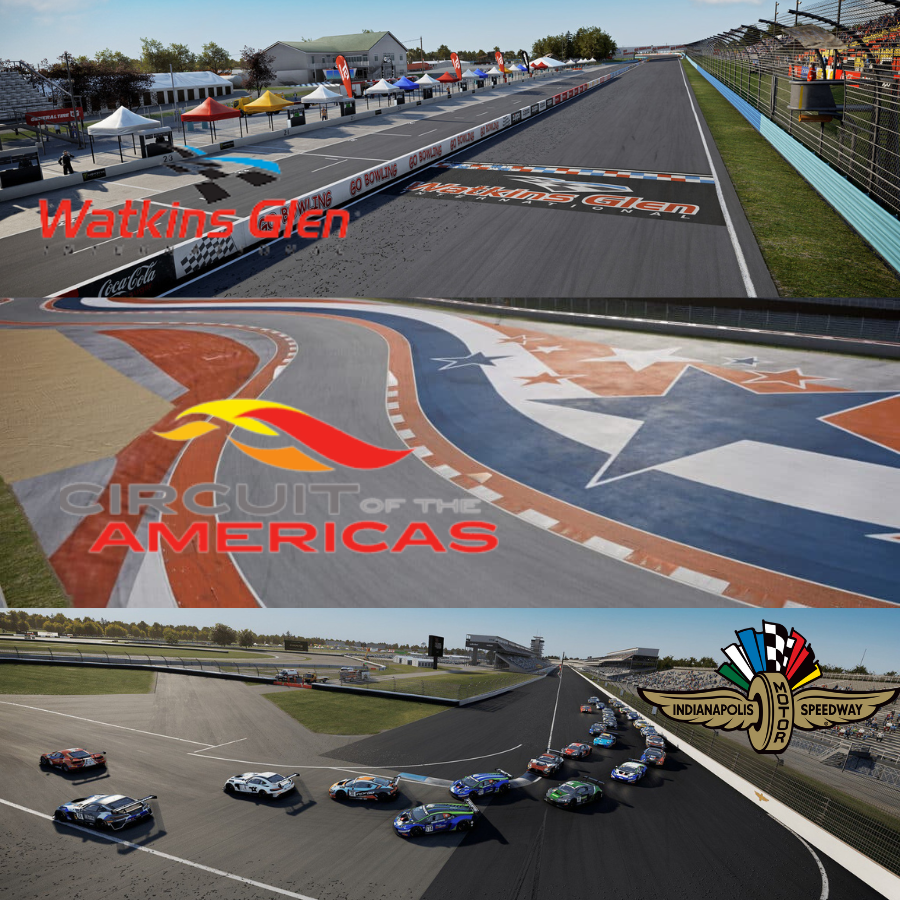 Is Assetto Corsa Better Than iRacing?
Hot lapping, excellent force feedback (FFB), and great for mods are all features of Assetto Corsa. It regards as the most realistic racing simulator available. While iRacing offers strong leaderboards and competitive play. iRacing is now unbeatable if you want more intense competitive content.
Is Assetto Corsa the Racing Game with the Best Realism?
Assetto Corsa became a highly coveted racing simulation game by providing an incredibly lifelike driving experience. Assetto Corsa's developers used laser-scanning technology to make the various race vehicles and roads as detailed as possible because they are not spectacular on their own.
How Easy is Assetto Corsa?
It can be challenging to pick up and master Assetto Corsa Competizione quickly. It is undoubtedly one of the most sophisticated Sim racing platforms out there right now. Additionally, ACC is the most-played Sim Racing game on PC and Console, which has significantly contributed to its popularity.