You can see different form factors of the motherboards available on the market. As we know, Intel has developed ATX, an Advanced Technology Extended motherboard with a specific power supply configuration. You can choose any form factor according to your systems need. If you want to know in detail about ATX vs EATX motherboard, read the article thoroughly.
What is ATX Motherboard?
ATX is the most usual form factor of the motherboard, while micro and mini motherboards are also available with a reduction in size and expansion slots. Standardized motherboards are compatible with easy-to-find RAM, power supply, and storage devices. Most CPUs support three primary motherboard sizes: ATX, Micro ATX, and Mini ITX.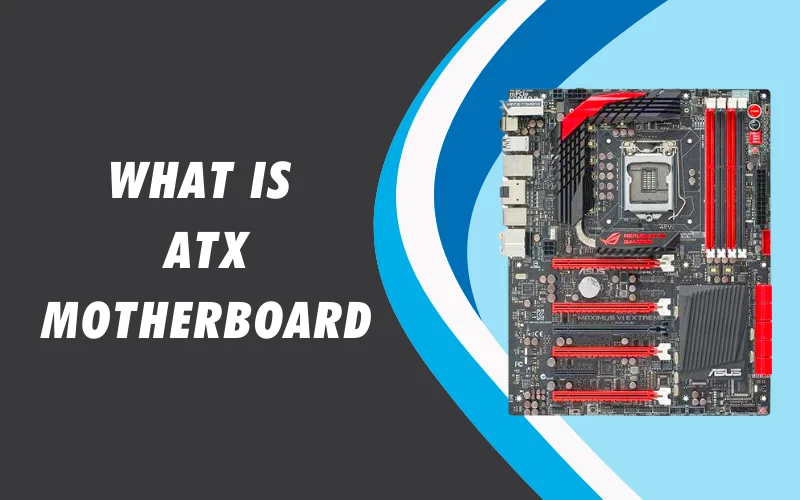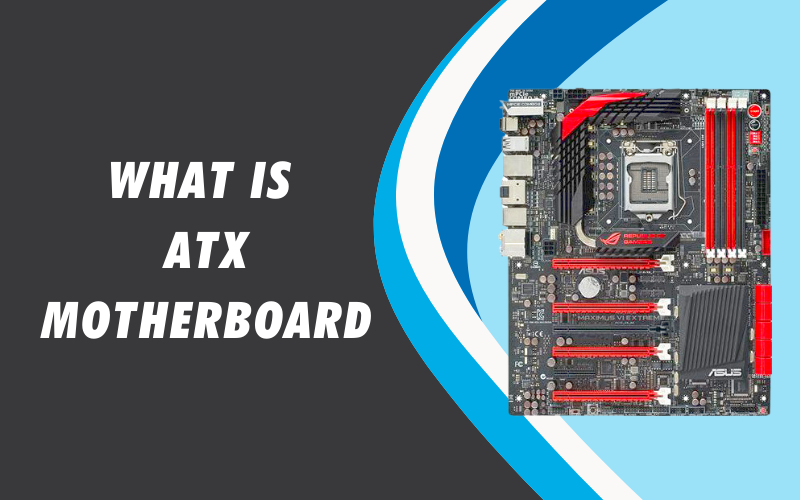 ATX motherboards highlight all the power connections and interfaces with their mounts. These mounting points have space between them and the metallic case of the CPU to avoid electric shocks. They also allow convenient access to the audio, display, and rear ports.
Latest Blog: How to Know if the Motherboard is Dead?
ATX Motherboard Specifications
There is a 12-inch ATX width that has additional expansion slots. ATX motherboards have integrated I/O port connectors, integrated 2 mouse connectors, and better upgradability. They also reduce drive bay interference and expansion card interference. The better power supply connectors and good airflow make them quite functional.
They have stacked USB ports, printers, and game ports. ATX motherboards have the advantage of better connections without many cables and connectors. The power supply in the ATX motherboards works with 3.3 Volt or lower. They are responsible for less electricity consumption and less heat production. The cooling fan of the ATX motherboard not only keeps it away from heat but also cleans the inner case of the PC.
New Article: How Many PCIe Slots Do I Need for Gaming & Video Rendering?
ATX Motherboard Dimensions
ATX motherboards were invented in 1995 by Intel. The ATX motherboard dimensions are 12 x 9.6 inches. ATX PC cases also accept micro ATX motherboards. There are seven slots in a standard ATX board with 20mm spacing.
ATX Motherboard Price
Amazon offers different ATX motherboards at some percent off. ASUS ROG STRIX Z590 motherboard is available for just $207.99. It accommodates with PCIe 4.0 M.2 slot. Dual Intel 2.5 GB Ethernet keeps improved networking for gaming and surfing.
MSI Z690 motherboard has PCIe 4 and 12th Gen Intel core. Four memory slots are available in this motherboard. It costs $306 with 22% off on Amazon. Micro Center AMD Ryzen 5 5600X motherboard has a $369 with 5% off.
Latest Post: What Does A SATA Port Look Like? Connector Types & Cables
What is EATX Motherboard?
The Latest ATX boards are Extended ATX or EATX. They have more valuable specs for the users, like more ports and connectors. They have upgraded the power supply connection for its better performance. There are additional connection sockets and ports.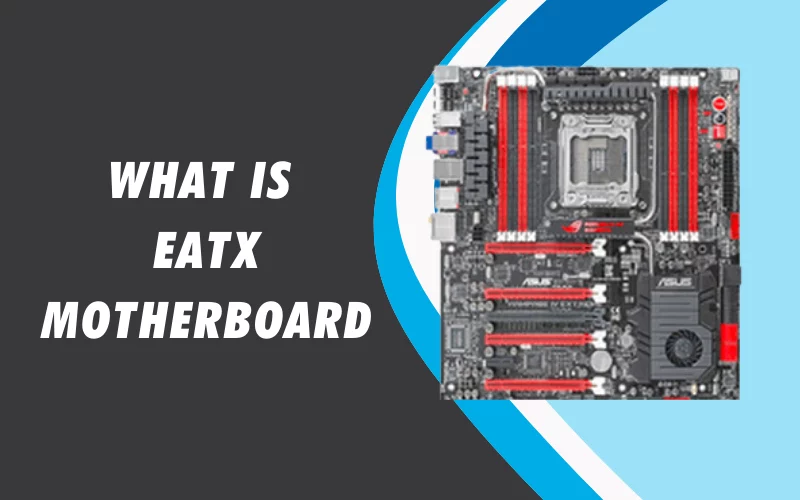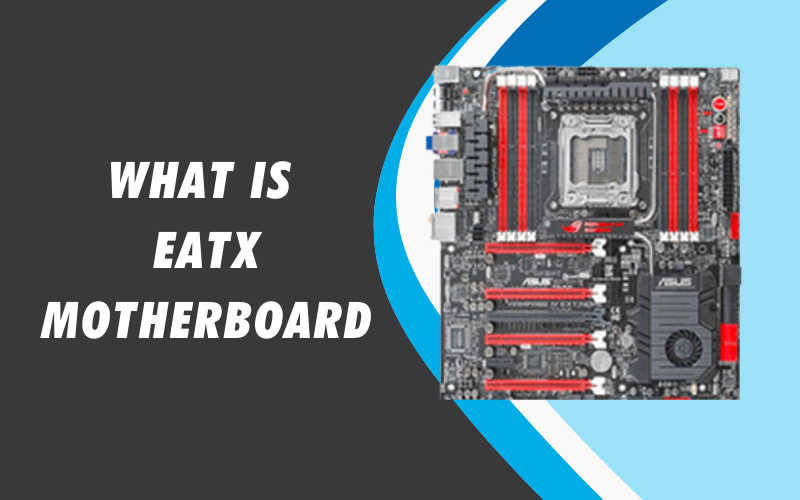 They are more prominent, and the user can take their benefits by connecting more expansion cards with them. Now we will see the difference between ATX and EATX motherboards.
EATX Motherboard Specs
EATX motherboards are the latest versions of ATX. They are pretty spacious and more prominent. They facilitate with more ports and connectors. EATX is possessed with 6 or 8 RAM slots. EATX is 12 x 13 inches in dimension.
Extra space covers up server functions for the additional hardware. They can dissipate heat from the CPU efficiently because of their extra space. They accommodate more space for the GPU. It supports two or three graphic cards at a time. High-end gaming PCs need to have EATX motherboards.
EATX Motherboard Dimensions
EATX is an extended ATX motherboard and has a dimension of 12 x 13 inches. They are suitable for server work. Professionals can conveniently use EATX motherboards. It has PCIe x 16 slots with 4 to 8 ports. There are a minimum of 6 RAM slots in the EATX.
EATX Motherboard Price
As EATX is extended ATX motherboards, they are comparatively high in price than ATX motherboards. They are perfect for professionals and gamers but not for hobbyists. They cost over $300 and more.
EATX Gaming Motherboard
EATX is suitable for professional hardcore competitive gamers because of its extended features. You can take its benefits with more prominent space, dual graphic cards, and a proper cooling system. It will build a powerful PC system.
EATX offers incredible gaming adventures for enthusiasts. It runs the applications faster than ever. The additional slots on the motherboard allow you to utilize them for different expansion cards. Better heat dissipation will be achieved in the processor of the PC.
ATX vs Extended ATX Motherboard, What Do You Need?
If you wish to buy a motherboard for your PC, then focus on your need. If you are a hobbyist gamer, then go for the ATX motherboard. ATX boards offer much expansion and choices. All the slots in the ATX motherboard are not used at a time like there will be spare SATA ports, PCIe ports, and more.
That will provide you with suitable space for working and ventilation. If you want to buy a motherboard for Intel 8th and 9th Generation CPU, then buy MSI MPG Z390 Gaming PRO motherboard. For the 10th Generation CPU, you can order an MSI MPG Z490 Gaming board.
Extended ATX motherboards create the most powerful CPUs for enthusiastic gamers. These motherboards are used for video rendering and vlogging too. You may not be concerned about the budget as EATX are more expensive. You can go for the ASUS ROG Maximus XII Hero Z490 motherboard that Intel powers. For AMD, you can buy an ASUS Rog Strix X570 motherboard. For the EATX motherboard, you must have a large PC case.
Difference Between ATX and EATX Motherboard
Here are some key differences between ATX and EATX motherboards that we discuss below.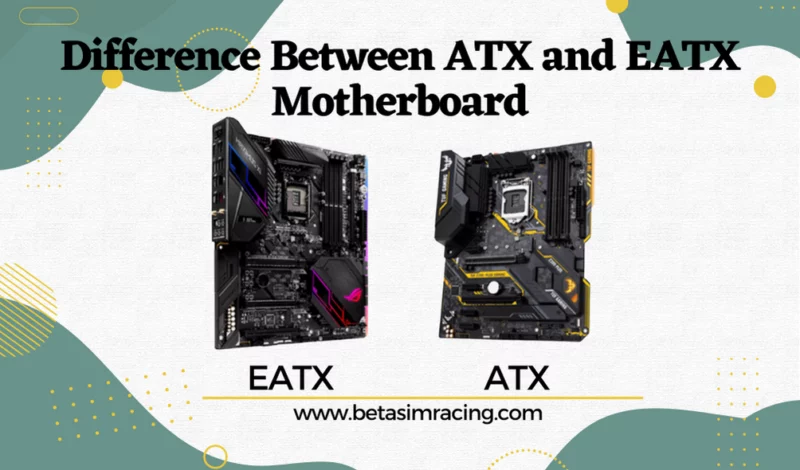 Form Factor: ATX boards are designed for Mid Tower PC cases. You can use EATX for ample spaces to handle and work. It disperses heat more than the ATX motherboard.
Motherboard Sockets: ATX motherboard supports one socket, while EATX can run 2 sockets simultaneously. It means you can run dual CPUs with EATX at a time. It doubles up the computing abilities of the system.
Supported Chipsets: Intel Z490 and X299 chipsets are available for EATX. AMD chipsets are limited in EATX. When we see ATX chipsets, then there is much variety. A320 to B550 chipsets of AMD are available. The range also goes from X370 to X570.
PCIe Slots: There are 3 PCIe x16 slots available in ATX boards, while EATX boards have 4 and more slots. You can use two graphic cards with EATX boards.
RAM Slots: ATX boards have a maximum of 4 RAM slots, while EATX has a minimum of 6 RAM slots and a maximum of 8 slots. The 256 GB memory is supported in EATX.
SATA Ports: ATX boards possess 8 SATA ports. They are long, flexible L-shaped ports connecting the hard drive to the motherboard. EATX boards are equipped with more SATA ports. They offer to connect extra hard drives and storage capacity.
I/O Peripherals: The Input/ Output metal plate that can connect devices with the motherboard offers more peripherals to attach with EATX. Gamers can connect more input and output devices to have perfect gaming scenes.
Cooling System: ATX boards have less space for cooling than EATX. But if your EATX board is connected with 2 CPUs and GPUs, it can be overheated. You must be careful to cool it down with more fans.
Best PC Cases for ATX Motherboard
ATX boards are more extensive and cannot be fit in regular PC cases. Here we recommend some best PC cases for ATX motherboards.
1) Cooler Master Masterbox TD500 PC Case
This is the unique PC case for ATX with reliable airflow. It supports full-length GPU and up to 180mm PSU, giving you greater freedom to build a performing intensive PC. It supports seven 120mm fans on the top, front, and back.
They keep your system cool during intensive gaming hours. It is elegant, with its front panel showcasing angular ventilations outs. The eye of the panel is located at the top of the chassis, which holds a USB 3.0 Type A and USB 2.0 port.
2) CORSAIR OBSIDIAN Series 1000D PC Case
This PC case is a super tower PC that can build two separate systems for gaming and streaming. You can install two complete systems inside of this PC case that can serve you for multiple purposes. It supports eighteen 120mm fans and four 480mm radiators. It keeps eight expansion slots.
3) LIAN LI PC-011 Dynamic Razer Edition PC Case
It is the visually stunning Mid Tower PC case. It has 3 SSD and 6 HDD trails, and 360mm radiators. It features a tempered glass light and a beautiful design. The RGB lighting is located at the bottom and front, which looks visually appealing during gaming. There is 2 USB 3.0 and 1 USB Type C port to connect the gaming peripherals.
4) THERMALTAKE AH T200 PC Case
It is a dynamic PC case used for almost any build type, including gaming and productive purposes. The spacious design of this high optic case can support the ATX motherboard. It has vertical GPU markup ability.
It is made with air force style architecture and two 5mm tempered glass panels on both sides. It is a sleek and futuristic PC case. The open front design provides outstanding airflow; you can add ten 120mm and seven 140mm fans for outstanding cooling performance.
5) COUGAR MX660 IRON PC Case
It is an advanced mid tower case with a sophisticated design that most gamers admire. It supports up to 410mm graphic cards and ATX M/B. It can have 10 120mm fans for cooling. You can have full-length gaming built with its sturdy Iron panel.
The massive tempered side panel lets you showcase ATX built in its full glory. There is an integrated lighting button and RGB VK120 fans. It accommodates three USB ports, including one USB Type C. It is much reasonable in price.
Summarizing this article, we will conclude that buying an EATX motherboard is only suitable for professional gamers and media. Regular users may use an ATX motherboard to have the comparative features within their budget. It would be best if you are concerned about your needs for building a new PC.

Summaries Note
Will ATX Motherboard Fit in an EATX Case?
EATX has the larger dimension that is why ATX motherboard can fit in an EATX motherboard. The EATX tray is compatible with different form factors motherboard. The micro ATX and ATX motherboards can fit in the tray by the screws.
What are ATX vs EATX Motherboard Sizes?
EATX means extended in size. They are larger than ATX. ATX measures 12 x 9.6 inches while EATX measures 12 x 13 inches. ATX has more form factors as Micro and mini ATX. That's why they are smaller in size.