Having a quality sim racing shifter helps you have easy ways to control racing games, and it gets you the feel next to reality. If you are a gamer and love playing racing games especially, you need to acquire the best gaming panel. And without having the best sim racing shifters collection, you won't be able to enjoy your game as you expect.
There are different games and different sets of tools to control them and play them efficiently. If you truly want a sim racing shifter that lets you ease your gaming and gives you an effortless change of gear at any moment, you are reading the right information for gaining one.
In this article, I have gathered the five pro sim racing shifters. So, let's not waste time and start with the list of world-class shifters. 
Top 5 Pro Sim Racing Shifters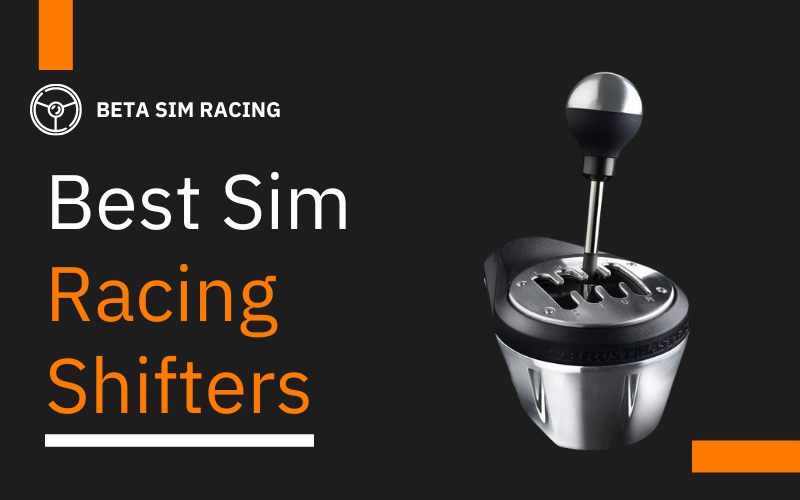 It's never easy to decide from so many options, and I understand that it's not less than hell to be in as a beginner. So, to make this phase a piece of cake to have, I prepared this manual. In this article, you'll find the gear shifter simulators to add value to your gaming setup. Moreover, I tried my best to grab all 5 within an average budget. So, take a look below.
1) Thrustmaster TH8A PC Gear Shifter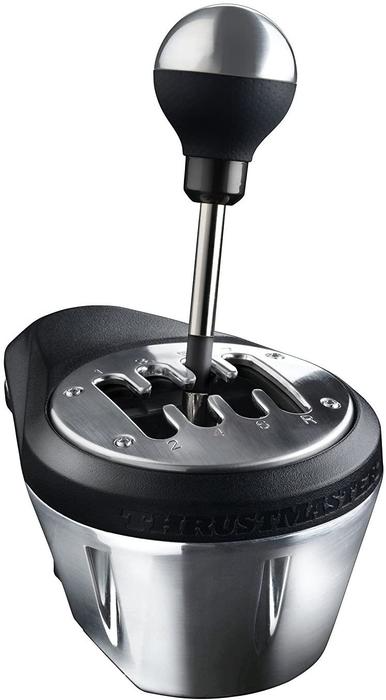 | Specifications | Features |
| --- | --- |
| Pattern | H |
| Rotation | 360 |
| Support surface | 1-55 mm |
| Sequential | +/- |
| Compatible with | PS4, Xbox, |
| Weight | 5.16 pounds |
| Length | 13 cm |
Finding the best sim racing shifters for your racing setup takes a rational decision. The Thrustmaster TH8A PC Gear Shifter features realistic gear shifting, max sturdiness, and striking designs. In addition, it provides a 100% metal mechanism, with high-quality metal gear and more. To know more, go down to the details I gathered for you. 
Realistic Gear Shifting Feel
It has a built-in system that submits an original feel of gear shifting. It makes you feel like you are in a racing game yourself. The voice of gear shifting with a smooth flow of gear stick adds value to the experience. So if you genuinely crave the best shifter for a sim racing setup, you are almost there to get one. 
Next Level Sturdiness and Precision
It comes with 100% metal that can withstand all the pressures super conveniently. Moreover, it allows you to change the mode from H support to Sequential mode at any time without making the shifter unplugged or detached at all. Fanatec shifters are the best to enjoy this handy trait. 
Super Adaptability and Comfortability
Its design is super adaptable and comfortable at the same time. You can use it on different devices, and it is equally good on all of these. So if you genuinely need a pc shifter that comes with upgraded memory and max adjustable gear system, you are good to go for this decent product.
Striking Design with Versatile Functions
It has a distinct design that allows you to enjoy two in one. It gives you two different driving styles, such as H and sequential. In addition, you get a convenient USB connectivity option. It is probably one of the significant reasons to consider it as the best sim racing sequential shifter in the market right away. 
Compatible with Multiple Devices
Whether you want to play it on Xbox One, PS3, PS4, or PC, it goes equally well on all these. It can work in all racing wheels smoothly and makes no difference in shifting the device. It is indeed on the best pc gear shifters in the current time. Moreover, it charges your pocket a sum that puts no burden on your shoulders. 
If you are a racing lover and have a whole console of gaming, but your shifter is not working up to your expectations, you need a reliable gear shifter that instantly becomes the friend of your hands in the first interaction. Finding the best sim racing shifters is not difficult at all; all you need to do is consider this option once.

Shop Thrustmaster TH8A PC Gear Shifter
2) Thrustmaster TSSH Sim Racing Sequential Shifter & Handbrake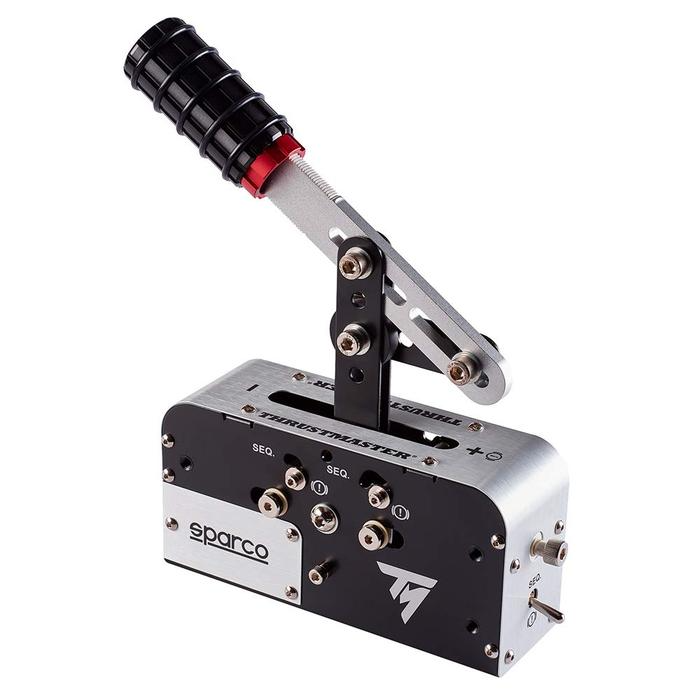 | Specifications | Features |
| --- | --- |
| Color | Black |
| Material | Steel and Aluminum |
| Weight | 6.24 pounds |
| Metal | 90% |
| Compatible on | PS4, Xbox One, PC |
| Windows | 7,8,10 |
The Thrustmaster TSSH Sim Racing Sequential Shifter comes with two in one. It has a super comfortable handbrake with a sequential shifter option. When you search for the best sim racing shifters in the market, never ignore the compatibility options at all.
It is the area that decides the fate of your racing the most. So let's not waste time and head towards the detailed information regarding this excellent gear shifter. 
Maximum Realism
When you play racing and are on an experienced side a bit, you must understand the value of realism in gaming. Its high-quality metal up to 90% with steel and aluminum creates a magical equation for the max performance. It is the pro H shifter PC, and all its building equipment is of the highest quality. It also features magnetic sensors developed through advanced technology. 
Highest Quality Metal
No shorter can perform to the max until it gets a body of unbeatable metal. And the quality metal used in the construction of the Thrustmaster TSSH Sim Racing Sequential shifter is unquestionable. It goes a long way ahead even if you throw any punishment on it. Frex shifters give more metal stiffness and provide the flexibility of 360 degrees to the stick. 
Two in One Product
It comes with two realistic modes to offer your versatility in gaming. All sim racing gear shifters do offer this rare combo, and if they do, you have to pay extra for that. It also furnishes improved control of drifting with enhanced gear shifting response. Together these two modes are scarce to find on a low budget.
Compatible for Multiple Machines
Whether you use it on PS4, Xbox X/S series, Xbox One, or PC, it can do wonders. It is compatible with all racing wheels of different brands. It also gives you the option to use it on the PC with a TH8A shifter. So no matter the configuration available in various games, this USB gear shifter allows you to enjoy racing to the max. 
An Ecosystem to Answer Your Needs
There are vast configuration options to enhance your gaming, and by developing a simulator, it joins hands with racing wheels, pedals, and other components. The gear shifter simulator helps you have the desired results near beyond your goals. Moreover, it doesn't charge your pocket a hell of expenses and keeps your bank safe. 
If you have read the points above, you must know what you need to make your racing up. To fulfill all your needs relating to gaming, you can depend on this product. It is perhaps one of the best sim racing shifters within a low budget. And to have ultra-premium quality performance, it is more than enough. As an old racer myself, I used it and found it an exceptional helping device for racing. 

Shop Thrustmaster TSSH Sim Racing Sequential Shifter
3) Logitech G Driving Force Gear Shifter Simulator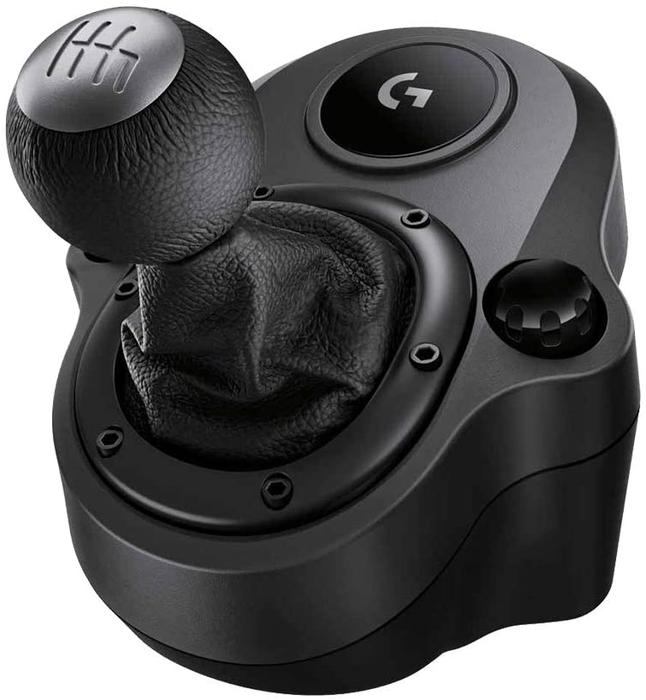 | Specifications | Features |
| --- | --- |
| Color | Graphite |
| Weight | 2 pounds |
| Compatible on | Windows, PS4, Xbox one |
| Windows compatibility | 7, 8 |
| Connection type | Shifter connection DB9 |
| Model | 941-000119 |
The Logitech G Driving Force Gear Shifter Simulator has built-in mounting clams; you can mount it anywhere on a table. In addition, it furnishes realistic racing ventures, six-speed shifters with solid construction. When it comes to the best sim racing shifters, this one takes your expectations higher and delivers a racing adventure better than before.  
Realistic Racing Experience
It provides a realistic shifting of gear to the game. No matter which platform you are using, it gives an equally good vibe to make you feel a smooth shifting of gear, but you'll feel like you are changing it on your original car. To know more about this feature, you need to read this article fully because I prepared this shifter guide to ultimately help you with your decision-making. 
Six-Speed Shifter
It comes with a six-speed shifter, H box that allows you to have gear shifting smoothly and fast. It is best for the systems Logitech G920 and G29, some of the games compatible with the Logitech G Driving Force Gear Shifter system. There is no cable, and you get rid of entangling. The best sim racing shifters always keep the features count up and provide more than you expect. 
Unbeatable Mounting
It has a vastly solid system of mounting. The clamps it comes with are superb, and you can mount them on the sides of cable anywhere or on a racing rig. It has bolt spaces, and you need a screwdriver to fix it up unquestionably.
No matter if you put pressure on it, it can survive super conveniently. Moreover, if you are looking for a cheap sim racing shifter that gives quality simultaneously, you are good to go for this one.
Solid Construction
The construction material of any product decides the final role and significance of any product. The same goes for any pro sim racing shifter. The Logitech G Driving Force Gear Shifter is of the highest quality materials, and it is a mixture of plastic, leather, and aluminum. Together, these three create a secure environment for the gamer and make racing easier and more fun. 
Compatible with Various Devices and Windows
Its most significant part is the compatibility with various windows and devices. It gives you the option to use it on PlayStation 4, Xbox One, Windows 7, 8, and 8.1.
It has no discrepancy against any of these devices or windows. If you use this sim racing shifter and handbrake the way it should be, and you know the secret behind it, you can play the best racing with it you have ever had so far.
If you want a reliable racing partner that provides a smooth flow of gear shifting and that comes with a great mounting built-in system, you are reading the right decision-making page for that. I used these best sim racing shifters myself and found them one of the best picks I have ever used during my racing career. But, on the other hand, if you want options and different modes to get the maximum benefit from the shifter, it has all to offer you generously.

Shop Logitech G Driving Force Gear Shifter
4) USB Simulator Gaming Gear Shift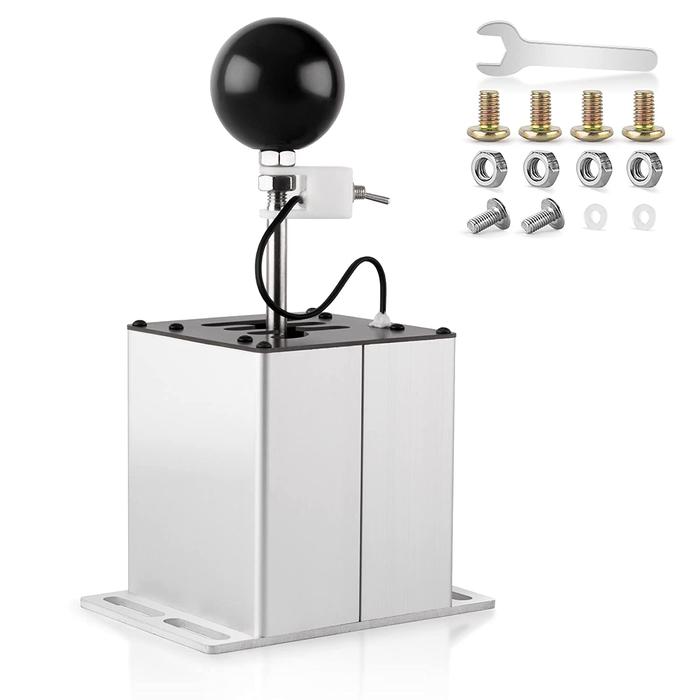 | Specifications | Features |
| --- | --- |
| Hardware platform | Desktop |
| Color | White |
| Operating system | Windows 6, 7, 10 |
| Connectivity technology | USB |
| Ball head diameter | 50 mm |
| Sensor | Microswitch |
| Cable length | 55 inches |
The USB Simulator Gaming comes with a beautiful handle ball that is fully black, and it's so smooth and comfortable to hold it in your hands for changing the gears. And it has a range of compatibility options with different devices. So when trying to find the best sim racing shifters, all it takes is to ensure the gear shifting stick, solid construction, with a diverse range of compatibility.
Best for Racing
It has the mechanism to take your gaming to the next level. The metal used in its construction, and the whole hard shell internal structure, with the main body, add value to the product immensely. It is perhaps the best H pattern shifter sim racing you can find in the market right now. It plays the best shot on the Logitech products with no room for questions and blames. 
High-Quality Metal Body
It has a solid aluminum alloy with a steel moisture body. Moreover, it has an independent system such as USB play and plug. Thus, it allows you to save time. It's 100% metal construction makes it an unbeatable gaming product, no matter if you use it for long hours. Usually, simulation shifters are not that good for regular long sessions, and their mounting gets disturbed, but not in this one. 
Plug and Play
As we touched on this point above slightly, this product offers you a USB connectivity option with other devices—all you need to plug and play anytime. The gaming gear shift setup of this decent choice is superb. It also comes with a stainless steel gear stick and a beautiful blackball for a strong and comfortable grip. All these together take the game up considerably. 
Price Friendly
When you look at its pricing tag and take a look at its features all over again, it will surprise you by charging you around 100 bucks only. It is a manual racing shifter but keeps all the characteristics of an automatic shifter in it. If you create an impartial comparison, you'll acknowledge yourself that it is way worth its price. 
Comfortable Black Ball Design
If I had to tell you what I liked the most about this USB Simulator Gaming device, I would say the black-designed ball with the utmost comfortability. It creates magic by developing an equation with your hands that you love while using it while racing. Furthermore, it doesn't hurt your hands even if you use them constantly for hours.
Making a buying decision takes guts, intuition, and a huge understanding of the product, its features, outlines, pros, and cons. To help you with all these things, I explained this product in five points above; you can make your decision easy by reading those out; if you already had, you must be in good condition to select one of the best sim racing shifters. 

Shop USB Simulator Gaming Gear
5) S18-18 Speed Simulation Shifter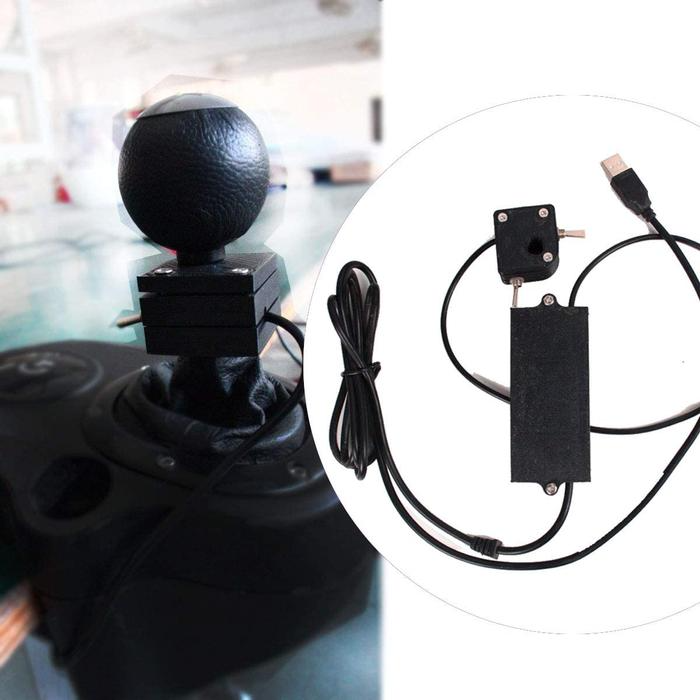 | Specifications | Features |
| --- | --- |
| Model | 18 Speed |
| Weight | 6.4 ounces |
| Color | Black |
| Handle type | Ball |
| Cable | Yes |
| Connectivity | USB |
It is one of the easiest and simplest pucks in this article. It has an easy-to-access button for operating its functions. You can emus it in either hand, and it allows you to assemble it fully and go for use without any further settings needed. That is the reason I considered adding it to the list of the best sim racing shifters.
Enhance Racing Experience to the Max
It enhances your racing to the max, although it has a low height of up to 5 mm only, but it is still good for racing games and adds a distinct flavor or originality in your racing sessions. Its operating system is so easy, there is cable, and you can also connect it through USB tech. You plug the money in, and you are set to use it without waiting for a second more.
No Drivers Needed Mechanism
It has a built-in system that doesn't require any drivers. All you need to do is plug in a USB and use it without setting any additional tools and accessories. When it comes to the overall building of these products, it looks good. Except for a few minor compromises, you can get all that you dream about for your racing. 
Access Button with 360 Rotation
It has an easy-to-use button that comes under your finder's access. It helps you enjoy the device easily. Moreover, the stick can rotate 360 degrees, which is inevitable for any excellent gear shifting device. Furthermore, it is not a deal that your bank says no to; it charges around 35 bucks. 
Best for Logitech Shifter
It is one of the best devices in the market that can do wonders on Logitech G920, G29, G26z, and Logitech G27 shifters. Moreover, it has a comfortable stick and a big black ball to hold, which suits both hands. And you can use it with your left or right hand easily. 
Finding the best sim racing shifters is not a joke. It asks for the clarity of the subject. To solve this riddle on your behalf, I prepared this manual and gathered the five best picks used myself, and found them the best with features. This last one is amazingly low priced, but it is good for racing. It creates an environment to enjoy racing to the max. It eases your racing by providing you with an accessible way to use the system.

Shop S18-18 Speed Simulation Shifter On Amazon
Best Sim Racing Gear Shifter Buying Guide
So, you have come across the easiest portion of this manual, which means the buying guide. Here I put my years of experience in this guide to help you with decision making. I promise if you follow the seven steps below thoroughly, you'll certainly get one you desire.
I took experts' opinions while preparing this manual, and it helped me sum up all the extensive and comprehensive outlines in these seven steps, so let's get started with the first one. 
Accessories
No product is complete without some complementary accessories, and the same goes for the best sim racing shifters. You should always check out the length and other connectivity options.
Moreover, some sim racing shifters come with mounting options, and if you are getting one, you should take it immediately. It'll save your pocket from the extra expense. And mostly, the Mount comes with the device, performs better than the one you get from the market.
High-Quality Prebuilt Material
Building material decides the significance of sim racing shifters. If you go for a sub-standard material to save some pennies, you have to pay through your nose later. So, it would help if you always preferred to buy a sim racing shifter made of quality metal such as stainless steel and aluminum. It adds to the value of the device and helps you attain the desired results. 
Perfect Mounting
Perfect mounting is an inevitable part of a sim racing shifter. It gets you a feel of real racing. If you cannot make it up with a perfect mounting, you'll struggle for a stagnant racing experience. To avoid such misfortune, you need to invest in a good quality mount.
Not all, but a few sim racing shifters come along with the Mount. So, if you can manage to get these together, that's the ideal situation. 
Comfortable Design
Comfortability is the ultimate goal while you buy a product. An excellent sim racing scope can charge you a bit more, but it returns you every single penny in the shape of comfort you crave. Sometimes, the ball in the top of the stick hurts you severely and doesn't allow your hand to grip it well.
Another problem you can face is the glitch in smooth functioning or rotation of the stick while racing. So, make sure the product you are considering is free of all these snags. 
Rotation of Stick 
While making a buying decision for the best sim racing shifter, you should check thoroughly whether its stick is rotating well or not. It's much better if it rotates 360 degrees because that is indispensable for the smooth flow of racing. In addition, it makes things easier for you and excels in the reflectivity of the game. 
Compatibility Options
There are various compatibility options available in sim racing shifters, you should avail of the one with the full options. If you are a racer, you need to go for the possibility that suits the PC the most. You can also have PS4, Xbox One, and Windows 7, 8, 9, and 10. More options give you more freedom of using it on different platforms or the one that suits your gaming style. 
Price Factor
Price plays a significant role in making a buying decision. Usually, 100 to 150 bucks can get you a good, good-quality sim racing shifter. And if you give a bit of a rise to the budget and go up to 300 dollars, you can have premium quality performance. So, the more you give rise to the price, the more the quality of sim racing shifters goes up. But, you are safe to invest in a low budget as well. 
I hope this buying guide and the five best sim racing shifters collection I added have helped you considerably. I found all these five finest and handiest devices in the market right now. And now I am going to suggest one from the bunch to make your buying decision easier and effortless. So, you are safe to go with the Thrustmaster TH8A Shifter. It is an excellent choice in $200 budget. It gives maximum rotation and multiple options for connectivity. Its performance is so precise and up to the mark. The gear shifting is very close to real racing. So, you can have it for feeling the soul of racing. 

Best Recommended Product
Is a shifter worth it sim racing?
Yes, if you grab a shifter for around 200 bucks, you will get an ultra-premium quality device to take your racing up. All it takes is practice; by having regular gaming sessions, you will be able to amuse yourself to the max level.
Is the Fanatec shifter good?
Fanatec shifters are amazing, and their design is exceptionally handy for the gamer. No matter whether you use the H or Sequential pattern, it provides all shifts greatly. In addition, when you need a cover in making the shifter mount perfectly, it gives a 100% cover in finding it.
What is a sequential shifter?
Sequential shorter seams modern and attractive word to call, and it offers automation in changing gears up or down. Moreover, it gives freedom to get rid of extra efforts to make changes. 
Which platform is best for sim racing?
There are different options you can avail for other games, but as far as sim racing is concerned the PC is the best option. Xbox One and PS4 are the best for games like Gran Tourismo and more. But, a PC gives a more fixed experience than another platform.