Coilovers are frequently put on cars to increase handling and performance, but they often need to be set up properly, leading to various handling problems. A significant amount of industry-wide misinformation causes incorrect setups.
It may worsen the situation because several Coilover manufacturers also advise using the wrong ways to set the Coilover up correctly. Coilovers have a staggering amount of flexibility, depending on how you put them up. They can either be wonderful or terrible.
When adjusting your Coilovers, be cautious because you don't want anything to come free and cause an accident. Finally, make any necessary adjustments to your suspension to ensure a comfortable ride every time you hit the open road. This Coilover adjustment guide will provide enough information about how to adjust Coilovers and how to raise Coilovers?
How To Adjust Coilovers for Smooth Ride?
You must first comprehend why Coilovers are uncomfortable and how to raise Coilovers? Before learning how to make them more comfortable. Coilovers are good specifically to enhance vehicle handling. Manufacturers are fully aware of this, which is why they solely consider handling when designing Coilovers, not comfort.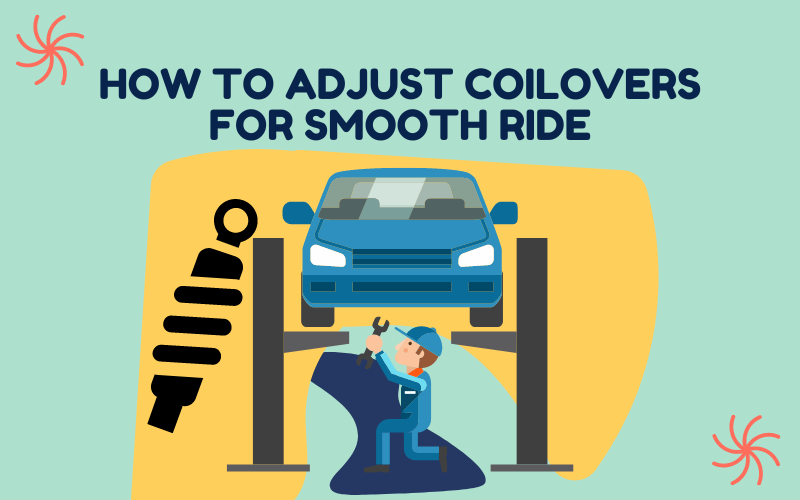 Unfortunately, I've never found that ride quality and handling are compatible. Your car needs to be firm and comfy if you want to corner well. Your automobile won't handle corners well if you desire a smooth ride; your body will severely lean to one side every time you turn.
Here are the ways to adjust the Coilovers for a smooth ride:
1) Purchase Coilovers with The Appropriate Spring Rates
Spring rates influence ride quality the most. You want a reasonable spring rate for a good ride; 280 front/ 160 rear suggest. The ride quality and handling are perfectly balanced here. Look for a Coilover with spring rates near this, even though you don't need this exact figure.
The spring rates fix. Therefore, you must ensure that the Coilovers you choose has the appropriate spring rates. You can only do something if you already purchased Coilovers with excessively stiff spring rates if we go on to the next point!
If you weren't aware, spring rates describe how much pressure is required to compress the spring on your Coilovers. More force is needed to compress a spring with a higher spring rate.
For a smooth ride, there are better options. Because when you encounter bumps, you want the springs to compress as much as possible. You won't experience the bump when driving this way. So, if you want a smooth ride, make sure you pick a spring rate that is low enough. 280/160 is what I advise.
2) Raise the Height of The Ride
You can only have your car lowered if you want a smooth ride. Less space will allow the spring to compress, resulting in a very stiff ride. Additionally, driving on the streets the lower your automobile will be more difficult.
Driveways and speed bumps come to mind. It won't be easy to get through them without damaging your car's bumpers or skirts, which is not a fun experience.
I advise riding at a maximum height of 13.5″ all around. Your automobile will look aggressive and almost certainly avoid hitting speed bumps and driveways. Since I need to find out how high the speed bumps are in your area, I'll say most probable. However, 13.5″ ought to work. However, you must continue to drive carefully!
3) Softer Rebound and Compression
Rebound Control: The speed at which weight departs from your tyres.
Compression Control: The rate at which weight transfer to your tyres.
You must reduce the compression and rebound on your Coilovers for a comfortable ride. Fortunately, it should be easy. A knob that you can simply turn for adjustment is a feature of Coilovers that offers these adjustments.
Not all Coilovers provide adjustable compression and rebound, so keep that in mind. The cost of those that do is typically substantially higher. You have no options here if your Coilovers don't offer this adjustability.
4) Preload Has No Effect on Ride Quality
There are other methods to make your ride better. The preload setting will not affect the riding quality. How much your Coilover's spring is pre-compressed is known as preload. Your Coilovers ought to come preloaded from the manufacturer right out of the box.
If you are trying to figure out what you are doing, I advise against adjusting that. Your car's suspension needs preload to function properly. It forces your automobile's tires down, so they have adequate traction on the pavement. Preload modification does not affect ride quality.
How To Adjust Coilovers Dampening?
Three forms of damping adjustment exist for full-bodied Coilovers: manufacturer pre-set, single adjustable, and double adjustable. Unsurprisingly, manufacturer-pre-set Coilovers are pre-set based on what the company believes you need. These kinds of Coilovers are usually valved for the springs they use.
Before examining Coilovers with adjustable damping, it's critical to comprehend that compression and rebound change. The hydraulic fluid in the shock chamber below compresses when the piston moves into the body.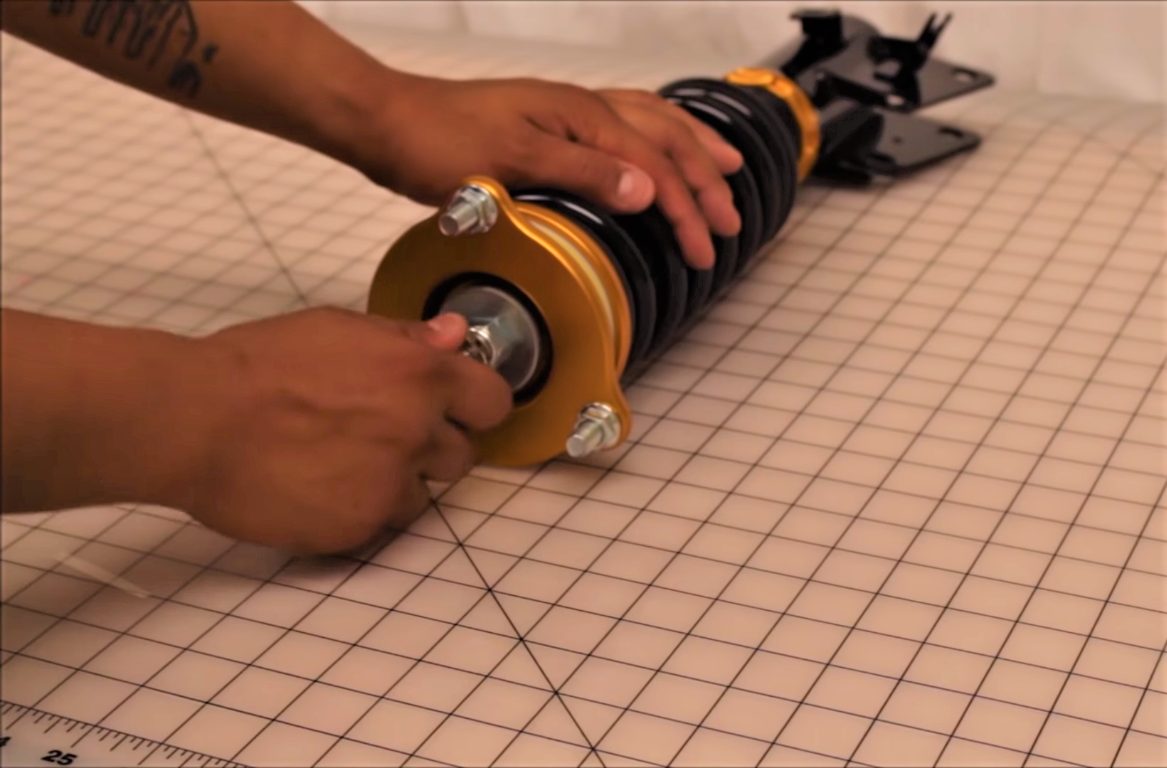 Its hydraulic fluid compress when it yanks away, causing a rebound. Compression generally regulates how the car's unsprung weight moves, while rebound regulates how the sprung weight moves.
In other words, compression determines how quickly weight applies to the tyre, and rebound determines how quickly weight removes from the tyre. Another crucial factor is shaft speed or the rate at which a shock's valves operate. While low and medium speeds primarily influence handling, greater speeds result in smoother riding over bumps.
A decent shock makes to cater to different speeds and scenarios. While higher-end, double-adjustable, or split-level control systems regulate compression and rebound individually, single-adjustable damping simultaneously controls compression and reverse strokes.
Adjustments can be made to 8 distinct user-set settings or up to 32 different positions, depending on the manufacturer. Single-adjustable damping typically influences low-speed rebound and, if at all, has little to no impact on compression. Nevertheless, if the rest of the suspension did not discover on Craigslist, these modifications could enhance cornering.
The internal fluid flow control by a spring-loaded needle valve preloaded by an externally mounted knob on a shaft. Investigate suitable tyres, shock and spring rates, and anti-roll bar alternatives if you want significant changes. It is normally advisable to reserve damping modifications for precise chassis balance and fine-tuning.
How To Adjust Coilovers Height?
Here are the two types of Coilovers and their height adjustments: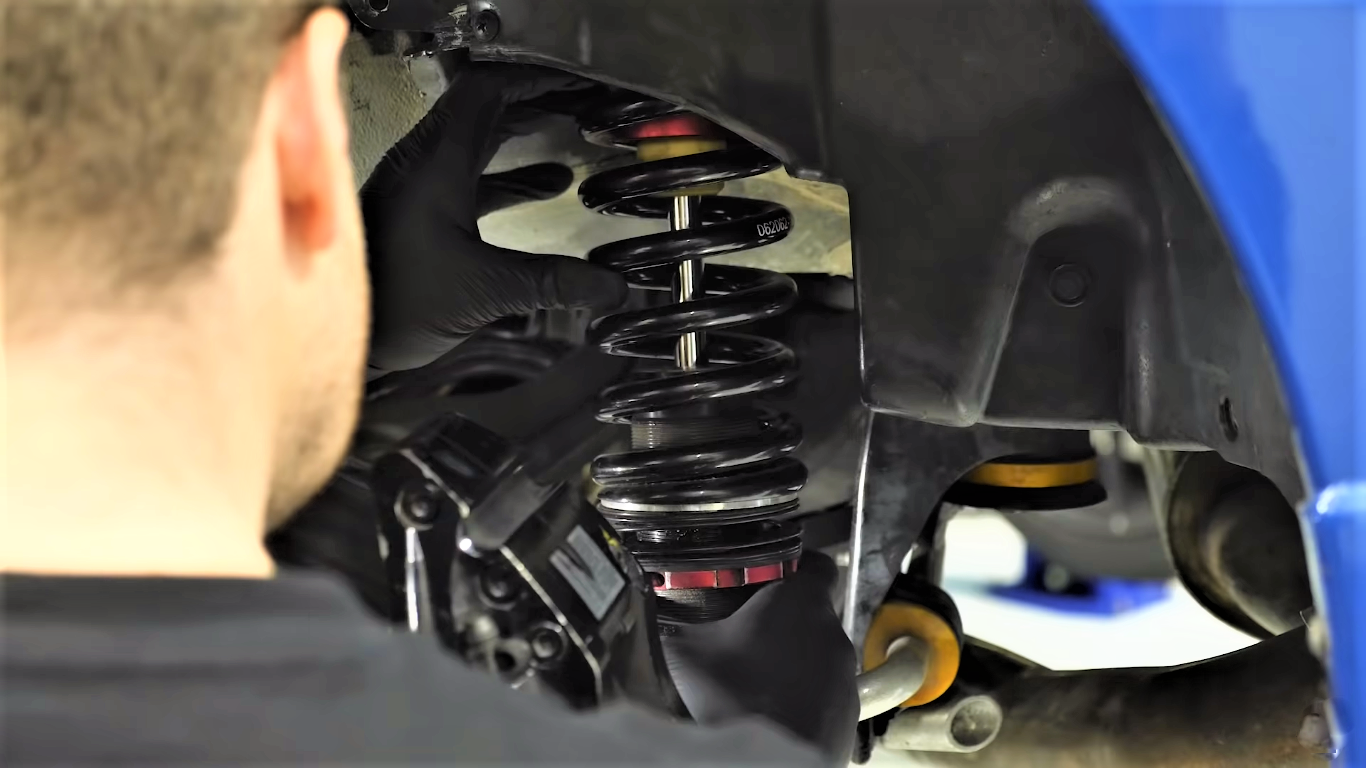 1) Partial Threading Coilovers
Coilovers with partial threading Coilovers with partial threading elevate and lower the car by varying the spring height on the Coilovers. When using Coilovers with partially threaded shock bodies, such as the one in the illustration, you should turn the collars up the shock body to raise the car and down the shock body to lower it.
Unlock collar B by turning your adjustment wrench clockwise before adjusting the Coilovers. Spin collar B along the length of the Coilover by hand once it is free. The next step is to crank collar A clockwise to lower the automobile and counterclockwise to raise it using the adjustment tool.
When the perches are set to your liking, spin collar B back up to collar A and secure the collars against each other using the two included adjustment wrenches. Turn collar A clockwise and collar B counterclockwise to lock.
2) Fully Threaded Coilover
Coilovers with full threading allow for independent ride height and spring pre-load adjustments. Use the provided adjustment wrench to unlock collar C and then counter clockwise turn the wrench to change the ride height of a fully threaded kit.
Spin the lower spindle mount up or down the length of the Coilover once collar C may unfast. The Coilover will need to be lengthy to raise the automobile, and its height will need to reduce to lower it.
By turning collar A or collar B, you may also change the ride height without removing the lower spindle mount's bolts. Just make sure collars A and B fast together first. Once collar C is free, you can lift the automobile by turning collar B counterclockwise or lower it by turning collar A clockwise. You should then tighten collar C against the lower spindle mount after the ride height is where you want it to be.
How To Adjust Camber on Coilovers?
The 4 Allen head bolts on the top of Coilovers that allow for camber adjustment must loose before you may move the Coilover inward or outward. You can tweak the Coilover inward toward the interior of the engine compartment to make the camber more negative.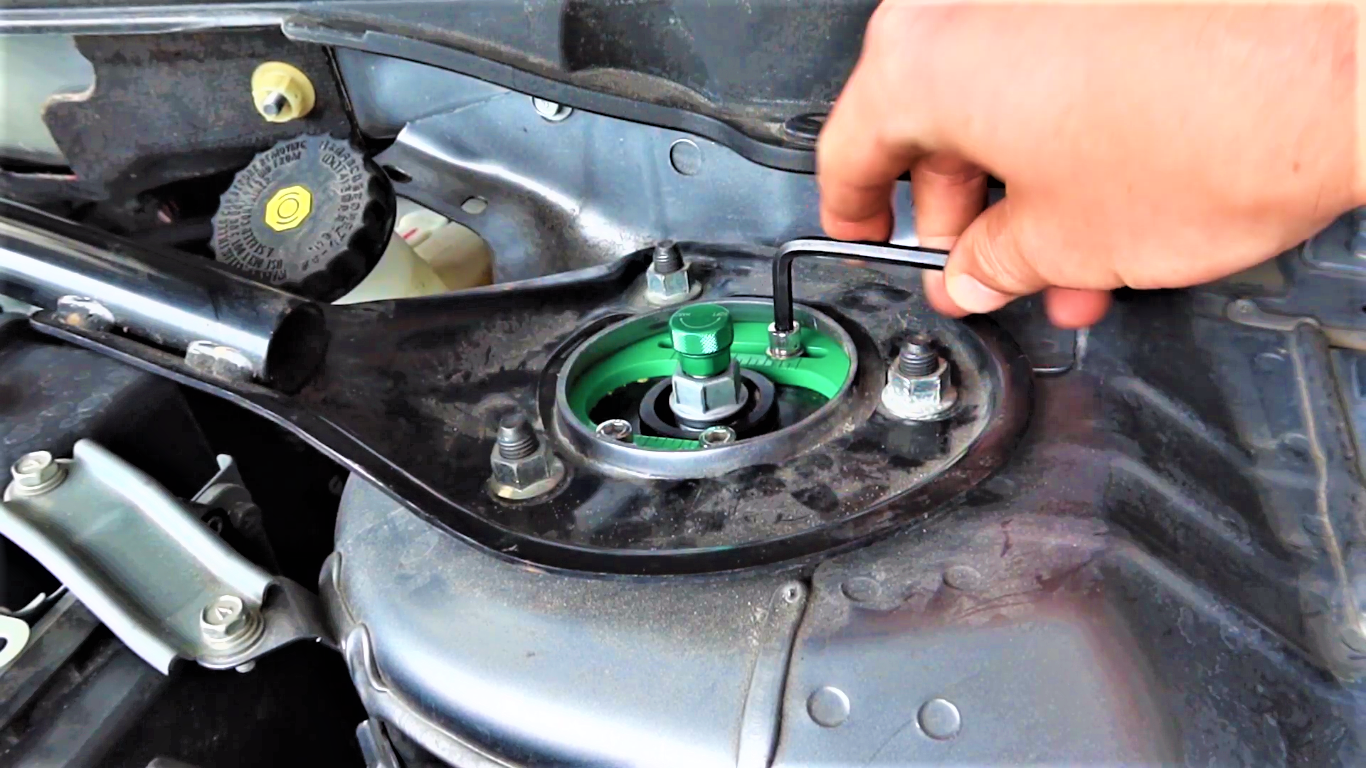 You will relocate the Coilover outside the car to increase the camber. Remember that running greater negative or positive camber may cause your tyres to wear out faster.
How Much Adjustment Do Coilovers Have?
How many adjustments you need depends on what you're doing in the suspension. It will rest between 5 and 10 millimeters once you've switched to Coilovers and a few millimeters more within dialing your fitment. Something will change if you adjust your Coilovers once again after mounting new wheels and tyres.
How To Adjust Coilovers Evenly?
Just get an analog or digital caliper measurement device. Use it only to check the distance between the collars to ensure they are the same.
How To Adjust Coilovers Without Tool?
No! Coilover adjustments need tools to adjust height and camber etc.
Is Coilovers Generally Adjustable?
Most Coilover suspensions offer adjustment options in addition to flexible lowering. The driver can frequently alter the rebound or compression damping and the hardness. Coilovers make it possible to adapt the car, the driver, the track, and the environment in the best possible ways.
How To Adjust Coilovers Without Spanner Wrench?
No! You can only adjust most of the Coilovers adjustments with a spanner wrench.