Your Mac computer will prompt you to select the file system when you partition your hard disc. Your computer stores and retrieves data from its storage media using file systems. Many of us create, save, and back up files as needed without ever considering the type of file system we use.
The file system is how your storage device may store and organize files using the system. The main distinction between all file systems is how data save on the hard disc. Additionally, they vary from one another in terms of file names, file permissions, and other characteristics.
APFS MacOS extended HFS Vs ExFAT, the optimum format for an external hard drive that Mac might use. Everything you need to know about macOS file systems is all covered in this article.
What is the Different Mac File System?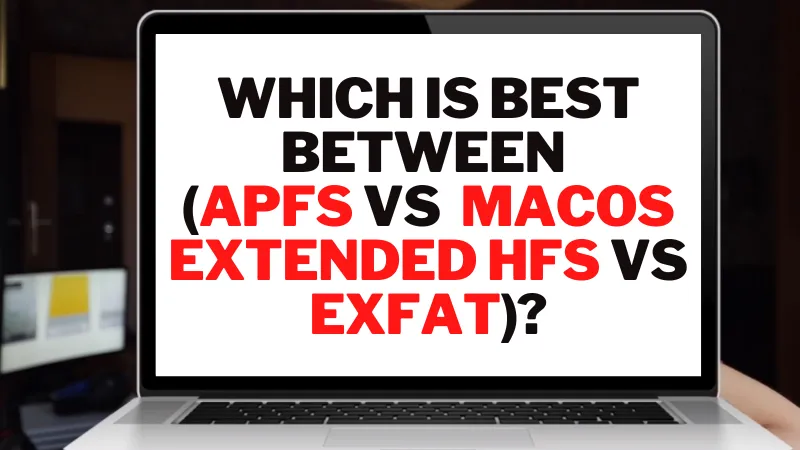 In essence, selecting a file system is one of these three possibilities. Here are different APFS Vs Mac OS extended Vs ExFAT.
What is APFS?
Apple's more recent file system for solid-state devices and flash memory is called APFS. Almost everything is faster with APFS mac OS x filesystem, including data management, copying, and pasting. Similarly, meta-data improvements make it much easier to ascertain file details quickly.
APFS is more dependable. It makes APFS an excellent file system, along with its performance and optimization improvements. It might be a good idea to format a drive to support APFS file systems if you're formatting it for a Mac with an SSD and only intend to use the drive with that Mac.
What is Mac OS Extended?
The previous standard file system for Mac discs was Mac OS Extended, usually called HFS+. The Mac OS Extended file system is only used as the default file system on mechanical and hybrid drives in macOS High Sierra and later macOS releases. High Sierra uses HFS+ instead of APFS for mechanical and hybrid drives.
These have slightly different functions, as follows: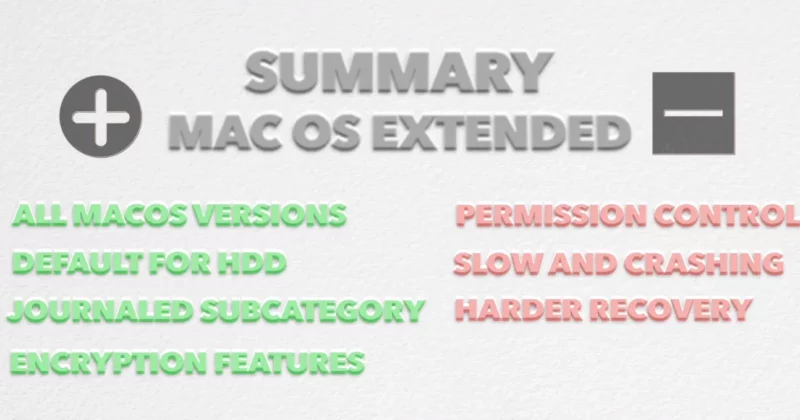 Journaled
It is Mac OS Extended's default and most basic version. Use this choice if you don't require an encrypted or case-sensitive format.
Journaled, Encrypted
It uses the Mac format but encrypts the partition and asks for a password.
Case-sensitive, Journaled
Although it follows the Mac standard, folder names are case-sensitive. Assignments and ASSIGNMENTS are two separate folders, for instance.
Case-sensitive, Journaled, Encrypted
This format uses the Mac format, treats folder names differently depending on their case, asks for a password, and encrypts the partition.
What is ExFAT?
You'll discover that your Mac can read any file on your ExFAT external drive. Add your file to your drive, then write. Update any file on the ExFAT drive as well. Your files can paste directly onto your ExFAT drive. Put your Mac's external ExFAT drive there.
You can use your drive after double-clicking the icon to open a Finder window. Put your ExFAT formatted disc on a Windows computer, and the computer can do the same functions.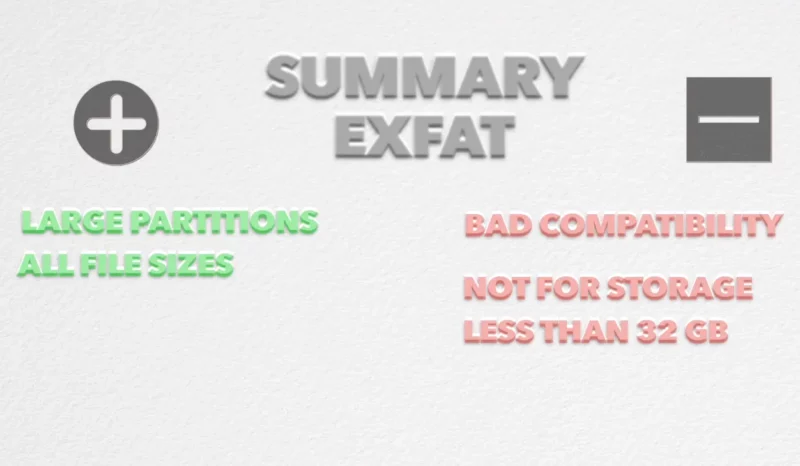 Read each, create new files, and update the drive's contents. However crucial for your Mac. You must format your external ExFAT drive with ExFAT using a GUID Partition Map. On a current version of Windows, you can format a disc in ExFAT format similar to this.
Creating drives on a computer may be unfamiliar to many Windows users. This configuration is required for your Mac for the ExFAT drive to be readable. And it's the reason why a lot of ExFAT drives appear unreadable on Macs. The Mac's Disk Utility makes it simpler to format your external drive with the ExFAT file system. Then you are aware that it finishes.
APFS Vs ExFAT: Which is Better?
Let's see a quick view of these file systems to know which one is better:
APFS Vs ExFAT Performance
APFS successes when comparing APFS Vs ExFAT performance. The speedier file system of APFS has been Mac-optimized and prepared for SSDs. These benefits are not available with ExFAT.
However, the majority of customers use external drives. External hard discs make up the great majority of those external devices. Hard drive optimization needs to improve for APFS. For people who are contrasting APFS and ExFAT.
When using an SSD or external hard drive exclusively on a Mac, APFS is the clear winner. But APFS will only function on a PC with driver software if you're looking for a shared drive. A translation layer is also present in the driver software. The problem with shared drives isn't speed, compatibility is and ExFAT triumphs.
APFS Vs ExFAT Time Machine Backup
The only option between the two when you want a Time Machine backup of your Mac is APFS. A Time Machine backup to an external device with the ExFAT file system does not support Macs. There are a few considerations for your Mac, even with APFS.
APFS Vs ExFAT Sharing File
Have at least a second duplicate of your files on another drive, whether you use ExFAT or APFS. Perhaps in cloud storage. Because external drives using APFS or ExFAT can cause both malfunctions.
As a result, the more secure file system format is APFS. Because it provides superior data recovery, security, and file encryption features over ExFAT. More built-in file protection mechanisms are present in APFS.
The APFS drive will roll back in the event of an unexpected power outage or disconnect. Moreover, it better safeguards your crucial files. Because of this, APFS is the more reliable file system.
HFS+ Vs APFS: Which One is Better for Data Recovery?
Data recovery differs dramatically between AFPS and HFS+. You may quickly recover your data using the APFS file system on your disc. For example, if you mistakenly destroyed or misplaced it. If you still need to replace the files, then this is accurate.
Are Mac OS Extended and NTFS the Same Thing?
For Windows PC users, the New Technology File System (NTFS) option is the default when formatting a hard disc. Imagine it as MacOS Extended for Windows. Additionally, NTFS formatting will be excellent for a strictly Windows environment, much like macOS Extended is in a Mac environment.
Is APFS Quicker than Journaling on MacOS?
The primary distinction between the two is speed: APFS is quicker, although Mac OS Journaled provides reverse compatibility and may use with any Mac OS. While Mac OS Extended typically uses mechanical hard drives, APFS works best with SSD and flash drives.