Using a Mac operating system can be uncomfortable for a gamer. Only some games create with the Mac operating system in mind. Playing Windows games on a Mac can initially seem intimidating once you know the required techniques and workarounds.
On a Mac computer, you may play games in various ways. While some games are fan-made ports and emulator files, several create for this OS. Whatever the situation, I have covered every method about how to play windows games on mac.
Can I Play a Windows Game on My Mac?
Most Windows games can play on a Mac but doing so requires more work than simply installing and running your favorite game. Is there any way to play windows games on mac? Yes! There is. The excellent way to play Windows games on a Mac, is to install Windows via Bootcamp if your Mac supports it.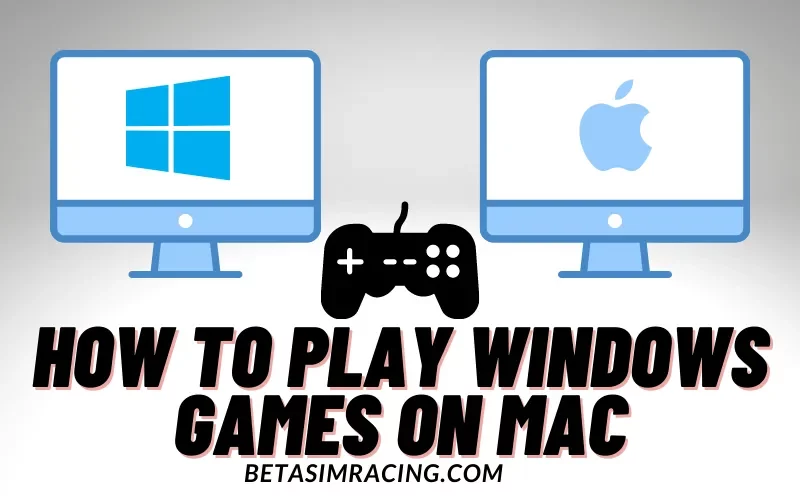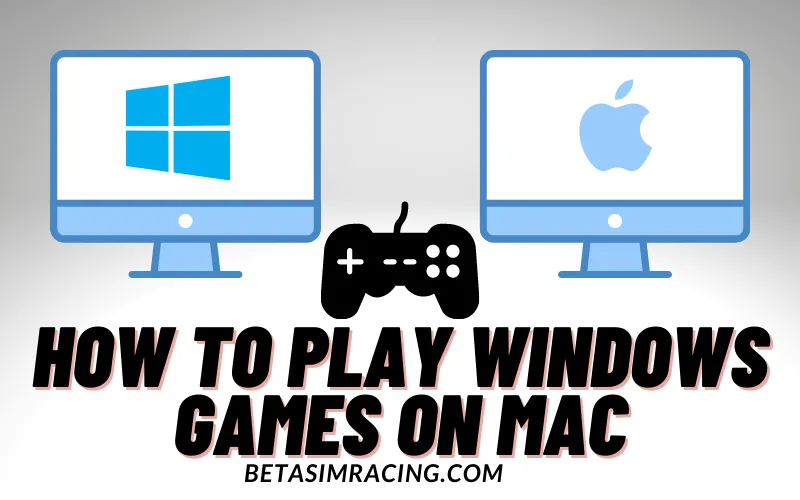 You'll be able to switch between macOS and Windows each time you turn on your Mac and get the greatest possible performance when playing any Windows game.
How Can I Play Just PC Games on My Mac?
Installing Windows on a Mac and thus converting it to a Windows PC is the best way to play Windows games. You can use the official macOS Boot Camp capability by dual booting between a mac OS and a Windows installation.
Windows applications and games will function just as on a Windows PC if Boot Camp correctly configure, and the necessary drivers must install. Consequently, you can play Windows Steam titles and other games that need OpenGL, which Apple no longer supports.
How To Play Windows Games on Mac Without Bootcamp?
Although some games don't have Mac versions, many may still play. How to play windows games on Mac M1? The ideal method is to utilize Bootcamp because it ensures that there will be no performance or compatibility problems.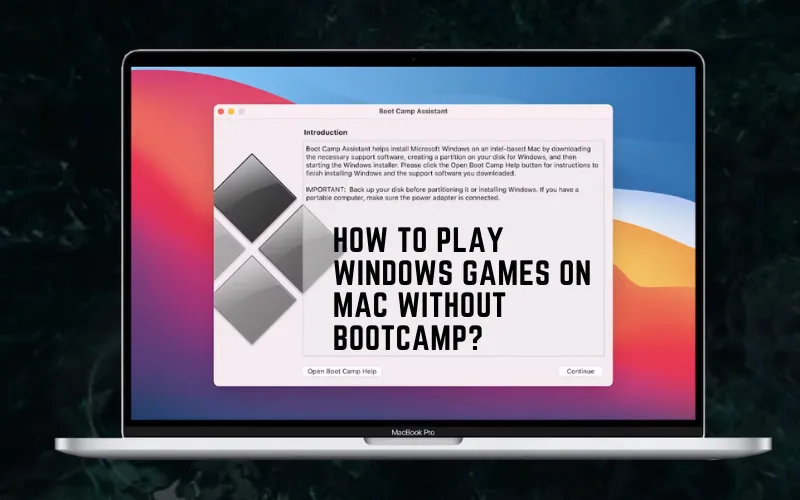 If Bootcamp is not an option, you can install the desired game's Windows version via Wine. To play Windows-only games, you own through a site like Steam. You can alternatively install it using Wine, Geforce, etc. There are several ways how to play windows games on mac epic games without Bootcamp:
Method 1: How to Play Windows Games on Mac with Cloud Streaming
You can use your Mac to play Windows games without really having a Windows computer! How? Cloud gaming is the solution. The game's main computer is hidden away in a data center, while your PC receives streaming audio and video and receives commands from the game.
It can be a great experience if you have a reliable internet connection and reside close enough to the data center for low latency. However, I urge you to use Ethernet rather than Wi-Fi.
The best thing about cloud streaming is that it frees you from being forced to play games exclusively on a Mac. On a mobile device or even some set-top boxes like a Google Chromecast or Android TV, you can pick up where you left off in your game and continue playing.
Google Stadia, Nvidia GeForce Now, Xbox's Xcloud, and PlayStation Now are notable game streaming services. Even better, many of these services are compatible with iOS devices, allowing you to play games on Apple products other than Macs.
Method 2: How to Play Windows Games on Mac with GeForce
If your hardware is ancient, but you still want to play the most recent PC games on a Mac, use GeForce Now. It is a streaming service that utilizes Nvidia servers. Since every game plays remotely, you only need a strong internet connection.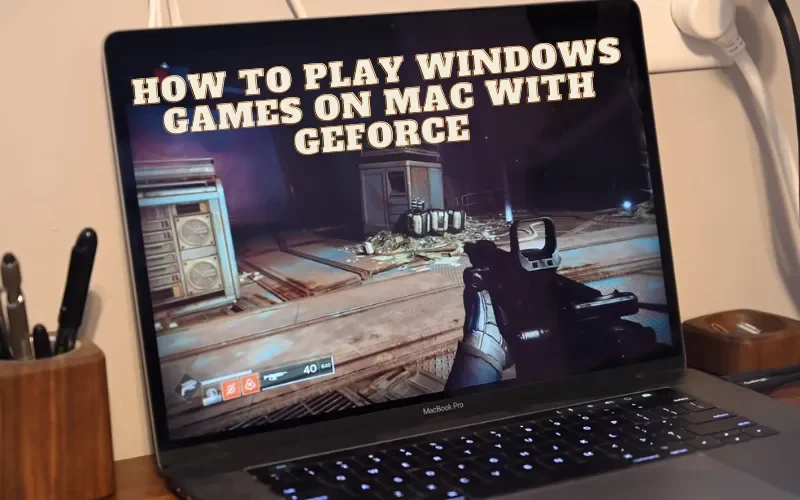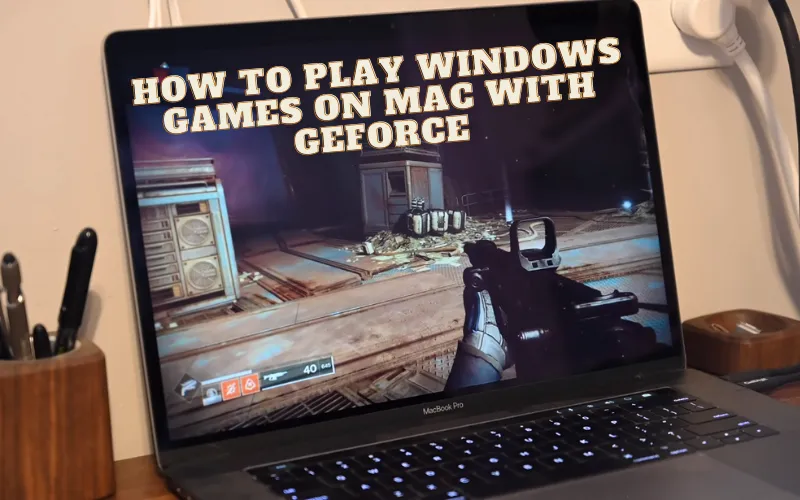 After a protracted beta period, most of its bugs ironed out, and you can now use it to easily play even fast-paced multiplayer games like Fortnite now has a sizable selection of games from Steam, Battle.net, and Uplay. You can start playing your favorite game immediately because most are already stored.
How to play windows games on mac for free? GeForce Now is free, but there is a line to get in, and you can only use it for an hour. You must purchase a Priority Membership if you want to continue playing.
GeForce Now may configure very quickly.
Visit the Nvidia website. Before downloading GeForce Now, you must either create a free account or log in using Google or Facebook.
Download and install GeForce for Mac OS right away.
Register with Your Account. Clicking login will launch a browser page.
To complete this process, click on the Nvidia logo in the center.
Search for games. On GeForce Now, there are many games to choose from. Before playing a purchased game, you must sign into Steam or another service provider.
Start the music.
How To Play Windows Games on Mac Crossover?
Another application that uses Wine is CrossOver. Because of its elegant user interface, it is more valuable than a WineBottler, although it must purchase. CrossOver costs $40, even though a trial edition is accessible for 4 days. The only application that lets Windows games run on modern Macs with M1 processors is Parallels.
Running PC games on a Mac only takes 3 steps with CrossOver.
Install and download CrossOver.
Take Steam. After the application launch, click Install a Windows Application. Use the search bar to look up any software you want to download, including Steam and Origin. Just click install and adhere to the directions.
Look for the Games You Want to Play. When you start Steam, all of the Windows games should be available. Start the ones you prefer from the Library and download the others.
How To Play Windows Games on Mac WineBottle?
Running Windows Steam games using Wine is an excellent alternative. This compatibility layer is not an emulator but can run many Microsoft applications. You may download the well-known Windows programs from its primary hub, WineBottler.
Go to WineBottler and get the app. Invest in a stable version rather than the most recent.
Set it up. Simply drag Wine and WineBottler to the Applications after opening the download directory.
Go to the wine bottle. By selecting the Games tab, find Steam, and then select Install.
Join Steam now. It only takes a minute to create an account quickly.
Obtain Games in the Store. Now is the moment to look through the store and immediately download the games you wish to play. Because many top independent games give away on Steam, no investment is required.
Play. Go to your library when you're ready. Click Play after selecting your game.
How To Play Windows Games on PlayOnMac?
Players can play Microsoft Windows games on their Macs without registering, thanks to the free tool PlayOnMac. Users won't need a license key to use the software, and installation is easy and uncomplicated. Additionally, easy to use, the app lets you play uninterrupted video games.
After swiftly installing the software, users may look for games they previously couldn't play on their Mac devices. Several Microsoft Windows games are now accessible to Mac users thanks to PlayOnMac.
Once the app has launched, enter the game's name into the search field to begin playing. You may easily find the book you want by choosing it from a tidy list of all the results that fit your search criteria. The only thing left is waiting for the game to load before you can start playing at your leisure.
The fact that PlayOnMac maintains the quality of the games is one of its best qualities. The games play with Mac OS in mind! You won't be able to distinguish between the two, and you'll be able to enjoy smooth gaming with excellent graphics and fluent motion.
How To Play Windows Games on Mac with Parallels Desktop?
Like CrossOver, Parallels Desktop runs Windows ARM on Apple Silicon machines via virtualization technology. The people that create Parallels have optimized their software extensively.
Parallels include a unique Games only mode that guarantees the best performance when using OpenGL or DirectX if all you want to do is play games. It's as simple as using Parallels to install Steam for Windows and start your games. I advise purchasing an Apple Silicon Mac with 16GB of RAM because some games play much worse with less RAM.
How To Play Windows Games on Mac M2?
You can use a Mac computer to run Windows OS by setting up a virtual machine. While it may resemble Boot Camp at first glance, the fundamental idea behind it is different. In contrast to Boot Camp, installing a virtual machine does not produce a dual-boot environment.
A virtual machine also operates on top of the primary OS. To access Windows OS, you must use a macOS program. A VM does not directly access your processor and memory, in contrast to Boot Camp. Installing a Windows virtual environment allows you to play games on a Mac.
Do Macs Work Well for Gaming?
Macs are terrific for productivity and making superb business computers, but they do not make to be gaming PCs.
Why is Mac Superior to Windows?
MacBooks' high-quality audio, video, and typing experiences are another factor that sets them apart from their competitors and makes them more immersive gadgets overall. Everything appears sharper on the Retina Display because it has a higher pixel density than most Windows laptop screens.
Which MacOS is the Best for Gaming?
Gaming on Mac is even better with macOS 13 Ventura, especially on powerful MacBooks like the 14- and 16-inch versions. MacOS 13 Ventura will feature improved aesthetics, enhanced speed, and faster load times in addition to a redesigned Game Center experience.