If you're a gamer or a PC enthusiast, you've probably heard the term "backplate" thrown around when discussing graphics cards. But what exactly is a backplate, and why is it important? A backplate is a metal or plastic plate on the back of a graphics card. It serves several important functions, including protecting the PCB from damage, providing additional support to the card, and enhancing the aesthetic appeal of the card.
In this article, we'll dive deeper into the world of backplates and explore why they matter regarding your GPU. So, strap in and get ready to learn all about this crucial component of your graphics card and see what does a backplate do for a GPU!
What is the Purpose of a GPU Backplate?
The purpose of a GPU backplate is to provide maximum support, protect the printed circuit board (PCB) from damage, and improve the aesthetic appeal of the graphics card. Backplates also act as heat spreaders, helping to dissipate heat and improve cooling performance.
Additionally, some customizable backplates can allow for the personalization and branding of the graphics card. While not essential, a backplate can be a useful and visually appealing addition to a GPU.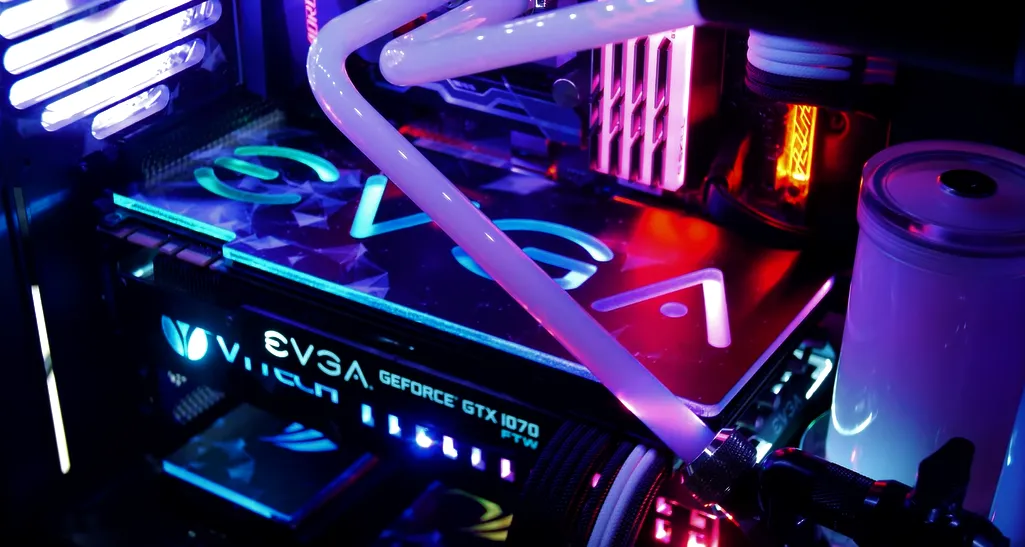 GPU Backplate Cooling
A GPU backplate can provide some degree of cooling benefit by acting as a heat spreader, allowing for more even heat dissipation across the surface of the graphics card. However, the degree to which a backplate can improve cooling performance is relatively minimal.
Other cooling solutions, such as more fans or liquid cooling systems, will impact temperatures more. It's worth noting that some aftermarket backplates are specifically designed to provide better cooling performance, but these are relatively rare and only sometimes necessary for most users.
Customizable GPU Backplate
Customizable GPU backplates are a popular option for enthusiasts who want to personalize the appearance of their GPU. These backplates are often made from high-quality materials such as metal or acrylic and can be customized with graphics, logos, or text.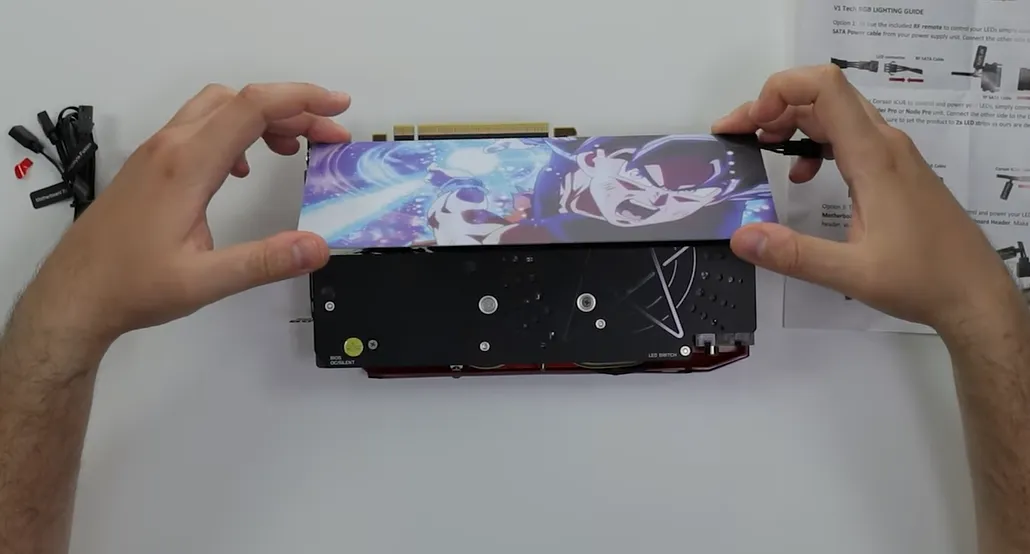 Some manufacturers even offer custom backplates with RGB lighting or other visual effects. Customizable backplates can add a unique touch to a PC build and allow users to showcase their individuality and creativity. Additionally, some customizable backplates may offer some degree of protection to the GPU and can help to improve cooling performance.
Custom Metal GPU Backplate
Custom metal GPU backplates are a premium option for users who want to enhance the appearance and functionality of their graphics cards. Made from aluminum, stainless steel, or titanium, these backplates offer superior durability and protection compared to plastic or acrylic alternatives. Custom metal backplates can be designed with intricate patterns, engravings, or logos, providing a high-end aesthetic that complements the rest of the PC build.
In addition to their visual appeal, metal backplates may offer improved cooling performance by acting as a heat sink and dissipating heat away from the GPU. Overall, custom metal GPU backplates are a worthwhile investment for users who want to achieve a high-quality, personalized look for their PC.
Guide: How to Fix GPU Artifacting?
Do I need a backplate for my GPU?
If you value added protection, improved cooling or prefer the visual appeal of a backplate, then it may be a worthwhile investment. However, if these factors aren't important, a backplate may not be necessary.
Do GPU backplates help temps?
GPU backplates can help dissipate heat away from the graphics card, resulting in lower temperatures and improved cooling performance. Their impact on temps will depend on factors like the backplate's design and the PC's overall cooling system.
Is GPU backplate necessary?
GPU backplate is optional for basic functionality, and it can provide added protection, improve cooling, and enhance the visual appeal of a graphics card.
How to Make a Customizable Backplate for GPU?
You can create your own customizable GPU backplate by following these easy steps.
Design a template that fits the specific model of your graphics card.
Use the graphics software of your choice to create a custom design.
Print the design on a sheet of acrylic or metal.
Cut the backplate to size using a laser cutter or CNC machine.
Attach the backplate to your GPU using adhesive or screws, depending on the design of the backplate and your graphics card.
Best Custom GPU Backplate
Here I recommend some best GPU backplates for your convenience. You can order them on Amazon and see the results.
GPU Backplate Memory Radiator Aluminum Heatsink Cooler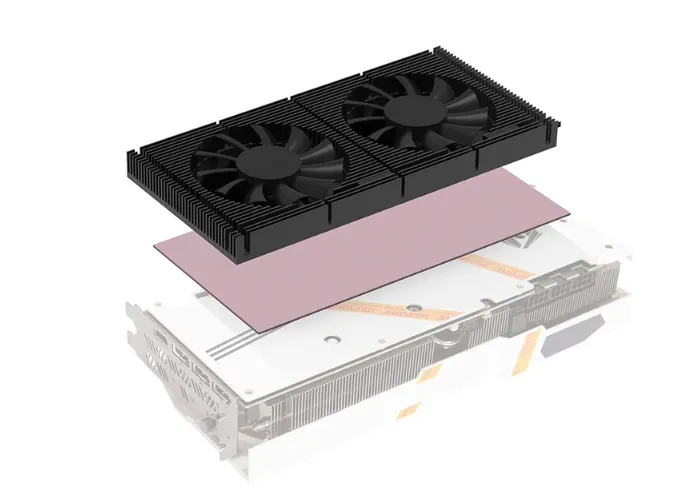 It is a high-performance cooling solution for the RTX 3090 graphics card. Its aluminum heatsink and dual fans ensure efficient heat dissipation, improving the overall performance and lifespan of the GPU. With its easy installation process, this cooler is necessary for anyone looking to enhance their gaming experience.
Phanteks Glacier Series RTX 2080Ti GPU Founders Edition Back Plate
It is a sleek and stylish aluminum cover in a satin black edition. It is designed to fit the specific graphics card model, offering a precise fit and improved aesthetics. The backplate not only enhances the appearance of the GPU but also provides additional cooling and protection to the circuitry.
EKWB EK-Quantum Vector FTW3 RTX 3070 Ti GPU Nickel Backplate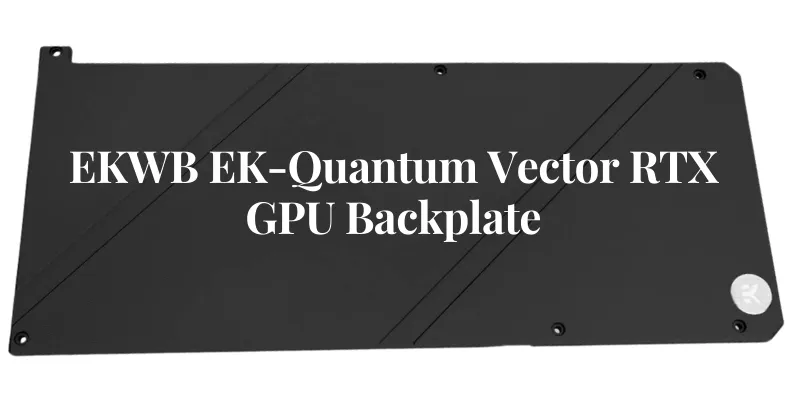 This high-quality and durable backplate adds an extra layer of protection and aesthetic appeal to your graphics card. It is compatible with the EVGA FTW3 RTX 3070 Ti graphics card and provides optimal cooling and support to your system. The backplate is easy to install and has all the necessary hardware for quick setup.
GPU backplate is a component that can serve several purposes. While it isn't necessary for basic functionality, it can provide added protection to the graphics card and enhance its visual appeal. Moreover, some backplates are designed to improve cooling performance, which can be especially beneficial for high-end systems. Whether or not you choose to use a backplate ultimately comes down to your individual needs and preferences.

Conclusion