Evaluation of the computers brings a lot of changes in the devices. Initially computers were quite extensive but now they are compact and portable. The inventions are due to the realization of the process of communication among the parts of the PC.
The centralized circuit board of the PC is known as motherboard that is responsible for all the functions performed in it. Motherboard form factors differ based on size, build quality, and design. Motherboards are also different in their performance and capabilities.
ATX or Advance Technology Extended is much popular among gamers. These forms of the motherboards have integrated I/O panels. It can start and control by Operating System. It also adds up to energy consumption and heat dissipation. It has improved airflow and many expansion slots.
5 Form Factors of ATX Motherboards
Standard ATX
Micro ATX
Mini ITX
Nano ITX
Pico ITX
Our piece of writing will discuss Micro ATX vs Mini ATX vs ATX motherboards. Let's see the comparison table.
Comparison Table Between ATX and Micro ATX, Mini ITX
| | ATX | Micro ATX | Mini ITX |
| --- | --- | --- | --- |
| Dimensions | 12 x 9.6 inches | 9.6 x 9.6 inches | 6.7 x 6.7 inches |
| RAM Capacity | 64 GB | 64 GB | 32 GB |
| RAM Slots | 4 | 2 | 2 |
| PCIe Lanes | 7 | 4 | 1 |
| Dual GPU Support | Yes | Yes | No |
What is Standard ATX Motherboard and its Features?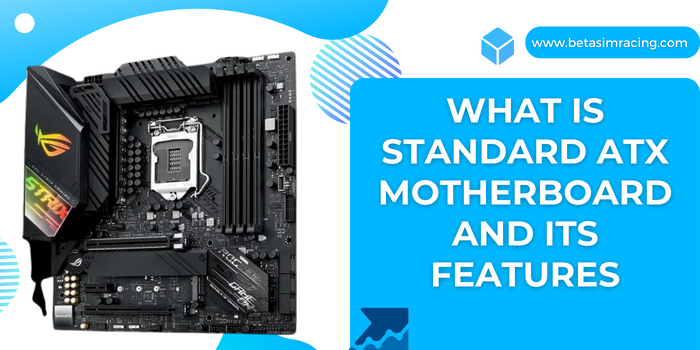 This motherboard was introduced in July 1995 by Intel. ATX means advanced technology extended motherboards. Initially, ATX motherboards did not capture the market until mid-1996. Rapidly introduced the baby ATX board in a new system, the original ATX motherboard referred to as the standard ATX or full ATX 12 x 9.6 (305 x 244).
It is designed for more capable cooling and higher-end components for its voltage regulator module that plays an essential role in overclocking the system. These motherboards are available in different sizes. The most significant difference is Micro ATX vs mini ITX, their size comparison cost in form factor, etc.
Standard ATX Size: 12.0 x 9.6 inches
Micro ATX Size: 9.6 x 9.6 inches
Mini ATX Size: 5.9 x 5.9 inches
ATX Motherboard Size
These motherboards are designed especially for home and office PCs. A full size ATX motherboard size is 12.0 x 9.6 Inches (305 mm x 244mm).
ATX Intel Supported Motherboard
Intel developed the ATX motherboard in 1995 to improve the previous standard AT design. If you require maximum Output to push your CPU and memory to their full potential, then ATX motherboards are almost the way to go. These are the most popular PC form factor. ATX motherboards provide more support to manufacturers. In turn, chill blasts can offer a more comprehensive array of ATX motherboards.
These motherboards are best for workstations and high-end gamers. Some are costly compared to variants but offer the best expansion option. Few ATX motherboards that are currently used nowadays are listed below.
ATX ASRock Rack C422 Motherboard
ATX ASRock Rack EPC612D8 motherboard
ATX ASRock Rack E3C224-V+ motherboard
ATX ASRock Rack EPYCD8 motherboard
ATX Motherboard Intel LGA1151
ATX Motherboard Tray
There is much variety of ATX motherboards tray available on the market. You can order that online and can customize your PC design. I recommend buying Mountain Mods Modular removable motherboard trays. This Aluminum tray comes with Styrofoam peanut padding.
The tray has an I/O panel and exhaust fan panel. All the separate components allow for even better custom applications. The pieces are wrapped tightly together. There is a rear exhaust fan mount panel. You will find an accessories bag with screws, standoffs, and PCI slots.
It possesses a rear I/O and PCI mount shroud. This motherboard tray has been made with brushed Aluminum. It has a large rear CPU access cutout. The screw holes appear accurately aligned. This tray is a bit pricey but is made with good quality material. It has an excellent modular design and quality machined feel.
ATX Motherboard Primary Parts
A motherboard is the mainstay of the computer; it has many parts or components that communicate with each other.
CPU: The central processing unit currently uses 4th generation Intel core i7 / i5/ i3 Celeron premium supports.
Memory: System memory capacity 4x 240 pin DDR3 DIMM slots
Storage: SATA controller Intel Q87, SATA3 6.0 GB/s supports.
Networking: Ethernet; An interface in Gigabit LAN
GPU: Some Intel HD graphics built-in visuals and the VGA outputs are supported only with the GPU integrated processor.
Supported Operating System: Microsoft Windows 7, 8 and 10
Internal Connectors: Some internal connectors are mentioned below.

COM headers: COM 1
Power LED Header 1
Auxiliary Panel header 1
TPM header 1
Fan header
ATX power
USB 3.1, USB 3.0 & USB 2.0
Standard ATX Motherboard
They are large so that you can have more PCIe lanes. This motherboard works best for multi GPU setups and computers with multiple PCIe input devices.
These motherboards are also suited for better overclocking for higher RAM capacity and aesthetic purposes. They are more expensive and do not fit most more minor cases.
Advantages of the ATX Motherboard
ATX motherboards have the following advantages.
Advanced control facility means a BIOS program analysis the temperature of the CPU and its voltage. Due to the overheating, the PC shut down automatically.
It has a stacked I/O connector panel hooked up on the motherboard.
On a socket 7 ATX motherboard, the socket is placed further from the expansion lots, allowing longboards to be placed in easier.
The memory and the CPU were relocated for better ventilation and easier installation.
Power management is made possible with proper BIOS support.
It is possible that a modem and network signals can turn the PC ON, as the main board controls the power supply.
You can quickly turn off your computer by holding the power button for 5 seconds if the computer freezes.
What is Micro ATX Motherboard and Features?
They are almost the same as standard ATX motherboards, but Micro ATX is shorter in length. The benefit of this motherboard is that there are more small form factor cases if necessary.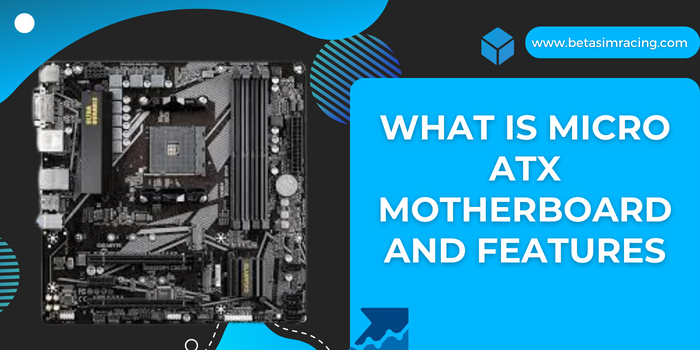 These motherboards are physically compatible with ATX cases and share the same mounting holes as full-size ATX motherboards. The only difference is the bottom row which is a different location to account for its shorting height.
This motherboard is the least expensive option, and ideal for single GPU PC builds. It also has a higher RAM capacity than Mini ITX. Most of the motherboards can fit into any case. These are unsuitable for multi GPU setups and do not provide extreme overclocking. They are typically lacking in aesthetics.
Micro ATX Motherboard Size
The maximum size of the micro ATX motherboard is 9.6 x 9.6 Inches (244mm x 244mm). Micro ATX Motherboard Dimensions show 25% shorter than ATX motherboards.
Micro ATX Motherboard in ATX Case
Intel designs these motherboards, so Intel has made the feasibility for a micro ATX motherboard physically compatible with the ATX casing. They vary in size with ATX and micro ATX motherboards, but the casing will not be the issue. Because they share most of the same mounting holes as full-size ATX boards have.
Micro ATX Motherboard AM4
AM4 motherboards have 4 holes to be connected to the PC case. Numerous motherboards have AM4 sockets. The B series and X series motherboards support the AM4 chipset. When selecting AM4 motherboards, you need to be focused on the form factor. You must set a micro ATX motherboard AM4 in a standard tower case.
Also, check its compatibility with PCIe, memory, and storage slots. Here are the names of some best micro ATX motherboard AM4.
ASUS ROG STRIX B450- F AM4 motherboard
MSI MD X470 AM4 motherboard
Gigabyte B450 M AM4 motherboard
Asrock X399 Taichi AM4 motherboard
Advantages of Micro ATX Motherboards
The micro ATX motherboards show the best performance equal to the ATX motherboards.
These are cheaper than ATX motherboards.
They offer significant expansion with their different slots.
Good airflow can be achieved with a large area and case.
These motherboards are compatible with the latest and high-powered processors.
What is Mini ITX Motherboards and its Features?
This motherboard is also smaller in size. They are shorter in length and height than micro ATX and standard ATX. They have only one PCI lane and are compatible with far more small form factor cases.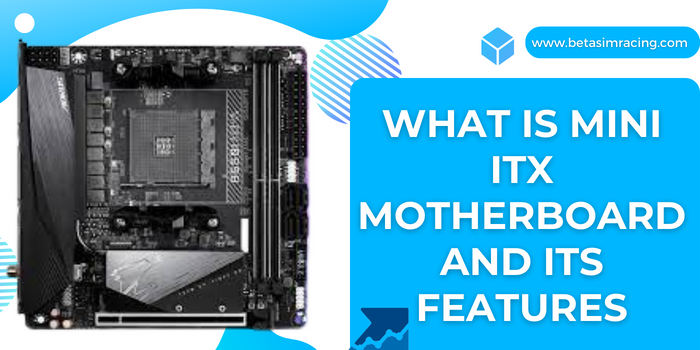 These motherboards are more expensive than micro ATX and do not work multi GPU setups. They do not provide extreme overclocking. They have only two RAM slots. There are various mini ITX motherboard Intel 11th Gen capabilities.
Mini ITX Motherboard AM4
The latest processors can comfortably run with a mini ITX motherboard AM4. This chipset can work with B550 and X570 motherboards having the newest Ryzen 5000 series processors. The mini ITX motherboard on top of the list is Gigabyte B550 Aorus Pro AX. It is a cost-effective motherboard with PCIe 4.0 and M.2 slots.
ASUS ROG Strix B550-I Gaming motherboard is also a Mini ITX motherboard having an AM4 socket. It has DDR4 RAM and SATA 3 support. This motherboard works with its comprehensive cooling and total gaming immersion.
Mini ITX Intel Supported Motherboards
Here I made a list of Intel mini ITX motherboards.
1) ASUS ROG Strix B660-I Gaming motherboard
This compact mini-ITX form factor works with 12th Gen Intel Core processors.
It has LGA 1700 CPU socket and DDR4 RAM.
Has Memory 2 x DIMM, Max. 64GB,
Chipset Intel B660
Memory Speed 6000 MHZ
Platform windows 10
CPU Model Ryzen 9
Optimized Thermal Design
Optimal Power Solution
High-performance Networking
2) MSI H5101 Pro Motherboard
This is a compact mini-ITX Gaming motherboard that outclasses spec.
Supports DDR4 Memory
The main power connector has eight pins
Graphic cards PCI Express
Supports 11th and 10th Gen Intel
Lightning Fast Game experience
Gen 4 x 4 M.2, USB 3.2 Gen 2
Advanced Power Design
8-pin CPU power connectors,
2.5G LAN & Intel Wi-Fi 6E
3) MSI MPG B560I Gaming Motherboard
It supports Intel Core 11th & 10th Gen Processors (LGA 1200)
Turbo Gen3 M.2 slot
1 x PCI-e 4.0 x16 slot
2 DIMMS with DDR4
Dual Channel (64GB Max. / 3200MHz)
HD Audio 7.1 with Audio Boost
LAN Controller 1.5 G
WiFi 6 AX201,
Bluetooth 5.1
4) Mini ITX Motherboard with LGA 1151
It Supports 9th and 8th Gen Intel Core processors
Dual Channel Non-ECC Unbuffered DDR4
Intel Optimum Memory Ready
6 phases IR digital VRM solution with power stage
Advanced thermal design
Extended fin heatsink
Intel 802.11AC and 2 Wi-Fi
Multi-Zone addressable LED light Show Design
Smart Fan 5 with Multiple Temperature Sensors
Hybrid Fan Headers with FAN STOP
Mini ITX Ryzen Supported Motherboards
1) Gigabyte A520I AC motherboard
It supports AMD 3rd Gen Ryzen.
With Socket AM4
Windows 10 compatible and 2 memory slots
Optimized VRM heatsink
Dual band WiFi and Bluetooth
2) Gigabyte B550I Aorus Pro Motherboard
This motherboard is for personal computers with support of Windows 10.
DDR4 RAM technology
Socket AM4 and 64 GB memory storage capacity
PCIe 4.0 and USB 3.2 Gen 2 Type C
Smart fan 5 and RGB fusion 2.0 support
Fast 2.5 Gb E LAN
Advantages of Mini ITX Motherboards
They are the smallest and the cheapest motherboards.
Many applications can be used with Mini ITX boards.
There are several mini ITX boards available on the market.
These are lifelong and compact motherboards.
Many integrated features are offered.
Micro ATX vs ATX Motherboard
This section will see the checkout micro ATX vs ATX motherboards. Here are the Micro ATX vs ATX differences.
Micro ATX vs ATX Performance
ATX motherboards are more significant than micro ATX motherboards. They are more expensive than micro ATX motherboards. ATX motherboards can be perfect for intensive gamers and production houses. It gives more room to install various devices. It can show high-end performance during strict hours of working. There are many PCIe slots and better VRM for a good overclocking speed.
On the other hand, micro ATX motherboards are comparatively smaller than ATX boards but can perform the same as the ATX boards. There is less room for connecting with new devices and less overclocking speed. These motherboards can save energy and perform well. They are cheaper than ATX boards. You can build up a budget-friendly gaming Pc with micro ATX motherboards. The micro ATX vs ATX motherboard performance is almost same.
Micro ATX vs ATX Motherboard Size
There is a visible difference between the size of the ATX and micro ATX boards. Most users believe that the form factors have only this difference and the boards' performance is almost the same. ATX motherboard is 12 x 9.6 inches, while the micro ATX motherboard is 9.6 x 9.6 inches in dimension.
Micro ATX vs ATX Mobo
Micro ATX motherboard is like a subset of ATX boards. It can be fixed in an ATX casing because of its identical I/O panel and other features that ensure the best compatibility between the case and the micro ATX motherboard.
Micro ATX vs ATX Power Consumption
Micro ATX boards run with 50 to 150 Watts of power. For Micro ATX motherboards, an ATX power supply can also be used. ATX board can consume 200 Watt of power. If you wish to know the power consumption of your PC, then you need to know the total current all the components of the motherboard need. Then multiply that with the full volts of the motherboard parts. The power consumption figure is calculated in Watts.
Micro ATX vs Mini ITX Motherboards
This section will see the checkout micro ATX vs Mini ITX motherboards. Here are the Micro ATX vs Mini ITX differences.
Micro ATX vs Mini ITX Performance
Micro ATX is the most common motherboard type and is excellent for office work and gaming PC. Micro ATX is giant than Mini ITX motherboards. Each motherboard has a unique design independent of its form factor. Micro ATX motherboards are equipped to handle four sticks of RAM.
On the other hand, Mini-ITX motherboards have two sticks of RAM. The 2 Sticks of RAM usually are less expensive than 4 Sticks. Micro ATX motherboards have four PCIe slots, although Mini ITX motherboards have 1 number of PCIe slots. If you want a simple-built integrated graphic card, then a Mini ITX motherboard is perfect.
Micro ATX is your best choice to build a single-GPU PC if you want to handle most of the games. Mini ITX motherboards are more expensive than Micro ATX motherboards. Mini ITX is a good choice for those who have small PC space. There are various mini ITX motherboard Intel 11th Gen capabilities.
The micro-ATX motherboards are available in 3 different sizes – standard, maximum, and minimum – while the mini-ITX has one standard, fixed height.
Micro ATX vs Mini ITX Size
Micro ATX motherboards are 9.6 x 9.6 inches, but the mini ITX boards are 6.7 x 6.7 inches. Min ITX boards consume less power and need less cooling than micro ATX boards. This form factor is designed for a compact PC. It can be challenging to install additional hardware for gaming in mini ITX. Mini ITX boards are only favorable in transportation because you do not need to take heavy devices and large gaming PCs for gaming.
Micro ATX vs Mini ITX Power Supply
Mini ITX boards utilize less power than micro ATX boards. It needs less than 100 watts of power for its solid functionality. A 20 – 24 pin power connector is used for the Mini ITX board. Many power supply brands for Mini ITX are available on the market. Micro ATX board also uses a smaller power supply. It must get 450 Watt of power for its better performance.
Micro ATX vs Mini ITX Mounting Holes
The micro ATX motherboard has 8 mounting holes. The mounting holes B, C, F, H, J, L, M, R, and S, are for the micro ATX motherboard in the below picture.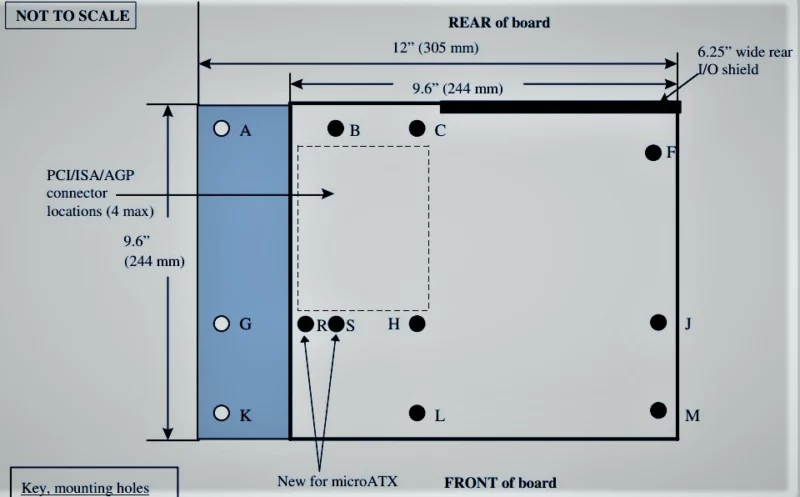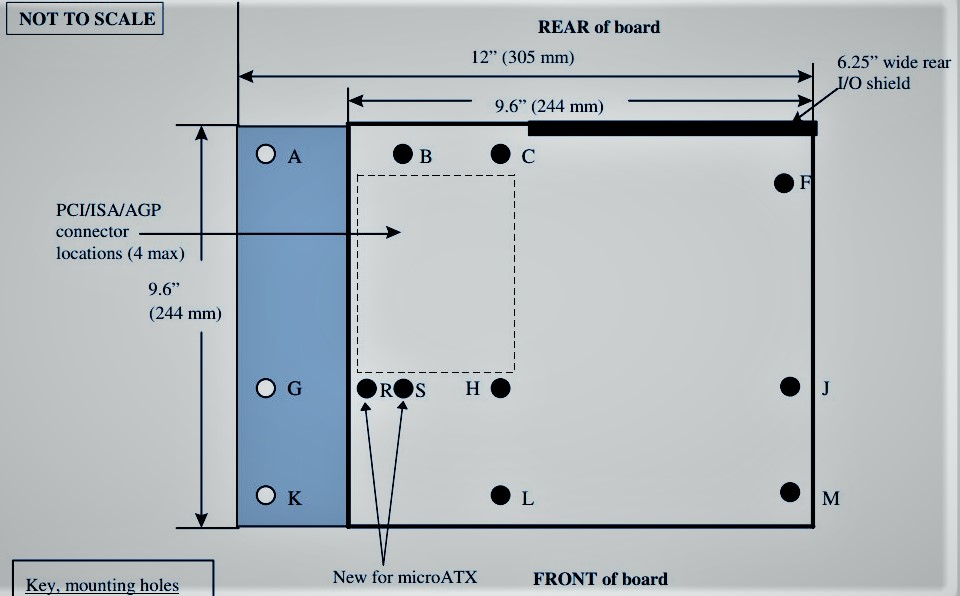 The mini ITX motherboard has four mounting holes. All the manufacturers stick to it. It is the most diminutive motherboard form that can easily fit compact devices.
PC Cases for ATX, Micro ATX, and Mini ITX Motherboards
Here I mention PC cases for each form factor of the motherboard.
ATX Motherboards PC Cases: ATX motherboards are more significant, and they need enough spacing. That is why they can fit in Full Tower and Mid-Tower PC cases.
Micro ATX Motherboards PC Cases: Micro ATX motherboards are more compatible with many Pc cases like Mid Tower, Mini Tower, Desktop, and Small Form Factor (SFF). They require less space and execute powerful results. They are also less expensive.
Mini ITX Motherboards PC Cases: A more significant PC case can fit or fix all the smaller form factor motherboards. Alternatively, a Full Tower PC case can do all the standard motherboard sizes, i.e., E-ATX, ATX, M-ATX, and Mini ITX.
I have concluded that different form factors of the motherboards are suitable for other PC cases. If you prefer compactness and portability, then use Mini ITX boards. If you want a good gaming motherboard with a space-saving design, go for a micro ATX motherboard.
The ATX motherboards offer many features but at a high price. Even though ATX and micro ATX give the same performance status, they differ in price and dimensions. Nowadays, mini ITX boards can also deliver better options for gaming. You can customize your PC and pick the best form factor per your need.

Conclusion