Roblox, the immensely popular online gaming platform, brings joy and excitement to millions of players worldwide. However, encountering technical issues like error code 268 can disrupt your gaming experience. So, how to fix error code 268 roblox.In this article, we will check out the causes of this error, its implications, and most importantly, provide you with effective solutions to fix it.
What is Error Code 268 of Roblox?
Error code 268 is a common problem faced by Roblox players. It occurs when you encounter issues with your internet connection while playing the game. This error can manifest in various ways, such as sudden disconnections, lag, or being unable to join a game session.
Why Does Roblox Keep Disconnecting Me?
One frustrating aspect of error code 268 is the constant disconnections from Roblox games. A multitude of factors, including a weak internet connection, network congestion, or even server-related problems can cause this issue.
You can troubleshoot this problem while considering the following steps:
Ensure a Stable Internet Connection
Verify that your internet connection is stable and not experiencing any disruptions. Try restarting your router or connecting via a wired connection for a more reliable experience.
Close Bandwidth-Intensive Applications
Bandwidth-heavy applications running in the background can strain your internet connection, causing disconnections. Close unnecessary programs while playing Roblox to ensure a smoother gaming session.
Optimize Router Settings
Adjusting your router's settings, such as enabling Quality of Service (QoS), can prioritize gaming traffic and reduce disconnections. Ask your router's manual or contact your internet service provider for assistance.
How to Fix Error Code 268 on Different Platforms?
1) Roblox Error Code 268 on Laptop
These ways can solve how to fix error code 268 Roblox laptops:
Update Graphics Drivers
Outdated graphics drivers can cause compatibility issues. Go to the manufacturer's website and install the latest drivers for your laptop's graphics card.
Disable Third-Party Antivirus/Firewall
Certain antivirus or firewall software may interfere with Roblox's network connectivity. Temporarily disable them and check if the error persists.
2) Roblox Error Code 268 on Mac
Here are the ways how to fix error code 268 Roblox on Mac.
Clear DNS Cache
Launch the Terminal application and type sudo dscacheutil -flushcache followed by pressing Enter. This clears the DNS cache, which might resolve network-related issues.
Check Firewall Settings
Ensure that Roblox is allowed access through your Mac's firewall. Go to System Preferences, then Security & Privacy, finally Firewall and make the necessary adjustments.
3) Roblox Error Code 268 on iPhone
This method will solve how to fix error code 268 Roblox on iPhone: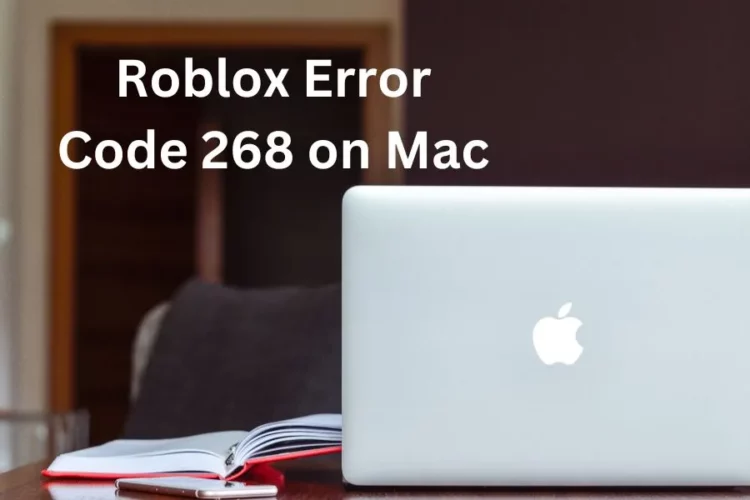 Check Wi-Fi Connection
Your iPhone must be connected to a stable Wi-Fi network. If the problem persists, try to connect to a different network.
Restart Roblox App
Close the Roblox app completely, then reopen it. This simple step can often resolve temporary glitches causing error code 268.
What Causes Roblox Error Code 268?
Error code 268 can stem from various underlying causes:
Internet connectivity issues, including weak signals or unstable network connections.
Firewall or antivirus software blocking Roblox's network access.
Outdated graphics drivers conflicting with Roblox's requirements.
Server-related problems on Roblox's end.
What Error Code is a Ban on Roblox?
Error code 268 is not specifically associated with bans on Roblox. If you receive an error indicating that you have been banned, you will likely see a different error code or a message explicitly stating that you have been banned from the platform.
Does Error Code 268 Go Away?
Fortunately, error code 268 is fixable, and with the right troubleshooting steps, you can overcome this issue. By following the solutions and ensuring a stable internet connection, you can significantly reduce the occurrence of error code 268 and enjoy uninterrupted gaming on Roblox.
How to Fix Error Code 268 Roblox Windows 10?
To fix Roblox Error Code 268 on Windows 10: Run ipconfig /renew and winsock reset commands in the same window.
Roblox error code 268 can be frustrating, but armed with the knowledge provided in this article, you can tackle it head-on. By understanding the causes, implementing the appropriate fixes, and optimizing your device's settings, you'll be back in the game in no time.

Remember, a stable internet connection and keeping your system up to date is vital to maintaining a seamless Roblox experience. Happy gaming!

Final Words