Discord show the user's status, so let's see what your discord status says about you.
Online: You have no life and can't live without Discord.
Idle: You always leave your computer on overnight.
Do not Disturb: You get too many messages or are just trying not to get distracted.
Invisible: You are trying to hide from someone.
A funny Quote: You always hope someone at least chuckles after reading.
A Meme: You are a troll, and you send more memes on Discord than you do anything else.
Song Lyrics: You consider yourself mature.
Something Edgy: You just went through a breakup.
The list goes on…
But here, we are gonna talk about Idle. Let's get deep inside Discord status. Lets find what does idle mean on discord.
Discord Status in Details
What 'Idle' Means in Discord?
The idle status on Discord helps inform other users that you may not be actively monitoring Discord. You may be unable to respond to their messages or participate in real-time conversation.
You can show this to others by clicking on the status option, you can see idle status along with invisible and do not disturb. If a user has been inactive on Discord for a certain period, Discord will automatically label them as Idle.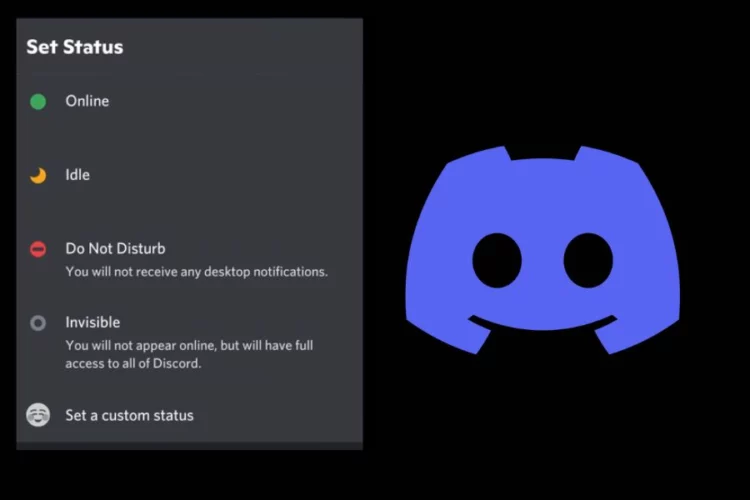 Discord detects inactivity based on mouse movements and keyboard strokes. After a set duration of inactivity, typically a few minutes, the user's status changes to 'idle.' It's a subtle way to indicate that they might not be actively present but could return shortly.
What Does Invisible Mean on Discord?
Invisible is a status that conceals your presence on Discord. When you're invisible, others can't see that you're online, even if you are. It's handy if you want to lurk or check messages without drawing attention.
What Does Do Not Disturb Mean on Discord?
There's 'do not disturb' (often abbreviated as 'DND'). This status is like a digital "do not disturb" sign on your virtual door. Setting your status to 'DND' implies that you're engaged, focused, or simply don't want to be disturbed. People who message you will see this status and hopefully refrain from sending messages that interrupt your concentration.
Idle vs Offline Discord
Both the terms idle and offline seem similar, but they are different on Discord. Idle means the user is inactive for a short while. It usually occurs when the user has yet to interact with Discord or their computer briefly.
While being offline shows that the user is not connected to the Discord platform. When you're offline, others can only send messages or reach out through Discord once you return and change your status.
How Long Does Idle On Discord Last?
If you stop interacting with the Discord app within 5 minutes, your status will automatically turn to Idle. You can change this duration manually. In the settings menu, click on Privacy & Safety. And find the Idle Time section. When you adjust the time there, you can idle for the preferred duration.
Why Do People Go On Idle On Discord?
I don't know about people, but I go idle for various reasons on Discord. I feel it's a polite way of indicating not to be readily available to respond to messages.
Yes, when you are busy in your game, you avoid distractions. Likewise, imagine these situations when you see an Idle sign for a specific profile.
They are on Short Breaks, and they'll return shortly.
They're juggling multiple tasks and not actively using Discord.
They want to avoid interruption during focused work or gaming sessions.
Someone is quietly observing a conversation or channel without actively participating.
How do you know if someone is idle on Discord?
You can look at the user's Avatar; if it has a slight orange dot, this means Idle. In a server's member list, idle members are indicated with the word idle next to their name.
How do you stay idle on Discord 24 7?
To appear idle on Discord 24/7, enable "Idle" status in your user settings and make sure your Discord client is running, but remain inactive on your computer or mobile device to trigger the automatic idle status.
Can I stop Discord from going idle?
To prevent Discord from going idle, you can interact with the application periodically by sending messages, joining voice channels, or actively participating in server activities. Discord typically keeps you active as long as you're actively using it.
How do I hide online on Discord?
To hide your online status on Discord, set your status to "Invisible" in your user settings. This will make you appear offline to your friends and contacts.
There are various Discord status options, including idle, invisible, and do not disturb. These show users' online presence and interactions. They are valuable tools for indicating your availability and intentions to friends, colleagues, and fellow gamers on the platform.

By reading this article, you can use them effectively. So, let's enhance your Discord experience, and ensure productive interactions in the digital world.

Final Words