When I was looking to buy my 4K monitor, I searched for features like a 27 or 28 inches size and VESA mountable. I needed to renew my workplace and wanted my stuff to be set with a lot of space. My budget was around $300. I searched for many hours and finalized to buy Samsung UR55 series 28 IPS UHD monitor because its review convinced me to buy that. Let's have a look at the samsung – ur55 series 28 ips 4k UHD monitor review.
Samsung UR55 Series 28 IPS 4k UHD Monitor Specs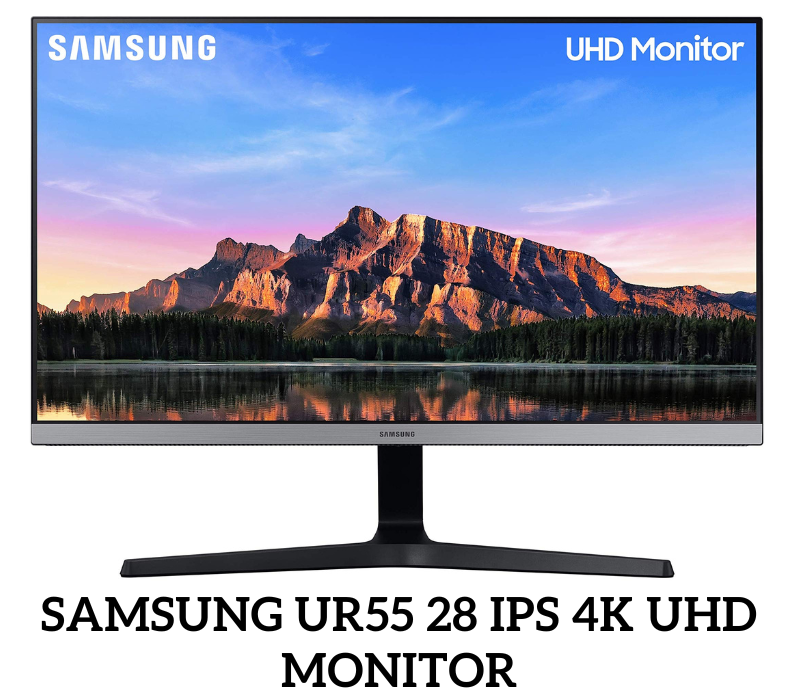 | Specifications | Featured Value |
| --- | --- |
| Screen size | 28 Inches |
| Display resolution maximum | 3840 x 2160 Pixels |
| Special feature | Wall Mountable, Tilt Adjustment, Flicker-Free |
| Refresh rate | 60 Hz |
| Connectivity technology | 2 x HDMI, 1 x Displayport |
| Aspect ratio | 16:9 |
| Display type | LED |
| Specific uses for product | Personal, Gaming, Business |
| Contrast type | 1000:1 |
| Color support | 1B |
| Color Gamut | 0.9 (DCI coverage) |
| Viewing angle | 178 degrees( horizontal/ vertical) |
| Windows certification | Windows 10 |
| Brightness | 300 |
| Response time | 4 Milliseconds |
Samsung UR55 4K UHD Monitor Unboxing
I bought a new Samsung. Which is UR55 and 28 inches IPS panel. Inside the box, you will find the manuals, an HDMI 2.0 cable with premium red caps, and of course, the AC adapter, which you can see, has small bricks.
The Stand comes in two separate parts, which you will have to assemble, but as you can see, assembly is as easy as typing a screw with a latch for an easy grip. At the back side of the monitor, you will see the corresponding holes, or you can gently slide the shaft of the base in until it's nice and snug.
The Stand is not height adjustable, and it is not able to tilt. When you check out the connections from left to right, you have a headphone output, two HDMI 2.0 inputs, and Display port 1.2 on the far right. You have USB input and DC power connections.
It is face-mount compatible and supports the 75 x75 mm configuration. Looking at the front, the unit has a nice matte screen which will reduce reflection, versus a glossy screen or even a window can be a pane, as I noted earlier.
It is an IPS panel so the viewing angles will be much better than, say, a TN or VA panel making it a much better choice for overall users. The three sides of the screen are virtually bezel-less, so we should set up dual monitors so the border would be almost invisible.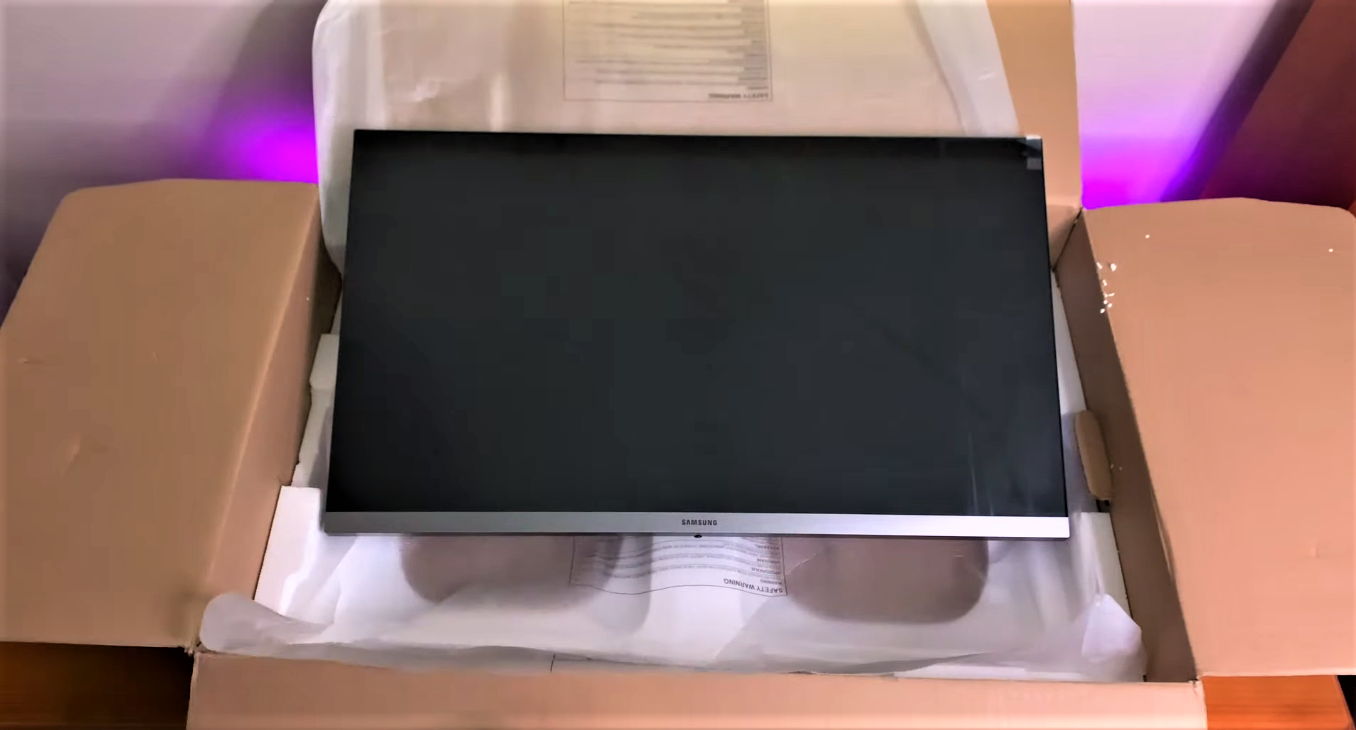 Its Stand is over 18.5 inches tall, has a depth of 9.8 inches, and has a weight of 12.8 pounds. The button centered on the bottom of the monitor pop-up menu will appear. Clicking left allows you to select your source and choose from your display port in HDMI inputs.
Clicking up takes us to the main menu, where you can adjust various settings such as picture mode, including custom standard cinema dynamic contrast, or other picture modes you prefer. You can also adjust brightness, contrast, sharpness, existing color, and settings, increase clarity, turn the eye saver On and Off to reduce eye fatigue, turn on the game mode, and change the response time to improve your gaming experience.
You can adjust the transparency or position of the display under the system. You can run a diagnostic check that the display board turns off and on, free sync, and more. Eco saving adjusts the timer toggle between PC and AV Mode source detection. You can reset it back to factory settings.
Finally, you have all the monitor information you need. Let's move on.
Related article: best triple monitor wall mount
How to Install Samsung UR55?
The monitor is designed with premium plastic and aluminum with a stylish, durable stand weight of around 11 pounds without a stand and 12.8 with a stand. The monitor base is simple to install. Just slide the neck in, align the leg to the bottom of the neck, and secure it with a single screw that you can hand thread or use a screwdriver.
Samsung UR55 Series 28 IPS 4k UHD Monitor Design
LU28r550uqnxza review shows that this monitor also has a two-tone design, with the bottom strip having an aluminum look, the sides having a black bar, and the base having a darker gray color. The stamp provides cable management so you can route your cable through the back of the Stand for a cleaner look.
The monitor has a 28 inches Ultra high definition display with a matte finish, reducing reflection and giving you the most optimal viewing experience.
At the bottom of the monitor, there is a joystick for navigation purpose for a simple setting, which make it easier to reach a slight improvement from there, you can access the display setting, brightness, etc., there, and you can select from the pre-configured mode.
Samsung UR55 4K Monitor Picture Quality
The Samsung UR55 28 inches is an ultra, high-definition monitor. It is best in every aspect, like its price, size, and spec. The Samsung monitor is designed with the latest innovative technology. The monitor supports 4 billion colors that provide smooth color gradients.
It has a 4K resolution 3840 x 2160 to give you the best picture quality and realistic visual experience. Its IPS panel technology saves your eye from eye strain, gives you a decent color and excellent contrast ratio, and provides clarity across every inch of the screen.
The Samsung monitor gives you the best viewing experience and comfort to your eyes, which means eye comfort display. Its wide viewing angle gives you accurate viewing from various positions. The HDR-10 delivers a sharper, higher contrast, more significant color, and brightness range.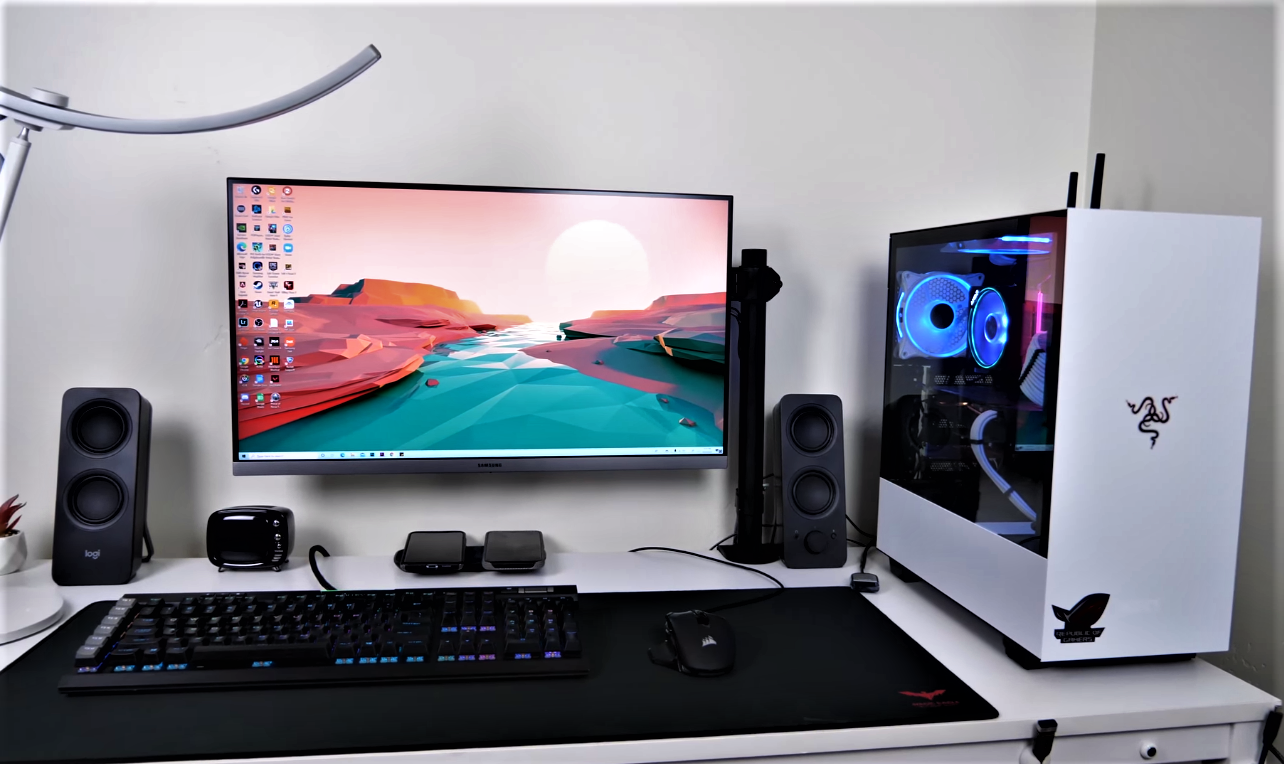 Increasing the brightness and color will support the best gaming environment or graphics and be highly supportable for content creation, video editing, etc. The AMD-accessible Sync technology of the Samsung ur55 gaming is designed to eliminate tears and stuttering in games and videos. It has a 4ms response time.
The stylish flat monitor 28 inches with 3 sided frameless design makes this view unique, and you can enjoy stunning UHD content. It supports dual monitor setup when you are busy multitasking, like gaming, graphic work, and any professional work. The 4k monitor enables you for the best content creation, photo editing, video editing, and gaming experience.
Samsung UR55 review shows that it features Picture by Picture that separates the screen into two parts with the two different sources simultaneously. It also supports picture-in-picture by inserting another picture on the screen for viewing for your best professional content creation. You can view multiple videos and one screen. This also helps you to do highly professional work like zoom meetings, online classes, etc.
Samsung UR55 4K UHD Monitor Video Quality
The video quality on this monitor is fantastic with its 1 Billion colors and 4K UHD resolution. It delivers a realistic visual experience with a perfect IPS panel. The wide viewing angle and HDR10 make the video more aesthetic. Deep blacks and bright whites appear in the videos with a comfortable eye display.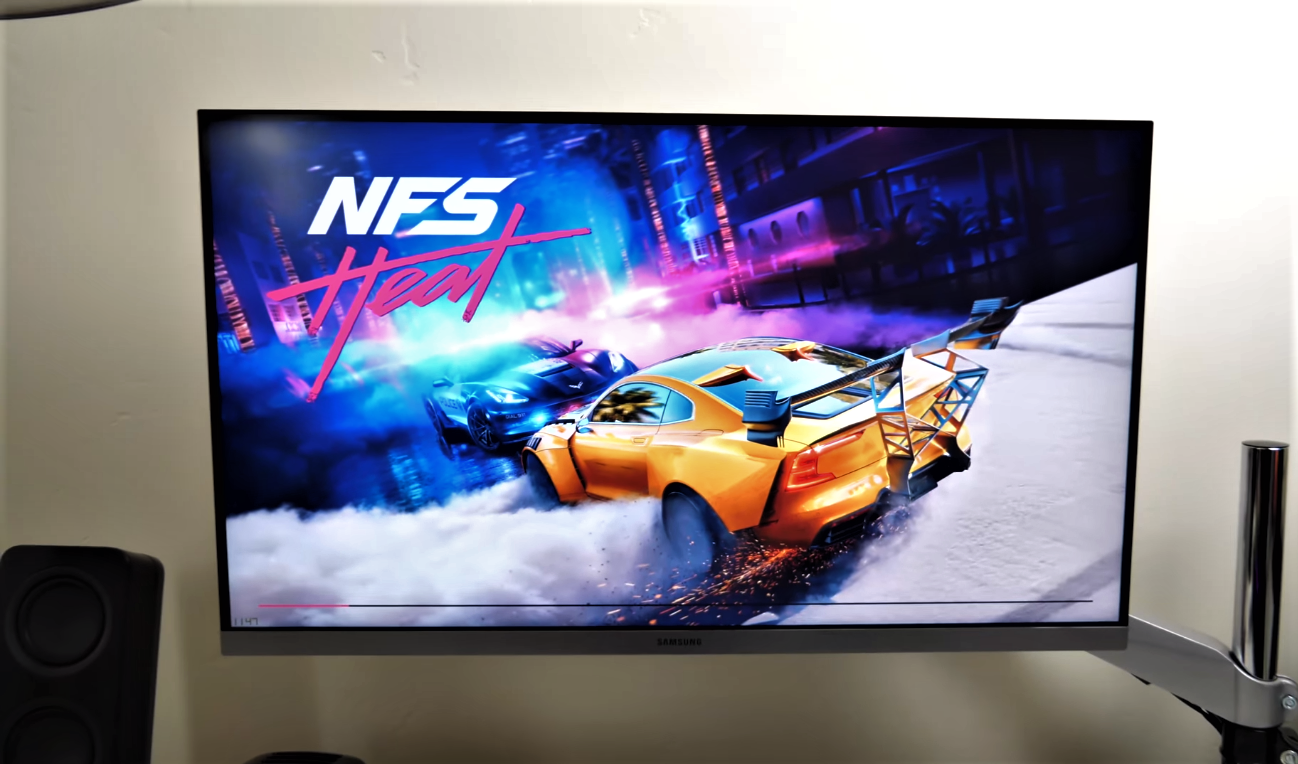 The Samsung ur55 gaming monitor has a blue light screening without color distortion. There is a complete eye relaxation scene with AMD FreeSync with no more tears and stuttering. You can see Picture in Picture (PIP) and Picture by Picture (PBP) due to the Bezel-less design. Samsung ur55 refresh rate is 60 Hz that make it perfect for gaming.
Is it Worth Getting a Monitor Stand?
If you spend much time in front of your computer for your professional task, gaming, or videos, then using a monitor with an arm gives greater flexibility and comfort with the Stand. Even if it's a worthwhile investment, it improves your posture, relieves your neck pain, and gives you free space on your desk. Many monitor stands are available in the market at different prices, but this monitor comes with a stand, and you don't need to buy a new one.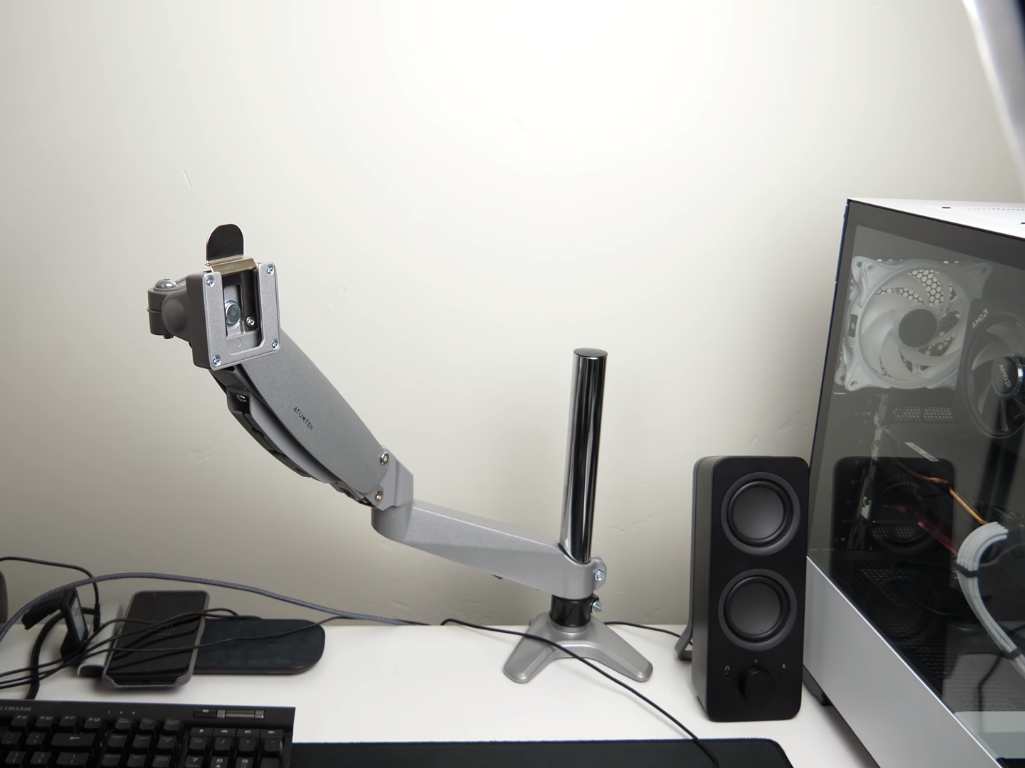 The Stand only provides a tilt of about -2 to 15 degrees. This monitor arm only has tilt supports. It does not provide a rotating, swivel, or pivots facility. The 75 x 75 mm VESA mount encountered a little interference when putting the monitor arm plate on the back of the monitor. It's design for either 75 x75 mm or 100 x 100 mm mounting holes. The VESA mounting interface offers stability and display stand or wall mounts.
How Do I Remove the Stand from my Samsung Monitor?
Face down your monitor.
Make sure you go on a desk, not the floor on the carpet, to avoid scratching the front of the screen.
To disassemble the stands from the monitor, press the lower part of the monitor with one hand.
Just hold part of the central unit and pull it apart like that will be removed quickly and smoothly. Then remove the stand neck from the stand base by turning the screw in the arrow.
Samsung UR55 Supportive Ports
On the back of the monitor, you will find the connection ports, 2 HDMI, and 1 display port that support 4K at 60 Hz. It also has USB 8 ports that do not provide power or data transfer. It is only to perform software upgrades using a USB flash drive and then the power port.
Benefits
Vibrant IPS Screen with a spectrum of tones
Decent Default Color Accuracy that reveal every detail
Crisp and Clear with perfect dynamic range
Affordable monitor without harmful lights
Super fluid motion and display with no borders
Multi productive for gaming and other work
Drawbacks
No built in speakers
Monitor height is not adjustable
Does the Samsung ur55 have speakers?
The monitor does not have built-in speakers. It would help if you were ready to buy a pair of speakers. The sound comes from the laptop that is connected to the monitor. You can use your headphone jacks during gaming.
How do you tilt the Samsung ur55?
The Samsung UR55 monitor can be tilted by gently pushing the top of the monitor. You can tilt it down and back. It is stiff because of its maintaining durability. The height of the monitor is the same.
Is Samsung UHD monitor good for gaming?
The aspect ratio of 16:9 of the Samsung UR55 monitor is good for gaming. The ultrawide viewing angle and perfect colors make it more convenient for gaming.
Is UHD good for PS5?
PS5 can play on 4K UHD monitors like Samsung UR55. You can watch 4K Ultra-HD movies in full resolution on the console.