One of the best rogue-like games on Switch is, without a doubt, Risk of Rain 2, but Survivors of the Void, the game's first significant expansion, will be available for another several months. The development was supposed to be released on consoles this winter, but it now appears we will have to wait until at least next year.
Although it is disappointing to have to wait even longer. On the plus side, this extra time will use to redesign the game for future platforms and PC compatibility. It should dramatically reduce the time between content updates on PCs and consoles in the future.
If you are wondering about the risk of rain 2 update schedule. This article will explain the Risk of rain 2 console update in 2022.
What is the Risk of Rain 2 Console Update Release Date?
The first expansion for Risk of Rain 2 Xbox update 2022 is Survivors of the Void, released on March 1st, 2022. And Steam, along with its corresponding update and subsequently in 2023 for consoles.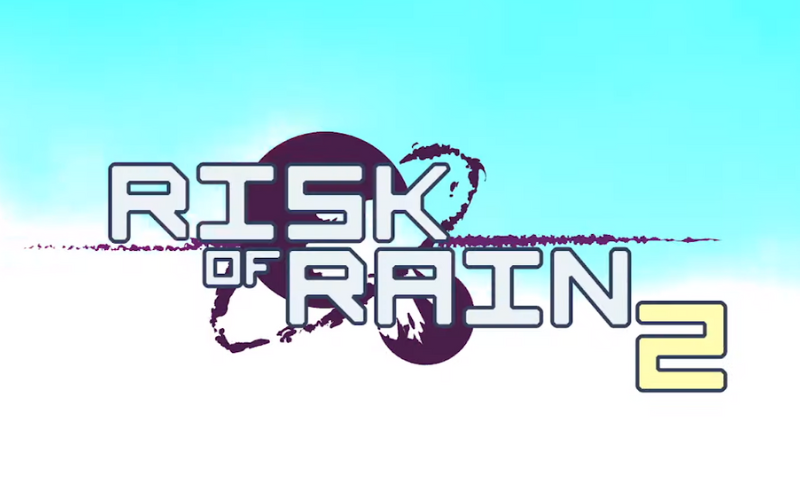 Risk Of Rain 2: Is It Worth It?
If you like the original, buying this is worthwhile. I've found Risk of Rain 2 entertaining, and I still need to solve many mysteries. There is no rush; I will locate them in due time. Petrichor V is a tough and enjoyable place to survive.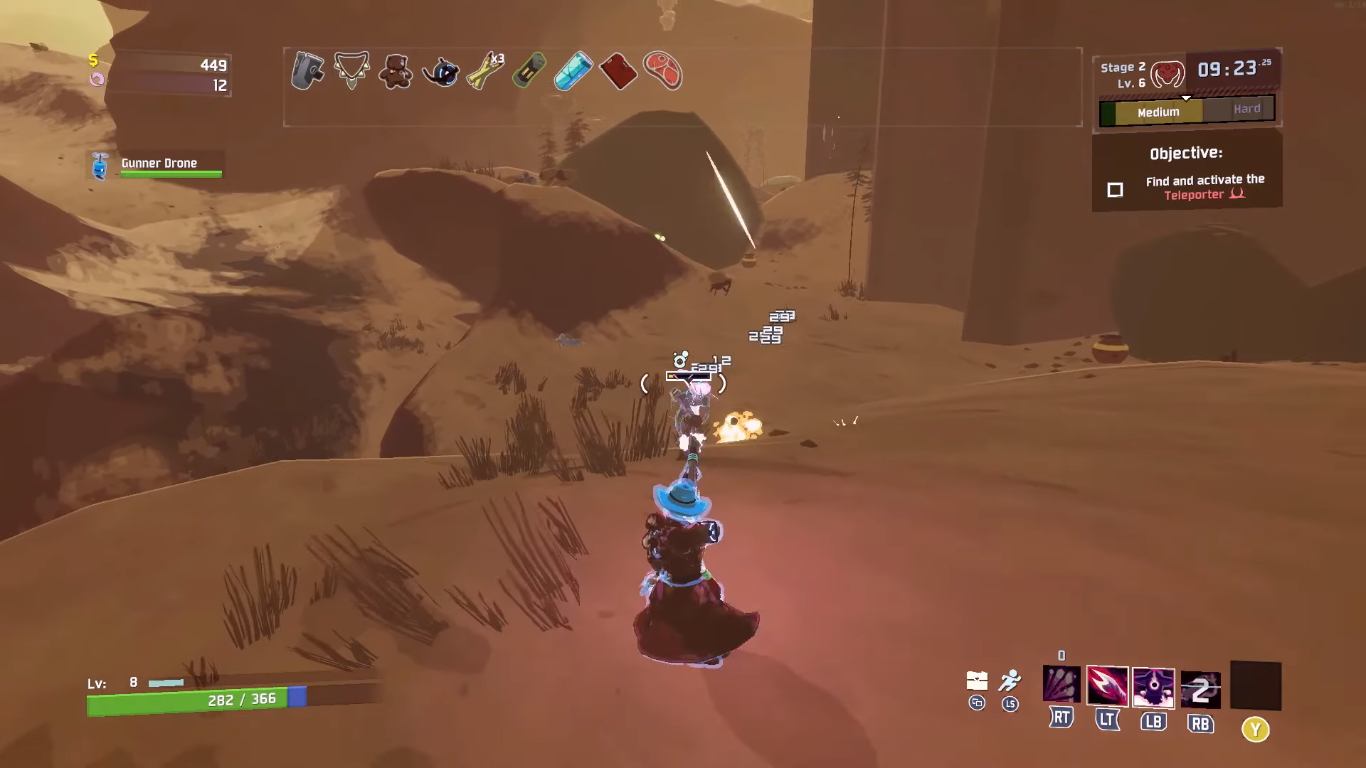 Ultimate Guide: PS6 Release Date with its Expected Design
Risk Of Rain 2: Console Patch Notes
The console releases of Risk of Rain 2 have continuously received fixes from publisher Gearbox. Is the Risk of Rain 2 update on PS4? This Risk of Rain 2 patch for PS4 and Xbox One fixes several flaws that appeared with the Anniversary Update.
Here is the Risk of Rain 2 patch notes and bug fixes for version 1.08. Many of these changes are primarily bug fixes.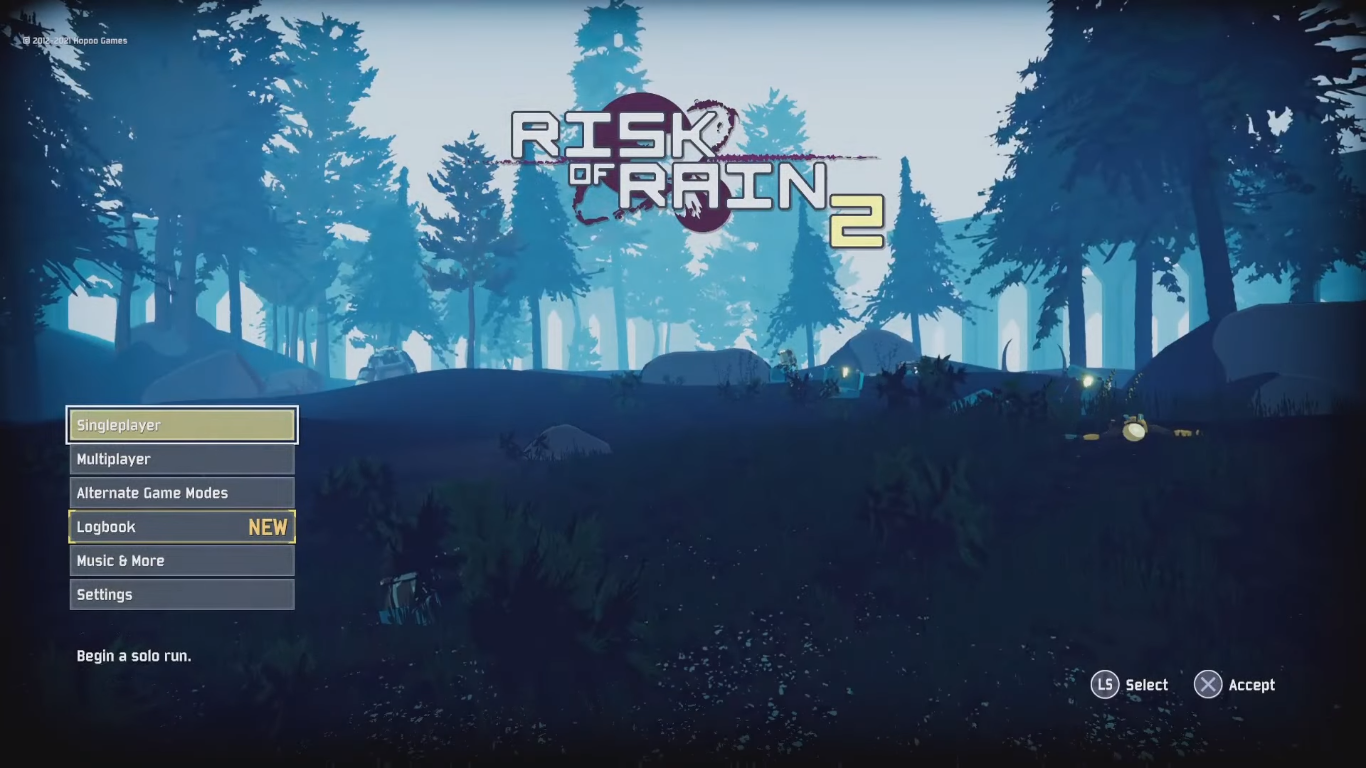 They fixed a problem where the adversary would not be stunned by the Captain's secondary.
They fixed a problem where the defeated Malachite Urchin foes would still be visible.
They expanded the hitbox for the Brass Contraption.
It fixed a bug where the Heretic's last Mithrix phase would freeze the game.
It fixed a problem that prevented the healing passive of Ravenous Bite from working.
It resolves the expose debuff that would not apply by the Mercenary Focused alternate utility skill.
They solve a problem with the closing cinematic: it does not fade out. 
A problem where the UI wouldn't appear in the Music & More menu fix.
They fixed a problem locking the character selection after selecting the Info Screen button on the main menu.
They fixed a problem where breaking rocks, pots, or vulture eggs would result in an endless spawn of missiles.
Solve a problem where the Sticky Bomb item did not provide 180% damage as intended.
The death of the Huntress after blinking out of AOE damage has been fixed.
They fixed the Sawmerang would not do damage when struck.
The inability to call the Captain's Orbital Supply Beacons on the commencement stage has been fixed.
It has fixed a problem that prevented localized text from appearing in Profile Stats.
Guide: How To Watch Mavericks Game on Different Platforms
Fans will still value the focus on specific Risk of Rain 2 console issues even though the update doesn't contain fresh content or sneak peeks of what's coming. Increasing Brass Contraptions' hitbox is undoubtedly a fix that takes fans into account.
Risk Of Rain 2 Update Roadmap 2022
Early access to Risk of Rain 2 was made available on Steam. It attracted a lot of followers right away and received overwhelmingly great reviews. The roguelike gameplay's simplicity and difficulty had players coming back for more, and it even managed to sell 1 million copies in the first month of early access.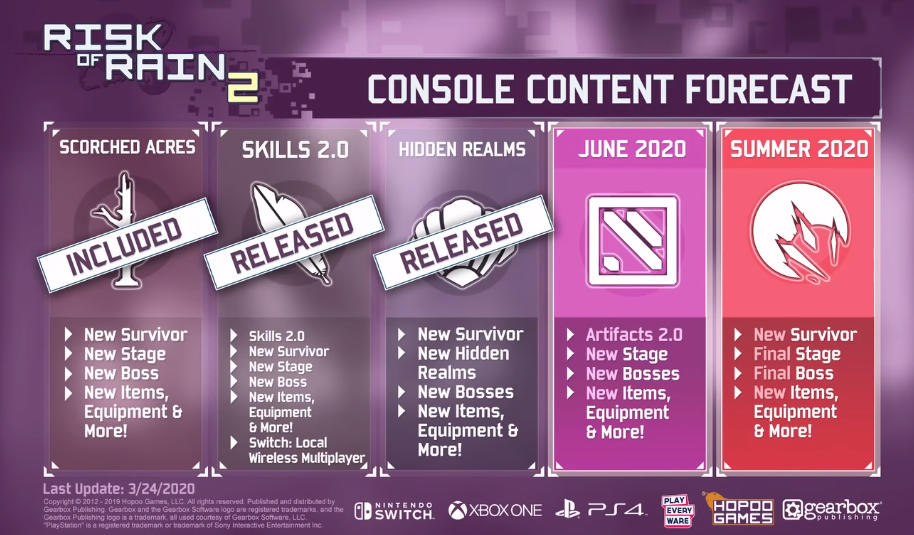 On the PlayStation , Xbox One, and Nintendo Switch, the Hidden Realms Update is now accessible. It adds new bosses, other layouts, the return of Survivor Acrid, and even more riches to the game.
Here are the updates:
Artifacts: Making their Risk of Rain 2 premiere, Artifacts. These treasures can significantly alter game mechanics when equipped at the beginning of a run, offering variation and difficulty. They can obtain this by completing in-game challenges.
New Level, Familiar Monsters, and Hidden Boss: Sky Meadow makes a comeback as the game's fifth stage, players will run into some new familiar monsters, and a unique hidden boss is waiting for those who can discover him.
Skill Variants: To astound and be awesome in novel ways, Commando, Huntress, Engineer, and Acrid acquire more unlockable skill variants.
New Loot: For the survivors to find new tools, items, and a mysterious Lunar Item to enter the environment.
Engineer Skin: By completing an in-game task, engineering fans can obtain skin for their Survivor.
Read Also: Snake Game World Record in the small map?
Does Risk of Rain 2 Still Get Updates?
The first Switch expansion for the 3D roguelike shooter Risk of Rain 2 will require additional waiting time. Hopoo Games, the games creator, revealed in its most recent Dev Thoughts video that the next Switch expansion, Survivors of the Void, will arrive in Q4 2022.
Is Risk of Rain 2 Solo Playable?
All of its battles are way through swarms of creatures, uncover new loot, and find a means to leave the planet. You can play alone or with up to three players. Returning with a new dimension and more difficult action comes Risk of Rain 2.
Is The Risk of Rain 2 DLC Out on Console?
In Q2 of 2022, Survivors of the Void will be available for Xbox One, Xbox Series X|S, PlayStation 4, Nintendo Switch, and Epic Games Store. Google Stadia will follow soon. For updates regarding Survivors of the Void, follow Risk of Rain 2 on Twitter.
How Do You Unlock the Risk of Rain 2 DLC?
To unlock Void Fiend, choose one of two options. The first one leads you to the Planetarium and asks you to complete the game's alternate ending level. The second technique entails completing Wave 50 in Risk of Rain 2's Simulacrum, the infinite-scaling challenge mode.
Is Risk of Rain 2 Good on Consoles?
Yes! The shooter Risk of Rain 2 is excellent. The gameplay options are endless. Even if the runs get harder, the pace is great.