The GT Omega Apex wheel stand is a superb product, even though it has a price tag nearly as high-end as its construction. I probably wouldn't recommend the Apex to everyone because it is an expensive investment if you don't use it frequently, not because it isn't well-made or a wonderful wheel stand.
It's advisable to save money and choose a simpler alternative if you only replace your wheel once a month. However, the Apex is well worth the money if you find yourself getting into racing with a wheel and want something sturdier.
Due to the hefty frame's major component being ready to use right out of the box, building the Apex is rather simple. All you have to do is install the gear shifter attachment before mounting the wheel and pedals.
Even though the GT Omega Apex wheel stand instructions manual is very unhelpful, you can build the entire thing without unintentionally snapping it shut on any delicate human organs by using a little common sense. Let's get into the dive GT Omega apex wheel stand review.
Detailed GT Omega Apex Wheel Stand Review
 Let's get into the details of GT Omega wheel stand mods:
Produced with superior steel
Superior black powder coating
The angle of the steering wheel mount can change.
Angle-adjustable pedal plate
Any side of the gear mount will fit.
Folds and packs up
Pre-drilled, suitable for all popular racing wheels
Three-year warranty
Dimensions of the product (H x W x L): 80–110cm x 55–69cm
Read Also: Next Level Racing Wheel Stand 2.0 Review
Finish and Quality
The Apex sim racing wheel stand can sum up in one word: stout. This thing is constructed like a tank, which is probably too much for my entry-level wheel. But I like items that are more powerful than anything I could hurl at them.
However, the sturdiness does put on weight. It weighs more than 30 pounds, making it a bit heavy to move. However, the extra weight gives it a more premium feel. Overall, I think the trade-off is good.
The hardware also contributes to the quality sense and the heaviness. One aspect of some products I detest is that the fasteners you get are frequently made of cheese. Thankfully, the Apex is an exception.
The bolts, nuts, and washers all appear to be high-quality metal. Additionally, they are all polished, which adds a little glitter to the entire set. The Apex has a powder-coated black finish. It seems quite sturdy and could probably handle a lot of abuse. It also appears to be reasonably scratch-resistant.
The fact that the finish is non-glossy may be its best feature. Companies that feel the need to lacquer everything in high-gloss black are disgusting to me. Even though it has a nice appearance, dust, smudges, and fingerprints are drawn to it like a magnet.
A finish that won't show it is wonderful to see as a wheel stand is susceptible to all those problems. You may simply grab a rag and quickly wipe it down to eliminate dust.
Comfortable and Flexible
I'll start by stating that I have a dad body. I'm a bit overweight despite still being a little short, thanks to my love of good craft beer and delectable food. It indicates that I frequently fit strangely and that it takes some time to feel comfortable.
I was, therefore, a little taken a back when dealing in the Apex took only a few minutes. Herein lies one of Apex's major advantages. There are several adjustments to match almost every body type. The pedal mount transitions from being completely flat to be at an angle that only a gymnast could master. The steering wheel mount operates similarly.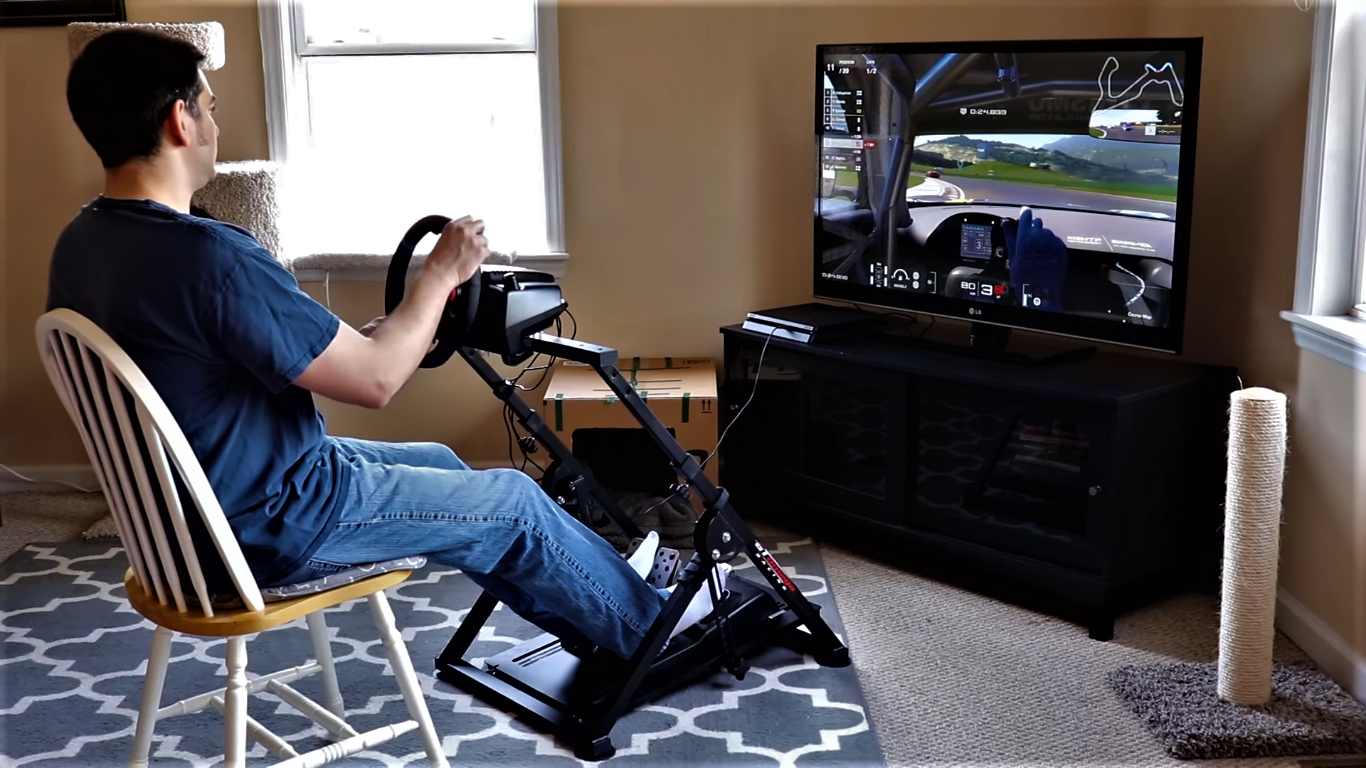 Additionally, the height is entirely adjustable. The Apex is about 26 inches tall at its lowest point. Raising that height to 34 inches for taller sim racers is very simple. I just needed to modify the size to make it fit me slightly.
I just rolled up my Ikea Renberget office chair to use the wheel. It's not the comfiest chair in the world and is not the best seat for sim racing. However, it was effective with the Apex. I also tried it while seated on my sofa, another unique item from Ikea. Although it wasn't as comfy, there was no reason why I couldn't utilize the stand while sitting there.
Stability of the Stand
The Apex Wheel Stand is exceptionally steady because of how sturdy it is built. Additionally, having a sizable footprint is helpful. Unfortunately, the Apex is a tad on the large side because of its large footprint. It does take up some space because it is 27 x 22 inches. When you consider that something thinner might slide around or perhaps topple over, it's not a bad trade-off, though.
A series of extremely sticky rubber pads on the Apex is another feature that holds the stand in place. The Apex stays firmly planted on the ground thanks to these things. My home, indeed, has imitation hardwood throughout, so that does have an impact. But the rubber cushions were also sturdy even when placed on a rug.
Price Affordability
Every brand of the racing wheel is supported. The Apex Wheel Stand offers good value at just $199.95. It is especially true when you consider how skillfully it is made. GT Omega offers the stand for a fantastic price of just $149.95.
The Apex can be excessive if you're just starting with sim racing. However, there is a workaround: you can purchase GT Omega's regular wheel stand for $50 cheaper.
You only lack a spot to install a shifter and a small amount of adjustability. However, I truly believe you could choose the standard model and still be content, considering the Apex's high quality.
GT Omega Apex Wheel Stand Assembly
I was afraid I would have to spend all night assembling the GT Omega apex racing wheel stand when I first pulled it out of the box. With two large packages of nuts, bolts, and washers, I anticipated plenty of cursing and a great deal of general annoyance.
Fortunately, I was entirely mistaken. I spent less than 10 minutes setting up the Apex Wheel Stand. Everything came together without a hitch, and GT Omega Racing gave me the necessary tools in the bag. I also appreciated this because it saved me from going to the garage and searching through the tools.
Unfortunately, I did encounter a small issue. Higher-end wheels were considered when designing the mounting plate for the wheel stand. The T150 is not included in that list, even though it fits most Thrustmaster, Logitech, and Fantec products.
The T150's included pedal set has the same problem. However, it will easily bolt up if you have a pedal set like the Thrustmaster T3PA. The larger bolt hole under the T150 is aligned with a hole in the mounting plate. However, the mounting bolt for the T150 will not quite fit through the mounting plate's hole. Thankfully, removing some powder coating required fast sanding with a rasp. It made it possible for me to insert the bolt and secure the T150 to the Apex.
Guide: Thrustmaster Ferrari F1 Steering Wheel Add-On Review 
Is it Simple to Put This Wheel Stand Away?
Packing this wheel stand away at the end of a lengthy race session is simple. Simply loosen the pedal plate, and the entire frame will begin to collapse.
The stand won't fold flat, but it will go very near, allowing you to put it conveniently against a wall or in a cabinet and save up space in your home. Even with your racing wheel and pedals still attached, you can fold this wheel stand away. Preparing for a race or putting everything away for the evening is simple.
Of course, the folded-away width does increase if your racing wheel is still attached to the wheel support. However, it is incredibly helpful to stow things away easily without unhooking your entire equipment.
Quick Benefits and Drawbacks of GT Omega APEX Wheel Stand
Benefits
A highly strong chassis
Even with direct-drive wheels, almost no flex
Expanding with an additional seat
Particularly the pedal plate was particularly secure.
Drawbacks
A little challenging to find the ideal driving stance.
Shifter plate with pointed corners
Logitech Shifter is difficult to mount
What is an Apex Cube Stand?
It keeps the concentrated oil at the cartridge's base and your Apex battery erect.
What is the Gt art Racing Simulator Steering Wheel Stand?
The Wheel Stand may be adjusted to practically any position, including driving while sitting in an office chair, chairs from a dining table, and even a sofa! The pedal plate angle is a nice compromise that allows drivers in either extremely low or very high chairs to feel comfortable—3-second opening and closing.
What Do You Know About GT Omega Classic?
For those who desire to install their wheel and pedals into an ergonomic racing position but lack the space for a full racing cockpit, the GT Omega Classic Steering Wheel stand offers the perfect answer.
Can GT Omega Apex Work with Lower Tier Wheels?
Yes! It is less priced and compatible with wheels of inferior quality.