Mounting your display or mountable computer monitor is an excellent method to free up space and cram more into a small workplace. It gives your workstation a cleaner, nicer-looking appearance. It is simple to install computer displays on a wall. All you need is a computer monitor with mounting hardware that includes monitor arms that can be attached to a wall.
Swivel arms on wall mounts also offer more viewing flexibility and range, allowing you to customize the display angle to your preferences and requirements, potentially reducing neck or eye strain typical of users spending extended periods in front of a computer. I'll walk you through assembling and configuring your mount in the below sessions. Where you also learn can you mount a computer monitor on the wall?
Is it Worthwhile to Mount a Computer Display On A Wall?
You should mount your monitors on the arm attached to your desk rather than the wall if you utilize an adjustable standing desk. It is crucial because if you mount your monitors to the wall, they won't adjust with the height of your desk when you do.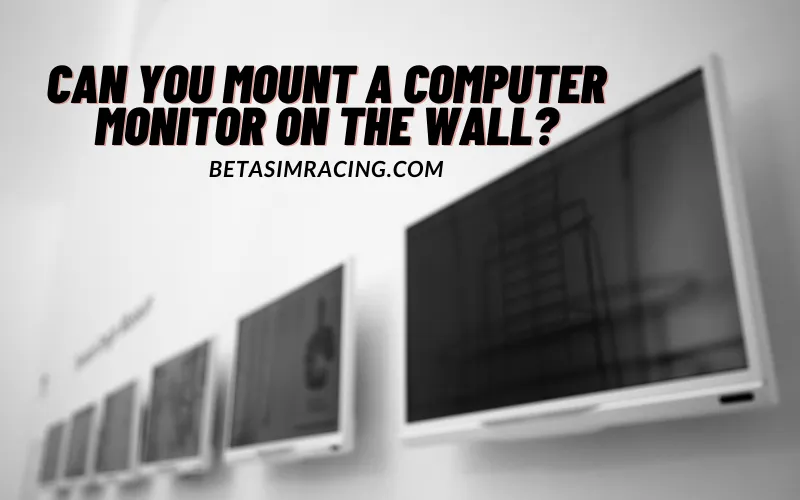 If your displays fix directly to your desk, you wouldn't be able to do this. To get it affixed to the wall properly, you'll need to have a few handyman-type skills (drilling, leveling, etc.), but you can do it.
Why Do You Use a Dual Computer Monitor Wall Mount?
Working with several monitors is easy and great for view. On my desk, I currently have two 32-inch 4K Dell monitors. Sadly, the two monitors take up valuable tabletop space I could use for my peripherals and other office supplies. So, mounting them on the wall frees up the space.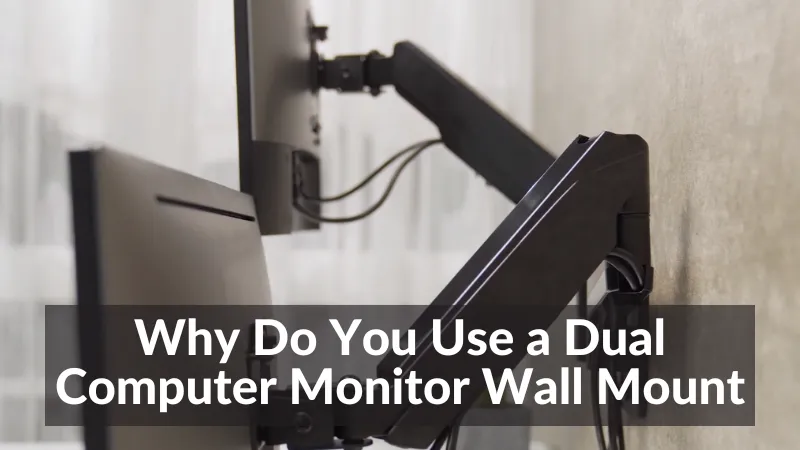 Remember one thing the primary monitor of a dual monitor setup should always place in front of the user. Center both monitors in front of the user if they use them for an equal length of time.
Can All Monitors Be Mounted?
Yes! all monitors can mount on all. Since most modern monitors have a mounting plate on the back, using widely used monitor mounting products is effortless. It is possible to attach even vintage CRTs or monitors without this arrangement. These only need a mount that fastens to the bottom or sides to keep it in place.
The best course of action is nearly always to look for a wall mount or rack mount whose design is especially suited to the monitor you are using. Some mounts will fit various monitors because manufacturers frequently adhere to the same or comparable requirements when creating mounting plates.
Are All Flat Screens Wall Mountable?
Absolutely any modern flat screen can hang on a wall. Most include mounting holes on the back that follow the VESA interface standard, making it quite simple to purchase a wall bracket that would fit.
First, it doesn't matter if you have a Samsung, Sony, LG, or any other TV maker because practically all contemporary flat screens/TVs are standardized to suit the wall mount.
How Do I Know If My Monitor is Wall Mountable?
Simply look at the back to see if your computer monitor meets VESA requirements. If it complies, you should see the typical four-hole screw pattern at the back of your display. Larger monitors will have 200 x 100 mm screw holes, whereas the most typical screw hole design is either 75 x 75 mm or 100 x 100 mm.
What are VESA Standards? The organization that establishes the requirements for flat panel displays like TVs and monitors to mount on stands or wall mounts is called VESA, which stands for Video Electronics Standards Association.
By designing products that work with any bracket, monitor stand, or mount, irrespective of brand, these principles make it simpler for producers to meet consumer demands. VESA standards enable reasonably priced installation and general mount interchangeability. It increases viewing versatility and ergonomics.
How To Wall Mount A Monitor with Holes?
To place a monitor on the wall, you must first locate a suitable mounting bracket to hang a monitor on the wall. Hanger brackets, shelf mounts, stand-alone arms, and other varieties are many offered.
Most of the time, the monitor wall mount kit has everything needed to mount your monitor to the wall safely. To ensure that your mount is secured correctly, you should either fasten it to the studs hidden behind your drywall or use strong drywall anchors that can support the weight of your computer monitors and the movement that comes with moving them around.
After attaching the monitor arms to the wall, you should connect the mounting bracket to your monitor. You must fix your display in place by inserting screws through the holes provided on the monitor's back. You need to attach your monitor to your mount after that finish, and you're ready to go!
How To Wall Mount A Monitor Without Holes?
You don't necessarily need to buy a new monitor simply because yours lacks mounting holes. You may take various approaches, depending on whether you want a cleaner look for your home office or you're a renter who can only leave some wall holes.
Let's look at the solutions:
Solution 1) Monitor Arms
How to mount monitor without VESA? Whatever your preferred mounting position, the monitor arm is the first kit you'll use to mount your computer display. To create the best viewing angle with the monitor screen and keep a good posture, you can adjust the monitor's angle, orientation, and depth with the monitor arm.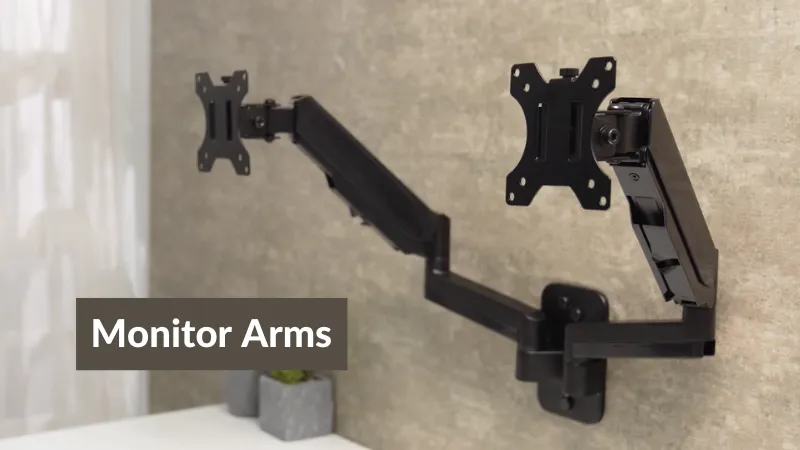 So, when it comes to ergonomics, this is a must-have tool for setting up a healthy workspace and gaming station, just like many other essential desk accessories. Additionally, you'll need to invest in this equipment because you're interested in creating an ergonomically balanced workstation setup.
Solution 2) A VESA Mount
Without requiring any screws or bolts, you may mount the screen to a wall or desk using VESA mounts. The VESA interface standard defines most surfaces with various sizes and designs. Find the four mounting VESA holes on the back of your monitor before attempting to install a VESA mount.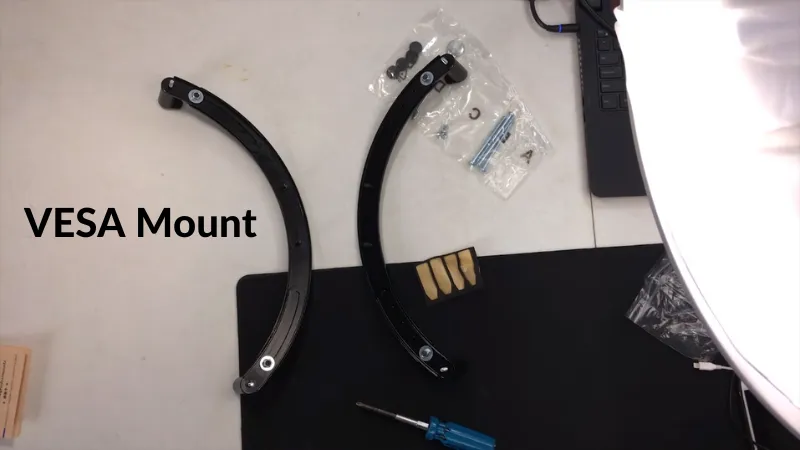 The VESA mount should now be lined up with the mounting holes and gently pressed into place. Finally, fasten the VESA mount to your monitor using the included screws or bolts. The VESA standard guarantees a stable connection between the monitor and the mount.
Furthermore, it stops the monitor from shifting or slipping off the mount. However, compared to other monitor mounting choices, this choice is more expensive. Finding a VESA mount that works is only sometimes simple, especially for monitors that are not VESA compatible. Some mounts need to install with specific tools.
Solution 3) Velcro
Cut two Velcro pieces the same size as your monitor to start. Then attach one of the parts to the top of your monitor by removing the adhesive backing off it. Next, repeat the process with the other piece of Velcro, but this time, affix it to the wall instead of the monitor. Put the two Velcro pieces together to finish securing the monitor.
How Do I Attach My Monitor to an Adhesive or Velcro Strip? A piece of tape known as an adhesive strip may use to secure objects to a surface. It may be used on most surfaces and comes in a wide range of sizes.
Where you will be mounting the monitor, clean the desk or wall. Make sure there is no grease, grime, or dust on the surface. To fit the monitor's back, measure the adhesive or Velcro strip. Attach the glue or Velcro strip to the back of the monitor by peeling off the backing. To secure the display, push it up against a desk or wall.
Solution 4) Clamps
Where should monitor mount be placed? With a pencil, mark the location on the wall where you wish to attach your monitor. Two clamps can be attached to the back of your monitor by removing the adhesive backing from each one. Finally, fasten the clamps to the wall where you already marked them, then open them to attach the monitor to the wall.
Solution 5) Monitor Mounting Using a VESA Bracket Adapter
Let's look at how to use the VESA bracket adaptor to install a monitor that isn't compliant with the mounting kit.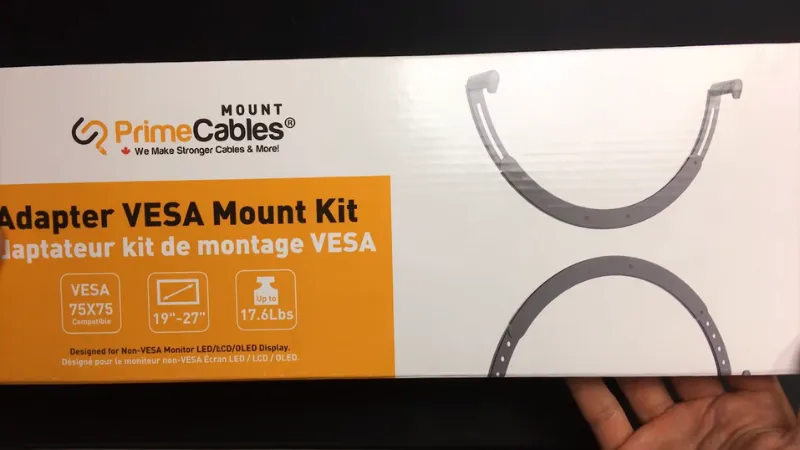 Take Away the Monitor's Standard Stand
Use the VESA plate adapter kit and remove the monitor stand first.
Put the VESA Adapter Bracket in Place
After removing the monitor's stand, you must attach the VESA bracket adapter to your monitor screen. Install the VESA adapter kit onto the bracket by tightening the screws in the holes where the monitor stand was previously attached.
Join The Mount and the Bracket Adapter
Now that the adapter kit must install in place of the monitor stand, the last step is to secure it with the mounting tool. By tightening all the screws through the VESA holes of both kits, attach the monitor arm to the VESA bracket adapter kit.
Congratulations! Your non-VESA monitor has been attached successfully without drilling any holes.
Can Drywall Be Used to Attach A Monitor?
If the mount is right, you can put your monitor on drywall. Most wall mounts need a more substantial backing to latch into because they cannot use with just drywall. Many walls mount that look attached to drywall connect to a wooden stud behind the drywall.
Is Monitor Wall Mounting A Smart Move?
Mounting the monitor on the wall is a wise decision because doing so reduces the amount of rotation required of your higher and lower cervical vertebrae and more evenly distributes the weight of your head across your neck extensor muscles.
Is Having Two Monitors Preferable to Having One Large One?
The result is unambiguous. Dual monitors typically triumph over ultrawide. Going dual gives you a more adaptable layout that is excellent for multitasking and packs more pixels than any ultrawide currently available if you purchase high-end 4K monitors.