In recent years, the world of gaming has witnessed a fascinating intersection with the world of cryptocurrencies. Crypto games, also known as blockchain games, have gained significant popularity among gaming enthusiasts and cryptocurrency enthusiasts alike. These games not only provide entertainment but also offer players the opportunity to earn real cryptocurrency rewards while indulging in their favorite pastime. You can click here for more info.
What Are Crypto Games?
Crypto games are a unique genre of games that incorporate blockchain technology and cryptocurrencies into their gameplay. Unlike traditional games where in-game assets hold no value outside the game, crypto games utilize the blockchain to create digital assets that can be bought, sold, and traded, just like real-world assets.
By leveraging blockchain technology, crypto games provide players with true ownership of their in-game assets. These assets, often represented as non-fungible tokens (NFTs), can be rare, unique, and even limited editions, making them highly sought after in the gaming and crypto communities.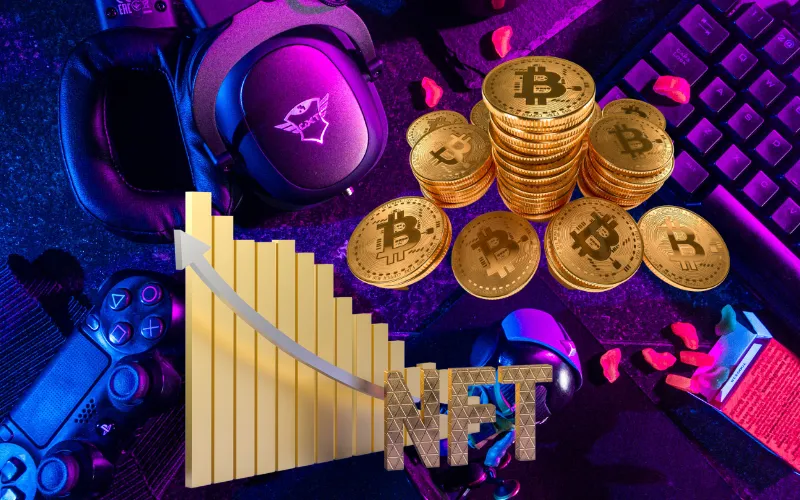 These games enable players to immerse themselves in virtual worlds where they can complete quests, solve puzzles, engage in battles, or participate in various other activities to earn rewards. These rewards come in the form of cryptocurrencies, such as Bitcoin or Ethereum, or specific tokens native to the game ecosystem.
The integration of cryptocurrencies and digital assets in crypto games introduces a new level of excitement and financial opportunity for players. It blurs the line between gaming and investing, allowing players to not only enjoy the gameplay but also potentially profit from their skills and achievements within the game.
As crypto games continue to evolve, we are witnessing a growing interest in play-to-earn games, where players can earn cryptocurrency simply by playing the game. The innovative idea has attracted a big player base that is keen to learn about the potential financial benefits of gaming.
List of Top 5 Blockchain Games
Here is a selection of many blockchain games from various platforms and genres, giving players a wide range of possibilities to explore: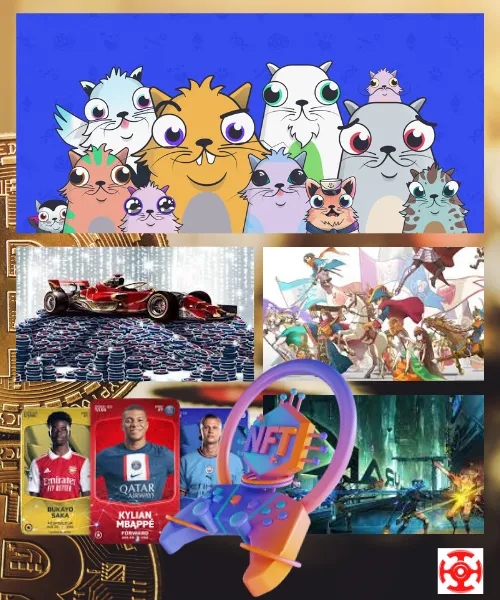 CryptoKitties: Collect and breed unique digital cats on the Ethereum blockchain.
MyCryptoHeroes: Engage in strategic battles with historical heroes and acquire rare collectible heroes.
F1 Delta Time: Experience the world of Formula 1 racing with digital collectibles and racing competitions.
Neon District: Explore a cyberpunk-themed world, complete missions, and earn rewards in this role-playing game.
Sorare: Manage and trade virtual soccer player cards to create the ultimate team and compete in global tournaments.
Each of these games offers distinctive gameplay experiences and opportunities for players to participate in the crypto gaming ecosystem. Whether you enjoy collecting, battling, racing, or managing virtual assets, there is a blockchain game suited to your preferences.
The Benefits of Play-to-Earn Games
Play-to-earn games have transformed the gaming industry by offering gamers a creative method to acquire genuine digital currency prizes. These games draw the interest of both players and investors due to their numerous alluring benefits.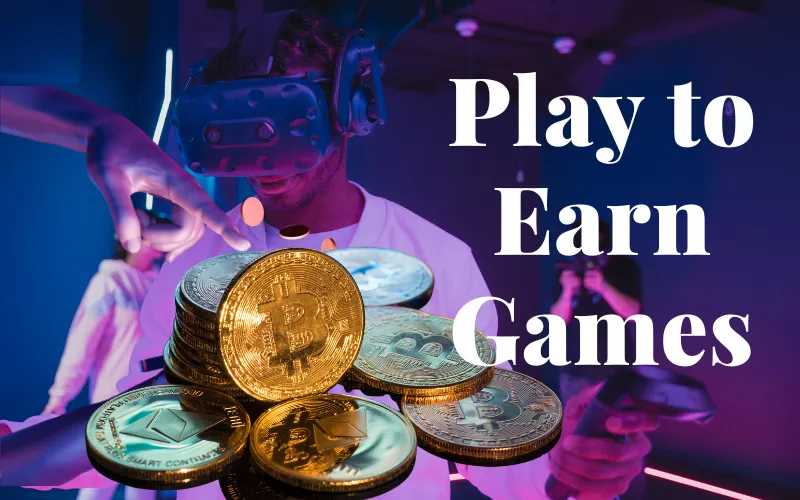 Earn Real Crypto Rewards: Unlike traditional games where in-game achievements are often limited to virtual rewards, play-to-earn games allow players to earn valuable cryptocurrencies. By dedicating time and effort to progressing in the game, players can accumulate digital assets that hold real-world value.
Financial Incentives: Play-to-earn games present a unique opportunity for players to turn their passion for gaming into a lucrative endeavor. Skilled players can make significant digital currency gains, possibly even establishing a steady source of income. A new generation of gamers who view gaming as more than just entertainment have been drawn in by this financial incentive.
Ownership of In-Game Assets: The idea of actual asset ownership is one of the biggest benefits of play-to-earn games. The in-game assets that players own and completely control are made possible by blockchain technology. These resources can be freely purchased, sold, or exchanged on other marketplaces, giving players a new degree of control and the chance to make money.
Democratizing Opportunities: Play-to-earn games have the potential to level the playing field in the gaming industry. Traditional games only limit players who put a lot of time or money into them progress and receive rewards. Play-to-earn games, in contrast, give every player the same opportunities, regardless of how much money they have to start out with. Instead of how much money one has, success in these games depends on talent, commitment, and strategy.
Fusion of Gaming and Investing: Play-to-earn games bridge the gap between gaming and investing, creating a unique synergy between these two worlds. Players can enjoy immersive gameplay experiences while simultaneously participating in the crypto economy. This combination appeals to both gamers looking for fresh challenges and investors looking for new ways to expand their cryptocurrency holdings.
In the gaming business, the rise of play-to-earn games signals an exciting paradigm shift. It gives users additional opportunities to earn money from their gaming prowess and actively engage in the cryptocurrency community. Play-to-earn games are changing the way we think about and interact with gaming because they provide the possibility of monetary incentives, actual asset ownership, and the democratization of opportunities.
Responding to Common Questions
Which crypto game is the most popular right now?
Numerous games in the constantly changing crypto gaming market have become well-known for their fun gameplay and rewarding experiences. Among the top cryptocurrency games now on the market are: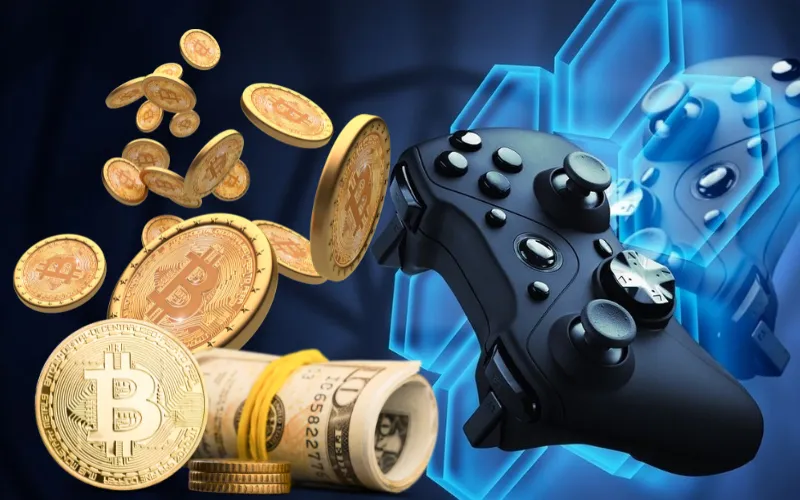 Axie Infinity: Axie Infinity is a blockchain-based game that mixes aspects of trading card games and the Pokémon franchise. Players can gather, breed, and engage in combat with the charming Axies. Due to its play-to-earn principles and active community, the game has experienced tremendous growth in popularity.
Decentraland: Decentraland is a decentralized virtual environment where users can explore, communicate, and do business. It offers a distinctive metaverse experience where users may build and sell their inventions, own virtual land, and engage in a variety of activities.
Is there a free game where you can win cryptocurrency?
Yes, there are free-to-play cryptocurrency games that offer chances to earn rewards in cryptocurrencies. One prominent sample is:
CryptoBlades: CryptoBlades is a browser-based RPG where players engage in turn-based battles using characters called Blades. By participating in battles and completing quests, players can earn Skill Tokens (SKILL), which can be sold or staked to earn additional rewards.
What are the hottest blockchain games right now?
Several games are currently popular among gamers in the constantly changing blockchain gaming market. Here are a few famous examples:
Splinterlands: This blockchain-based trading card game uses digital technology. Cards that depict monsters, spells, and abilities are available for players to acquire and trade. Competitive matches, competitions, and the chance to earn Bitcoin prizes are all features of the game.
The Sandbox: It is a platform for user-generated content where users may make, control, and profit from virtual environments. It makes use of blockchain technology to make it possible to trade in-game items and offers a thriving, community-driven experience.
Which free crypto games are the best?
Many free cryptocurrency games provide entertaining gameplay and the chance to win prizes. Here are a few of the top free cryptocurrency games to check out:
Gods Unchained: This competitive trading card game enables players to assemble and engage in combat with one-of-a-kind digital cards. Players can acquire cards and possibly valuable NFTs through gaming in the game's free-to-play mode.
Alien Worlds: Alien Worlds is a decentralized gaming metaverse where players mine resources and compete for control of digital planets. The game features a free-to-play model with opportunities to earn the in-game cryptocurrency, TLM, by participating in mining activities.
Can you really earn crypto playing games?
Yes, it is indeed possible to earn cryptocurrency by playing games. Play-to-earn games, as the name suggests, offer players the ability to earn real crypto rewards through various in-game activities. It's important to remember that obtaining large amounts of bitcoin may call for commitment, expertise, and time investment. Before participating, it is essential to learn the individual rules, incentives, and mechanics of each game.
Crypto games and play-to-earn opportunities offer a unique blend of entertainment, ownership, and financial rewards. By combining the excitement of gaming with the potential to earn real cryptocurrency, these games have captured the attention of a rapidly growing community. Engaging with crypto games brings several benefits. Players can earn valuable cryptocurrencies, turning their gaming skills into a potential source of income. True ownership of in-game assets through blockchain technology empowers players to trade and monetize their digital possessions. Additionally, the democratization of opportunities allows players to compete and succeed based on skill rather than financial investment.

Summary