AMD RX 7900 XTX is the first consumer triplet base GPU. The AMD Radeon RX 7900 is innovatively designed with new chipset technology. The Radeon RX series of a graphics processor are developed by AMD.
AMD Radeon RX 7900 XTX review says that these GPUs utilize the graphic core next 5th generation architecture. This is built with enhanced performance. The dual 8 pins serve as a microcosm because AMD is concerned about its architecture. AMD focuses on the things that work and put the screws to NVIDIA. Both the Graphics cards have featured innovative technologies and up to date functions.
RX 7900 XT and RX 7900 XTX Release Date
December 13th, 2022 will be the release date of AMD Radeon RX 7900 XTX announced by AMD NVIDIA. This GPU will release with its co-GPU, which is called XT only. The GPU is a genuine product of AMD with its proven efforts done by the brand to facilitate its users.
Ultimate Guide: AMD Ryzen Threadripper Pro 3955wx
AMD Radeon RX 7900 XT Specs
| Specifications | Values |
| --- | --- |
| Graphics processor | NVI 31 |
| Game frequency | 2000 MHz |
| CUs | 84 |
| Boost frequency | Up to 2400 MHz |
| Minimum PSU recommendation | 750 Watt |
| Memory type | GDDR6 |
| Max memory size | 20 GB |
| Memory bandwidth | Up to 800 GB/s |
| Connectivity | Display port, HDMI, USB Type C |
| Interface | 384 bit |
| Board power | 355 Watt |
| Power connectors | 2 + 8 pin |
AMD Radeon RX 7900 XTX Specs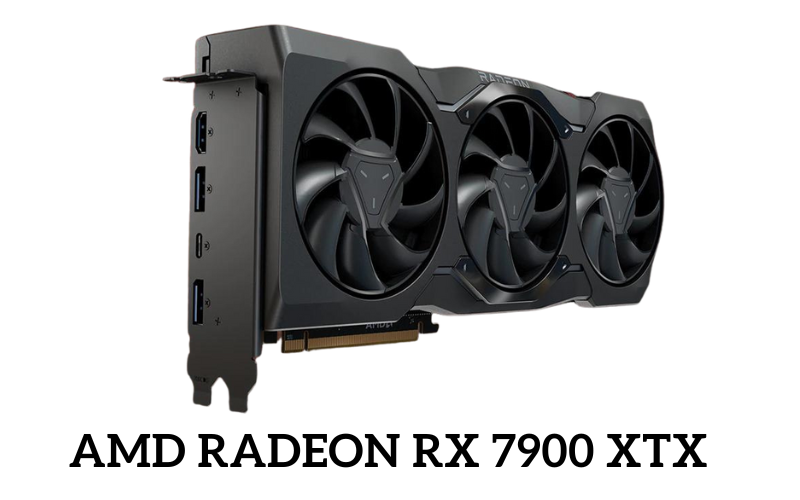 | Specification | Tested Values |
| --- | --- |
| Game frequency | 2300 MHz |
| CUs | 96 |
| Boost frequency | Up to 2500 MHz |
| Minimum PSU recommendation | 800 Watt |
| Memory type | GDDR6 |
| Max memory size | 24 GB |
| Memory bandwidth | Up to 960 GB/s |
| Connectivity | Display port, HDMI, USB Type C |
| Interface | 384 bit |
| Board power | 355 Watt |
| Power connectors | 2 + 8 pin |
Related: AMD Radeon RX 6700 Specs Review
AMD RX 7900 XTX Construction
The RX 7900 is the most advanced graphic card with two and a half slot cards, and it is a bit taller than average, but the bottom line is it will fit in just about any chassis, even a small form factor. It facilitates the users with no power adapter and any additional plug.
AMD RX 7900 XT and RX 7900 XTX Performance
The GPU is the most advanced graphics for gamers and creators. It is designed to be an improved version, and its quality features 24 GB GDDR6 VRAM on a 384-bit bus. There are memory Cache dice or MCDs that use a 6-nanometer process. It still has PCIe Gen 4 with it.
The previous RX 7900 XT with 20 GB memory for video is now the new RX 7900 XTX. AMD's goal is to push performance per watt as far as humanly possible. This is the reason for a thoroughly revised compute unit and Graphics pipeline. They have been optimized to save dye space and lower costs while increasing overall performance.
Some significant infinity Cache and memory control updates are going on behind the scenes. That push theoretically bandwidth way higher than the 600 series. The GPU gives a 576 mini LED zone for gorgeous exposure and HDR performance with 1200 net peak brightness. Feel the immersion in reality with the new 4k 160 Hertz mini LED monitor.
Having up to 96 MB available of Cache to the GCD means high-speed communication without going out to the GDDR6. Everyone knows the minor process is efficient. It provides 54% performance per watt power efficiency which is improved from RDNA2, which was already highly efficient. It utilizes two 8-pin PCI Express power connector standard power connectors.
AMD plans to launch an improved version of the Radeon RX 7900 XT called the Radeon RX 7900 XTX. It will feature 24 GB of GDDR6 VRAM on a 384-bit bus and a mostly uncut Navi 31 GPU.
The new technologies of the GPU are as under.
Specs & Performance: NVIDIA GeForce RTX 4090 Review
1) AMD Software Adrenalin Edition
This software has been modified by AMD to control not only Graphics but also other operations. If you use your Graphics card with AMD Software Adrenalin Edition, then you can boost your system performance by up to 90%.
This interface provides stability to your system. It also enhances the performance of the tools and composes our gaming PC. This software has many options to be modified, like Display, Audio, Controls, and more.
2) AMD Fidelity FX Super Resolution
This is the high-resolution setup to update your Graphics card performance. RX 7900 XTX is equipped with this resolution to show a higher frame rate to its gamers on their screen. It provides 1.6x more frames when rendering videos at 4K resolution.
AMD keeps stunning visuals in gaming and video creation while using this resolution. It is enabled by the AMD software that can make your unplayable games functional on your PC. The latest games will give you a better response with AMD Radeon RX 7900 XTX.
3) AMD Radeon RX 7900 XTX Fan Speed
The fantastic 3 fans are on the GPU provide the efficiently cool the GPU. The RX7900 XTX has unique thermal feature its sensor allows GPU to measure air-inlet temperatures coming directly into the cooler. AMD Radeon RX 7900 XTX reviews say that you can tune fans speed and cooling utilizing by its software and also can advance setting for boost up gaming session.
The fans improve overheating with Thermal sensors provided inside the GPU. The fans of the GPU do not make any unpleasant noise. AMD Radeon RX 7900 XTX max temperature can easily get maintained with the fans and their temperature sensor enables them to use in extreme environment of immersive gaming.
AMD Radeon Next Generation Raytracing
The GPU works with 1.5x more rays in flight. It has new dedicated instructions and new ray box sorting and traversal. Both XT and XTX are a kind of homage to the original Radeon days. Both cards feature Display Port 2.1, which is big because Display Port 4.1 has been the standard for a long time, but 2.1 gives you massive forward facing future proofing.
When it comes to new panels coming out in the future here, this will allow for a 165 Hertz 8K or 480 Hertz 4K. This GPU can make a fantastic HTPC theater if you have an 8K projector. AMD Radeon RX 7900 XTX review get the proofs of its raytacing.
AMD RX 7900 XT and AMD RX 7900 XTX Price
The official price of AMD RX 7900 XTX will be $999 and $899 for XT as per the enthusiasts' predictions. The cost is considered to be more because of its upgraded technologies.
Summarized Note
Let's wait for while to have the latest AMD 7000 series GPU for our gaming PCs. Although both the Graphics cards are expensive, but they will give extreme benefits to not only gaming but also video creations. More up to date features and latest technologies with modernized build are the features that will attract maximum people to grab the opportunity provided by AMD. AMD Radeon RX 7900 XTX review explains many of its factors but still depending on its launch.
What does XT mean in AMD GPU?
XT relates to the base processing speed and overclocks speed. When a Graphic card is improved with the latest features and faster speed, it is named XT.
Is XT better than RTX?
RTX Graphics cards are more expensive than XT because of their unmatchable qualities. They are equipped with the latest technologies for Gaming.
Is RTX better than GTX?
Yes, RTX cards are better than GTX due to their extreme Graphics and rendering capabilities. They are the most potent Graphics cards of the latest Gaming.
Does Radeon XT have ray tracing?
Radeon XT possesses Ray Tracing Gaming Performance with a playable 44 fps on average. It performs well for the latest Gaming.