The AMD Radeon has landed, and it possesses tremendous support from users already. It has managed to touch the high ranks of excellent quality GPU. I prepared the AMD Radeon RX 6700 graphics card review to make you learn its performance, specs, price, and all that can help you understand this gem better and more comprehensively.
If you check out the solid range of the NVidia lineup, the AMD Radeon gives a huge comet with all its distinct and balanced features. The price range is competitive, and the support of drivers is good, which has always been a challenge for AMD. It has now developed a structure to get the same results with PC and Console.
AMD can be nothing but reliable and smooth. The design of Radeon is based on RDNA 2 architecture, and it furnishes an ample 12GB GDDR6 RAM. Let's dive into the details to find out more about this good for the price; it is still an ambiguous product.
AMD Radeon RX 6700 Specifications
The specification table I came up with will surely get you a summarized overview of the RX 6700. It is a great graphic card at a competitive price. There are some tiny issues with it, but you can overlook them by having exceptional shots. I studied tons of other graphic cards, and it has something extra to offer. To find those distinct traits, let's come down.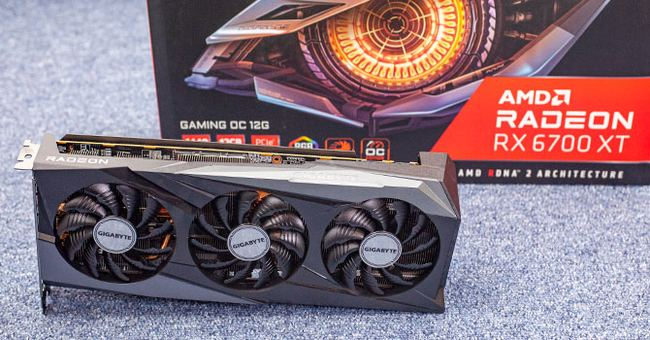 | Specification | Values |
| --- | --- |
| CUs | 40 |
| Game clock | 2424 MHz |
| VRAM | 12GB GDDR6 |
| TDP | 230W |
| Mem interface | 192-bit + 96MB IC |
I tried writing this AMD Radeon RX 6700 graphics card review with the most unbiased approach. It controls the display with the required power. It makes your output better and the images you get to see with solid VRAM and game clock speed. The game clock speed is 2424 MHz with RX 6700.
AMD had some minimal drawbacks with the driver's compatibility, but the RX 6700 has come up with genuine solutions. Before we head to the complex functions of AMD Radeon RX 6700 xt, let's look at the PROS and CONS of it.
When it comes to the pros and cons of the RX 6700 xt, the lists are not so comprehensive but in favor of the RX 6700. AMD Radeon RX 6700 is indeed one of the most acceptable graphic cards, and I am witness to its promising performance delivery with output flow.
RX 6700 Price and Availability
Price matters, and if you are a beginner, you must be thinking of it first and then anything else, even though I have done the same until now. However, the RX 6700 price is not so easy to chase, but it is worth it. You almost have to spend around 500 to 700 dollars varying with the brand names. If you go for ASUS, you might get it in less than 480 bucks. On the other hand, if you choose Sapphire, you will have to stretch your budget up to 569 dollars.
This AMD Radeon RX 6700 graphics card review will help you know all about the card and its range of features. However, you can also invest in other brands, such as MSI, PowerColor, XFX, etc. So, if you are a beginner, it is better to go for ASUS or MSI, and these are well-known brands to the users for all their ample reasons.
On the other hand, if you are easy with your budget and do not bother about the price elasticity toward up, you are good to consider buying Sapphire. Radeon RX 6700 will available with different names and pricing ranges, and now it depends on your style of use and which one suits you the most.
Advantages
It provides you with an excellent 1440p performance
It is a very lightweight card and easy to carry
There is no major snag that comes your way
It is a pro card that is the best option for pro users
It offers a vast memory storage
The clock speed is pretty good to get snag-free output
Disadvantages
A bit expensive and not for beginners
There is no Fidelity FX resolution
The RAY tracing power is not strong enough to justify the job
Based on this information, I can confidently claim it to be a great GPU at a challenging pricing range. If you are a beginner, I would not recommend you go for it because it is meant to be used to enjoy the premium output.
Chipset and Features
If we look at the AMD series of AMD, the RX 6800, RX 6900, and the RX 6700, these are superb, and users claim them as the Big Navi. It means you can enjoy the utmost features with any top-class Graphic card options. The ray tracing with energy efficiency is unbeatable.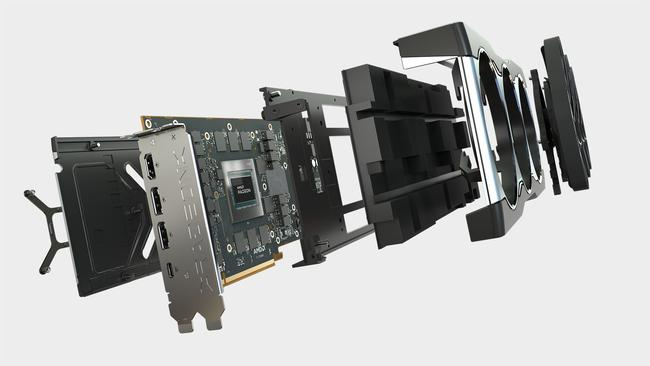 If I became a fan of AMD RX 6700, there are multiple reasons behind it. I am trying to disclose all those through this AMD Radeon RX 6700 graphics card review. The features are outstanding and can make it up with your output feedback to the fullest. Let's find out what you can get with the RX 6700 card of any well-known brand.
AMD RDNA 2 Architecture for Powerful Gaming
The AMD RDNA 2 is one of the most significant milestones in the graphics world. It takes gaming to a new height. It unifies the visual effects with a scheme of correlation, and it allows you to use it with multiple gaming platforms with max confidence.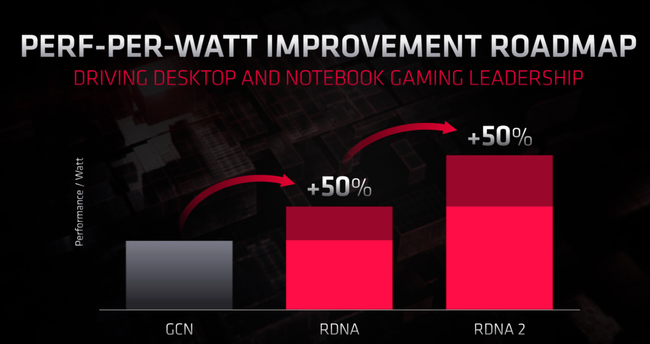 The previous graphic architectures in the market lacked some inevitable needs, but the RX 6700 has come with the backup to get you a complete cover. Moreover, the DirectX Raytracing (DXR) setup is necessary for genuine gameplay. It adds authenticity to colors and affects your eyes in the best way possible. I used it myself with MSI; the performance was unstoppable.
AMD Smart Access Memory with Great Power
Over the PCI Express, the communication level of AMD Radeon graphics with AMD Ryzen desktop processor is invincible. It gets your performance the most delicate touches to make it perfect. The AMD access memory helps you trace the file's destination quickly, and you can make changes as you want.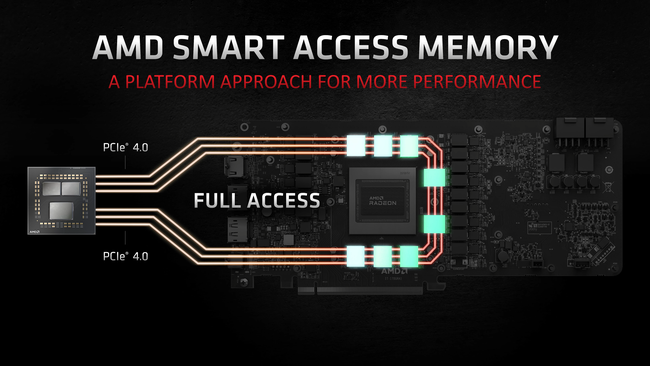 The more you invest in a fast and smooth communication setup, the higher the performance level. So, if we look at the RX 6700, it is good enough to get you the anticipated results. The 12GB memory with 2424 clock speed is good for balanced and snag-free outputs.
Cutting Edge Dual Fan Thermal System
If we study MSI and ASUS, both are super generous in furnishing the next-level cooling systems. The RX 6700 comes with a design that allows a dual-fan cooler. These two fans are super good for blowing more than enough air to cool down the overheated components. It gets you a new experience altogether.
Moreover, it takes good overall performance while you play high-quality videos or load heavy games. I bet you will like its dual fan combo to give your performance a significant edge.
Utmost Silence and Max Gaming Immersion
Multiple thermal pads help the cooling system to work optimally. It comes with a calm and relaxed setup but has a great storm inside. The fans work optimally until the temperature gets down, and once it comes down, the fans go into sleep mode. The noise goes off as well.
Whenever you play games or run any other application that compels your PC to work harder, the heating starts blowing everywhere. So, it is the point where this pair of amazing fans gets on and takes the position against overheating. And I know it withstands all the heat to the fullest.
So, if you are looking for something that makes your gameday perfect, free of noise, snag, and overheating, the RX 6700 can undoubtedly make it up for your needs. So, these are the main four pillars that make RX 6700 a worthwhile product to consider.
Testing Results of RX 6700 with Synthetic Benchmarks
Having an accurate benchmark to measure performance is no less than a gift. And synthetic benchmarks are good enough to anticipate the authenticity of the GPU. If you are looking for graphic cards that play 4K gaming visuals with no snags and lags, the RX 6700 can make it up with goals the most. I tried 3D Mark with GeForce RTX card, and I must know how good it is to manage Ray tracing goals. So, in the same way, you can test the performance by comparing the outputs with set benchmarks.
RX 6700 specs make it an attractive choice for millions of gamers and streamers. And I found the AMD Radeon RX 6700 myself an excellent selection for multi-use. However, if you are wondering about the RX 6700 MSRP, I gave a slight touch on the various options above. The retail price varies with the name you acquire, and overall you need to arrange around 500 dollars to win a reliable RX 6700 graphic card by any big name.
Some Extra Useful Info
Finding an RX 6700 graphic card with the correct name on the face is a challenging task. But, if I have to tell you the genuineness and realism of the GPU world, I will suggest you try RX 6700 once to understand what it is for.
Different brands with a slight change in design, features, and prices are going well. But, when it comes to ASUS and MSI, these two are significant enough to make your usage perfect and joyful. I am sure your output feedback will go up with RX 6700, especially with gaming and high-quality images and video quality.
After conducting research and studying dozens of options, I prepared this AMD Radeon RX 6700 graphics card review. And I am sure it will help you comprehend the idea of RX 6700 in a better way. It is a great graphic card with a super-strong memory setup and cooling pads.

But, it is not as suitable for beginners as being a bit pricy when it comes to price.Moreover, the VRAM system is sound, and the driver's compatibility is indomitable. Overall, it is an excellent card with so many options. In the last, this RX 6700 review will also help you make a beneficial and practical buying decision.

Summarized Note
Is the RX 6700 a good GPU?
The RX 6700 is an excellent graphic card with various newest tools and solutions, and it comes with RDNA 2 architecture with a super solid cooling system. The price range is a bit out of the access for beginners and intermediates. But, if you are looking for something genuine to cater to your gaming and streaming needs, the RX 6700 is not a bad option to consider as your potential buying article.
Is a Radeon 6700 better than a 3070?
I will be honest with my opinion; the RTX 3070 is far better than RX 6700. It comes with more power and more room for cooling solutions. The ultimate card for 4k videos, but RX 6700 deteriorates the results in some cases. It suits 1440p results the most and is suitable for those who know how to deal with snags and lags issues. Overall, 3070 is a better option than RX 6700.