Starting a new game can be thrilling but occasionally discouraging, particularly when you have access to a genuine racing sim like Assetto Corsa Competizione. My favorite game right now is, by far, Assetto Corsa Competizione. I wish I could tell everyone about this game.
But not everyone might enjoy this game. Even if the game appears to have attractive visuals, you must be willing to overlook or accept some hidden problems before passing judgment.
A problem among these is a need for more documentation. This article aims to fill in some of the blanks for new players. Keep things in mind before purchasing and as soon as you begin playing the game. Let's see the information about ACC for dummies.
ACC Tips and Tricks
Although Assetto Corsa can be a challenging racing simulator at first. You can master it with enough practice and the help of these strategies. This Assetto Corsa beginner guide has the top advice and strategy. Let's get to know how to play Assetto Corsa: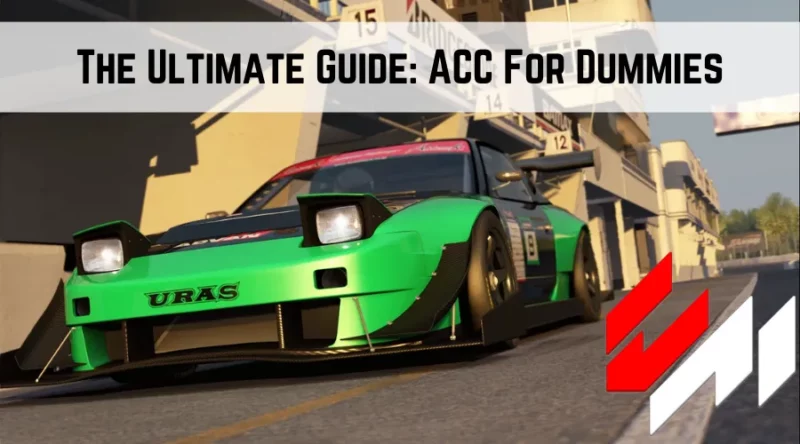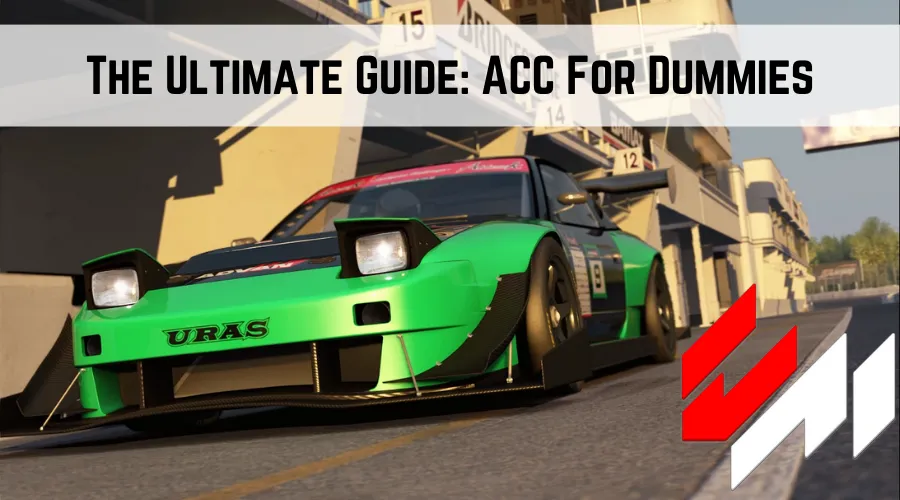 1) Disable Assists
Although driver aids must design to be helpful, turning them off in Assetto Corsa is the secret to setting the fastest lap time. It covers features like racing line, ABS, and traction control. You can switch each off as you gain more assurance in your driving abilities and vehicle.
Anti-lock brakes, or ABS, should be turned off first. You can brake later into the corners if they are disabled, but you should still use caution to avoid locking up. After some practice, turn off traction control before turning off the racing line, which typically advises you to brake sooner than you should.
2) Adjust Your Setup
Although the setup screen is somewhat intimidating, it enables you to painstakingly adjust your vehicle, whether it is an open-wheeler or a GT racer. The game lets you make any alteration you desire to your car, with the easiest adjustments being tyre pressure, aero levels, and fuel levels.
Spend some time getting familiar with the setup screen options, then gradually modify your setup to see if it affects your lap times. Every time you enter the pits, the game will record your lap times, which you can review to determine how much faster you move as you gradually adjust the configuration.
3) Calibrate and Setup Your Racing Wheel Properly
With a racing wheel, you can play Assetto Corsa to the fullest. The most accurate racing sim is Assetto Corsa. More so even than F1 2021. Wheel calibration is possible through the settings menu's main menu or the Content Manager's settings menu.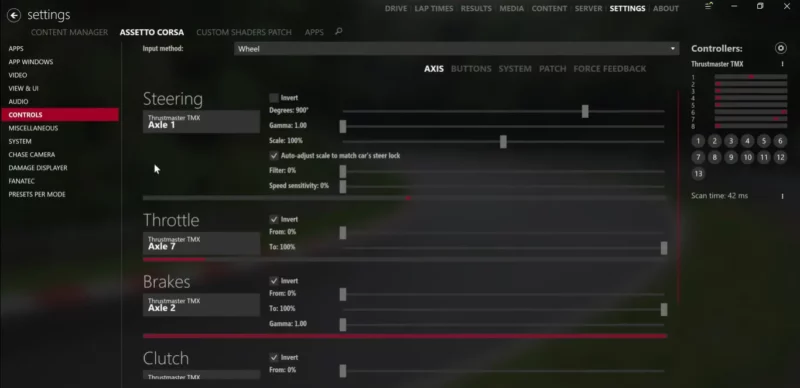 You can change the parameters to change the wheel's calibration. You can observe and adjust the sensitivity of your racing wheel if all your buttons and axes map. You may check whether your throttle and brake need to be adjusted and whether you need to reverse the axis by applying pressure on them. Your lap times will go down if you have the best wheel setup.
4) Beware of the AI
The AI won't make you move faster, but it will ensure that the race is fair. On Assetto Corsa, the AI can be quite quick, but they aren't the smartest. You can only truly appreciate how strong the AI drivers are in the Codemasters F1 games by competing against them, especially in the last three or four years.
Be cautious of the AI on the first lap because they tend to group and take sharp turns like Eau Rouge at Spa considerably slower than necessary. They may easily whirl you around and perform slightly overconfident divebombs.
5) Push Yourself Hard Without Fear
You should be bold and push your automobile to the limit on the track. To get the most grip from the tyres and downforce the car can generate, many racing cars must drive to the absolute limit. Although it may seem a little obvious, it is the case.
You will become more at ease with the automobile, enter a zone, and be one with your preferred machine as you push harder. You'll be able to move quickly through the tracks and decrease lap times.
Beginners ACC Setup
You will need to comprehend the nuances of car configurations while you're just getting started, which is fine for the time being, although car setups are vital. You must develop the necessary skills to experiment comfortably with various setup configurations during each race.
You can read acc setup cheat sheet and download them. There are a few things, nevertheless, that you must bear in mind. Here are the acc for dummies view settings explained: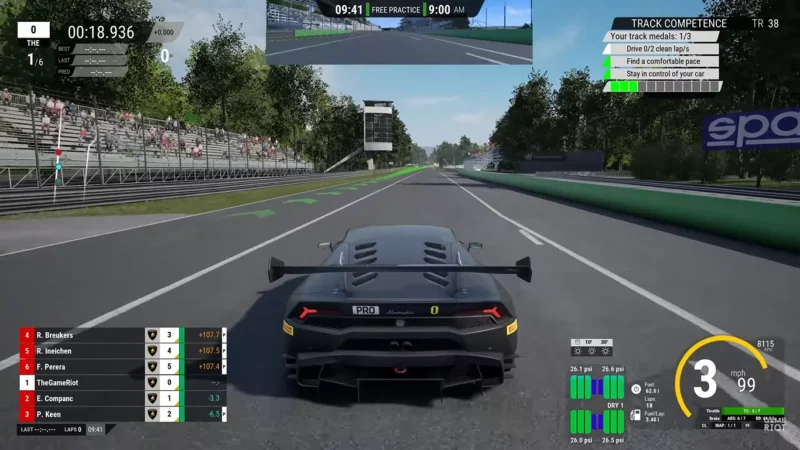 Fuel
For the race, you must put in adequate fuel. A simple computation would be multiplying the race's duration in minutes by 2.2. It is only a rough approximation. You can use one of the many readily available fuel calculators, consult the fuel management strategy guide, or simply keep in mind the following formula to determine how much fuel you will need for any race:
FR is equal to ((TR x 60) / TL) x FL + (2 x FL)
FR stands for fuel for the race, TR for race length in minutes, FL for fuel per lap, and TL for leader's lap time in seconds.
Tyre Pressures
The fundamental factor affecting tyre pressure is air temperature, which has several other effects. If you want your tyres to stay cool, you must adjust the tyre pressure to the vast differences in temperature between each server. Go out for a couple of laps to gauge the pressures. 27.7 PSI should be your target.
Anything between 27 and 28 PSI is preferable, but to maximize performance, you should aim to get as close to 28 as possible without exceeding it. Understanding tyre pressures and how they affect your performance is essential. The typical guideline is 0.1 psi change for every 1C° change in the surrounding temperature.
Traction Control
Many individuals who attended the F1 competitions take pride in their ability to drive safely without traction control. Driving without traction control makes perfect sense because F1 has no traction control features.
But when they play ACC, they might switch off TC before complaining about how other people use the system. Don't act in that way. Traction Control is a feature built into GT3 automobiles, and these vehicles use it.
Modes Of Engine
These vehicles also have many engine modes. A qualifying mode, a race mode, and a safety-car mode are often, at the very least available on most vehicles. These fuel-saving settings can use during the race and the warm-up lap.
If you want to compete in a 60-minute race, some vehicles (Mercedes) even demand that you switch from qualifying to race mode. The maximum power output but the largest energy usage finds in Mode 1.
Diving Deep
The settings shown above intend to get you started; sometimes, the world of creating setups might seem like a mysterious foreign tongue. Many people have spent years playing various sims to understand what a car does and what setup adjustments are necessary. This level of comprehension is frequently only required by the most fervent competitive acc sim racing. There are a few fundamental lessons you can learn.
Assetto Corsa Competizione Best Car for Beginners
Simulated racing is difficult to get into, and it becomes even more difficult when it incorporates GT racing. Thankfully, every series and championship feature a set of entry-level vehicles that help newcomers and even seasoned drivers swiftly catch up after a break. The finest cars for novices and rookies to Assetto Corsa Competizione are listed below.
1) ASTON MARTIN V8 VANTAGE
Although this may provide joy to Aston Martin enthusiasts, the Vantage is a fairly simple car to drive from scratch. It features outstanding braking, is highly stable and simple to drive, and has excellent tyre wear. In rainy conditions, it is also incredibly dependable.
2) BENTLEY CONTINENTAL GT3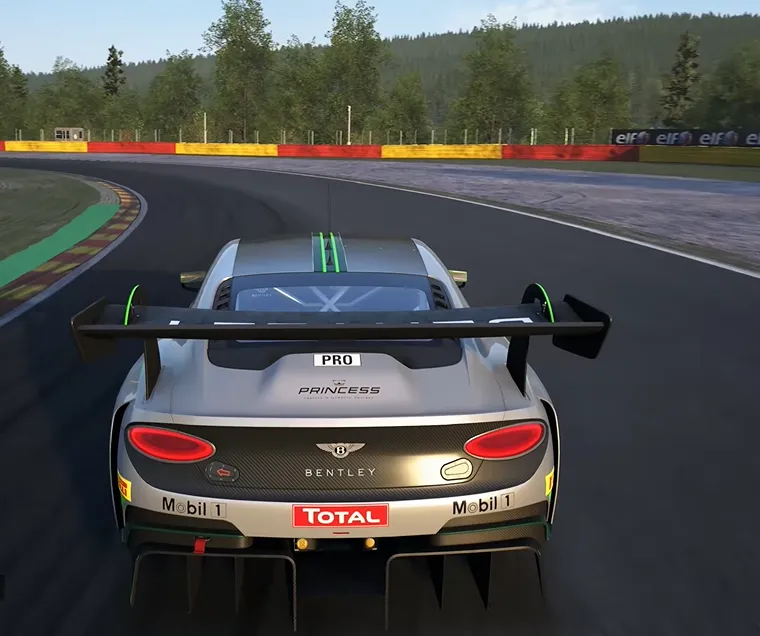 The gods of automobiles have favored the Bentley Continental in ACC. The Continental is a solid racing package with exceptional acceleration, braking, and fuel efficiency. It has excellent tyre wear and curb handling and is steady and consistent over a long distance.
3) LEXUS RC F GT3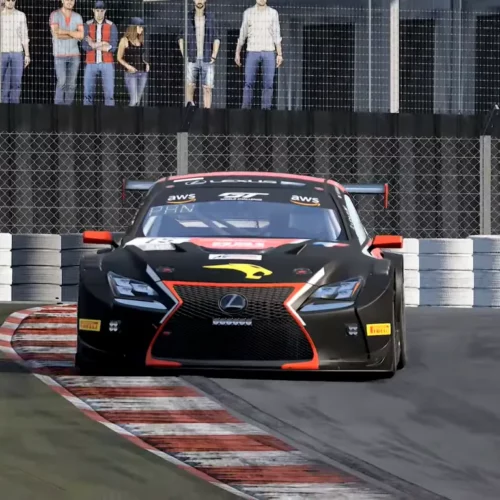 The Lexus RC F GT3 is a vehicle that deserves much more praise. The automobile has a high peak speed and strong acceleration. A fantastic stable basis from which to develop, the Lexus excels in sprint races due to the shorter races that reduce its fuel usage.
Is There An Assetto Corsa Competizione Career Mode Walkthrough?
You will start in slower cars in this mode and progress through the ranks by driving faster and faster cars. Most of the events in Assetto Corsa Career Mode are short races. Time Attacks and quick races are simple.
Weekends of racing, though, include practice and qualifying sessions. Fortunately, you can skip them and proceed directly to the race because they are not required. The benefit of Career Mode is that there are no requirements for difficulty. Therefore, use whatever problem and assistance levels make you most comfortable driving.
What Does Assetto Corsa Stability Control Do?
When your car starts to slide a little, stability control will decrease your throttle power, which means you won't be able to maintain speed through most turn exits and that every straight following will be slower.
Why is Assetto Corsa Such A Challenging Game?
Every aspect of life matters, and it does so for many factors that range from somewhat different to completely different. The game's difficulty is due to the more realistic physics and the need for improved driving skills.
Can You Learn to Drive from Assetto Corsa?
It can be helpful, but the controls are different, and learning to drive a car is probably the hardest. You get used to being around other traffic and understanding the road rules, how to approach roundabouts, how to reverse, and other things.